QNAP TAS-268 QTS and Android Combo NAS Review
---
---
---
Bohs Hansen / 7 years ago
Introduction
---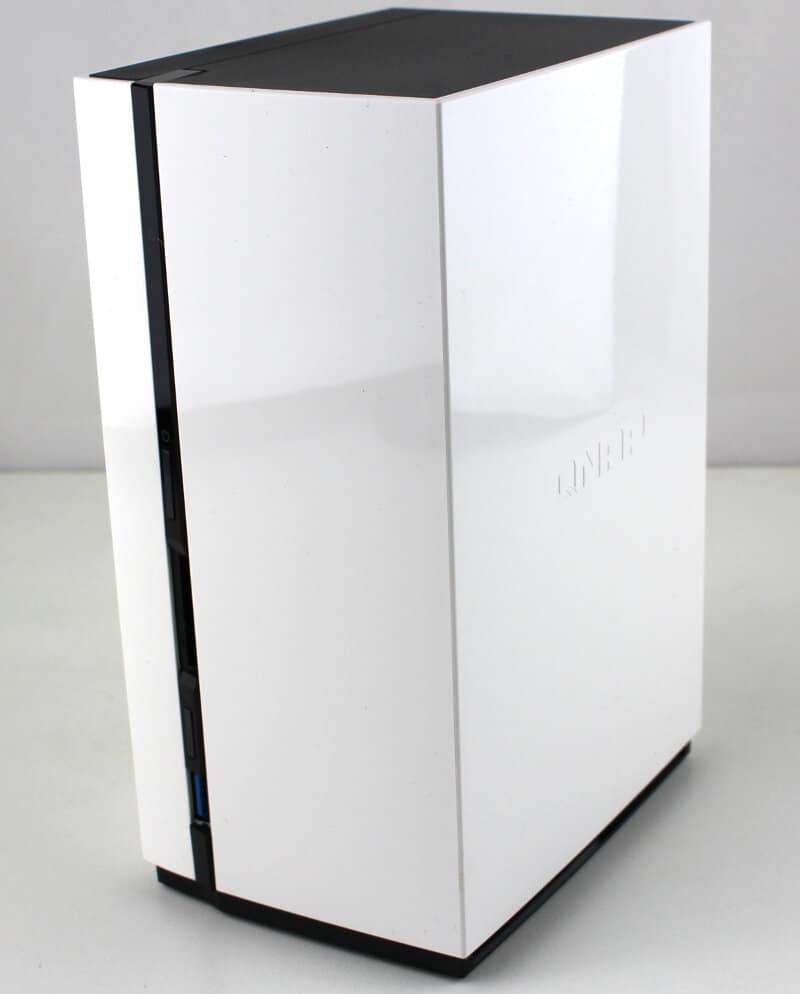 In today's review, I am taking a look at a NAS that comes with a twist that we previously haven't seen out-of-the-box. I'm talking about QNAP's TAS-268 NAS which is a 2-bay hybrid NAS that runs both QNAP's QTS and Android at the same time. The TAS-268 doesn't just have a twist in the operating system, the physical form also takes a different approach than most NAS on the market.
At the core, the QNAP TAS-268 is a normal NAS with the function that you would expect from such a unit. It doesn't come with the most power processor, but in return, it also comes with a low price tag despite all the functionality. It is built around an ARM 1.1 GHz dual-core processor and comes with 2GB DDR3 memory. It also features an onboard 4GB flash memory to be used by the Android system. While this doesn't sound like much, it should be plenty for this device's functions.
Besides this 2-bay unit, QNAP also released a 1-bay unit with the only difference being the number of drives you can install. But it is the 2-bay unit that we're looking at today and it supports RAID 0, RAID 1, JBOD, and single disk setup with two 3.5-inch hard disk drives. There are plenty of external connection options on the TAS-268 with one Gigabit Ethernet RJ45 port, four USB 2.0 ports on the rear and one USB 3.0 port on the front.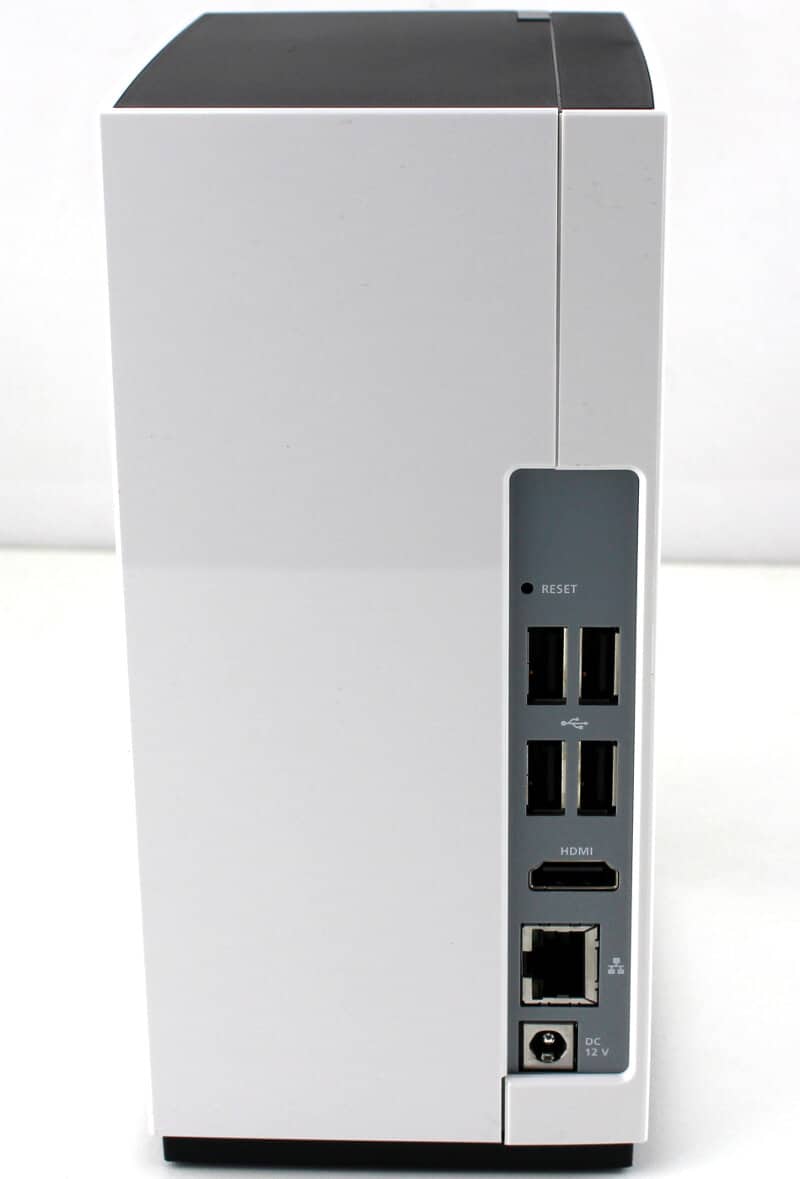 The front also features an SD card slot for easy and portable storage connection just as you're used to from your Android phone or tablet – just much easier. You don't need to remove any covers and battery as it is the case with many phones, instead, you have the SD slot right at the front of the device where you need it.
To complete the convenience experience, QNAP also added the one-touch copy button which allows just what the name promised, copy the content from the front USB port with a single press of the button. How the button shall react can be changed in the QTS system and it is capable of copy operations in both directions, both to and from the USB drives.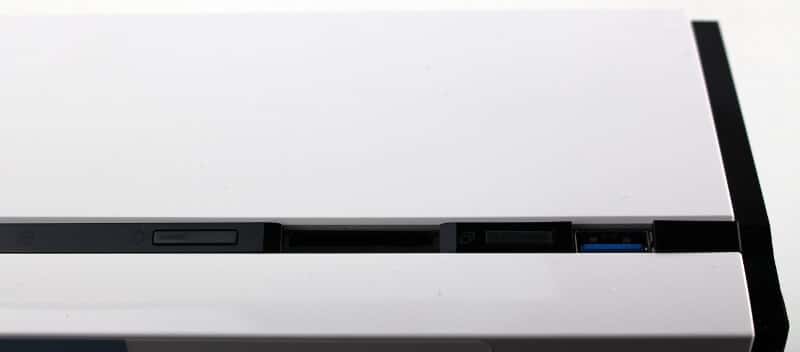 With a NAS like this that supports Android, we also need an HDMI port in order to connect it to our monitor or TV and the TAS-2688 also features this on the rear. It is accompanied by four USB 2.0 ports that come in handy for keyboard, mouse, and game controller connection in order to take even better advantage of the Android platform and all the available apps. You can also control the system through the use of the included IR remote control. The TS-268 supports HD and 4K H.265 / H.264 file formats, 4K H.264 with up to 15 frames per second and 4K H.265 with up to 30 frames per second.
Shouldn't you want to connect the device via HDMI or maybe you just want to get your stored and linked media files onto more devices then you can take advantage of the common DLNA streaming that QNAP also supports. Consoles, Smart TVs, Mini-PCs and much more support this and it is probably the easiest method of streaming content.
Google Play also provides various media apps including YouTube, TED, Twitch and other video apps to be used directly on the NAS. You can install and stream movies, cartoons, TV series, news, and sports at any time in order to enrich your entertainment level.

QNAP introduced their myQNAPcloud system quite a while ago by now and naturally the TAS-268 also supports this. It isn't just a simple and effective way to set up your new NAS, it also allows you to connect to the finished setup much quicker and easier. By acting as a simplified and locked-in dynamic DNS system it will allow you to easily connect to your NAS, securely, from anywhere in the world and any device as long as you and the NAS both have internet connectivity.
With that in mind, it is incredibly easy to create you own personal cloud system where you don't have to rely on commercial or free options that thousands of other people use. Keep your files at home where you know who has access and who doesn't. It is a breeze to sync files to the NAS via QNAP's own Qsync as well as the Cloud Drive Sync app from the QTS app center that can sync files with Google Drive and Dropbox.
Both real-time and scheduled backups on Windows systems as well as with Time Machine on Mac OS systems is easily taken care of with QNAP's NetBak replicator and it also features disaster recovery solutions including RTRR, rsync, and cloud storage backup (Dropbox and Google Drive) are also included. So all the bases are covered.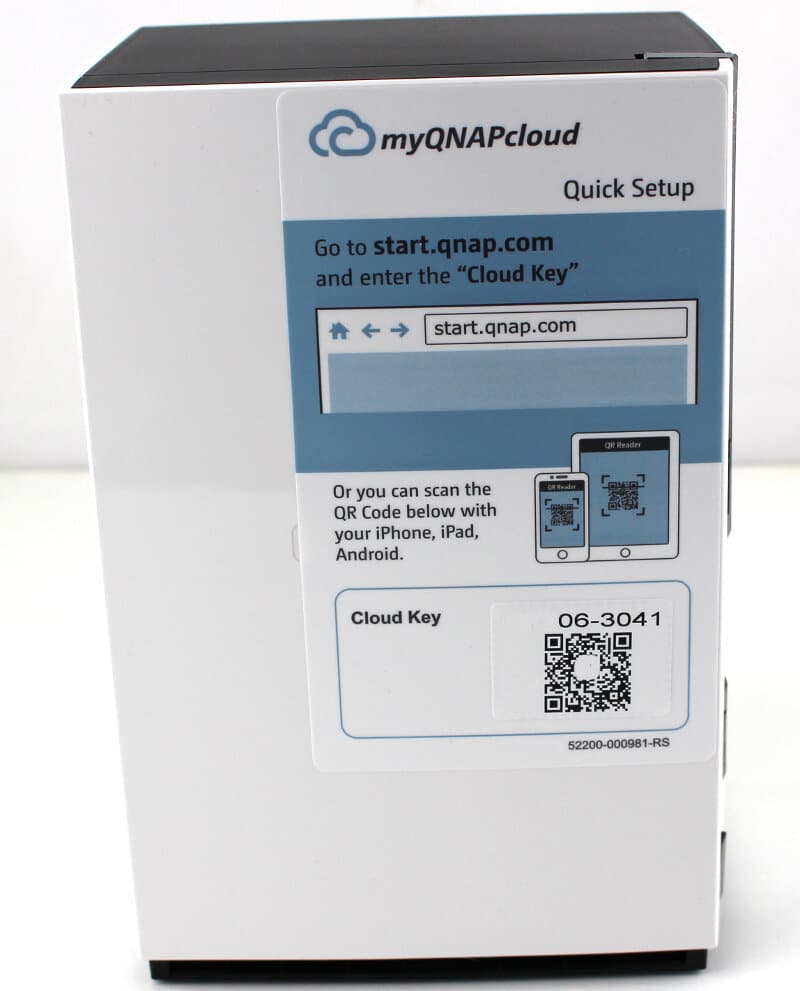 As previously mentioned, you naturally also get the ordinary NAS cross-platform file sharing capabilities from a centralized data storage. Whether you use Linux, Unix, Windows, or Mac OS, your connection is covered. And with the use of apps you get the same connectivity on your Windows Mobile, Android, or iOS system.
So far I have mostly been talking about the software functionality, but that's just one of the great aspects on this NAS. The design is quite a bit different than we are used with a vertical unit rather than a horizontal oriented. This saves space on the desk with a smaller footprint which can be a vital factor near your entertainment system and similar likely placement scenarios.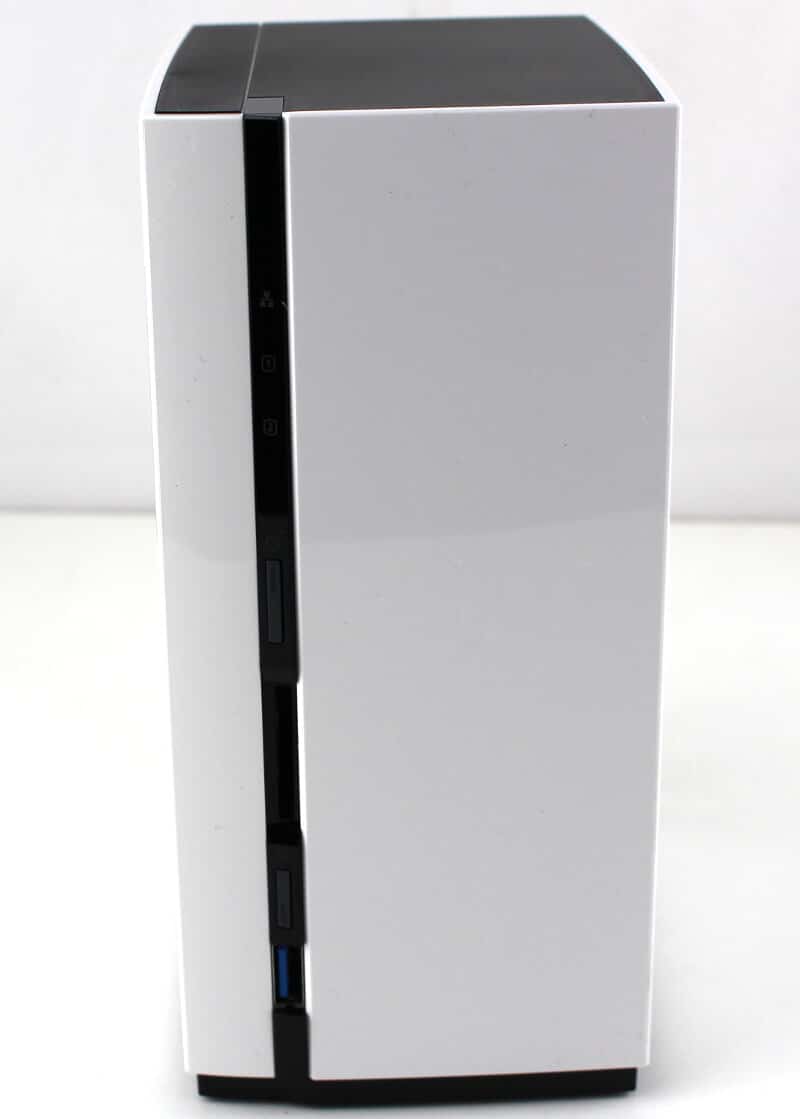 The TAS-28 is also a very light unit due to a simple and clever design. Even better, the entire NAS can be set up completely tool-less for your convenience. There is a single thumbscrew at the bottom with which you can open up the chassis and the drive are mounted tool-less too with the included adapters.
Despite having a unique outer design, a lot of the internal design is something that reminds us of previous 2-bay NAS units – just improved with the tool-less drive mounting options and vertical instead of horizontal.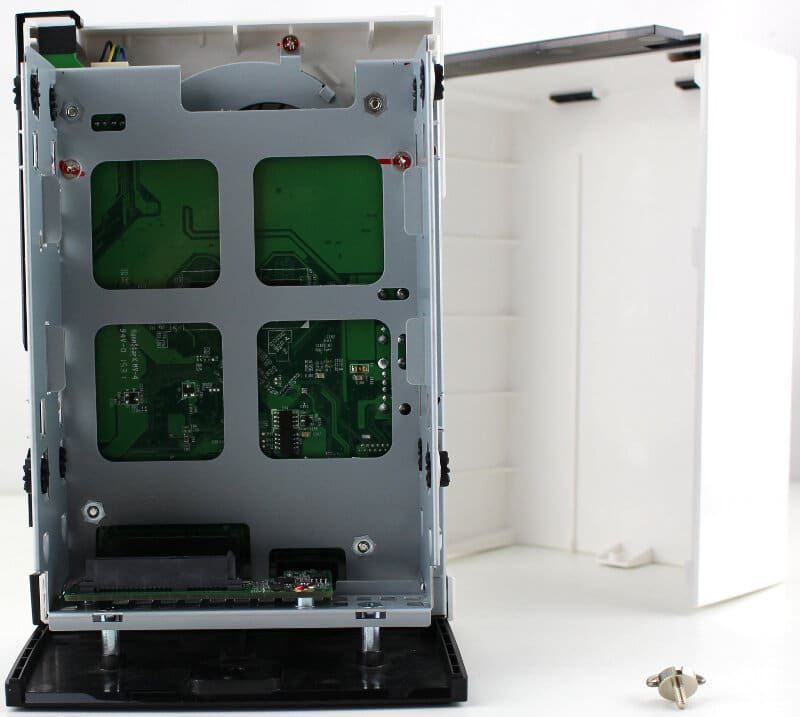 With all this talk about Android, we shouldn't forget about the base QTS operating system. It provides a web-based user interface to help you easily manage files on the TAS-268. You can install various apps based on your needs to fulfill tasks like storage, backup, management and multimedia applications. File Station allows you to upload, download and manage files anywhere with a web browser. All of your photos, music and videos can be indexed by the built-in Media Library, and easily managed and shared with the Photo Station, Music Station and Video Station. The energy-saving Download Station is your 24/7 download center, allowing you to quickly download files to enrich your collection.
Feature Highlights
Dual-core CPU
Android and QTS operating system
Organize & manage files and backup tasks in one centralized location
Synchronize files between computers, laptops, and mobile devices
Remotely access your files securely from your personal cloud
Stream your multimedia library via DLNA to other devices and your TV
Enjoy direct media playback via HDMI with HD videos and photos
Compact and streamlined chassis ideal for a desktop or living room environment
Packaging and Accessories
The TAS-268 comes in a simple white box with a representation of the NAS unit as well as the feature highlights.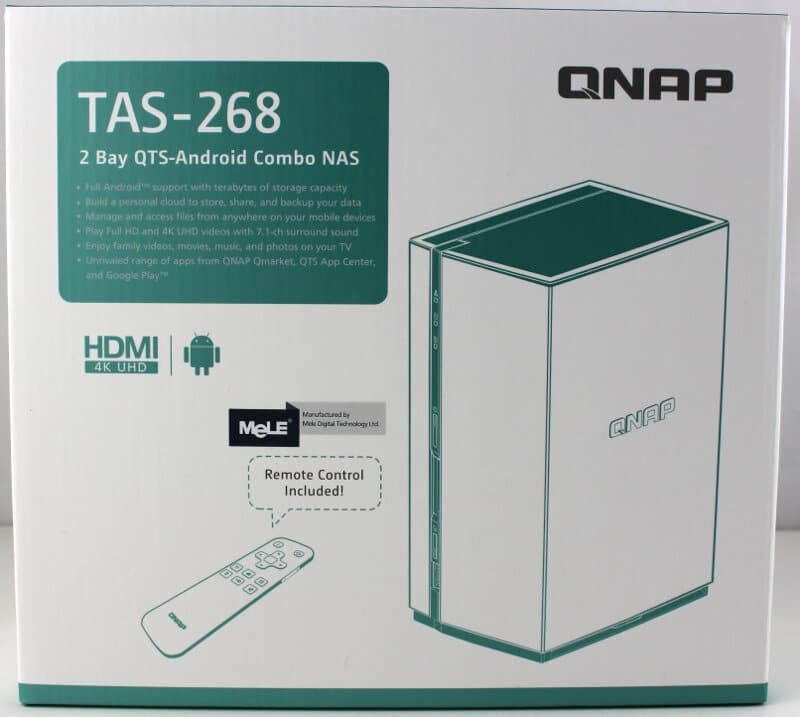 The rear of the box contains some more information as to what's so special about this NAS, but it's kept short.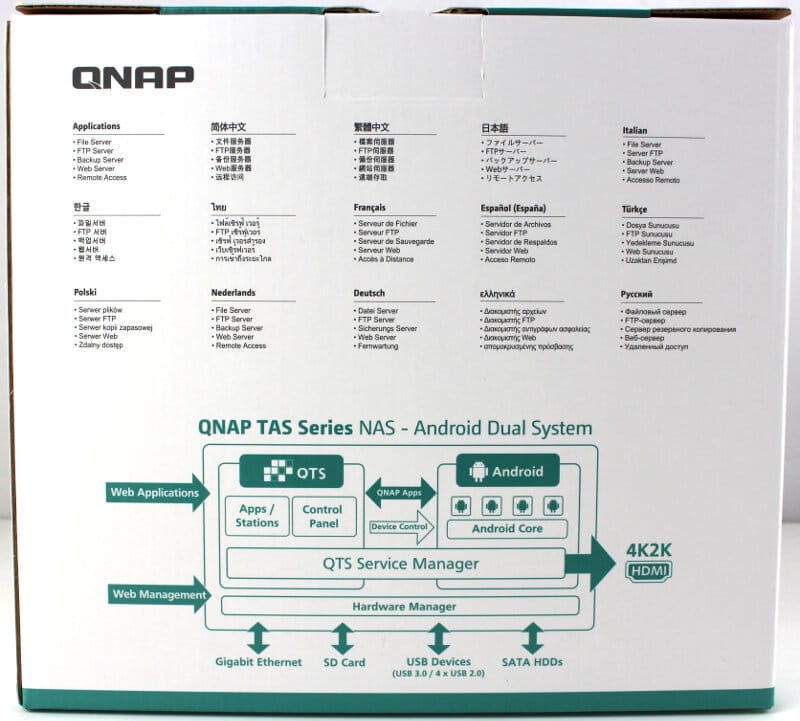 Opening up the box and we find a brand new NAS that is well protected with self-adhesive plastic film – you know the kind we all love to peel off once we get a new gadget.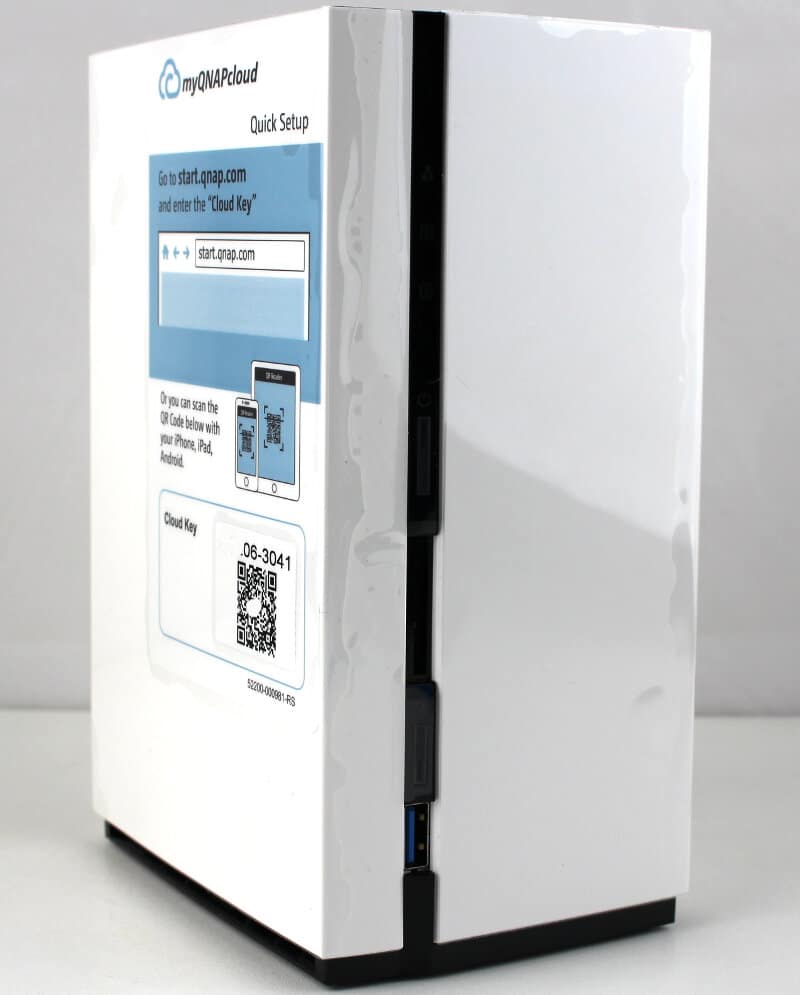 Besides the NAS itself, there is a quick installation guide to help you get started quickly, a power supply brick and power cord fitting the region you bought it in as well as an RJ45 LAN cable.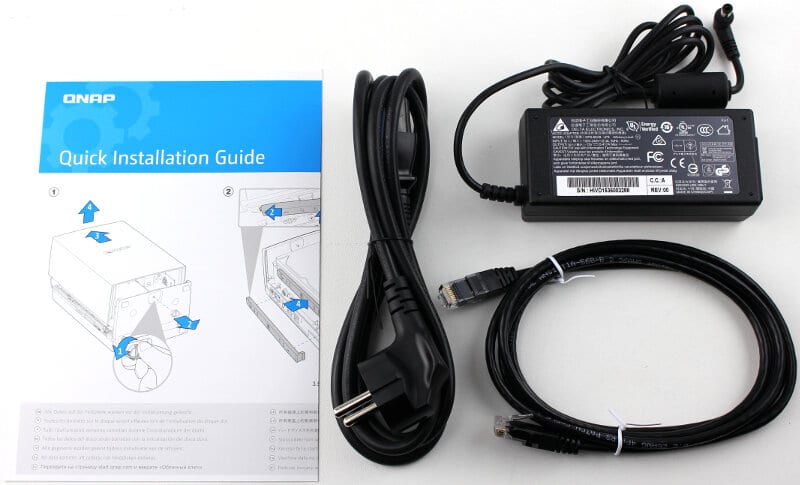 There's also a small remote control included that is about 3 inches long. Shown below are also the four HDD mounting brackets that simply snap into the drive and hold it in place.