QNAP TS-453A QTS-Ubuntu Combo NAS Review
---
---
---
Bohs Hansen / 6 years ago
Introduction
---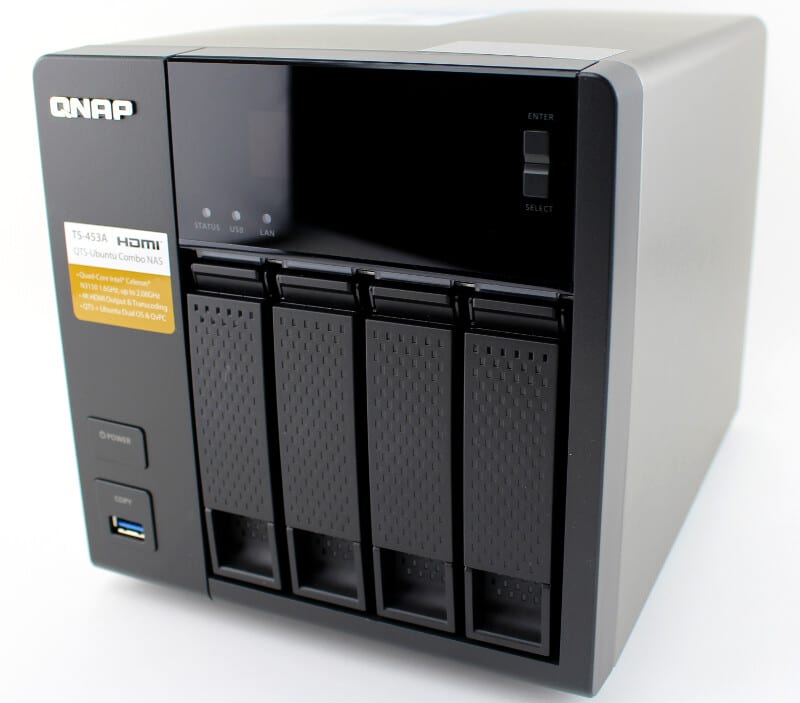 This is a review that I've been looking forward to because the QNAP TS-453A is anything but an ordinary NAS. QNAP likes to take one step further and this is clearly such a case. The TS-453A is their response to the coming era of Internet of Things (IoT) where it supports the open-source Linux platform as a gateway for IoT solutions to other smart devices.
The TS-453A allows users to directly utilize various feature-rich Linux apps, enjoying a private cloud combining storage and IoT applications, and professional developers can develop and run IoT applications directly on the TS-453A. The secure, reliable TS-453A is packed with business-critical features such as Volume/LUN Snapshot – allowing files/folders to revert to a previous state in case of any corruption or file loss. Oh, and it can work as a karaoke system as well and that's not something that we see every day.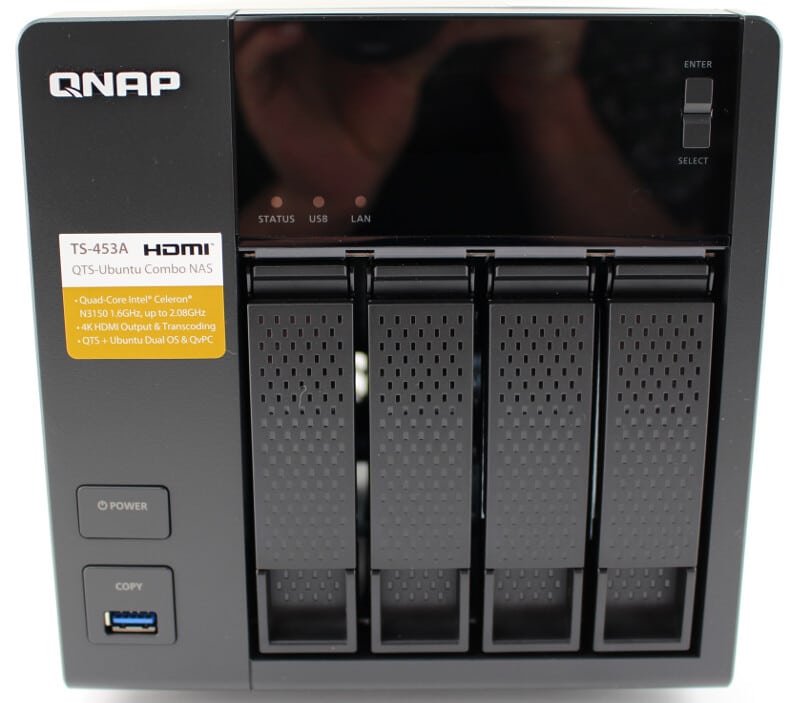 At the heart of the TS-453A NAS is the latest quad-core Intel Celeron processor which doesn't just deliver a great overall performance, it also allows users to enjoy 4K (H.264) video playback and 1080p/4K video real-time transcoding directly from the TS-453A to an HD or 4K display. And to those who want to know exactly what it is, it's the 14nm N3150 CPU with a 1.6GHz base clock and a burst speed up to 2.08GHz. Memory-wise there are two basic models, the one with 8GB RAM that I'm testing today and a smaller one with 4GB memory. Attentive readers will have noticed that QNAP skipped the 2GB model this time and went straight to 4GB as the smallest option. I love this as it gives a lot more headroom when dealing with 4K content and we're guaranteed dual-channel support as well. The TS-453A supports DDR3K-1600 modules in its two SO-DOMM slots. It's also worth mentioning that it comes with 512MB onboard flash memory for the basic operating system.
But enough of the insides for now because there is plenty to discover on the outside. The front has a USB 3.0 port with one-touch copy button, but it's on the rear side that the TS-453A breaks from the norm. We get two 6.3mm microphone jacks and a 3.5mm line-out as well as two HDMI ports supporting up to 4K 2160P Ultra HD. Now that's not something that we see each day and it allows us both extended and dual monitor setups. We can also turn the NAS into our own karaoke system with the two microphone ports that offer a lot better reception than the average USB microphone does. The TS-453A also features a 24-bit digital to analog converter (DAC) for the line-out jack in order to deliver a clear sound to your amplifier.
There are three more USB 3.0 ports on the rear for extra storage, printers, UPS, or wireless dongles and it comes with four Gigabit Ethernet ports. Four LAN ports offer us a lot of options, but more on that later.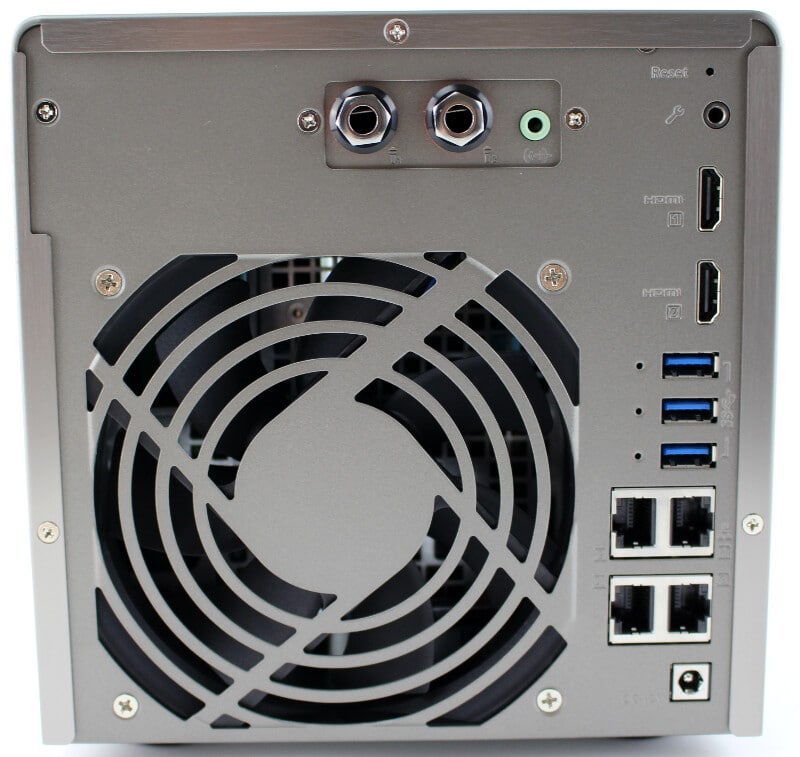 The karaoke and dual-HDMI features aren't the only things unique about this NAS and the next part is really cool. The TS-453A features QTS, Ubuntu Linux, and QvPC right out of the box. The QTS-Linux dual systems are based upon QNAP's advanced virtualization technologies where the architecture enables users not only to download rich apps from QTS App Center but also to develop or utilize IoT packages for Linux and display them using HDMI output. You can develop and install various IoT packages on demand and centrally store the data on the TS-453A, benefiting from a secure private storage and development solution. All you have to do is simply plug in a keyboard, mouse and HDMI monitor to the TS-453A and the Linux Station is ready to be used as if it was a normal PC. You can even operate the Linux Station as a remote desktop via your favorite web browser, but without remote audio output.
The power behind this dual-OS NAS comes from the Virtualization Station that allows you to host virtual machines (VM) and access them via your favorite web browser or VNC with support for multiple operating systems. It is quick to create new systems, import and exports, as well as creating snapshots of them and generally organize it all from a centralized location.
With previous VM NAS, we've often been limited by the available LAN ports due to each VM needing their own connection. Not so with the TS-453A that utilizes SDN (Software-defined Networks) that allow multiple VMs to share the same LAN port. And that on top of the four available physical ports that you still can trunk and aggregate as you please. That's awesome! The TS-453A also features the game-changing container technology for server virtualization. QNAP Container Station exclusively integrates LXC and Docker lightweight virtualization technologies, allowing you to operate multiple isolated Linux systems on the TS-453A as well as download apps from the built-in Docker Hub Registry. Container Station also supports the Online Document app, which allows you to directly view, edit and store files of various types anytime on your NAS, including Office documents, images, and text files.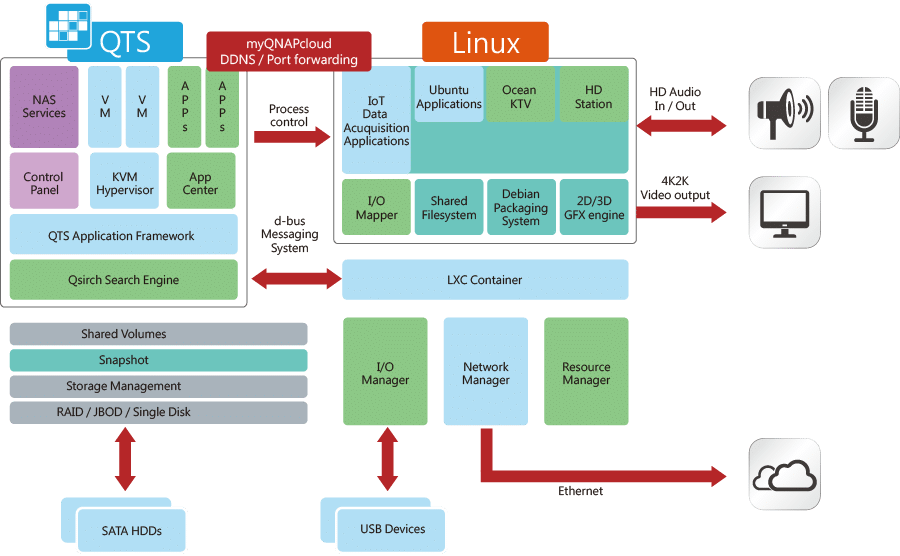 As a QNAP NAS, the TS-453 also features all the other cool features that we've come to love. The CPU comes with a floating point unit that helps a lot with transcoding jobs. The CPU features Intel's 8th generation HD graphics which allows the NAS to support 4K (H.264) hardware decoding for a superior real-time video transcoding, allowing all your content to be played smoothly on all your devices. The CPU also features a hardware encryption engine that will help with encrypted volumes and shared folders. The extra step in regards to remote security is also present in the form of VPN server capabilities.
Business users will also be pleased with the disaster recovery solutions in this NAS. Among other things, it features real-time remote replication (RTRR) to a remote QNAP NAS or an FTP server for constant, live, and scheduled synchronization. Data can also be backed up to cloud offerings such as Amazon S3, Amazon Glacier, Microsoft Azure, ElephantDrive, Dropbox, Google Drive, Google Could Storage, and more. Snapshot are easy made too and the TS-453A can handle up to 25 snapshots per volume or LUN and a total max of 1024 snapshots per NAS. All of this can also be combined.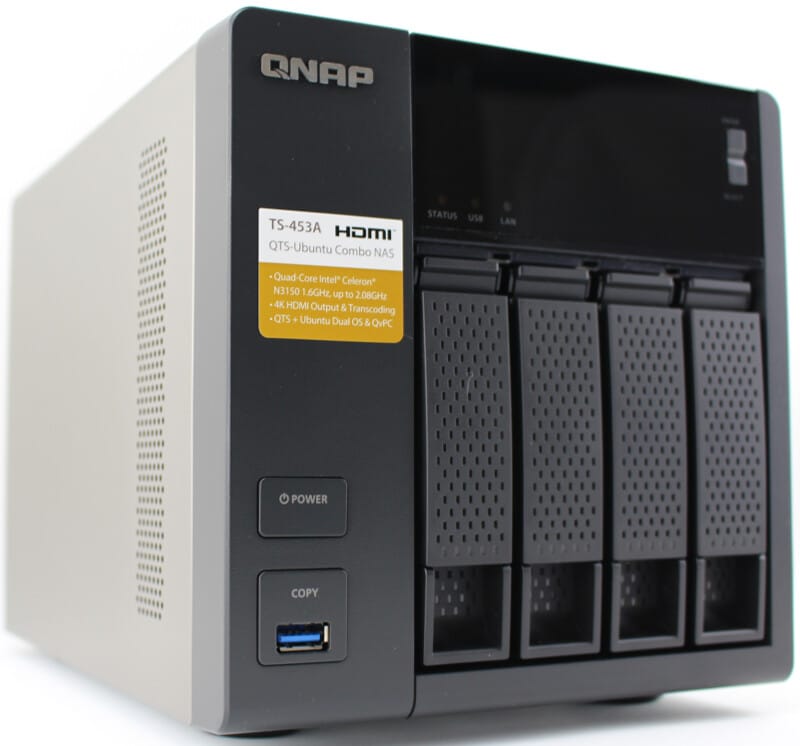 Home users will be able to use the TS-453A as an awesome media center, for example with KODI. The NAS comes with a remote control included which allows you to control all your content from the comfort of your couch. All other streaming capabilities are equally supported and you'll find DLNA media server capabilities as well as Plex apps. Couple that with a line-out connector and dual 4K HDMI out and you got a great living room system that even supports virtual systems and direct usage.
Another thing worth highlighting are the LED indicators, no pun intended. The TS-453A has an awesome brightness adjustment system where it features a 20-stage brightness control, including scheduling. Qsirch is another powerful feature in QTS which allows you to find what you're looking for way faster than with traditional search methods.
There is one more thing we need to take a closer look at before we continue onto a closer look at the device itself and that is the expandability. This is a particularly useful feature for businesses that need to think ahead. The TS-453A is great in that area, as it can be expanded with QNAP's UX-800P or UX-500P for either 8 or 5 drives more and a maximum raw capacity of up to 96TB when loaded with 8TB HDDs.
Feature Highlights
Supports the Linux OS with direct output via HDMI
Dual HDMI output for switching between duplicated and extended desktop options
AES-NI hardware-accelerated encryption for efficient cryptographic performance up to 412 MB/s
Supports 4K hardware decoding and transcodes 4K H.264 videos on-the-fly or offline
Quickly find files using a real-time, natural search with Qsirch 2.1
NAS and iSCSI-SAN unified storage solution for virtualization
Supports VMware, Citrix, Microsoft Hyper-V and advanced virtualization features
A hybrid approach to virtualization in one NAS: Virtualization Station & Container Station
Build a personal karaoke system with high-quality audio output with the new OceanKTV app
Packaging and Accessories
QNAP's TS-453A comes in a simple brown box with a large label on the front. The label tells you all you need to know about both the software and hardware features of the device. On the top, it also highlights how much memory is in this model, a good thing as there are multiple versions with a different amount of RAM.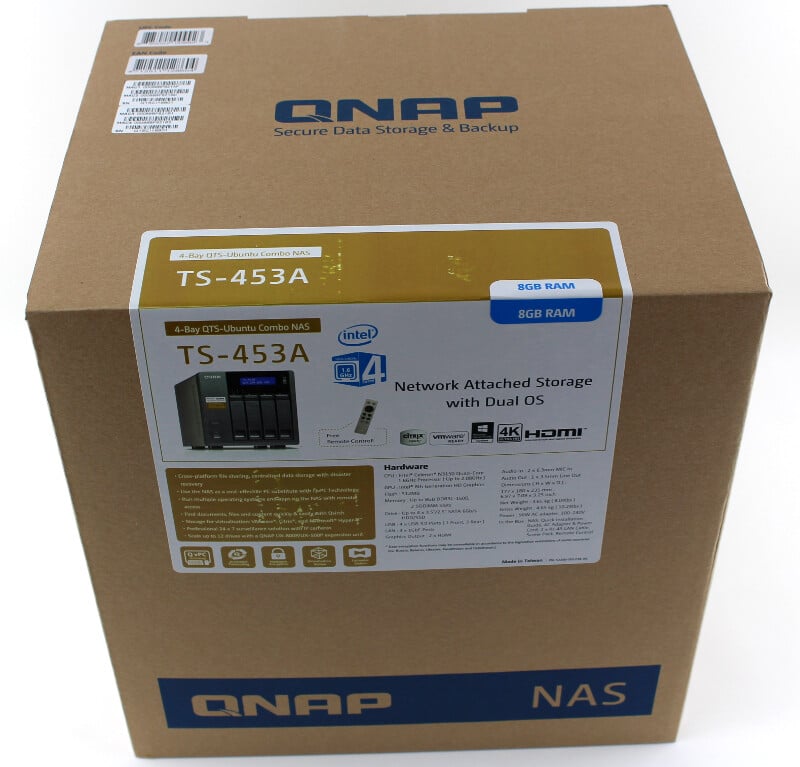 The NAS itself features an extra protective cover over the display are in order to make sure that it arrives in perfect condition. On top of the NAS are two more stickers that can be removed if you'd like, but don't have to. The front one is useful for identifying the drive bays according to the same order used in the operating system and user interface while the rear one is used for quick and easy setup through myQNAPcloud.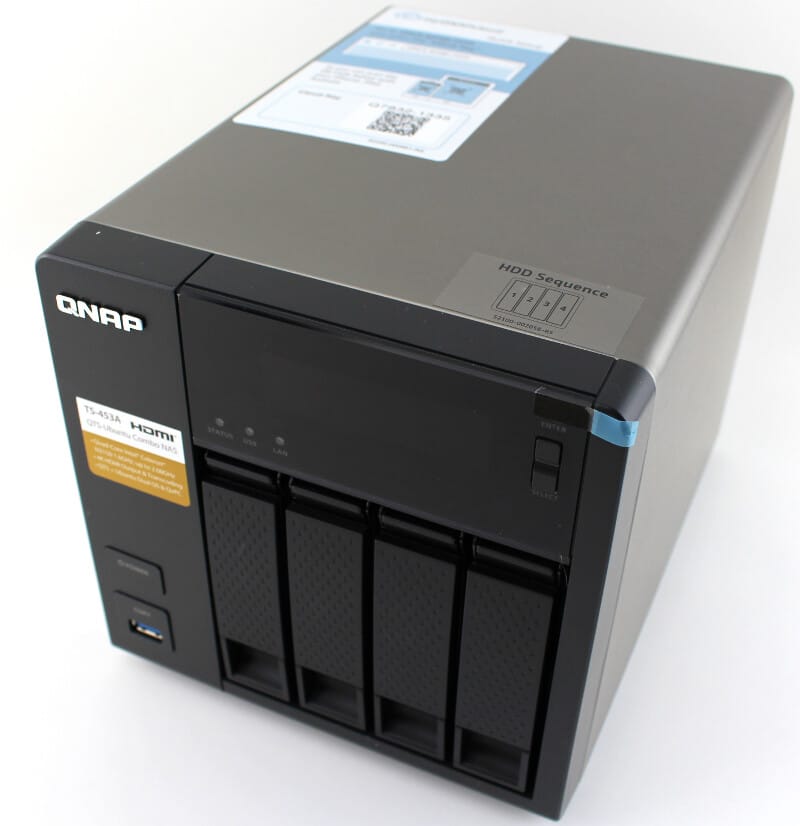 We get a pretty good accessories package with this NAS. There is a power supply adapter, a quick installation guide, two LAN cables, screws for 3.5-inch and 2.5-inch drives as well as the previously mentioned remote control.