Qualcomm To Launch the Adreno 420 GPU Dedicated towards Android Gaming
---
---
---
Gabriel Roşu / 9 years ago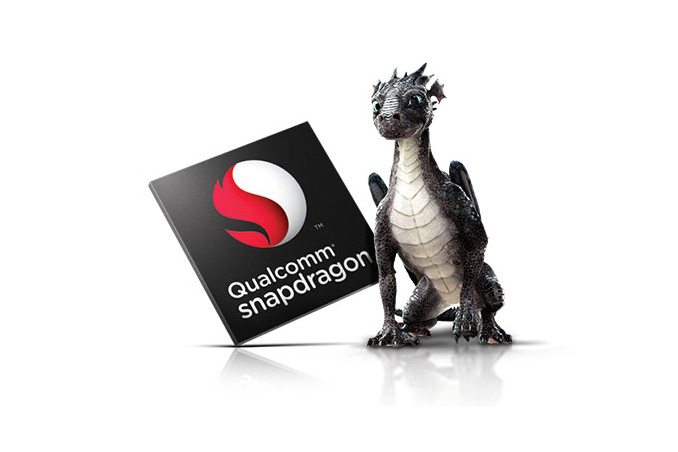 Qualcomm is said to be launching the latest high-performance Adreno 420 GPU along with the Snapdragon 805 on Wednesday at Google's annual I/O developer conference, having it be the first addition to Qualcomm's next-gen SoC GPU series to actually become a final product.
It is said that the Adreno 420 GPU will boast OpenGL ES 3.1 and Direct3D 11 features, having Samsung adding the SoC to its later Samsung Galaxy S5 Broadband LTE-A handset. Also, Qualcomm's Adreno 420 is the first SoC from the Adreno 400 architecture and the first one to slightly achieve desktop GPU performance by integrating Direct3D 11.2 functionality along with the OpenGL ES 3.1 feature.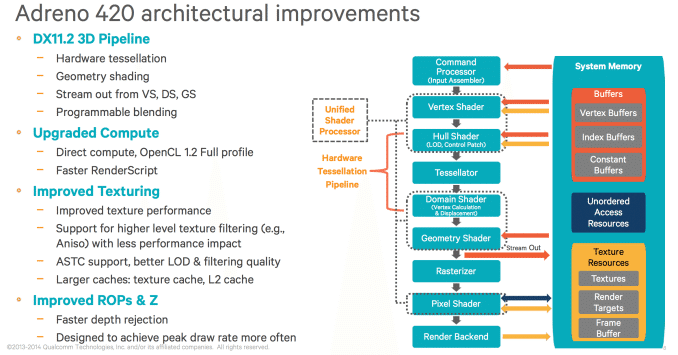 Qualcomm apparently has even surpassed NVIDIA's GPU standards by integrating the FL 11_2 architecture, compare to NVIDIA's FL 11_0, using a fully unified shader architecture in addition to the appropriate feature implementations. A new feature present in the Adreno 400 architecture is support for tessellation, including the hull and domain shader stages, as well as compute shaders and draw indirect support.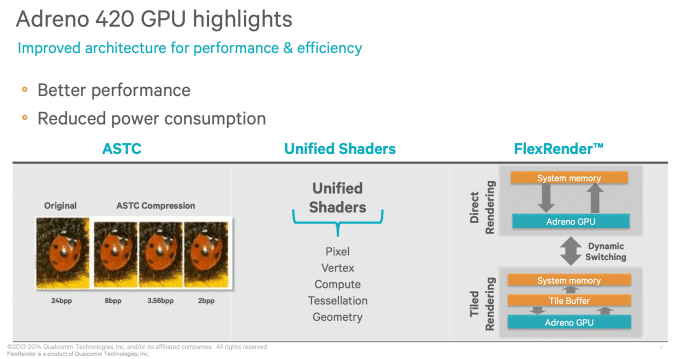 While OpenGL ES 3.1 is limited compared to Direct3D 11, this does not mean that it will be useless. The ES 3.1 is said to provide its functionality alongside a number of Direct3D features as extensions. Mobile developers should also be pleased to know that the Adreno 420 is the first Qualcomm SoC to support Adaptive Scalable Texture Compression (ASTC), which is the next generation OpenGL compression technology.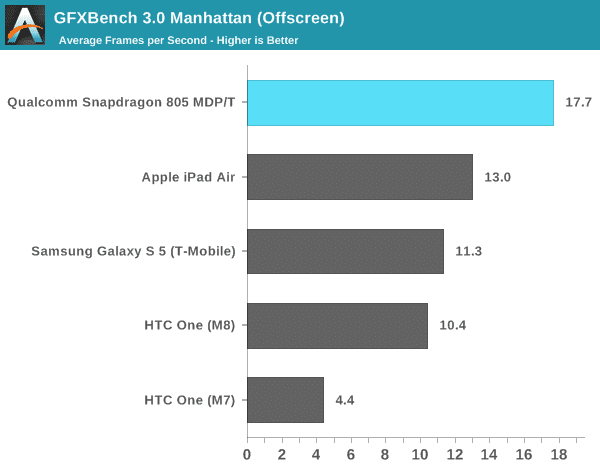 Qualcomm is expected to praise the Android gaming possibilities at Google's I/O Developer Conference, along with the low-power nature of mobile devices as well as the SoCs which power them. However, while the Adreno 420 and Snapdragon 805 will not match the desktop variants in performance (only in features), it does bring mobile computing a step forward compared to the previous Adreno 330 GPU.
Thank you Anandtech for providing us with this information
Images courtesy of Anandtech