be quiet! Silent Base 601 Mid-Tower Chassis Review
---
---
---
Peter Donnell / 5 years ago
Silent Base 601
The latest be quiet! chassis is here, and it comes as a big celebration of their first! Following on from the first Silent Base chassis from a few years ago, the new one is better than ever. With a relentless focus on acoustic performance, be quiet! are clearly living up to their name here. This chassis comes with full metal frame and panel construction to reduce unwanted vibrations. That does mean it's going to be heavier, but for good reason. Add to that ultra-thick and premium noise dampening materials, quality dust filters, premium fans and more. If you're one for showing off, they also make a tempered glass model. However, today we'll be looking at the dual solid side panel version.
Features
Innovative airflow concept with improved angled noise-dampening air vents in the front and top
10mm high-grade, extra-thick dampening mats
Two pre-installed Pure Wings 2 140mm fans
Detachable fan bracket at the top for easy installation of fans or radiators
Support for water cooling radiators up to 360mm in length
PSU shroud for a clean look and easy cable management
Removable side panels released with the push of a button – no screws needed
Easily removable dust filters
Optional side window made of tinted and tempered glass
Specifications
For in-depth specifications, please visit the official be quiet! product page here.
What be quiet! Had to Say
"Silent Base was be quiet's first PC case series. Technological advancements of later be quiet! PC cases helped mold the new Silent Base 601. This latest generation of Silent Base cases is the perfect choice when it comes to combining silent cooling and best-in-class usability, two qualities that help drive be quiet's development process, leading to several familiar as well as unique features. Silent Base's frame and panels are made entirely of metal, decreasing sound-inducing vibrations to an absolute minimum. Also, for those who enjoy PC build related aesthetics, Silent Base 601 comes with a tempered glass-windowed side panel or a sound-insulated metal side panel for true silence enthusiasts and is available in three highlighted colours: black, orange and silver." – be quiet!
———————–
A Closer Look – Exterior
---
The chassis is pretty smart looking, and it's almost refreshing to see a chassis without tempered glass in the office. Of course, you can buy one with a tempered glass left side panel, however, we obviously have the solid one. If you're now the show-off type and want a chassis that's not seen or heard, this is one of the few new options on the market for you.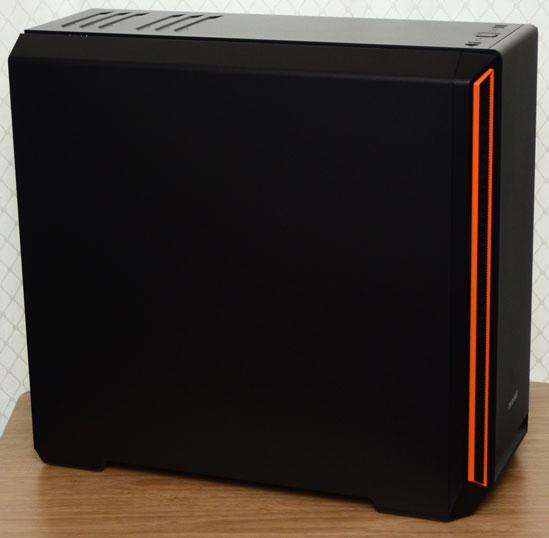 It looks like it's closed up pretty tight, but it does still offer lots of airflow. Air comes through these side vents on the front panel, which come with some stunning orange trim to keep things looking interesting.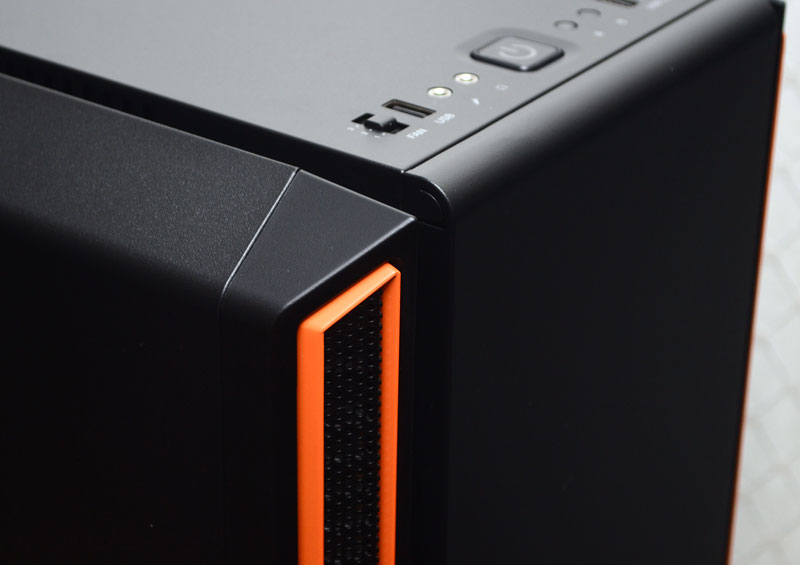 There's some more ventilation in the top side channels too, albeit it's less obvious and hidden.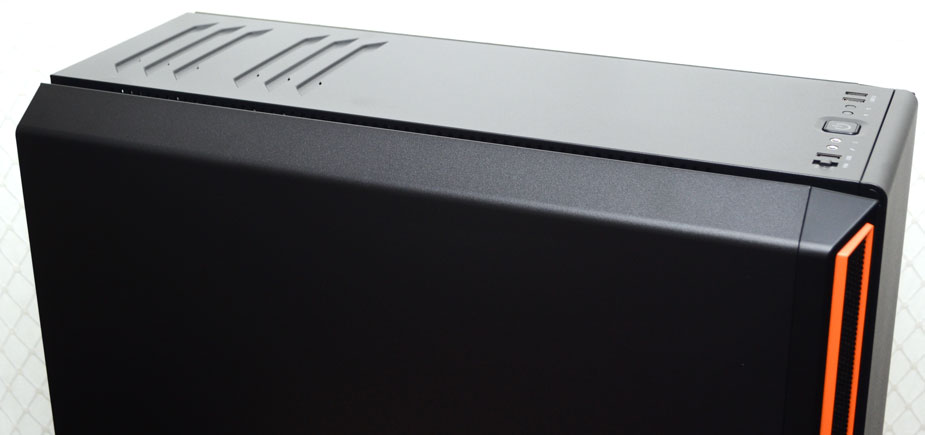 Fan Control
The top of the chassis features the I/O panel, which is neat and tidy and even the USB ports are blacked out to keep it neat. There's the bonus of a three-speed fan controller too, meaning you have more control over noise vs cooling.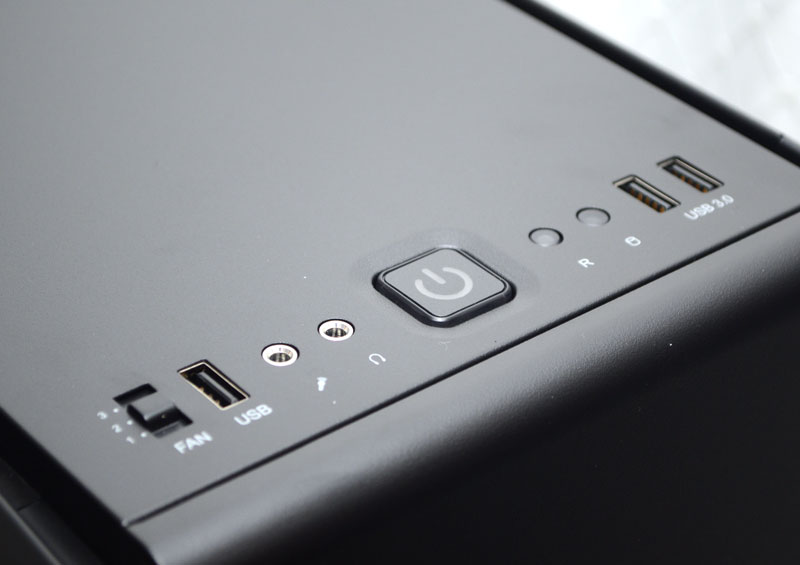 The gorgeous front panel is minimalist but not boring, most likely due to the huge orange intakes.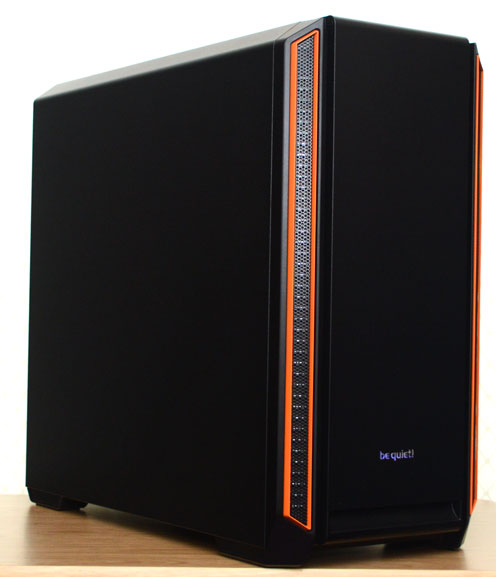 There's also a scoop intake at the bottom, and overall the bottom of the chassis looks like the front end of a sports car with all that sleek trim.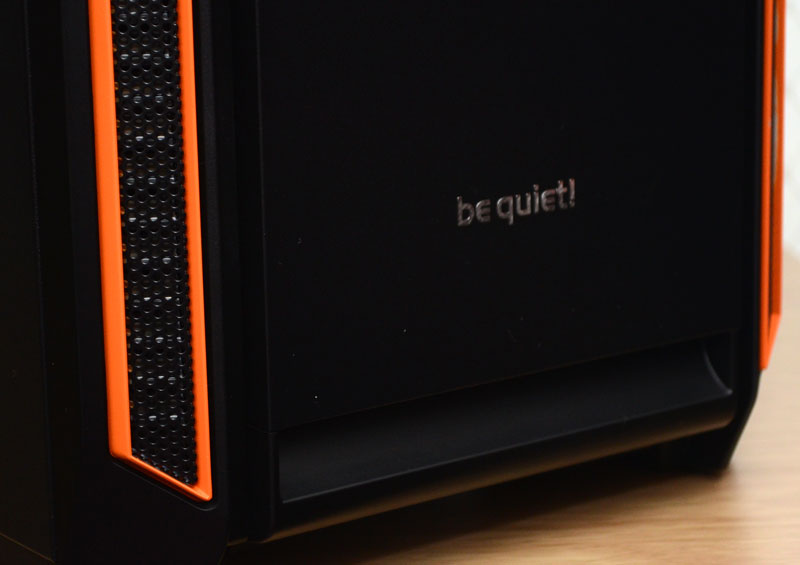 Down the right side, it's pretty much identical. Short of a few details, the chassis is nearly symmetrical.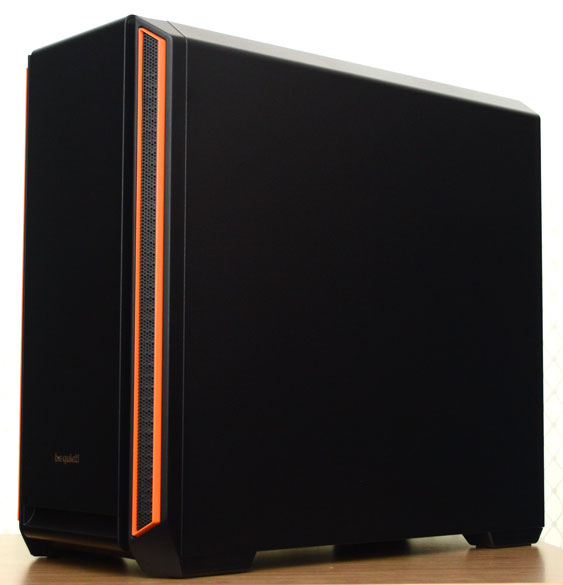 There are a few neat things going on around the back too, such as plentiful ventilation from top to bottom.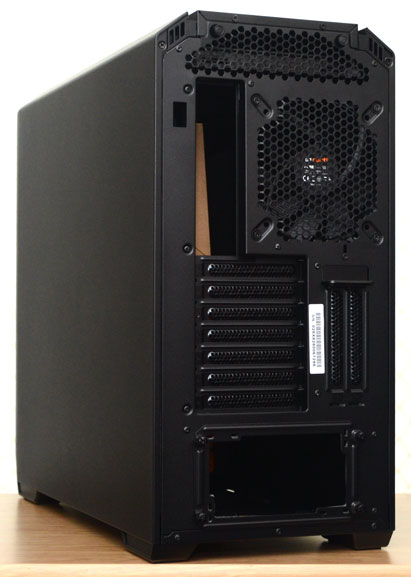 Tool Free Opening
You'll notice there are no thumbscrews holding those side panels in place. They're actually released with those push buttons on the top rear of the chassis. It keeps things looking clean, and also means tool-free access to your hardware.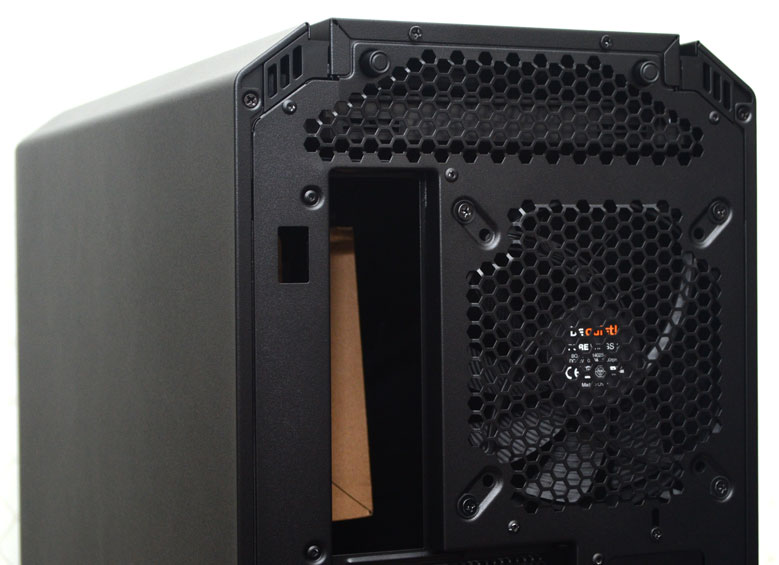 There are seven expansion slots on the rear, as well as two more in a vertical configuration.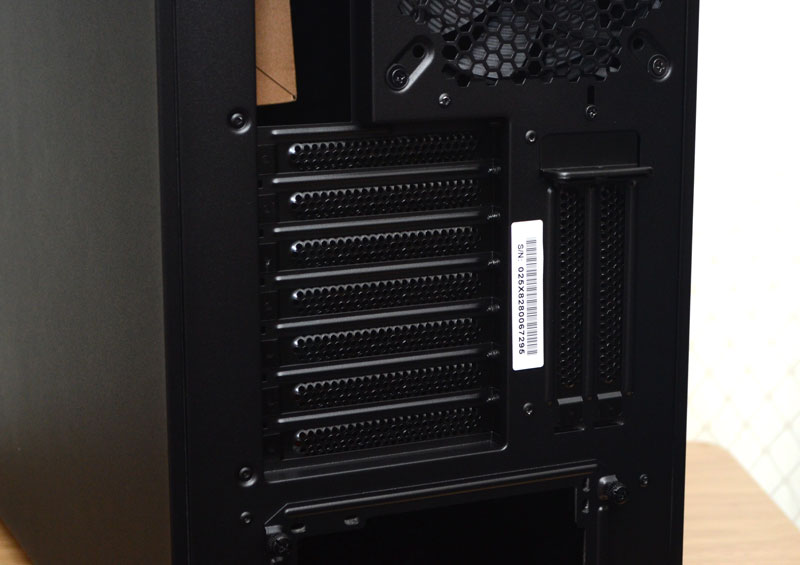 Finally, we have the PSU mount, which uses a removable plate to install it from the rear.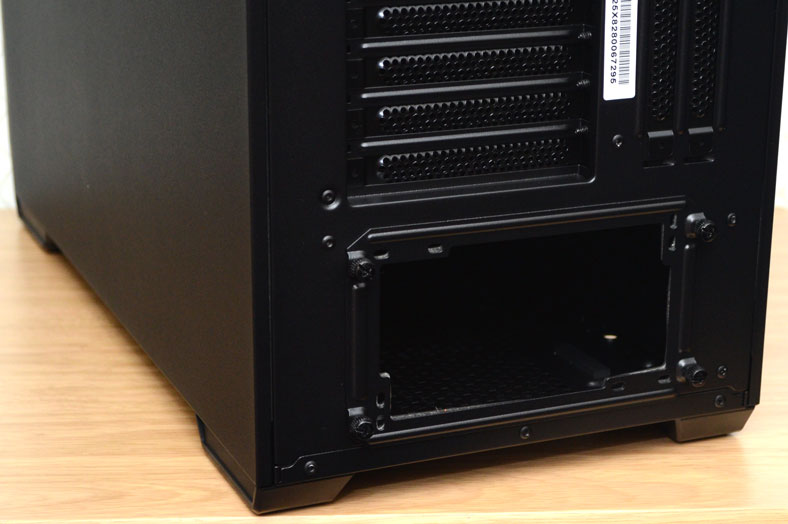 ———————–
A Closer Look – Interior
---
So, opening up the chassis really couldn't be easier. Just hit the button at the back, and the side panel will pop open, allowing you to lift it out of the way.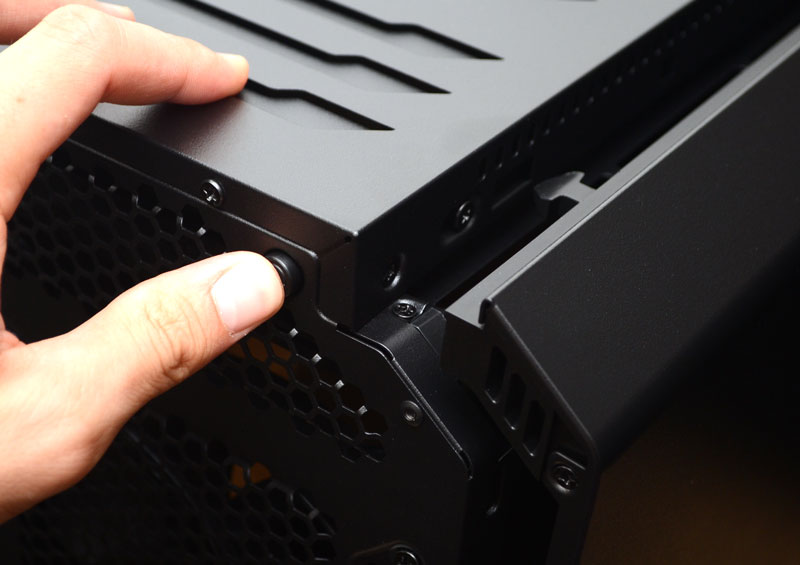 This is one seriously chunky side panel, made from thick and durable materials.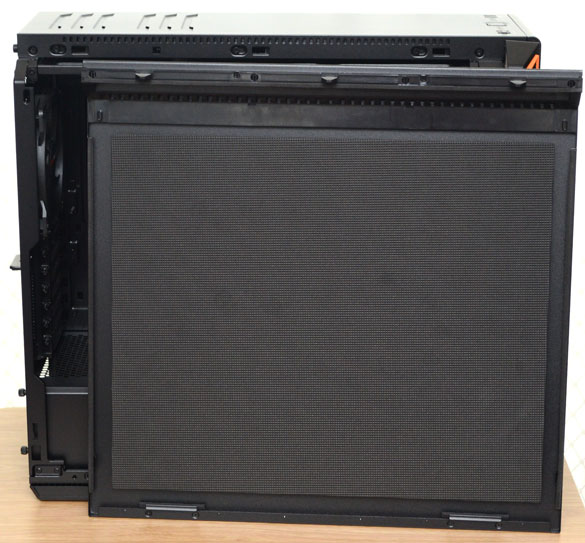 It comes with some of the densest and thick noise dampening I've ever seen. Of course, if you want a silent PC, then this is clearly the way to do it.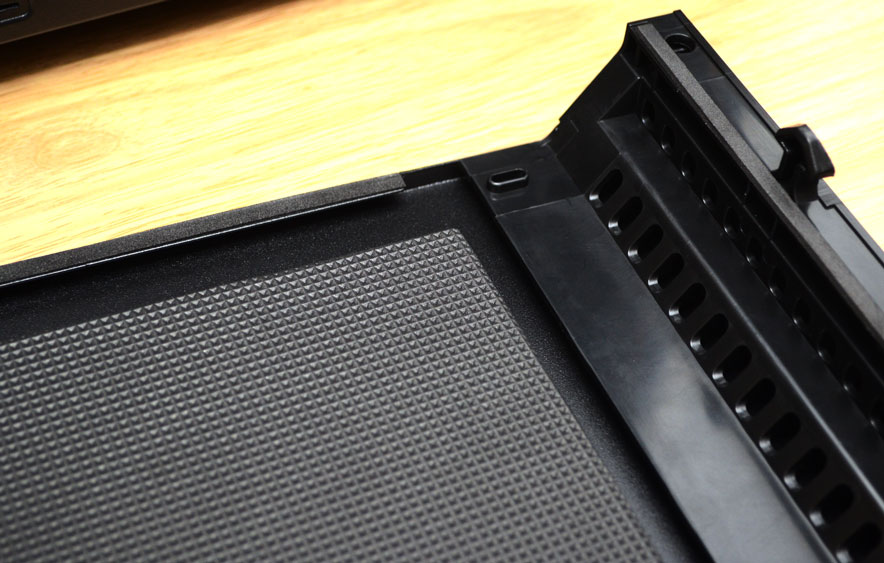 Huge Interior
Now that we have the side panel out of the way, we can see that absolutely gorgeous interior. It's almost criminal to hide it out of sight. Of course, if you buy the version with a side panel window, you can show it off. If you want silence, that noise dampened panel is hardly a poor compromise.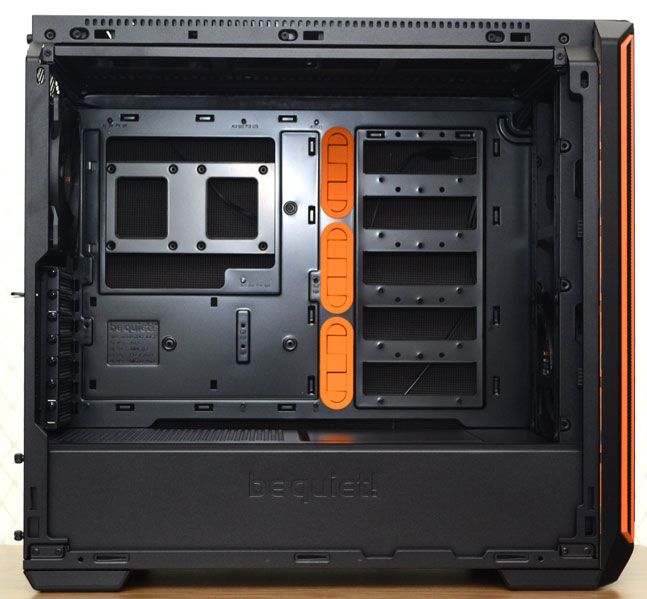 Everything is nicely laid out in here, with loads of room for high-end hardware. There's a full-size PSU shroud fitted into the chassis, which will work wonders for keeping your cable gore tucked well out of the way. For those wanting more room in the front for radiators and water cooling hardware, there's also a removable panel on the front half of it.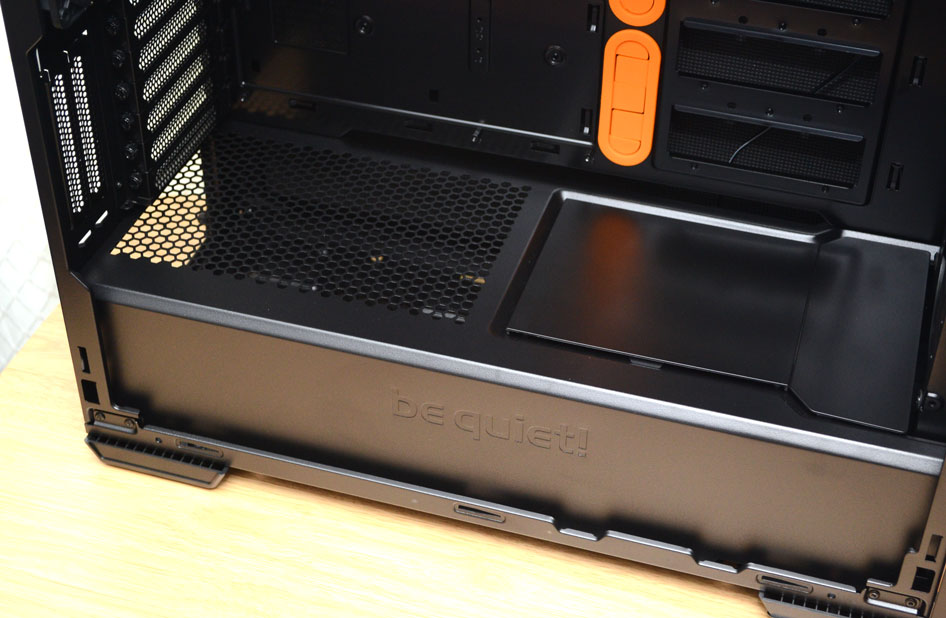 If you don't want the PSU to use the bottom air filter, you can mount it upwards thanks to this ventilation. There's quite a bit of width to the chassis too, so wider GPUs and any surrounding custom loop hardware has plenty of manoeuvring room. Furthermore, you could use a riser cable for vertically mounting a GPU too; of course, not much point if you don't have the window panel.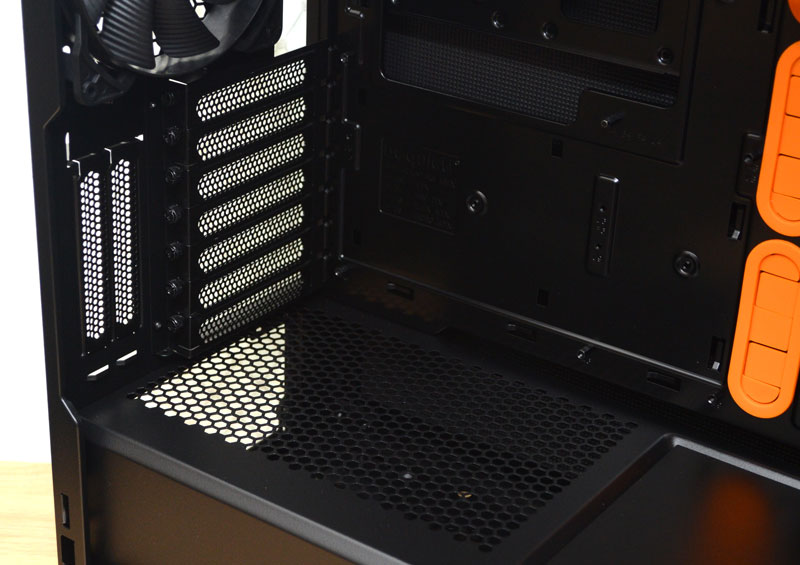 Up in the top, there's loads of clearance above the motherboard, making top mounted fans and radiators a possibility. Of course, just providing good airflow around you hardware thanks to the extra breathing room is no bad thing.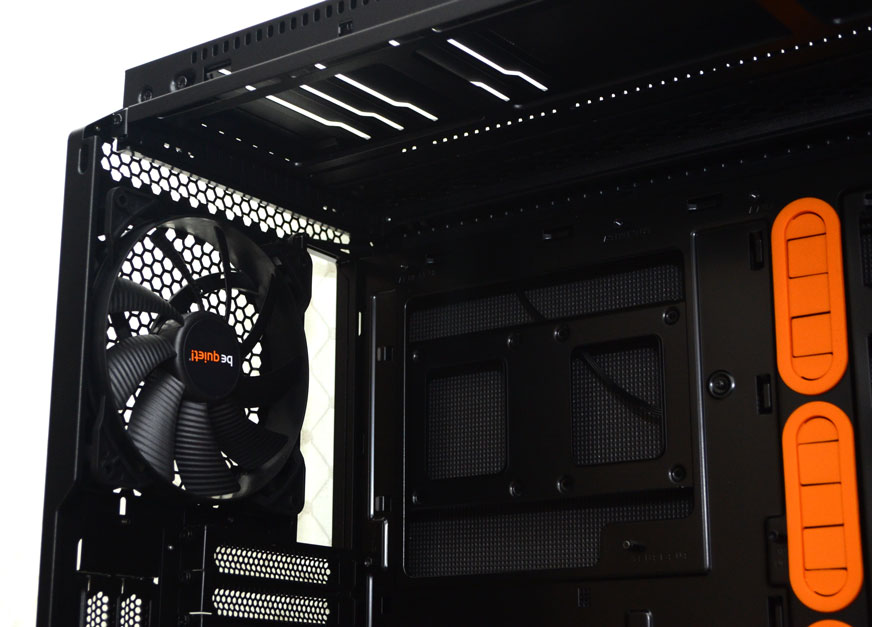 Up in the front section, the good times just keep coming. There are three huge cable routing grommets, which will easily deal with all of your power and peripheral cables.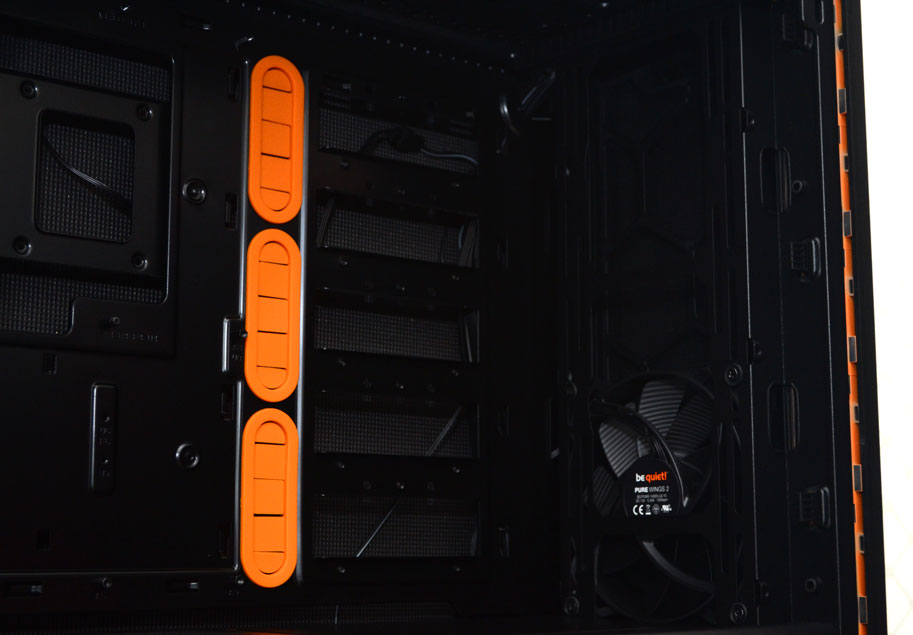 While the front panel supports both 120/140mm fans, there's a single Pure Wings 2 140mm fan pre-installed. It's mounted low down to ensure it gets the coolest air possible to your system.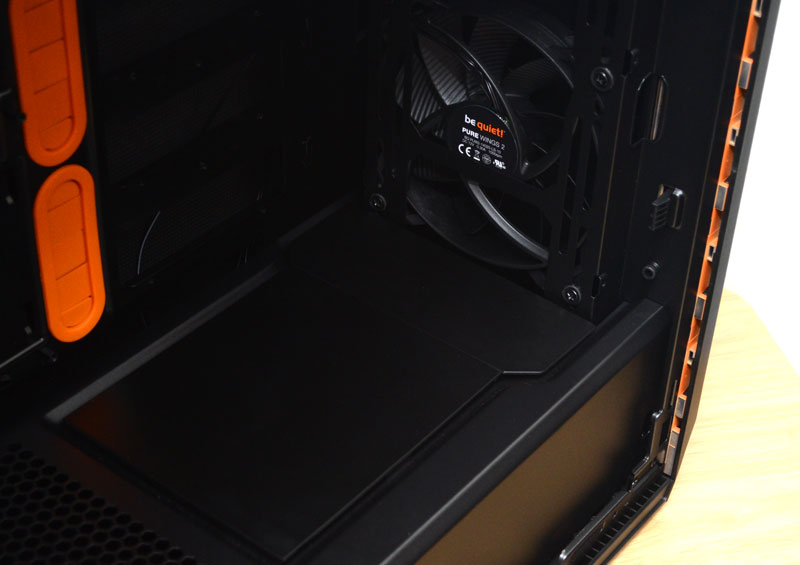 Great Cable Routing
Behind the motherboard, there is truckloads of room for routing all of your cables. If things get out of hand, you can use the cable tie loops to keep things under control too. However, the bulk of your excess cable can be put under the PSU shroud anyway. There's even room to mount a pair of 2.5″ drives right behind the motherboard.
There's an open channel above the motherboard, allowing for easy cable pass-through.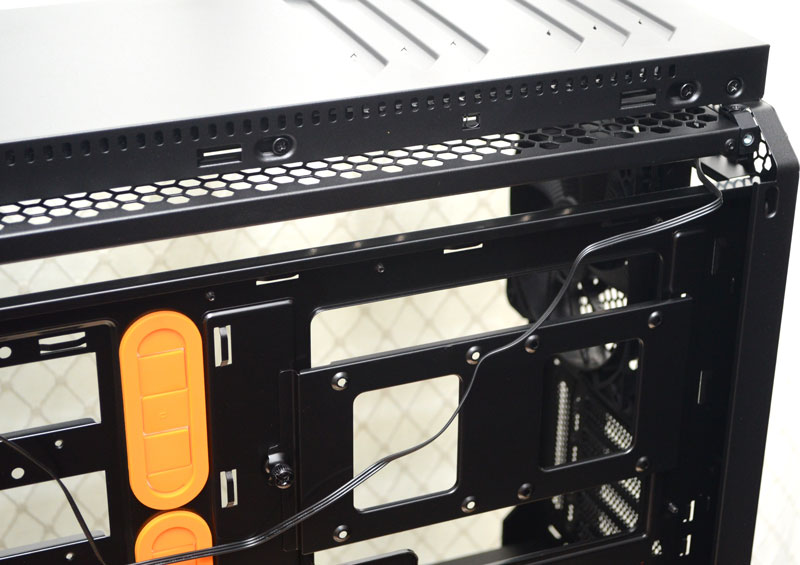 A removable 3.5″ HDD bay in the bottom allows you to hide more storage out of sight. It's fully removable should you need the room. Of course, removing it will make the mounting of your drives a little easier too.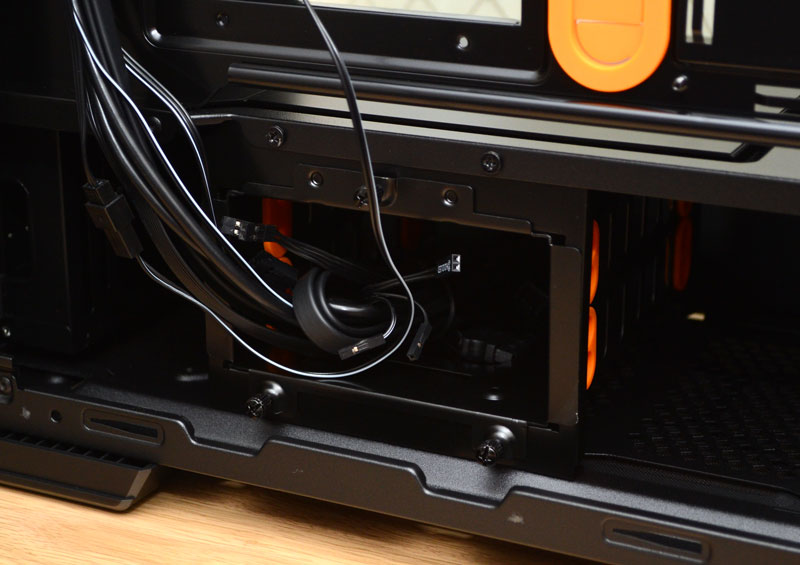 Got a massive PSU? With all this room, that shouldn't be a problem, and there are long anti-vibration mounts to keep things steady.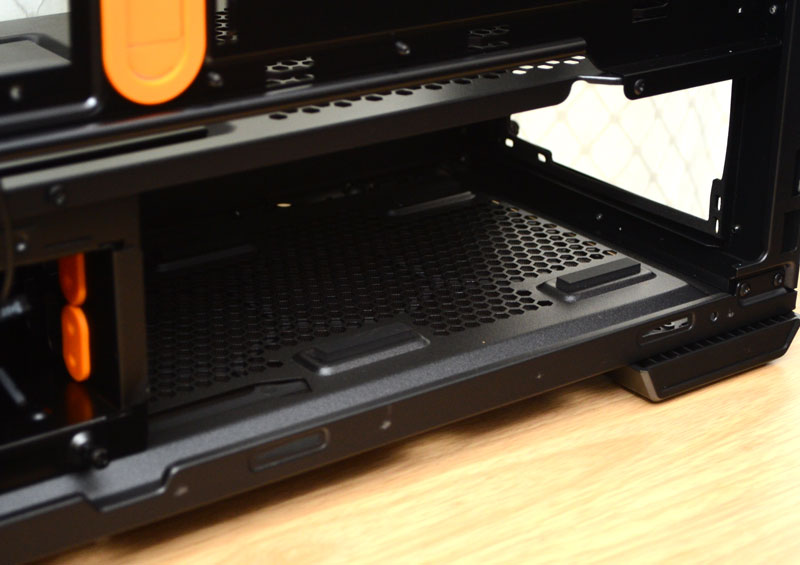 The front panel pulls away easily enough, giving you access to the filters.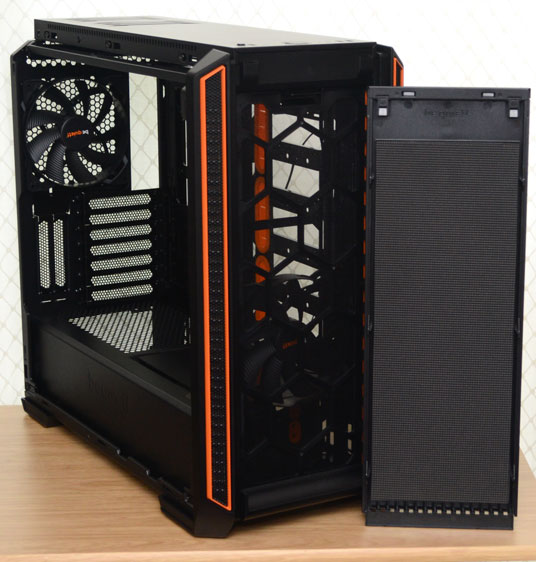 Just like the left and right side panels, you'll find the same ultra-thick noise dampening materials on the front panel too.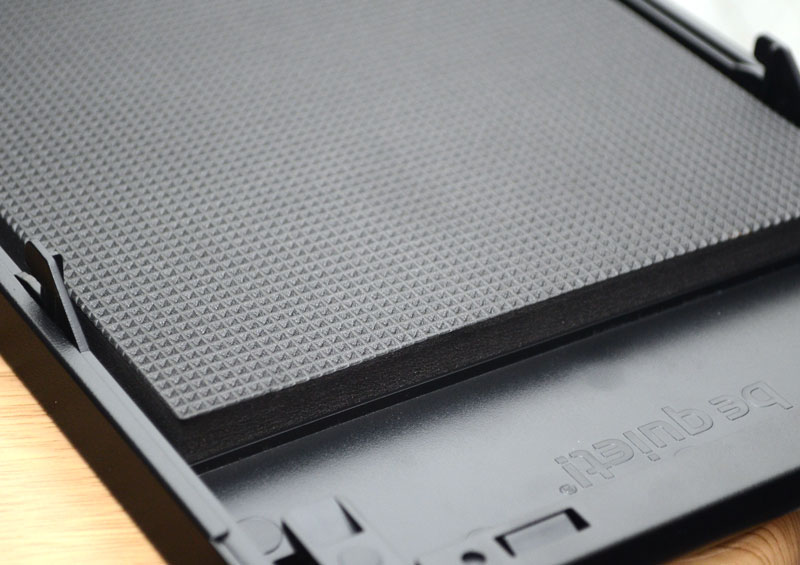 A full-height washable dust filter ensures perfectly clean airflow to your hardware too.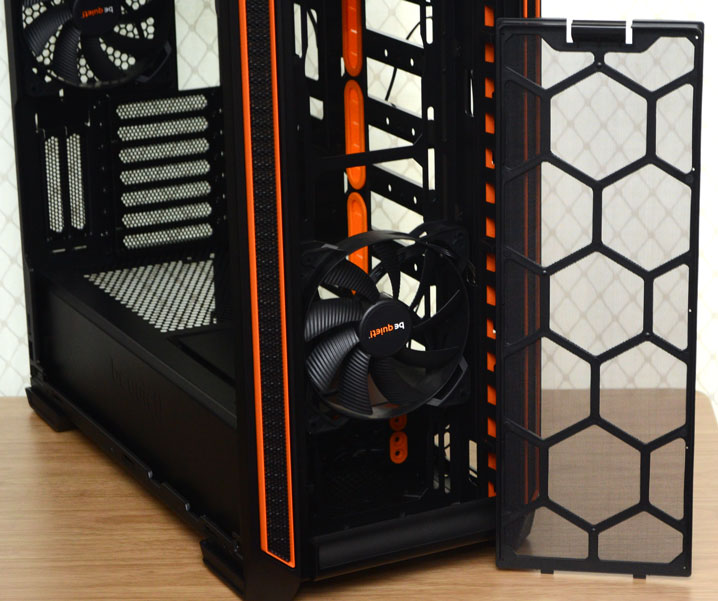 While a full-length filter slides out from the bottom, providing clean air to the PSU and other components.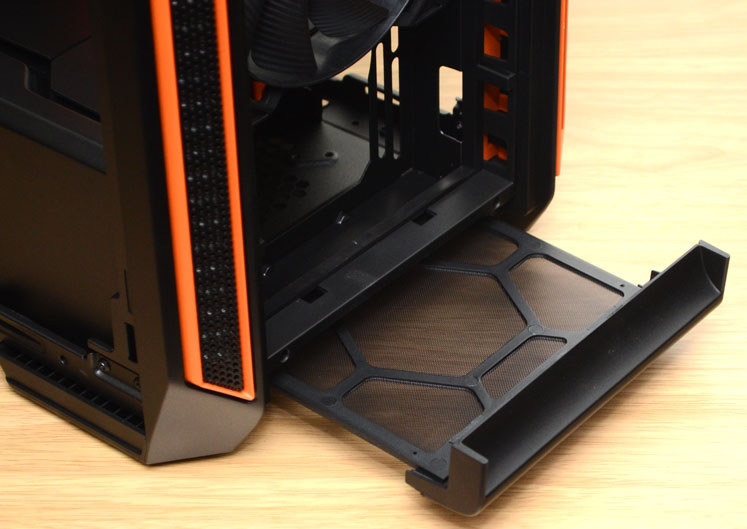 With everything removed, you'll also have greater access to the front cooling mounts, easing the install process.
———————–
Complete System
---
Installing a system inside the 601 couldn't have been any easier. The chassis doesn't feel "big" as such, but there's obviously plenty of wiggle room in here to make for an easy install. The ATX motherboard only takes up half the available space. You could easily accommodate a thick radiator, push and pull fans, pumps and reservoirs in the front with ease.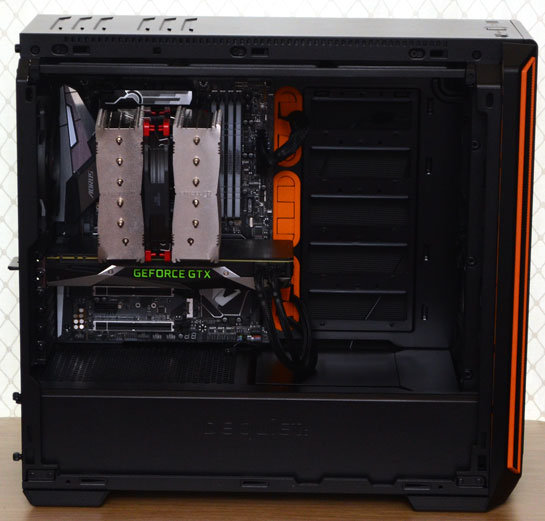 Cable management is fantastic throughout. However, there are no vertical routing holes in the PSU shroud and a small grommet here would keep things flowing a little better. Of course, this is hardly a deal breaker, just an observation.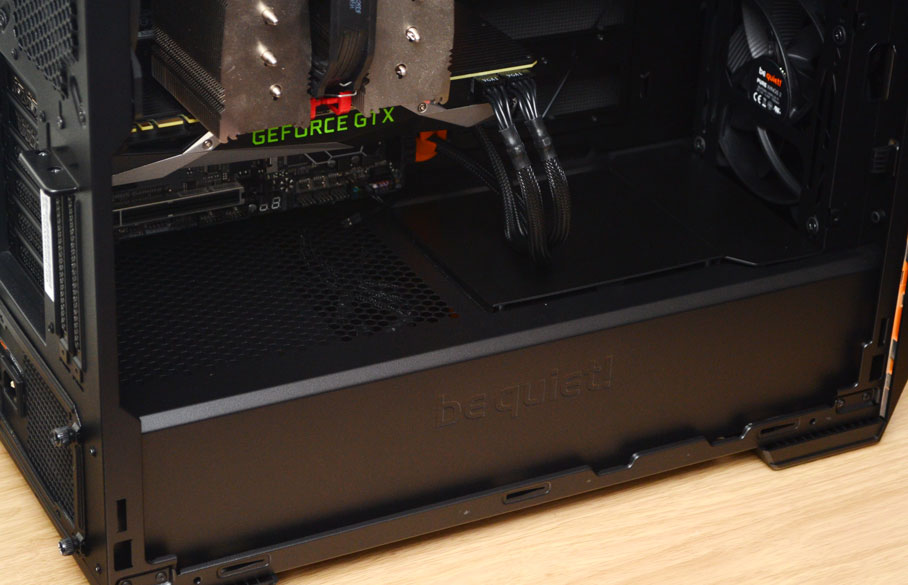 The gigantic Noctua NH-D15S fits with no issues, and plenty of room to spare on all sides. You can easily go custom loop here, or mount AIO coolers as required.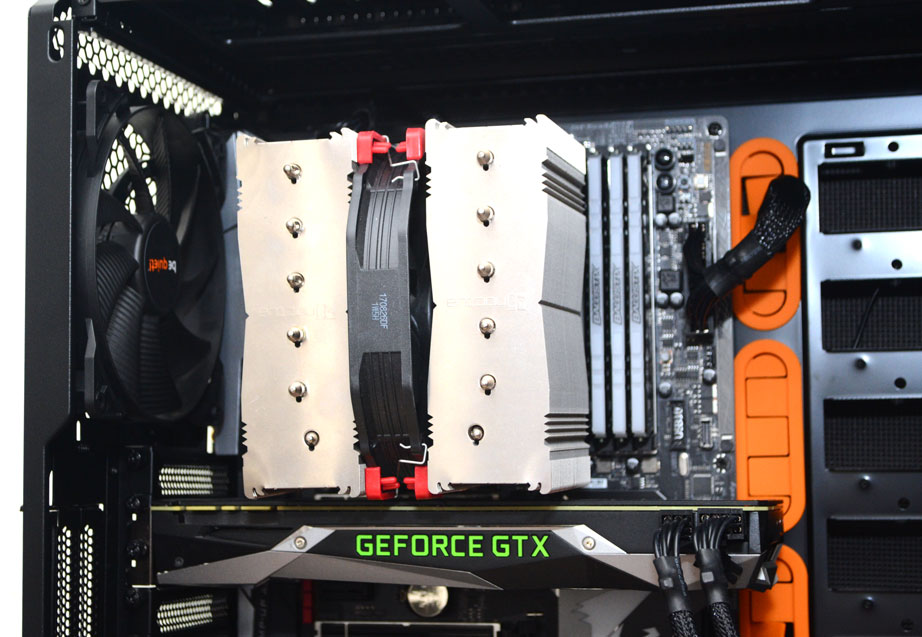 The cable routing is neat and tidy throughout, with very little excess on show. Again, this would look amazing with the windowed model. However, it's still nice to know that cables and airflow are in order with such an enclosed design.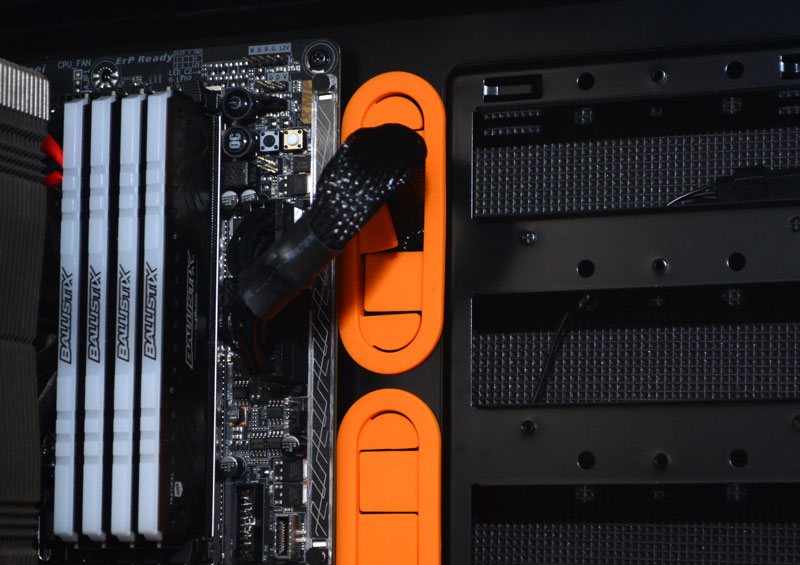 One last look before you close things up for a while!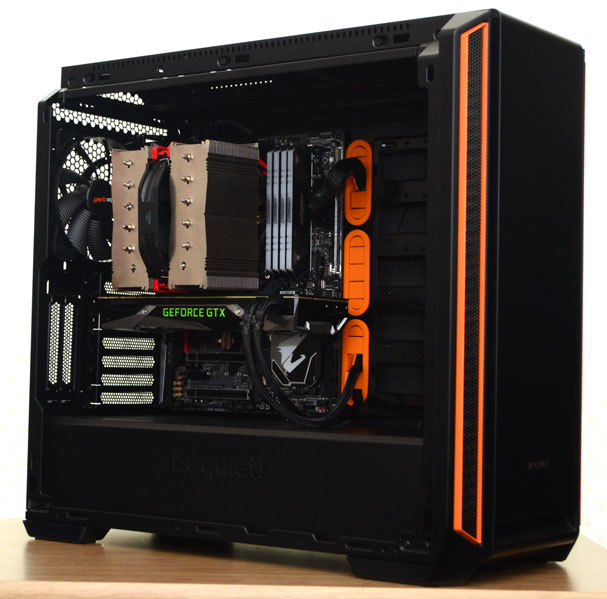 With all the side panels in place, the chassis is as neat and tidy as when we took it out of the box. End result? I absolutely love this chassis!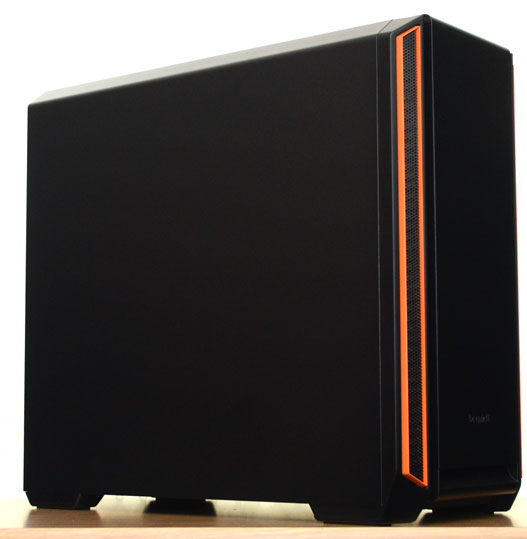 ———————–
Final Thoughts
---
How Much Does it Cost?
The be quiet! Silent Base 601 launches today at all major retailers. Unfortunately, we didn't have the up to date price at the time of writing but will endeavour to update this as soon as we have it.
Overview
be quiet! hasn't been in the chassis game for very long. However, in the last few years, they've gone from one fantastic product to another. The Silent Base series is one of the best on the market today, and the 601 is the next evolution of that. It takes all the best-known concepts for reducing noise from your system and implements them perfectly. The end result is a clean look, very capable, and silence focused system build.
Noise? WHAT NOISE!
It's not that it'll be truly silent, hardware makes noises, that's a give. However, it does what it can to mitigate unwanted noises. With Pure Wings 2 fans from be quiet! pre-installed, you're getting two of the quietest fans on the market today. If that wasn't enough, the three-speed fan controller allows you to choose when you want it to shhh or you want to boost cooling performance. From movie night to games night, just flick the switch. All that noise dampening material will certainly help absorb vibrations and some frequencies from your fans too. Furthermore, the indirect airflow channels cut down noise even further.
Dust? No Thanks
There are two huge dust filters in this chassis, both easily accessed and perfectly placed. Just remember, with no side panel you may forget to keep an eye on your system, so set a reminder for cleaning out your filters once a month. Of course, with those easily open side panels, jumping in for a big of system maintenance can be done without trying to find your screwdriver, which is neat.
Style
This is one gorgeous looking chassis, no doubt about it. While the market is falling into a cycle of RGB and tempered glass, be quiet! are offering us a different path right now. OK, they have a tempered glass model of this chassis, but it's tastefully done. Personally, I like the silent version, no windows, no RGB, just a properly built chassis with a focus on great cooling and noise suppression.
Should I Buy One?
What's not to love about the Silent Base 601!? If you're looking for a silence and cooling focused chassis, there aren't many new options on the market at the moment. Tempered glass and RGB may be all the rage, but if you want something classy, the 601 is the way to go.