Radeon R9 290 OC Announced By PowerColor
---
---
---
Gabriel Roşu / 7 years ago

TUL Corporation (Technology Unlimited) announced another PowerColor choice of the R9 series for hardcore gamers, the PowerColor R9 290 OC. Based on the brand new "Hawaii" GPU, the R9 290 offers gamers latest DirectX 11.2 support, delivering fierce performance and revolutionary intelligence. Meanwhile, users are available to experience 4K ultra resolution gaming now without sacrificing a single detail.
The PowerColor R9 290 OC is built with AMD "Hawaii" GPU, which utilizes the latest GCN architecture, and has 2560 stream processors, providing the best performance without compromise. Also, The R9 290 OC use the highest standard memory with 4 GB of GDDR5, clocked at 975 MHz core, 30 MHz above reference board, together with 1200 MHz memory clocks, offering gamers an immediate framerate gain. Furthermore, sharing the same memory interface, 512-bit, with R9 290X, successfully tackles demanding games titles without effort.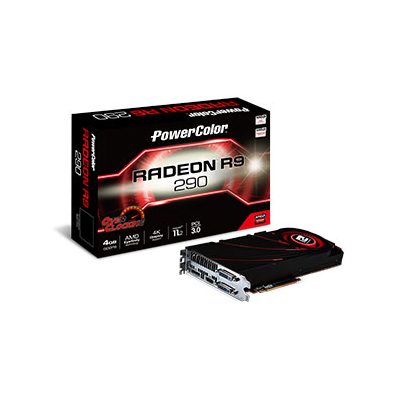 The AMD TrueAudio technology and Mantle play an important roles with the release of R9 290 OC. The AMD TrueAudio technology is the first discrete GPU featuring programmable audio pipeline, delivering a unique audio user experience on PCs. With Mantle support, game developers can get the unparalleled access to the GPU core, and bring a brand new way of looking at the world of digital gaming. To enable higher performance and more power efficiency, the PowerColor R9 290 OC supports AMD PowerTune technology, performing intelligent assessment of the GPU's real-time power draw.
PowerColor R9 290 OC technical details:
Core Speed: 975 MHz
Memory Speed: 1250 MHz (5.0 Gbps)
Memory: 4 GB GDDR5
Memory Interface: 512 bit
Eyefinity: Yes
DirectX: 11.2
CrossFire: Yes
Output: DL DVI-D / DL DVI-D / HDMI / DP
Thank you TechPowerUp for providing us with this information