Razer Leviathan V2 Gaming 2.1 Bluetooth USB RGB Speaker Bar
---
---
---
James Cusworth / 2 months ago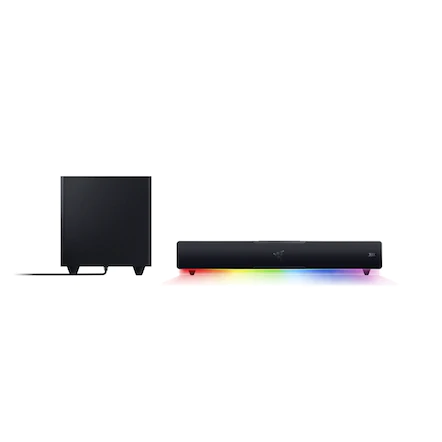 RAZER LEVIATHAN V2
ILLUMINATE YOUR SOUND
Amp up your setup in every way imaginable with the Razer Leviathan V2—a multi-driver gaming soundbar and subwoofer featuring THX Spatial Audio and Razer Chroma™ RGB. Experience unrivalled immersion in both sight and sound, backed by low-latency Bluetooth 5.2 for seamless PC and mobile use.
THX® Spatial Audio and Powered By Razer Chroma™ RGB
MULTI-DRIVER PC SOUNDBAR AND SUBWOOFER
Crisp, Clear Trebles and Deep, Punchy Bass
Packed with 2 full-range drivers, a down-firing subwoofer, and more, our all-in-one sound system is designed to provide full-range, high-fidelity sound that elevates your audio experience.
THX® SPATIAL AUDIO
A Wide, True-to-life Soundstage
Our advanced 7.1 surround sound delivers audio with pinpoint accuracy, allowing for a more realistic and detailed soundstage that makes your movies, games, and music truly come alive.
Only available on Windows 10 64-bit or higher
COMPACT DESKTOP FORM FACTOR
Room-filling Sound And Minimal Footprint
The compact soundbar fits perfectly beneath your monitor to keep your desktop clutter-free, while detachable rubber feet keep it angled towards you for minimal audio obstruction.
BLUETOOTH 5.2
Seamless PC And Mobile Connection
Enjoy smooth, stutter-free sound with a low-latency Bluetooth connection, as you switch from your PC to another paired device such as a smartphone or tablet.
RAZER MOBILE APPS AND RAZER SYNAPSE
A Truly Personalized Experience
From RGB lighting to audio settings, tweak the soundbar to best suit your entertainment needs with software designed to give you more control at greater convenience.
POWERED BY RAZER CHROMA™ RGB
Greater Customization And Immersion
With 18 lighting zones, countless patterns, dynamic in-game lighting effects—experience full RGB customization and deeper immersion with the world's largest lighting ecosystem for gaming devices.
FAQS
Which devices are compatible with the Razer Leviathan V2?
The Razer Leviathan V2 can be connected via USB Audio Input to your PC. It can also be connected wirelessly via Bluetooth with your mobile phones and Nintendo Switch.
How do I toggle audio between the Razer Leviathan V2 and another device?
On the Toggle PC Audio Devices panel within Razer Synapse, you will be able to set a secondary playback device that you can immediately switch audio with by pressing and holding the Source button on the Razer Leviathan V2. Learn more at Razer Support.
What is the audio system used by the Razer Leviathan V2?
The Razer Leviathan V2 harnesses the power of THX® Spatial Audio on Windows® 10 64-bit and is activated via Razer Synapse. Unleash the full potential of the Razer Leviathan V2 by enabling 360° positional audio for a natural and lifelike experience across games, music, and movies.
Can I adjust the height of the Razer Leviathan V2?
Yes, the Razer Leviathan V2 comes with 2 sets of detachable feet to adjust the angle of the soundbar.
Now £229.99

---
eTeknix use affiliate links, which means we may earn commission from our links.