Report – Nintendo NX has 6.2-Inch 720p Multi-Touch Screen
---
---
---
Ashley Allen / 5 years ago
Since Nintendo is yet to officially unveil its new console, the NX, the resulting vacuum means that we have to rely on insider reports for information. Recent reports point toward the NX being a portable/home console hybrid, but little more is known about the mysterious hardware. Well-known Nintendo blogger Emily Rogers, though, has shared some details she has heard about the NX, reporting that it will feature a 6.2-inch 720p multi-touch touchscreen, detachable controllers with force feedback, and two USB ports.
"This article about NX's detachable controllers supporting force feedback and motion controls has truth," Rogers tweeted. "NX prototype had a 6.2 inch 720p multi-touch touchscreen. Unknown if final product's screen size will be larger / smaller than prototype."
"Prototype for dock station has USB ports. I heard 2 usb ports, but I don't know if this number will change in the final product," she added. "MCV's report about GameFreak being involved with NX has some truth to it."
Since Rogers' Twitter account is locked, we only have an image of her tweets (via Gamepur):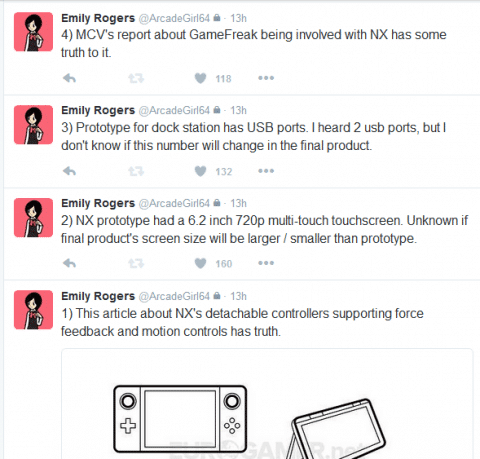 In her final tweet, Rogers refers to rumours that the NX's launch titles will feature a Mario and a Pokémon game, the latter being developed by Game Freak, as reported by MCV. In the article, MCV confirmed that reveals from a EuroGamer insider – that the NX is a portable console with detachable controllers that can be docked with a TV at home – was "100 per cent accurate."
While Rogers regularly reports Nintendo rumours, the accuracy of her information is spotty, at best, so take these tweets with a heap of salt.