Roccat ISKU FX Gaming Keyboard Review
---
---
---
Peter Donnell / 9 years ago

Roccat are one of the finest gaming brands on the market at the moment, and some of their product ranges have proven themselves time and time again, not only in reviews but with consumers, gamers and computer enthusiasts around the world. Roccat have a strong history of gaming products, and it was only a couple of month ago that I personally awarded the Roccat Kone XTD Gaming Mouse our Editors Choice Award, which I highly regard as the best gaming mouse I've used, which is why I'm still using it even today.
A quick look at the feature set of the ISKU FX turns up almost countless features and functions and just as we saw with the Kone XTD Mouse, it seems the ISKU FX is set to take the gaming keyboard world by storm. Priced at around £80.00 here in the UK it's not terribly expensive for a gaming keyboard, it is however a little expensive for a keyboard that isn't mechanical. So it will be interesting to see what the ISKU FX can offer us in terms of performance and features to justify its retail price.
Features
MULTICOLOR KEY ILLUMINATION
with 16.8 million colors of your choice; with 6 brightness levels
3 EASY-SHIFT[+] ZONES
for easy key duplication
36 EASY-TO-REACH MACRO KEYS
including 3 Thumbster keys
MACRO LIVE! RECORDING
with dedicated M-Rec button; 180+ macros in 5 profiles
8 CONFIGURABLE MEDIA & HOTKEYS
25+ assignable functions
MEDIUM-HEIGHT KEYS
with an optimum keystroke & pressure point;
advanced anti-ghosting; 1000Hz polling rate
ROCCAT DRIVER + MACRO MANAGER
incl. Sound Feedback;  Macro Presets for games,
multimedia and office apps
EXTRA-LARGE GRANULAR WRIST REST
with special surface texture
INTEGRATED CABLE CHANNELS
for better device organization
NON-SLIP BASE
with lock-on keyboard feet
ULTRA-FAST PROFILE SWITCHING
5 Profile-Status LEDs
ROCCAT TALK – SET BONUS
get more out of your ROCCAT devices
by combining their functions
ROCCAT TALK FX
translates on-screen action into sensory
effects on your Isku FX
As you can see from the feature set above, the ISKU FX isn't exactly lacking in bells and whistles, with a 6 level key lighting system, shift+, macros, hotkeys, media keys, custom software and more to keep you entertained. So lets move on and take a closer look at the ISKU FX.
The ISKU FX came nicely packaged in a fairly slim box, which is nicely decorated plenty with of graphics and specifications, as well as a nice illustration of the LED backlighting.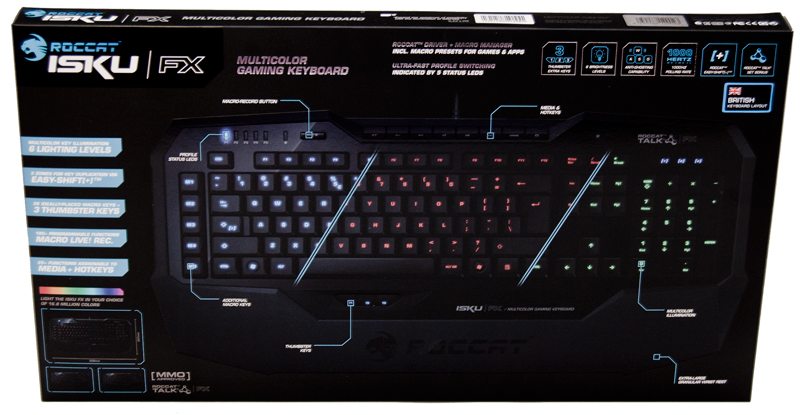 Around the back of the box is much the same, a few highlighting images for some of the major features as well as the international translations.
In the box I found the keyboard and nothing else, this isn't a problem of course as there doesn't need to be anything else included, official drivers are best downloaded from the Roccat website to ensure you have the most up to date edition.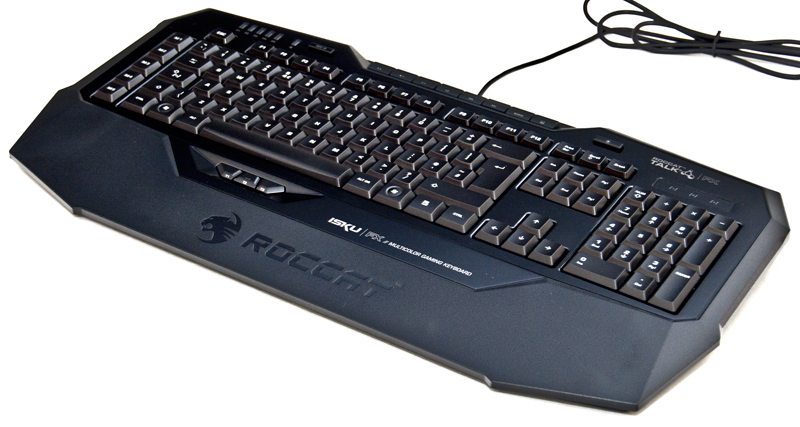 The ISKU FX features a full size layout complete with separate arrow and number pad keys, a range of macro keys on the left, multimedia keys at the top and thumbster buttons below the space bar.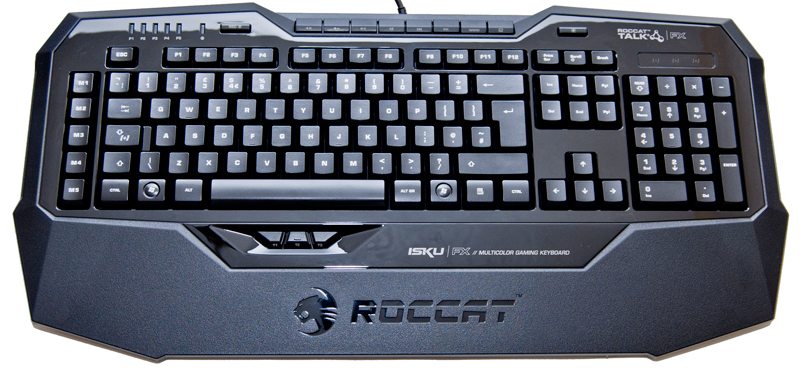 The overall profile of the keyboard is super sleek and with the feet down, the back of the keyboard is barely over an inch deep. This does mean your hand can glide over the keyboard in any direction and the low set keys don't get caught on your fingers.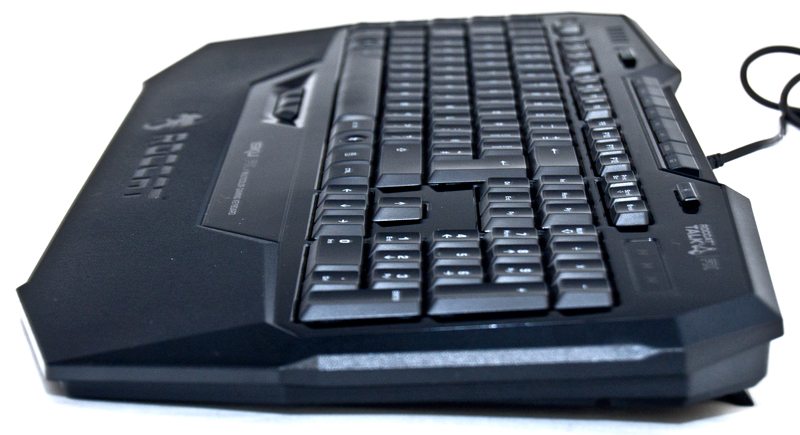 The extra three buttons here are really handy and fully programmable in the Roccat software, they're also recessed into the keyboards body to prevent accidental clicks and you can easily use the wrist rest without accidental button presses.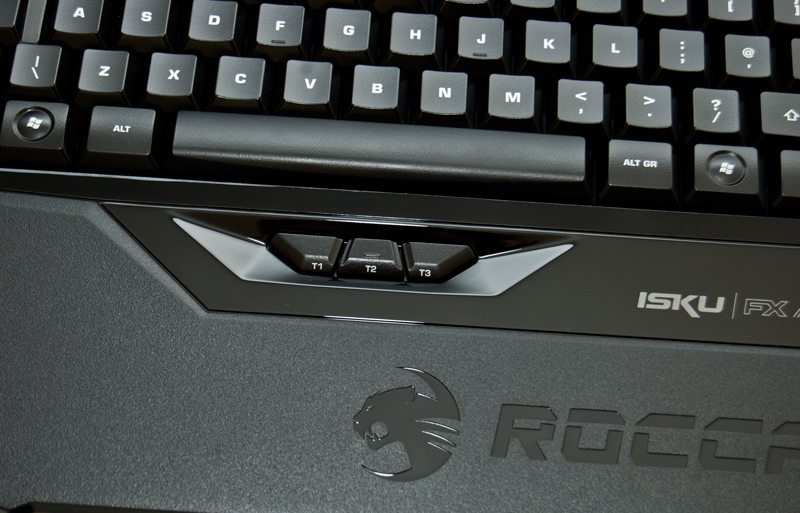 The macro keys are complimented by a realtime record function and preset indicator LEDs that are nicely out of the way of the main functions but still easily accessible.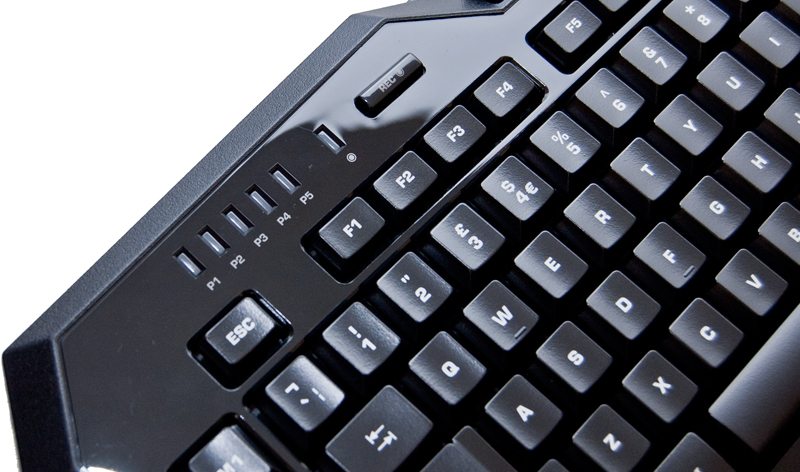 Underneath we have two flip out feet, four firm rubber grips and grooves for routing cables, perfect for keeping your desk space organised and cable clutter to a minimum.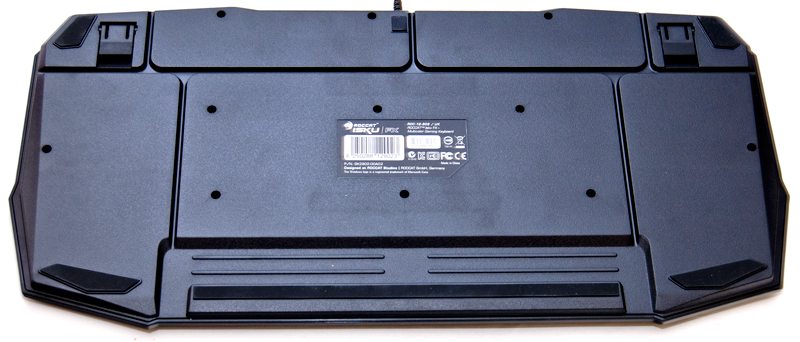 The cable comes hard-wired with a durable USB cable, it's not braided like a lot of Roccat products, but it does comes fitted with a good quality USB connector and Roccat branded mould.

Here are some of the actual lighting results I was able to achieve, its possible to bring out virtually any colour you can think of with ease thanks to the included software in just a matter of seconds and each colour can be set to a hot key profile, be adjusted to 6 levels of brightness via the keyboards light key, you can also enable effects such as breath and colour flow to really tailor the style to your liking.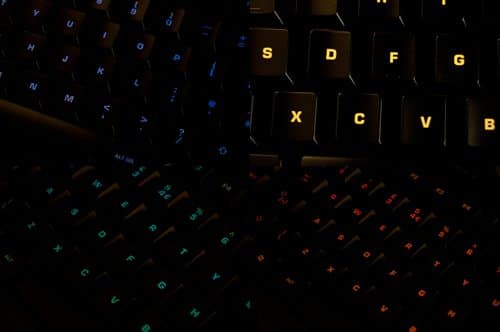 Setup & Installation
General setup was as simple as plug-and-play and thanks to most of the functions of the keyboards hotkeys being handled by the keyboards processors you can start using the hot keys and macro recorder straight away. However if you really want to dive into the settings then you're going to want to download and installed the Roccat drivers, which allow you to customise multiple profiles, shift+ functions, macros and a whole lot more.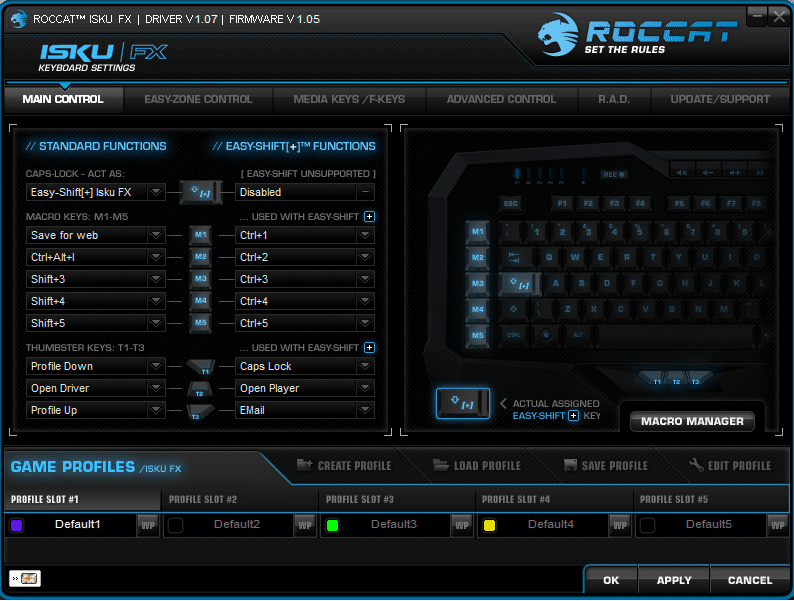 Gaming Performance
I've been playing a lot of Crysis 3 and Dungeon Defenders this week, both of which game me a great opportunity to put the ISKU FX through its paces. The light response and low action of the keys make them an absolute joy to play and having so many customisation options to hand for macros, hot keys and the ability to change my Roccat mouse DPI, or just about any mouse setting for that matter via my keyboard for those all important sniper shots is a real game changer.
General usage
Because I do a lot of typing on a daily basis, as well as gaming on my PC, I need a keyboard that is comfortable to use over long period of time. The included wrist rest on the ISKU FX felt a little intrusive and out-of-place at first, likely due to its large size, but over the first few hours I came to find it helped provide a great typing position for work and play and now I'd feel weird not having the wrist rest there.
I don't tend to use a lot of Macros in games, I've never taken MMO games that seriously and I don't really need macros for much else that I play, I do however do a lot of Photoshop editing, the Roccat software comes preset with a bunch of handy Photoshop, Web browsers, media player and other popular software presets to get you on your way, but the Photoshop ones in particular have sped up my daily routing greatly.
Bonus Features
The ISKU FX, much like many other premium Roccat products isn't exactly lacking in features, it has so many features that it would take a review three time longer just to cover them all. One of my favourites however is the ability to customise the colour scheme of the keyboards lighting to just about any colour you can think of. There is also an open source developer API available that should see all kinds of colour based feedback functions brought to the keyboard in the coming months, I saw a few demonstrations of these possibilities at CES 2013 and while it may not be for everyone, any extra features included for the same price are a welcome bonus.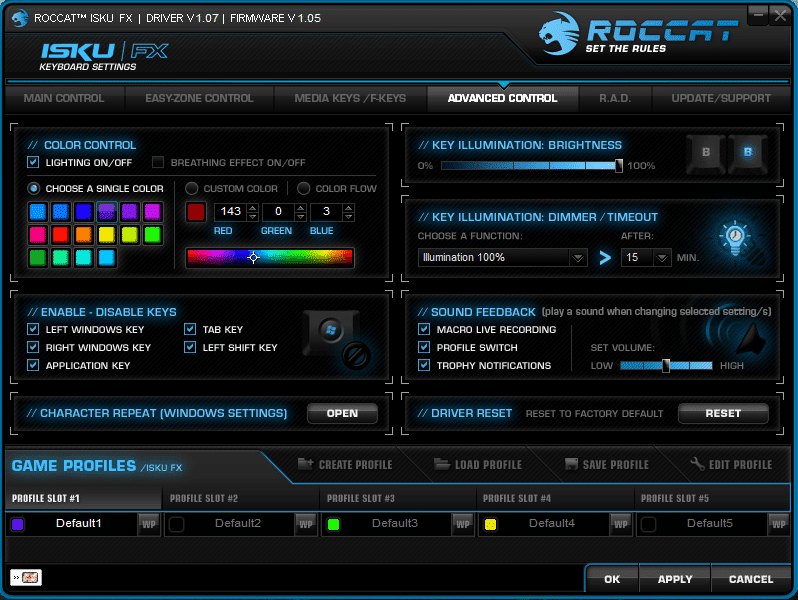 Overall I really enjoyed the Roccat ISKU, its software interface is the best in class and being able to tweak more settings than I'll likely ever need to is something that does amuse me. Yet I have found my self trying to optimise various configurations and the concept is slowly growing on me, making little changes to the way I play my favourite games, especially the ability to use a key (in this case Caps Lock) to control my mouse sensitivity, hold the button down and it drops down to give me maximum precision when scoped in, let go and my mouse returns to normal, awesome.
I was expecting to dislike the use of a permanently attached wrist rest on this keyboard, given I've always used a fairly standard keyboard with no rest on it, but I don't think I could go back to my old keyboard now that I've grown accustomed to the Roccats ergonomics. Plus how could I stop using this keyboard after spending so much time finding the right purple lighting to match my mouse and PC case lights, setting up my Photoshop macros and gaming preferences? I would be like loosing a limb.
Roccat are not the only big name gaming brand on the market and for some people it comes down to brand preference or loyalty, but the cold hard fact is that this keyboard is easily the best performing non-mechanical keyboard I've had the pleasure of using. It's quite expensive at around £80 and for the same money you could get a full size mechanical keyboard, which I can bet will be a very nice keyboard for the money, but it won't have any of the features you find on the ISKU FX apart from maybe an on/off back light. Would it be a better keyboard than the ISKU FX? Most likely not and any difference in switch type over a fast action membrane key is really matter of preference for most users. However, I do uphold that the ISKU FX has the best typing response I've found from a non-mechanical keyboard.
If your reading this review because you're in the market for a great gaming keyboard then yes, it fulfils that promise and its a fantastic keyboard for gaming but it offers up so much more in terms of features, performance and overall value for money. If you have another Roccat Talk compatible product like the Kone XTD mouse then your going to find even more benefits than most, but its this seemingly endless feature list that makes this an easy Editors Choice Award worthy product.