Russian Magnitude 8.3 Earthquake Said To Biggest Ever Deep Temblor
---
---
---
Ryan Martin / 10 years ago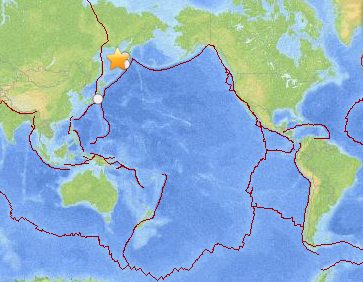 Just two days ago Eastern Russia was struck by an earthquake of magnitude 8.3. In itself that strength makes this earthquake very significant but what is most significant is that it occurred a staggering 608.9 kilometers below the Earth's surface. According to reports by Nature this is unusual because we very rarely see earthquakes of this magnitude at this depth, the only other one on record that is comparable is the 8.2 magnitude earthquake that occurred in Bolivia in 1994 at a depth of 631 kilometers.
The reason why this giant Russian "Deep Temblor" was able to occur is because beneath the Sea of Okhotsk (where the earthquake happened) the Pacific crust is descending under the Eurasian plate. Given the relative speed of its descent, 8cm/3.15 inches per year, the plate gets to stay "cool" enough to be prone to rupturing thus allowing the earthquake to occur.
Reports suggest that the earthquake was felt as far away as Moscow but preliminary reports suggest little damage and no fatalities, surprising for a magnitude 8.3 earthquake but not surprising given how sparsely populated the Russia Far East is.
It is now expected that this earthquake will provoke further study and perhaps teach us something new about earthquakes:
"A series of smaller quakes, up to about magnitude 6.0, had shaken just south and east of Petropavlosk-Kamchatsky over the past several days. But they were far shallower. Figuring out how the shallow earthquake swarm and the large deep quake are related — if they are — is likely to be a topic of intense study."
Image courtesy of Nature