Samsung's Highly-Popular 990 PRO SSD Might Have a Big Durability Problem!
---
---
---
Mike Sanders / 2 months ago

Samsung is a hugely respected brand when it comes to its storage solutions and particularly so with its solid state drive products (SSD). The 990 PRO, for example, has been a particularly popular recent release thanks to its incredibly high levels of data transfer speeds. Some tests do actually suggest that it might be the fastest commercially available SSD on the market right now.
Following a report via NeoWin, however, major allegations have been levied that despite its incredibly potent performance, the Samsung 990 PRO might have a huge problem when it comes to durability, and, effectively, its lifespan! – And worse, Samsung doesn't appear to want to even acknowledge this!

Samsung 990 PRO – A Fast But Limited Life?
Following reports from various owners of the Samsung 990 PRO, there has been a growing rumour (I can't call it categorically confirmed just yet) that their SSD drives would start showing signs of degradation despite being practically brand new.
Now, for those of you unaware, while SSD drives are notably faster and hugely more reliable than HDDs, they do have a finite lifespan. An SSD is limited, in basic terms, to how often it can rewrite data before the sectors start going 'bad'. Fortunately, in terms of long-term use, most SSD devices have built-in protections to isolate and ignore sectors deemed 'on the way out' ensuring that the storage device should last a fairly long amount of time.
Just to put this into context though, when SSD Chia mining was a big thing, most storage devices utilised at major industrial scale operations would only last a week before being rendered ruined through continuous data being written and rewritten.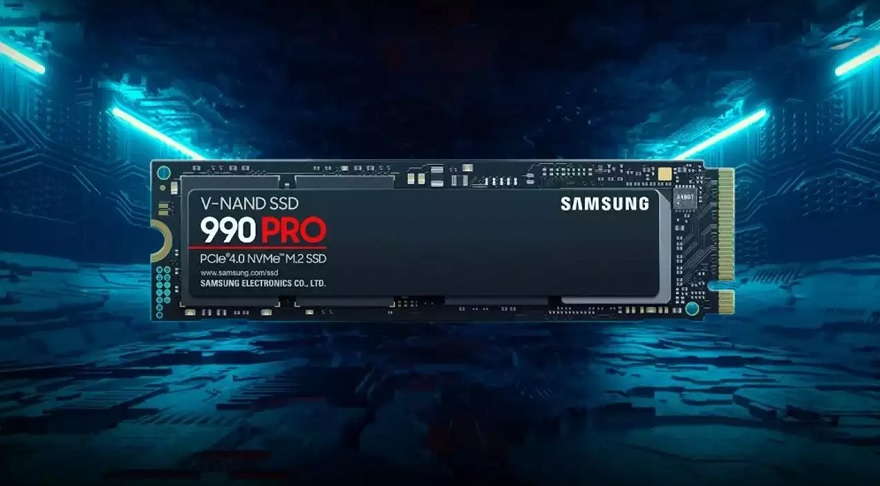 What's specifically concerning about the Samsung 990 PRO though? Well, in a nutshell, through the utilisation of Samsung's own 'Magician' SSD monitoring tool, it was found that the overall 'health' of some of the storage devices was, just after its first format, already down to 99%. – Worse, some users have even cited that this percentage figure continued to consistently fall by around 1% every single day after.
In an extreme instance, one person even said that after writing just 2TB of data, their Samsung 990 PRO was already down to 68% health! – And let me be blunt by saying that I wouldn't like to use an SSD below 90% health, let alone 68%!
What does Samsung have to say about this though? Nothing apparently. One user RMA'd their SSD back to them and got an email back citing that they found nothing wrong with it. This, despite some pretty firm evidence clearly to the contrary.
This has, in fact, got us so intrigued that we might even look to test this ourselves. Yes, we'd be potentially willing to ruin a circa £160 SSD for you to just satisfy your curiosity. – So, if you want to see that, let us know in the comments and we'll get on it!