Samsung to Start Mass Production of HBM2 in 2016
---
---
---
Samuel Wan / 6 years ago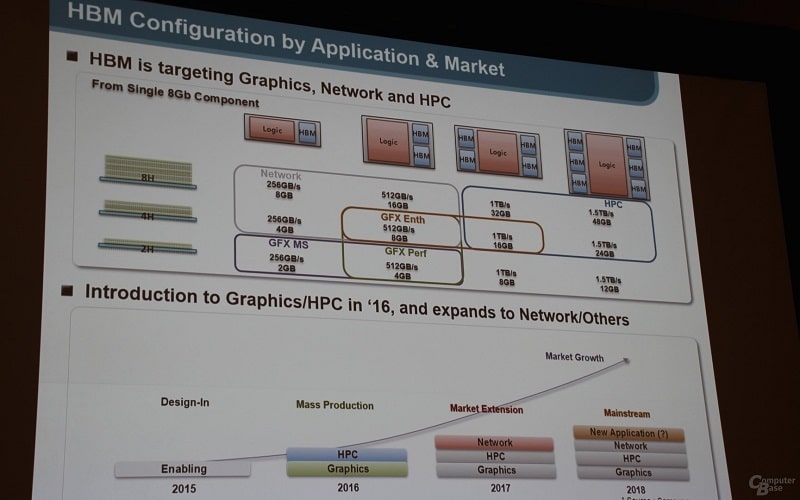 While SKHynix was the first to produce HBM for AMD, things may change next year. Samsung is leveraging their massive production base and getting into the HBM market with plans to start mass production in 2016. Given that Samsung is planning to provide 4Hi and 8Hi stacks, Samsung is skipping right past HBM1 and straight to the more useful HBM2. Samsung is marketing the use of HBM as a fast cache like eDRAM for both normal consumers but also targeted towards high-performance computing as well.
Having more suppliers for HBM is obviously a good thing for AMD as it ensures that SkHynix won't become a bottleneck both for current HBM cards but also for their upcoming Greenland flagship in the future as well. This is also bad news as AMD reportedly has a priority agreement to get HBM from SKHynix. It was inferred at the time this meant that AMD could effectively lock out Nvidia from HBM for a while till production ramped up. With Samsung leveraging their massive fabs, it seems that Nvidia will probably be able to get all the HBM they want as well.
With HBM being in plentiful supply, Nvidia probably won't face any issues on this front for their new Pascal GPUs. It's important to note that while Samsung does plan to start mass production in 2016, when that ramp up will take place and how long that will take is still unknown. This means that AMD might still have an advantage, albeit now diminished. With widely available HBM2, a new process node and new architectures, the GPU landscape for 2016 looks very promising.
Thank you ComputerBase for providing us with this information