Sapphire Nitro RX 460 OC Graphics Card Review
---
---
---
John Williamson / 5 years ago
Introduction
---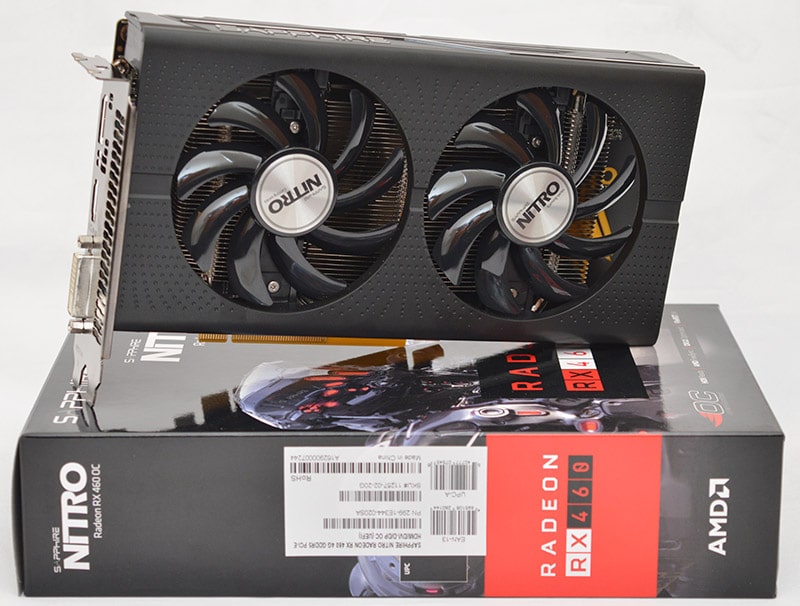 Only a few days after the RX 470's launch, AMD has unleashed a brand new graphics solution designed for low-cost eSports gaming. During the past few years, the competitive scene in the RTS and MOBA genres have flourished and now attract a huge following. As a result, popular titles such as League of Legends have a huge prize pool and create a frenzied response from dedicated fans attending a major event. Of course, many users aim to replicate the stardom of their idols and become a professional player. This challenging endeavour requires dedication and very few people are skilled enough to be considered by established teams. Thankfully, eSports isn't just about the few who inspire younger players, it's an inclusive gaming experience which can be incredibly rewarding. AMD is hoping that the RX 460 can fill a void in the market and provide eSports aficionados with an appropriate amount of graphics horsepower.
The RX 460 is the first product I've evaluated in the Polaris 11 family and utilises 14 compute units, 896 stream processors, 56 texture units, 16 ROPs, 2-4GB of GDDR5 on a 128-bit memory interface and a peak performance rating up to 2.2 TFLOPS. Not only that, the graphics core has a maximum pixel fill-rate of 19.2 GP/s while the texture fill-rate operates at 56.7 GT/s. According to AMD, the typical board power will be less than 75W although custom versions might opt for a 6-pin PCI-E connector to leverage extra performance. The reference design revolves around a 1090MHz base and 1200MHz boost but very few models will use these default clocks due to the emergence of custom creations on launch.
AMD kindly provided the Sapphire Nitro RX 460 OC for review purposes containing a 1250MHz boost clock and 4GB of GDDR5 running at 7000MHz. Please note, there will be cheaper 2GB versions from various AIBs but given the hefty VRAM requirements in modern games, it's recommended to select a 4GB SKU. Judging by the RX 460's specification, it's in a lower performance class than the RX 470 and retails at a cheaper £129.99 price point. Have AMD unveiled their best budget graphics card or does it pale in comparison to the RX 470?
Specifications
Packing and Accessories
As per usual with Sapphire's products, the packaging is sublime and I'm really fond of the vertical design. Furthermore, the menacing cyborg captures your attention due to the high-quality print. This section also contains information about the GPU's video memory, HDR support and FinFET 14nm manufacturing process in an attractive manner.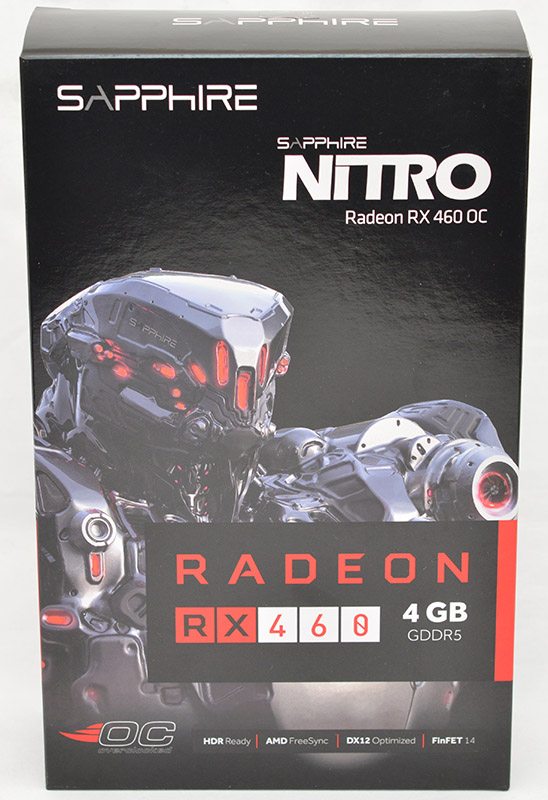 On the opposite side, there's a comprehensive list of the graphics card's features which provides a great insight into its capabilities.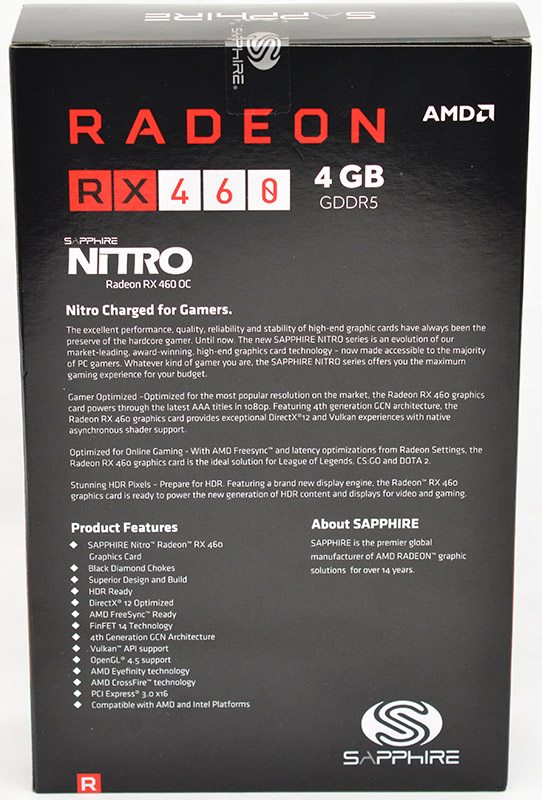 In terms of accessories, the GPU is bundled with a product registration leaflet, manufacturer contact information, driver disk and quick installation guide.