Sapphire R9 280X Vapor-X OC 3GB Graphics Card Review
---
---
---
Ryan Martin / 9 years ago
Introduction
---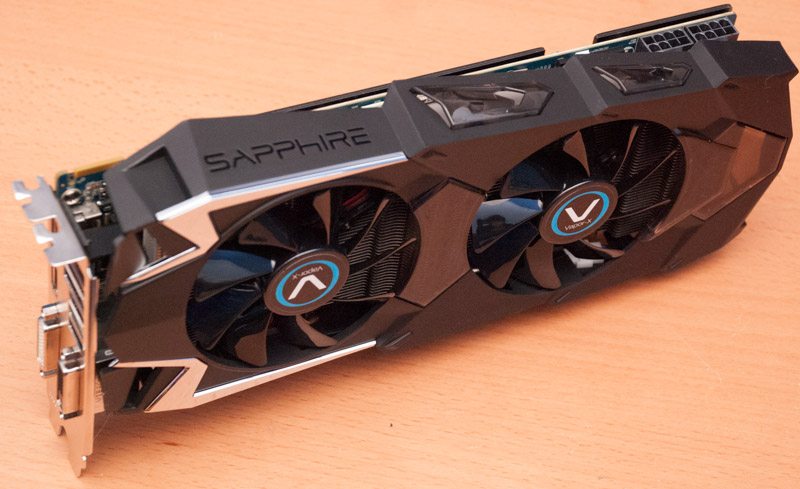 AMD's new series of graphics cards, the RX 2XX series, is split up into the R9 Enthusiast class and the R7 mainstream class. Both segmentations feature impressive levels of value for money and top end performance at each price point but today we are looking at one of the higher end models. We have with us the Sapphire AMD Radeon R9 280X Vapor-X OC Graphics card in this review but we've also reviewed the AMD R7 260X and AMD R9 270X for today's launch. While this is a Sapphire branded card we are using this as an opportunity to to also look at AMD's Radeon R9 280X as AMD were not able to provide us with a reference design. The reference design of course is identical to Sapphire's model other than the cooler is different and Sapphire have added a mild factory overclock taking the clock speed up from 1GHz to 1.07GHz, and the memory from 6GHz to 6.2GHz.
The Radeon R9 280X card we received from Sapphire and AMD is simply an OEM graphics card so it comes with nothing other than the card which is pictured above. Below you can see a GPU-Z screenshot of the new AMD graphics card which reveals those overclocks I mentioned earlier. A couple of other things to point out are that this card supports Direct X 11.2, OpenGL 4.3 and AMD's new "Mantle" technology.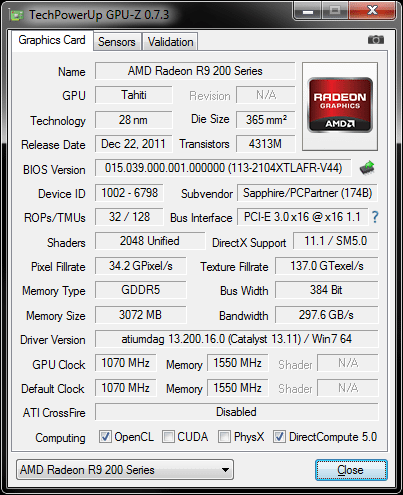 Looking at the AMD R9 280X more broadly it should have the following specifications: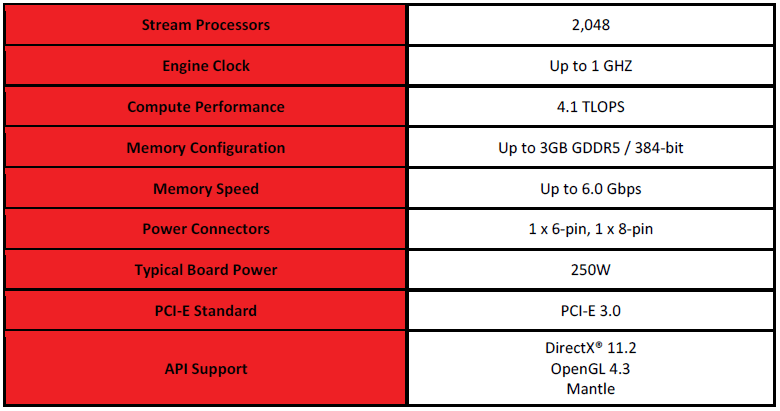 Of course for those who don't know, the AMD Radeon R9 280X is based on an optimised version of the AMD HD 7970 GPU. It features increased clock speeds and uses a more refined 28nm process as well as a redesigned cooling solution for the reference cards. The main advantage is that AMD is shipping the new R9 280X with a price of $299 compared to the HD 7970 which when it first shipped had an MSRP of $549. With the R9 280X, AMD hopes to take on Nvidia by offering a card that is faster than the GTX 760 and on par with the GTX 770 but costs $299 instead of the $249 of the GTX 760 or $399 of the GTX 770. Of course Nvidia will undoubtedly respond with price cuts but as things stand the R9 280X is seeking to be the GTX 770 killer by offering equivalent performance for a staggering $100 less. Let us proceed with this review and see if the R9 280X delivers.