Sapphire Radeon HD 5830 Xtreme 1GB Graphics Card Review
---
---
---
Andy Ruffell / 12 years ago

There is a huge choice for a consumer when purchasing a graphics card, as it's not always as clear cut of choosing between different GPU manufacturers, as you then have to pick the model, and after that, even pick the brand. This can sometimes take a few hours for the most experienced user but for most will sometime take weeks and by that time a new product has most likely leapt onto the market.

Now we believe that new isn't always the best. Take a look at some of the old school cars on the market that are still prettier, more powerful and generally better built that some of the hybrid chunks of metal that we see but don't necessarily hear.

Sometimes though something special comes out that revises the old school stallion and that's exactly what Sapphire have done with the 5830 Xtreme. A card built from the success of the 5830 that consumers went wild for, with a much more current design and a lot nicer price tag whilst retaining all of the features that made the 5800 series popular in the first place.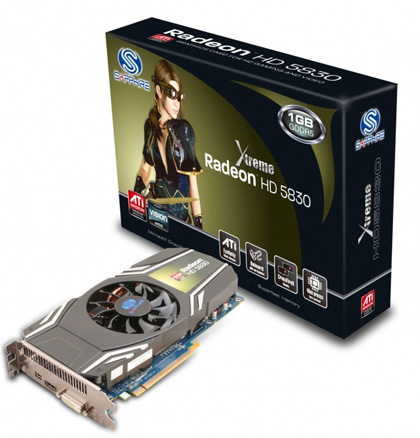 Specifications
Output
2 x Dual-Link DVI
1 x HDMI
1 x DisplayPort
GPU
800 MHz Core Clock
40 nm Chip
1120 x Stream Processors
Memory
1024 MB Size
256 -bit GDDR5
4000 MHz Effective
Software