Sapphire RX 6800 XT Nitro+ Graphics Card Review
---
---
---
Peter Donnell / 2 years ago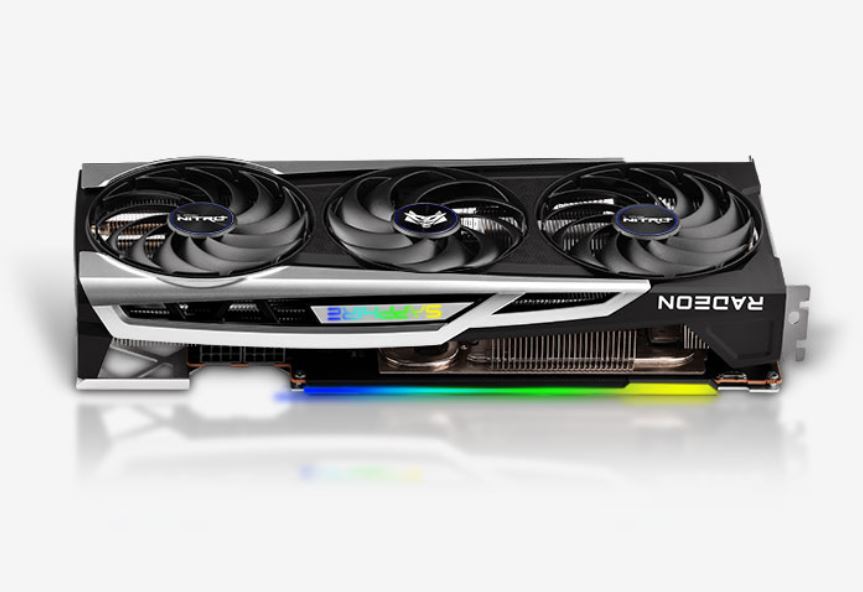 Sapphire has long been one of my favourite GPU brands, and I've owned a fair few of them since my earliest PC gaming days to modern times. I often found that when it came to AMD cards, theirs were some of the finest. My 8800 GT, HD6770, Crossfire 270X, 380X, RX480 and VEGA64 were all Sapphire! Now they're back once again with the new Sapphire RX 6800 XT Nitro+. It'll be interesting to see how the card performs, as the stock AMD card is already pretty amazing. Can their custom cooler and clocks make much difference? Well, that's what we're here to find out!
Sapphire RX 6800 XT Nitro+ Graphics Card
Sapphire has a lot of new technologies for this launch. They've got a new and improved Hybrid Fan Blade design, with a newly designed heatsink arrangement, improved contact pads, and more. They've also updated the hardware for their fuses, PCB, and backplate. They've got so many features, that they split it up into three categories; COOLTECH, DNA and PLUS.
COOLTECH
*NEW for RX 6000 Series* Hybrid Fan Blade
*NEW for RX 6000 Series* WAVE Fin design
*NEW for RX 6000 Series* V-Shape Fin Design for GPU Cooling
*NEW for RX 6000 Series* Integrated Cooling Module
*NEW for RX 6000 Series* K6.5 Memory Pad
Intelligent Fan Control
Precision Fan Control
Tri-X Cooling Technology
DNA
Backplate (Tough Metal Backplate)
Two-Ball Bearing
Fan Quick Connect
Fuse Protection
Dual BIOS
PLUS
TriXX Supported
TriXX Boost
Software BIOS Switch
Max Boost
Power Design
ARGB LED Logo, Lightstrip & Backplate Logo
Optional Fan Glow ARGB support
NITRO Glow
ARGB Audio Visualization
Fan Check
Free Flow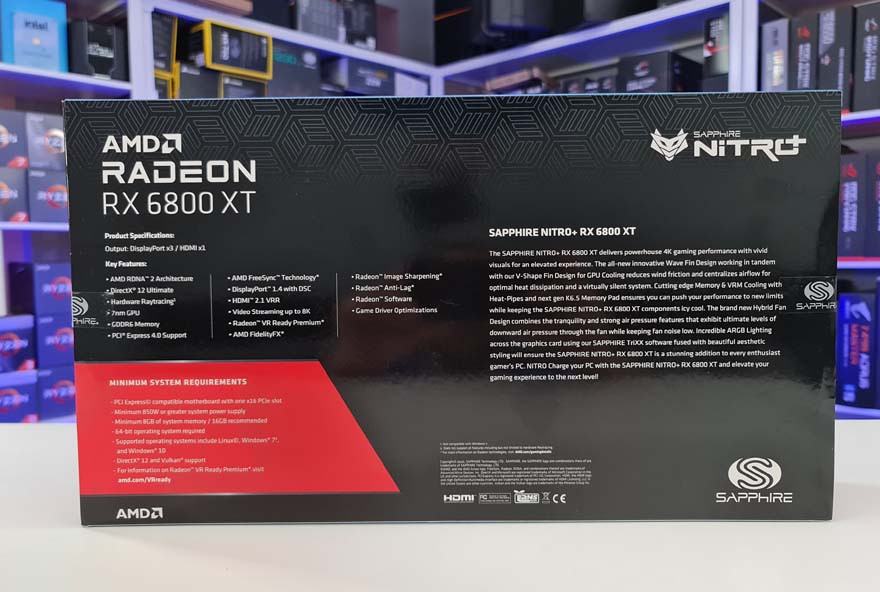 What Sapphire Had to Say
"The NITRO+ AMD Radeon™ RX 6800 XT delivers powerhouse 4K gaming performance with vivid visuals for an elevated experience. The all-new innovative Wave Fin Design working in tandem with our V-Shape Fin Design for GPU Cooling reduces wind friction and centralizes airflow for optimal heat dissipation and a virtually silent system. Cutting edge Memory & VRM Cooling with Heat-Pipes and next gen K6.5 Memory Pad ensures you can push your performance to new limits while keeping the NITRO+ AMD Radeon™ RX 6800 XT components icy cool. The brand new Hybrid Fan Design combines the tranquility and strong air pressure features that exhibit ultimate levels of downward air pressure through the fan while keeping fan noise low. Incredible ARGB Lighting across the graphics card using our SAPPHIRE TriXX software fused with beautiful aesthetic styling will ensure the NITRO+ AMD Radeon™ RX 6800 XT is a stunning addition to every enthusiast gamer's PC. NITRO Charge your PC with the NITRO+ AMD Radeon™ RX 6800 XT and elevate your gaming experience to the next level!" – AMD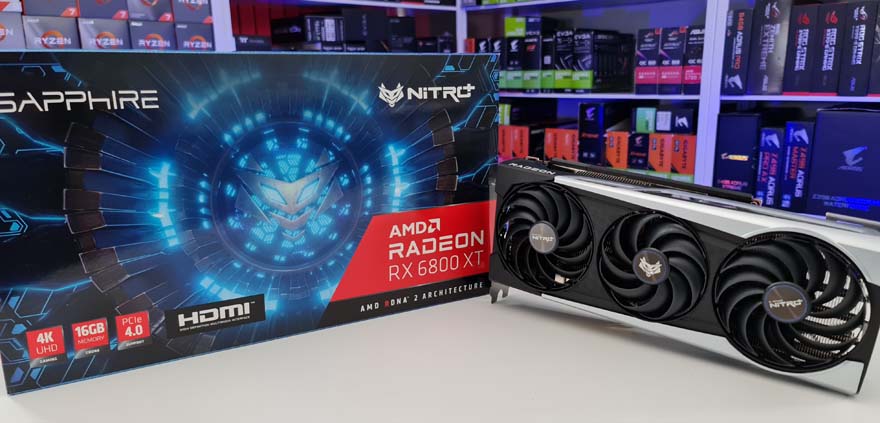 CPU-Z