Seagate Barracuda 4TB HDD
---
---
---
James Cusworth / 2 months ago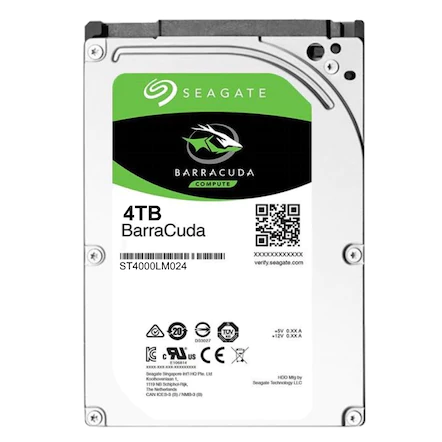 Seagate is a real industry giant in the hard drive market, where you can barely get past if you want to build a high-memory PC system. The range of models covers all segments – from small (2.5 inches) to large (3.5 inches), from green IT (at lower speeds) to high-speed (at 7,200 rpm), from home users to professional environment.
The Seagate BarraCuda HDD 2.5 inches at a glance:
Compact 2.5-inch format with 4 TB capacity
The Seagate BarraCuda HDD is fast, reliable and versatile
140 MB / s data transfer rate & 128 MB cache
Perfect for mobile storage, external storage systems and all-in-one PCs
Reliable data storage with incredible versatility
Seagate presents the BarraCuda, an extremely versatile and reliable HDD storage device that provides ample space for all types of files. The data carrier can ideally be used in spacious (!) Laptops, mobile storage systems, external storage systems, all-in-one PCs or ultra-thin desktop PCs. Especially useful is the multi-tier caching technology used, which allows applications and files to load faster than ever from the HDD. Responsible for this are intelligent NAND flash levels, DRAM and media cache technologies, which optimize the data flow and improve the reading and writing performance.
The data transfer rate of this 4 TB version of the BarraCuda reaches up to 140 MB / s and therefore provides a first-class PC experience for end users. However, the BarraCuda achieves this value with a speed of 5,400 rpm, which results in significantly lower energy consumption. The cache is very large at 128 megabytes, which makes the hard drive a compact alternative to larger 3.5-inch HDDs.
Was £109.99 Now £104.99

---
eTeknix use affiliate links, which means we may earn commission from our links.