Seagate Game Drive for PS4 4TB Portable HDD Review
---
---
---
Bohs Hansen / 5 years ago
Introduction
---

Seagate Game Drive for PS4 4TB Portable HDD Review
Today I'm branching out from my usual PC-related reviews with something a little different. While it is different, it's still very familiar as it is a hard disk. Seagate doesn't just cater to the PC user, console users can also enjoy the benefit of their drives. Today I'm taking a look at the 4TB version of their Game Drive for PS4 (product link).

Game Drive for PS4
In itself, the Game Drive is a beautiful portable HDD which looks very similar to other Seagate offerings. The black with blue aluminium enclosure is both sleek and tough while it also compliments your console setup. Seagate offers the Game Drive for PS4 in 3 capacity options: 1TB, 2TB, and 4TB. With 1TB internal offerings, I see the 2TB and 4TB versions being the most popular ones.
The two smaller capacity options are only 9.6mm thin. That's not much more than a 7mm internal SSD. However, the larger 4TB version, which I'm testing today, requires a little more space. The width and length don't change, but it is 20.7mm high. Double the capacity, double the thickness. That's a fair trade-off. After all, you got to put the bits and bytes somewhere and that requires real-estate.
One thing that all 3 capacity options have in common is that they are USB powered. There is no need for an extra power adapter which adds an annoying cable and the need to stay near a free outlet. You simply plug the Game Drive into your PlayStation 4 and you're ready to use it. Well, almost. You might need to set it up first, but that's nothing to worry about. The system will automatically guide you through that process.
End the Need to Delete
It can truly be a pain in the neck when you run out of space. You've just got the game you've been wanting to play for months, but it won't install. There isn't enough free space on your drive. We've all been there. With a drive as massive as the Game Drive for PS4 with its 4TB capacity, there's an end to that. With an average game size of 30 to 50GB, it will allow you to store 100+ games. That's easily enough for both your favourites as well as the newest and hottest titles.

Surely, that are portable hard drives with more capacity on the market, in general, but they're based on 3.5-inch drives. The advantage of Seagate's Game Drive for PS4 is that it's based on 2.5-inch drives. The USB 3.0 bus delivers enough power through the connection cable and thereby eliminates the need for an external power supply. That makes the drive more portable, lighter, and easier to set up.
The USB 3.0 bus is also fast enough to deliver the performance needed. While the drive won't break any speed barriers, it will be as fast as the internal. In some instances, it might even be faster. With a drive like the Game Drive for PS4, you can have the system on the internal drive and games on the external – thus distributing the load over two disks.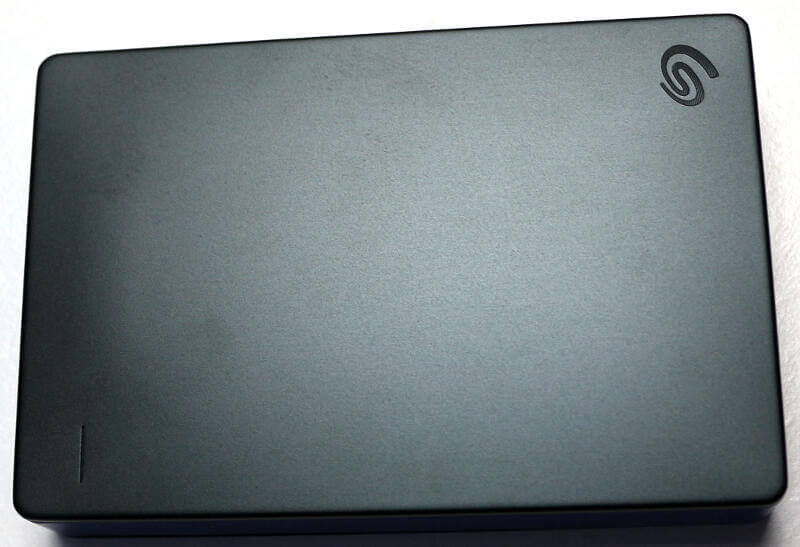 Easy Setup
The setup couldn't be much simpler than it is. Just plug your Game Drive directly into any USB port on your PlayStation 4 console and you are ready to go. The PS4 recognises your Game Drive and quickly walks you through the setup. According to Seagate, you'll be ready to use the drive in less than 3 minutes. And that's true, it really is easy and fast.
It is worth noting that all of this is a PlayStation-approved process. You will NOT void your warranty or PlayStation Network account by using a Game Drive for PS4. It is compatible with any generation of PS4 which runs System Software version of 4.50 or higher.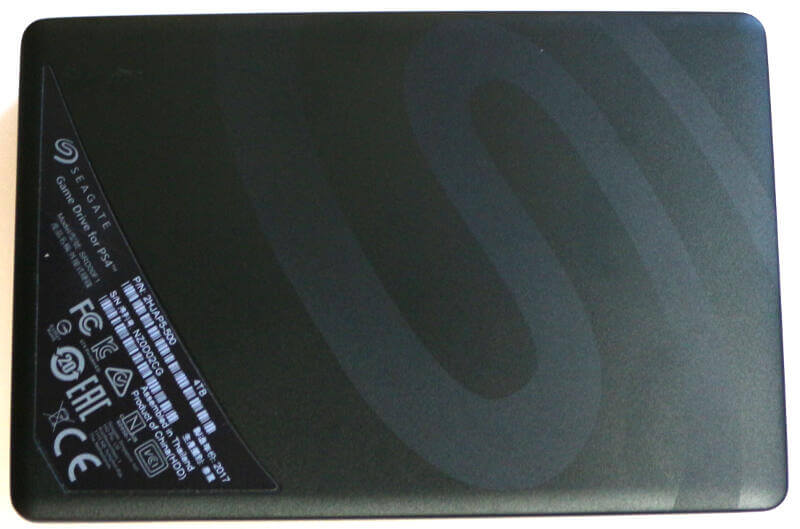 Take Your Games and Progress Where You Go
There is an added bonus to the Game Drive for PS4 when you compare it against the internal drive. You can take it wherever you go. The Game Drive for PS4 is portable by nature. This way, you can play on your friend's PS4 console and continue your progress from your console when you return home. This will, of course, require that you sign in to your PSN account too.
What does Seagate have to Say?
The grab-and-go, USB-powered, plug-and-play Game Drive for PS4 gives you an instant storage boost: the upgrade takes you to 100+ game capacity. Full-throttle performance is yours.

"We're seeing significantly bigger games each year, and this holiday season is no exception," says Legarreta. "And with more and more 4K titles on the way, those file sizes are becoming really massive. This new drive rounds out our storage choices for gamers, as we now have 2TB and 4TB portable drives for the PS4 console, as well as the Xbox."
Feature Highlights
Up to 4TB storage for your PS4
No performance impact thanks to USB3
Bus-powered which eliminates the need for external power
Portable and Durable
Plug and Play
Package and Accessories
Seagate packed the Game Drive for PS4 in a package that's familiar to people who already know portable Seagate storage. The front side allows you to peak at the included drive, mentions the name, and the capacity. The rear side has a few more details such as the ability to store 100+ games, it's tool-less and plug-and-play, and it's portable.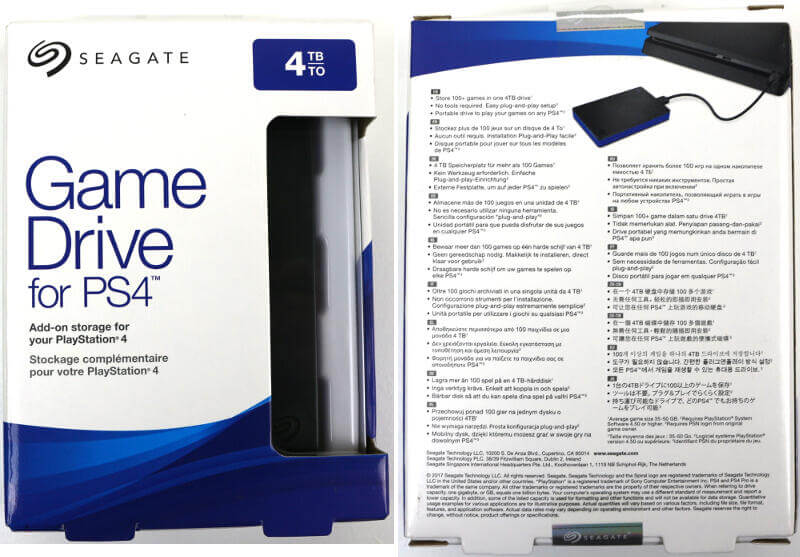 Inside the box is the drive itself along with a quick-start guide and a warranty leaflet.
There's also a USB 3.0 connection cable included, which you'll need.