Seagate God of War Ragnarök Limited Edition Game Drive Review
---
---
---
Peter Donnell / 2 weeks ago
Nobody likes running out of storage, as it often means you're going to have to compromise on what you have downloaded or open your wallet to buy more storage. The same goes for losing your data, we don't like the idea of buying more storage just to keep copies of things, as it can be expensive, but it can also be a sound investment for those with sensitive data, poor internet connections and more. To that extent, storage is rarely particularly fun, but the latest drive from Seagate does at least put a spark of fun into the mix, thanks to its rather unique God of War Ragnarok theme!
God of War Ragnarök
It's not a complicated setup here, it's a USB 3.2 2TB external hard drive. On the inside, it's basically a 2.5″ 5200 RPM mechanical drive, with a nice enclosure around it and some built-in RGB. This fairly straightforward design keeps the cost down, allowing this to be a decent backup solution for your console, PC, or other compatible devices. While this is a PlayStation product, I should stress, it's not fast enough to play PS5 games directly. However, older PlayStation titles will work just fine, and it's fine for backup/storing PS5 titles if your internal storage is getting a little bogged down.
Features
LIMITED EDITION This officially licensed collectable hard drive is inspired by the nine realms of God of War Ragnarök.
LEVIATHAN STRONG Features an ice-cold design worthy of Fimbulwinter.
PERMAFROSTED Icy blue LED lighting injects your drive with a blast of colour.
PS5 READY Store all your PS5 games and transfer them to the console when it's time to play.
BUILD YOUR GAME VAULT 2TB of capacity means no more sacrificing, deleting, or redownloading games.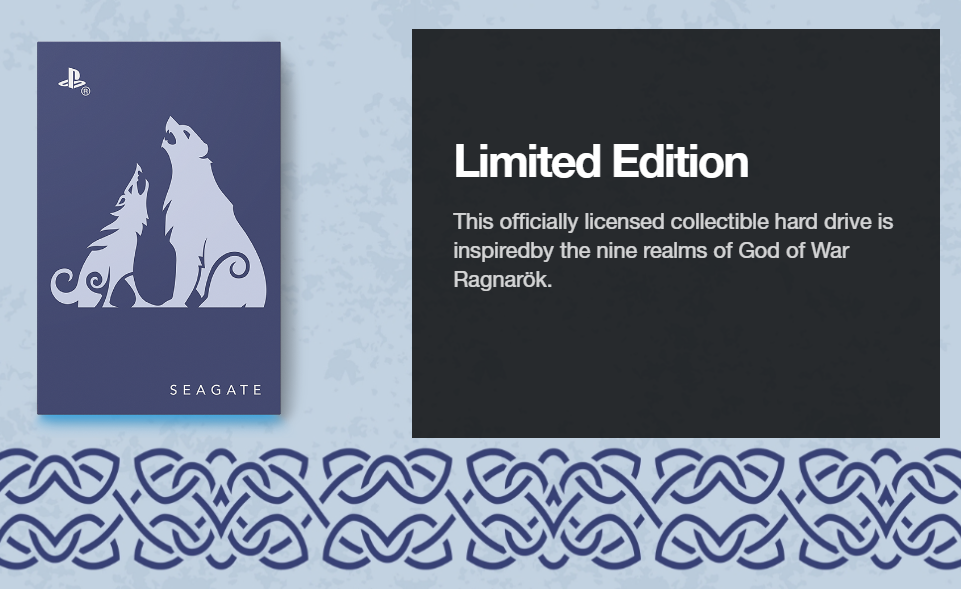 What Seagate Had to Say
"Confront the end of days with God of War Ragnarök™ Limited Edition Game Drive for PlayStation® consoles. Featuring an ice-cold design, this HDD stores your PS5™ games, then transfer them to the console when it's time to play. Plus, with a 2 TB capacity, you have enough space to wield all your favourite games." – Seagate