Seagate Launches 14TB Models Across the entire Line-Up
---
---
---
Bohs Hansen / 5 years ago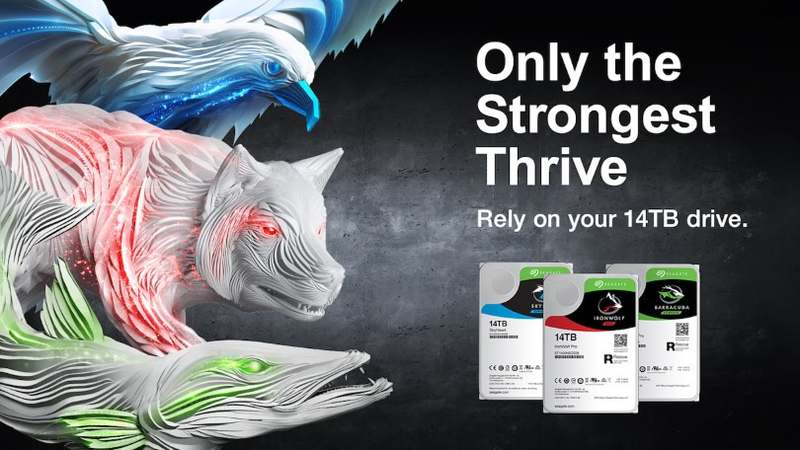 Seagate Launches 14TB Models
Seagate Technology launched the industry's widest range of advanced 14TB hard drives, enhancing the company's enterprise and speciality-drive portfolio. The IronWolf and IronWolf Pro are for NAS and the BarraCuda Pro is for desktop usage. Surveillance systems can benefit from the SkyHawk while the Exos X14 is for hyper-scale data centres. So there is something for every scenario.
These aren't the first 14TB drives we see, but it is without a doubt the widest adoption. With them, users gain an unmatched low cost per terabyte. Whether for personal use, creative and design computing, online gaming, or large-scale surveillance systems and hyper-scale environments, Seagate drives are opening up new opportunities across the markets.

What Does Seagate Have To Say?
"Data protection, management and archiving are no longer strictly the realm of IT departments, but are now essential responsibilities for business owners, creative professionals, online gamers and PC users alike," said Matt Rutledge, senior vice president of devices at Seagate. "We understand the critical nature of data in unlocking opportunities to efficiency. From the largest data centre to the personal user, our goal is to ensure every customer can access, store and transfer data quickly and reliably, whenever they need it and wherever they are."
IronWolf & IronWolf Pro 14TB
IronWolf and IronWolf Pro drives have continued to push boundaries for NAS applications. With multi-user environments in mind, the series is perfect for NAS setups. That includes a workload rating up to 300TB a year. The drives are powered with the AgileArray firmware for NAS servers to provide the customer with a host of benefits. These include RAID performance, dual-plane balance, rotational vibration (RV) sensors, advanced power management and error recovery control.
Additionally, customers get peace of mind with Seagate IronWolf Health Management. Pro owners also get a 2-year Seagate Rescue Data Recovery Service on top. The Health Management embedded analysis and recovery software works seamlessly with key NAS partner systems. It can provide owners with comprehensive status updates and drive health analysis, thus allowing customers to be preventative instead of reactive. IronWolf and IronWolf Pro drives feature a 3-year and 5-year limited warranty respectively.
BarraCuda Pro 14TB
As a result of the exponential rise of online interactions across a host of industries, and the constant demand for higher productivity, the BarraCuda Pro 3.5-inch HDD continues to offer professionals an ideal storage solution for desktop workstations or direct attached storage (DAS) systems.
Creative professionals, small businesses and IT staff all have a need for large amounts of data. The data has to be delivered efficiently and be protected properly. The BarraCuda Pro delivers 7200 RPM spin speed, along with 250mb/s data transfer rates and up to 256MB of cache. That is the highest available today. Seagate's Multi-Tier Caching Technology (MTC) is also part of the BarraCuda Pro drive.
Whether it be data-intensive editing of 8k video or the transfer of large files to an attached backup, the BarraCuda Pro gives customers speed, versatility and durability at an affordable cost. As a large bonus, owners also get a 5-year warranty.
SkyHawk 14TB
The surveillance industry is rapidly evolving and the demand for higher video resolution, analytics, and longer retention requires much greater storage capacities. Seagate SkyHawk drives provide the optimum combination of performance, high capacity and reliability which are the three most important needs for surveillance.
With the ability to store over 9000 hours of HD video from up to 64 HD cameras, the SkyHawk 14TB is a monster. The series is optimised for DVRs and NVRs, tuned for 24/7 workloads, and equipped with the ImagePerfect firmware. The firmware will help minimize dropped frames and downtime.
The SkyHawk series also comes with an advanced Health Management software, just as the IronWolf series. This series comes with a 3-year warranty.
Exos X14
Last but certainly not least, we have the Exos series. The Exo drives are for the most advanced hyper-scale data centres where they easily scale up to 1.4PB. They do all that without compromising the reliability and security demands of these centres. Combined with the industry's lowest power consumption and best performance in its class, the Exos X14 enables data centres to maximize storage capabilities while reducing complexity and operational costs.
As the need for storage increases exponentially, Seagate's new Exos X14 drives deliver 40% more petabytes per rack compared to Exos 10TB drives. All while maintaining the same small footprint. The helium-based Exos X14 also provides a 10% reduction in weight versus air nearline drives.
Anticipating global security demands, Exos X14 drives feature "always-on" Seagate Secure protection. They effectively encrypt all data without performance degradation. Exos X14 drives offer a 5-year warranty, and they also meet US Government Federal Information Processing Standard (FIPS) 140-2, Level 2 Security certification. They also meet the Common Criteria for Information Technology Security Evaluation (CC) ISO/EIC 15408 compliance standard.
Pricing and Availability
The IronWolf and IronWolf Pro 14TB are available at an MSRP of $529.99 and $599.99 respectively. The BarraCuda Pro 14TB is available at an MSRP of $579.99. The SkyHawk14TB is available at an MSRP of $509.99. The Exos X14 is available at an MSRP of $614.99. More details are available on the official website.