Seagate Launches 5TB 2.5-Inch BarraCuda HDD
---
---
---
Bohs Hansen / 7 years ago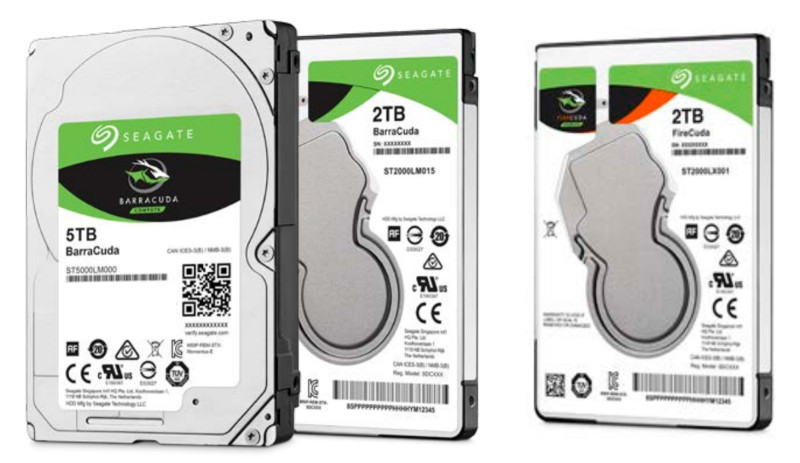 I remember that I've recently said that the HDD capacity was stagnant when it comes to 2.5-inch drives, but that's probably mostly due to me paying more attention to enterprise class drives and also that Seagate hasn't made a big deal about it. While they created their amazing new 10TB IronWolf and SkyHawk drives, they also updated the BarraCuda desktop and mobile series where the latest version features up to an impressive 5TB in a 2.5-inch form factor.
Next to the 5TB BarraCude mobile drive, Seagate also introduced a new 2TB FireCuda drive. The FireCuda is an SSHD drive with 2TB capacity and 8GB flash memory for a rapid boost in boot times and frequently accessed files. It isn't just a useful SSHD, it is also the thinnest and lightest 2TB hard disk drive on the market today.
The FireCuda is a cool drive, but to me, the big news is the 5TB BarraCuda drive. The BarraCuda offers best-in-class versatility, performance and trusted reliability for nearly every mobile PC computer need and application. The drive will be available in a super thin 7mm mobile or laptop upgrade design and a 15mm design for external solutions, perfect for both enthusiast builders and those that want to just plug in and get going. Naturally, the 5TB version will have a 15mm height and you'll have to make due with up to 2TB when the 7mm versions are used.
The BarraCuda 5TB 2.5-inch drive has a rated performance up to 140MB/s and consumes up to 2.1W during active read and write operations. In idle it only consumes about 1.1W. Noise shouldn't be an issue either as the drive's only rated for up to 2.7 bels.