Seagate NAS 8TB HDD in 4-Disk RAID Review
---
---
---
Bohs Hansen / 7 years ago
Introduction
---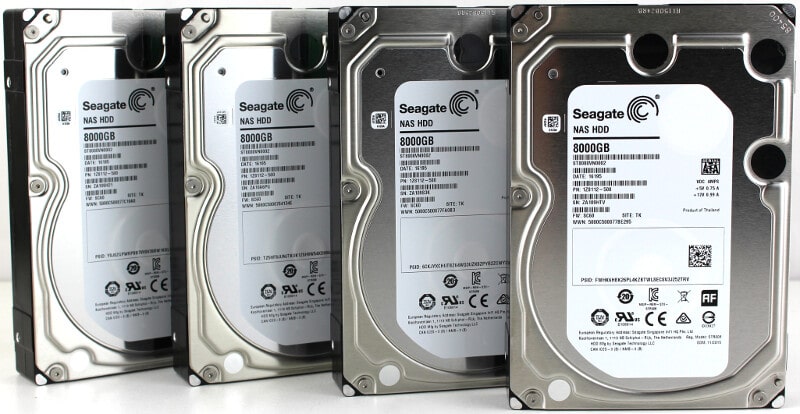 Picking the just the right storage drive for your task isn't always an easy task, there are quite a few options on the market by now when it comes to high-capacity mechanical drives and today I'm taking a closer look at how one of the best performing NAS drives on the market, the Seagate NAS 8TB HDD, performs when set up in a RAID environment.
Most NAS devices will by definition run with one or another RAID setup, whether it's 0, 1, 5, 6, or the doubled setups 10, 50, or 60. Running a RAID setup gives that extra bit of safety when it comes to always-online data, but it should never be considered an alternative to backups. The Seagate NAS HDDs are specifically engineered and built for these usage scenarios with a firmware that has been tuned for RAID setups and a general built that allows them to be used in enclosures with up to eight drives.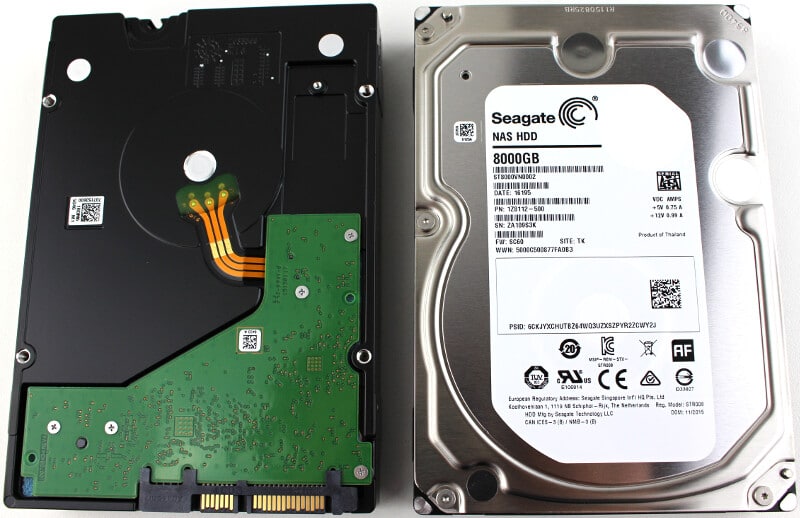 Vibrations can damage your drives and the can also have a direct impact on your drives speed, and the more drives you install close to each other, the more vibrations you'll get. The Seagate NAS HDDs are rated for usage in systems with up to 8 bays which gives you an impressive raw capacity of 64TB. The Dual-plane balance system enhances drive performance in aggressive NAS workloads for better vibration tolerance.
The Seagate NAS 8TB drive comes packed with 256MB cache, which is double that of the 6TB model. It uses the default SATA3 6GB/s interface that makes it compatible with pretty much any NAS system. The performance isn't without either as it comes with a rating of 150 IOPS and above and a sustained sequential read performance up to 230MB/s, an exceptional performance for a mechanical drive. That's the specs for a single drive, so it will be interesting to see how well they perform once I RAID them. The average seek read and write latencies are rated to be 8.5ms and 9.5ms, or lower. The whole thing is rounded off with an 180TB per year workload rating, a 1 million hour mean time before failure, and a 3-year warranty.

Seagate's firmware, NASWorks, is optimized for use as storage drives and it has been tuned to deliver higher performance, a better reliability, and interoperability with popular NAS enclosures. It also features the RAID Recovery feature that prevents the NAS from having to perform a full RAID rebuild if the RAID degrades. Extended error recovery controls correct data without the need for full drive rebuilds.
Feature Highlights
8, 6, 5, 4, 3, 2 and 1TB capacity options
Seagate NAS HDDs are built and tested to provide industry-leading performance for small NAS systems.
NASWorks technology supports customised error recovery controls, power management and vibration tolerance for optimal performance and reliability with workloads up to 180TB/year workload rate limit (WRL).
NAS error recovery controls optimise drive health by helping to ensure drives are not dropped from the NAS and sent into a RAID rebuild.
Improved vibration tolerance and emission in multi-drive systems with dual plane balance.
Advanced power management supports multiple power profiles for low-power, 24×7 performance.
Quiet drive operation enhances the customer experience in living room or office environments.
Optional 3-year Rescue recovery service plan protects against data loss from viruses, software issues, or mechanical and electrical breakdowns in a NAS or RAID environment.
Specifications
The specifications are taken directly from the manufacturers homepage at the time of the review and might as such be subject to possible future changes.