Seagate SkyHawk 10TB NVR and DVR HDD Review
---
---
---
Bohs Hansen / 6 years ago
Introduction
---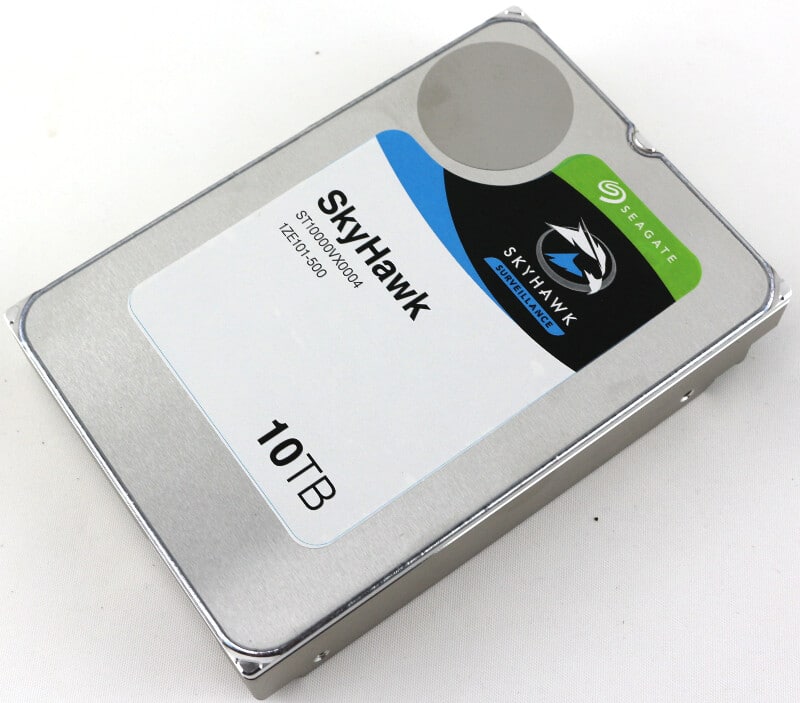 I've recently had a look at the 10TB IronWolf NAS HDD from Seagate and today it is time to take a closer look at its brother, the brand new SkyHawk DVR and NVR hard disk drive with a massive 10TB capacity. Sure, you could use NAS optimized drives for simple video setups, but having a video and camera optimized surveillance disk does bring advantages. Especially when your recorded video is critical.
Seagate packed the SkyHawk surveillance drive with their ImagePerfect firmware that helps to minimise dropped frames and downtimes and it also comes with a workload rating that is 3 times higher than that of desktop drives on top of the 24/7 workload optimisation.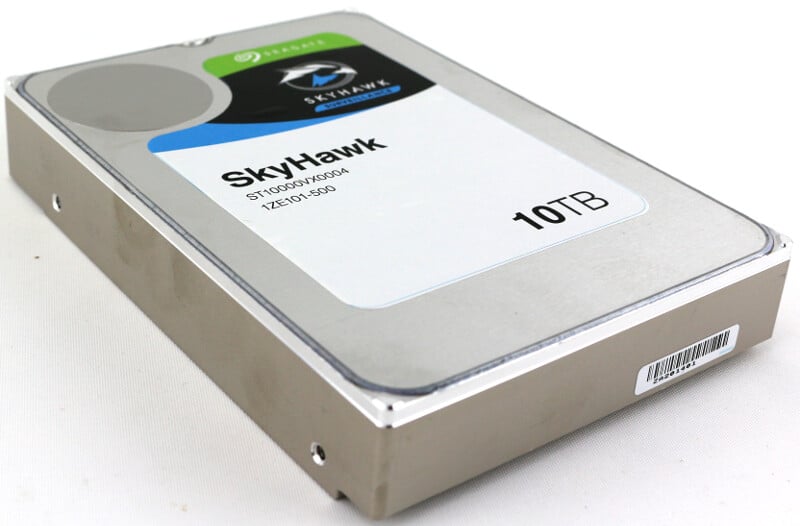 The ImagePerfect firmware enables smooth and clear video streaming for always-on, 24/7 surveillance environments and comes with an 180TB a year workload rating. This helps to ensure that your business always has a formidable layer of protection. This also includes the support for up to 64 HD cameras simultaneously which should be enough for most setups. 64 cameras are a lot, especially when you take motorised and wide-angle cameras into consideration.
Another layer of extra security can be added through the optional +Rescue Data Recovery Service plans that don't cost much on top of the drives. Should the worst case scenario happen and a drive should fail on you, then the skilled people at Seagate are ready to help and recover the data – and with very good results. As a base, the all these drives are backed by a 3-year warranty.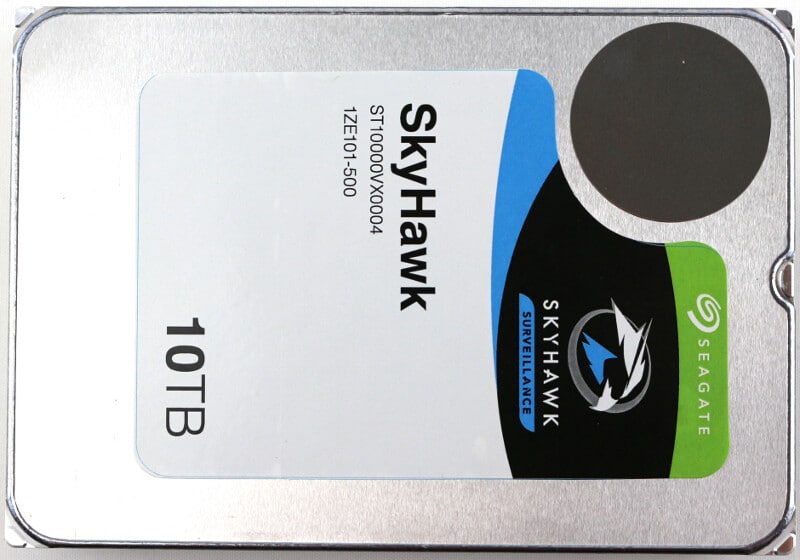 Performance wise, the SkyHawk shows some good numbers too with a max sustained transfer rate of up to 210MB/s and its 256MB cache. The SkyHawk is rated for 300,000 load/unload cycles and it can operate in harsh environments from 5 to 70 degrees Celcius thanks to its tarnish resistant build.
The drive also impresses with its low power consumption. Despite having 25% more capacity than the next smaller brother in the family, it uses less power than those drives. The SkyHawk 10TB drive only consumes 6.8W average power, 4.42W in idle mode, and 0.8W when in standby or sleep mode. That is seriously impressive, both on its own but especially considering the 10TB capacity.

Oh, and I should also mention that the SkyHawk is rated for 8+ drive bays, not just for up to 8. This allows the drive to be deployed in large-scale enterprise solutions too.
Naturally, the SkyHawk is built to perform great in RAID setups and multi-bay systems where it can scale to your needs. Multi-drive surveillance systems can rely on the SkyHawk's RAID-optimised hardware that keeps the drives and systems in the field longer. The built-in RV sensors help to enable reliable performance in DVR and NVR systems with 8 or more drives by improving the vibration tolerance.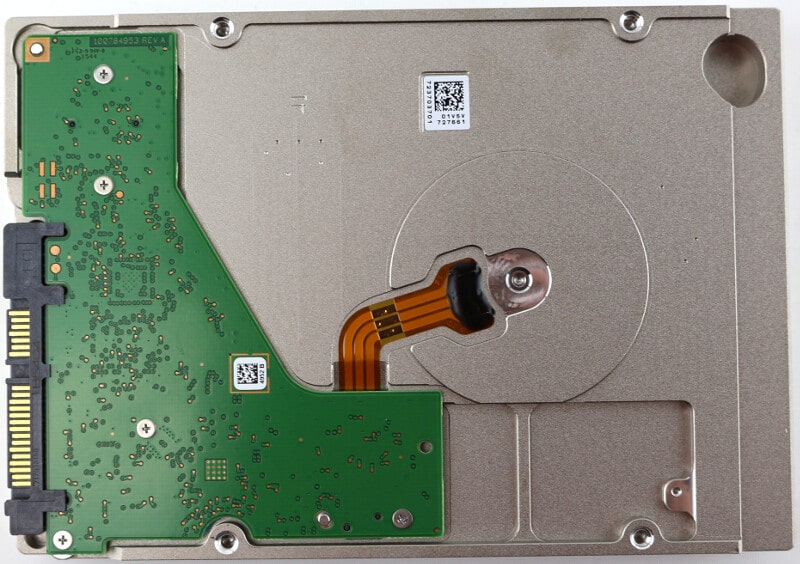 The 3.5-inch form factor and default SATA3 connectors make it highly compatible with almost any system on the market, so there should be nothing holding you back from using these drives in your already existing setup.
Whether you got network video recorders (NVR), embedded surveillance DVRs (SDVR), hybrid surveillance DVRs, or surveillance DVRs, the Seagate SkyHawk 10TB will be a great drive.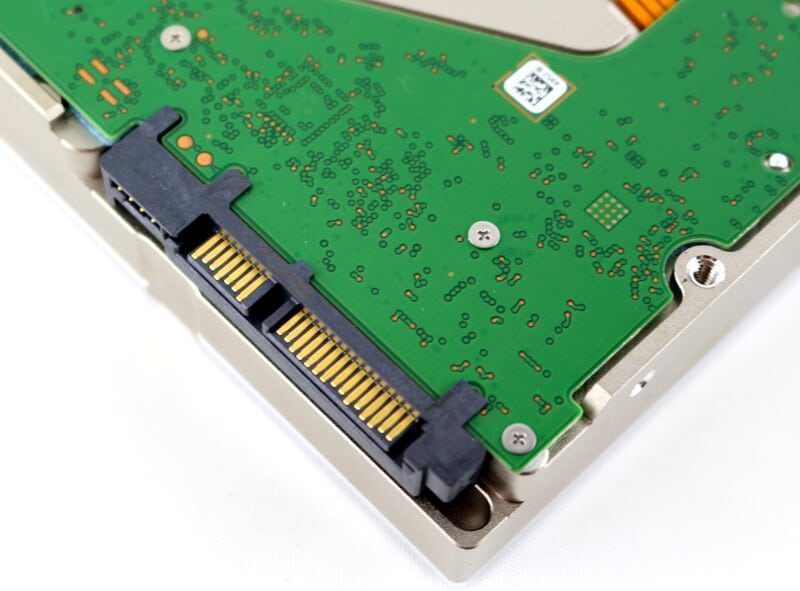 Specifications
The specifications are taken directly from the manufacturer's product page and might as such be subject to possible future changes.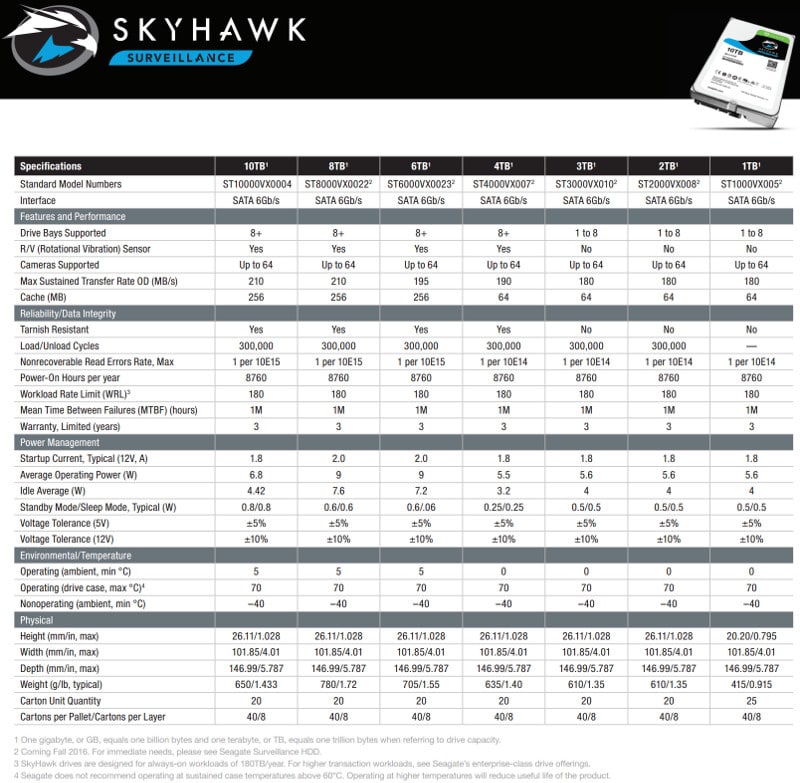 Package and Accessories
As an OEM drive, the Seagate SkyHawk 10TB comes in a simple protective box without any extra accessories. But then again, what more do you need. Unpack it, plug it in, and be done with it – it's that simple.