Seagate Unveils 10TB Consumer Drives
---
---
---
Bohs Hansen / 5 years ago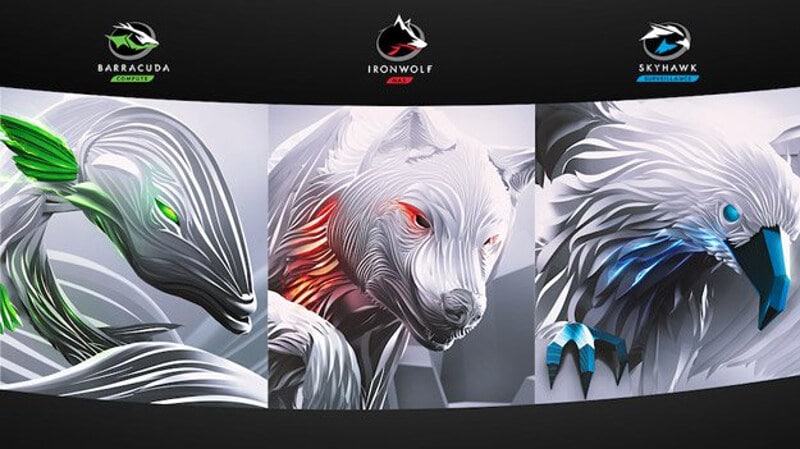 Seagate has unveiled their new 10TB drives for consumers, storage, and surveillance alike and they now feature the largest available 10TB drive portfolio. At the same time, Seagate also fully introduces the new brand names and imagery here the entire lineup is categorized as the Guardian Series. It includes the new the 10TB BarraCuda Pro desktop drive, the IronWolf NAS drive, and the SkyHawk surveillance drive.
The new drives don't just feature more capacity the also include multi-tier caching technology (MTC) which is an intelligent caching architecture for maximized performance, AgileArray which is designed to optimize drive performance through error recovery control and power management, and ImagePerfect for more high-resolution camera support in your surveillance systems.
"Consumers and organizations today face a similar challenge — what to do about the massive deluge of data and video they confront every day," said Matt Rutledge, senior vice president of Client and Consumer Storage at Seagate. "Whether it's dominating in the latest game, producing compelling multimedia content, mining data to help create new apps and business services, helping to protect people and places around the world against new threats, and more, the Seagate Guardian Series is designed to preserve your most critical data and move it where it's needed fast so you can make the most of it. By incorporating powerful new features and capabilities, our 10TB products also make it easier for everyone to create, consume and use data."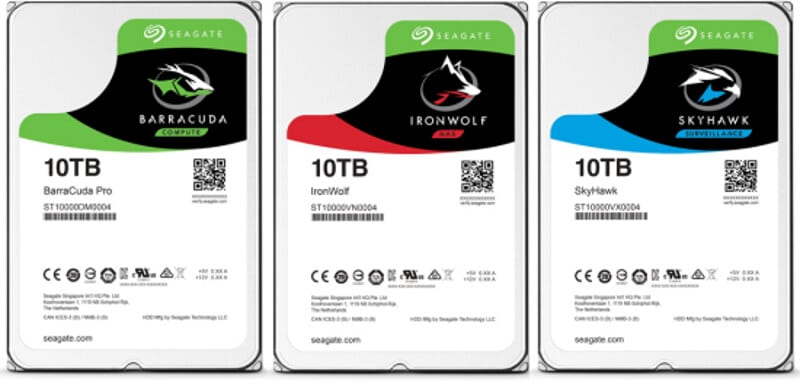 The BarraCuda Pro is the normal desktop drive that now comes with 10TB and has a rotation speed of 7200 RPM. The drive is great for office and gaming systems that don't run for longer than an average workday at a time while requiring a vast amount of storage. The BarraCuda Pro series comes with a 5-year limited warranty and is now shipping worldwide. The SSHD version of the drive is now called the FireCuda, but that version will still only be available with 2TB capacity, so far.
The most interesting of these three drives is probably the IronWolf which has been designed for NAS applications and other always-on scenarios. The IronWolf drives are NAS-optimized with AgileArray which provides extra drive balance and is the first in its class of drives to have rotational vibration (RV) sensors to mitigate vibration in multi-drive systems. Naturally, the drives are RAID optimization for best performance with error recovery control as well as advanced power management for a lower total cost of ownership. The IronWolf drives feature a 180TB/year user workload rating and they are also shipping worldwide now.
SkyHawk is the last of the three new 10TB drives and Seagate also celebrates its 10th year of shipping surveillance drives with this one. The SkyHawk drive is perfect for surveillance systems relying on large storage solutions for network video recording (NVR). SkyHawk drives use rotational vibration sensors to help minimize read/write errors. I previously mentioned that they also support more HD cameras now and that isn't a lie as you can support up to 64 cameras now, more than any other drive on the market. This makes the SkyHawk ideal for modern, hi-resolution systems running 24/7. As an extra bonus, the SkyHawk drives also come with a data recovery services option for additional peace of mind should a drive or setup fail on you. However, the SkyHawk is the only one of the three drives that isn't fully here yet, but it "is currently sampling to select customers with wide-scale availability to be announced shortly."