Seasonic Platinum Fanless 520W Review
---
---
---
Ryan Martin / 7 years ago
Introduction & Packaging
---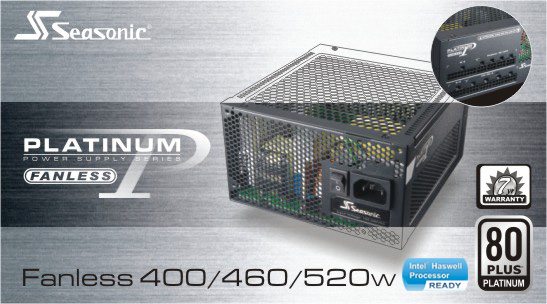 Fanless power supplies have become increasingly popular over the past few years as the efficiency of power supplies has risen, meaning they produce less heat, and the efficiency of computer components has increased, meaning they consume less power. The convergence of these two trends makes it possible to run a high end system with a passive power supply. In fact, with the Seasonic Fanless Platinum 520W power supply we have here today it is possible to run a Core i7 4960X based system with an Nvidia GTX Titan Black and still have plenty of capacity left over for other things.
To our regular readers this power supply may look identical to another power supply we reviewed recently; the XFX XTS 520. There's a reason for that – they are the same units internally. As many of you may known Seasonic produce a lot of power supplies and if they don't sell them under the Seasonic brand, they sell them to other vendors who resell them, such as XFX, Antec and many more.
Below you can find the full specifications of Seasonic's Platinum fanless 520W power supply, as the name implies this power supply boasts 80 Plus Platinum certification – this high efficiency is what allows it to operate fanlessly without any heat issues.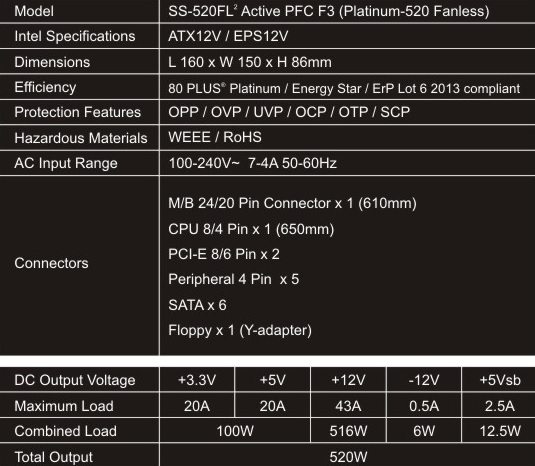 Packaging and Contents
Seasonic's packaging is very tastefully done and plays heavily on the Platinum theme.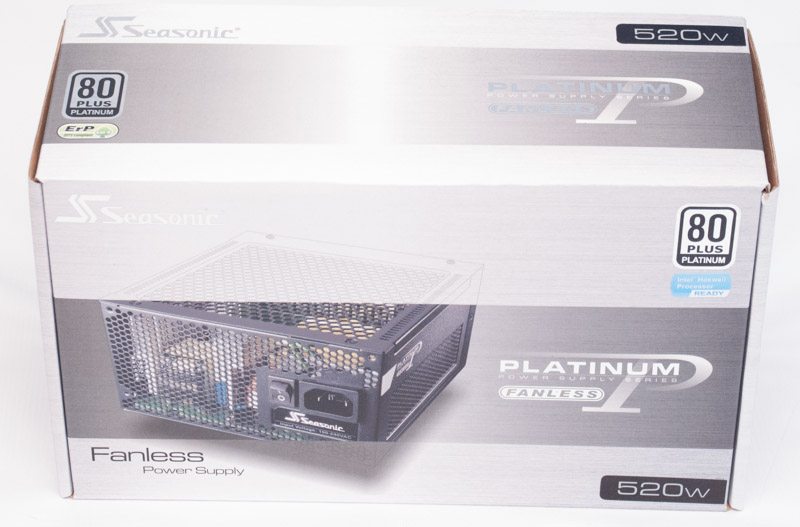 The back details the efficiency standards of the PSU as well as the promise of +-2% voltage regulation on all of the rails.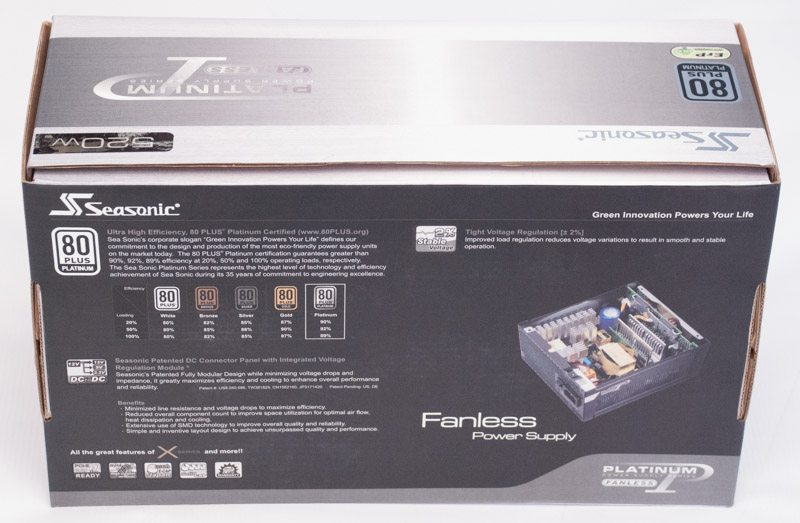 The accessory bundle is fairly generous relative to other PSU vendors; there is a power cable, some screws, a case sticker, normal cable ties, velcro cable ties and some documentation.