Sengled SNAP LED + IP Security Camera Review
---
---
---
Peter Donnell / 7 years ago
Introduction
---
We've been playing around with a lot of IoT and smart home devices, but one of the ones we've been most eager to test is the Sengled Snap, as it combines so many features in one single product, and can really add a huge amount of flexibility to your smart home setup. More than just a humble lightbulb, the Snap combines security hardware that makes it perfect for monitoring your home in ways you've likely never considered and we're eager to see how it performs.
"Sengled Snap combines an IP camera with an energy-efficient LED lamp and instantly gives you the full overview, day and night. Can be used as both an outdoor security camera and as a baby videophone. You can either watch the wide angled HD camera's video in the app or retrieve the recorded scenes from the cloud. Receive alerts whenever motion is detected around your house. How does it work? Simply screw the device into a standard E27 lamp base and connect via WIFI. No drilling, no cable installation."
Equipped with hardware and software to allow you to stream live video, trigger motion alerts, listen and speak via the built-in microphone and speaker system, and so much more, the Snap is absolutely packed with features. Even better, if comes in a simple E27 screw fitting, meaning you simply have to install it like any other light bulb, making it very consumer friendly.
Features
Live video transmission via the app – can be viewed anywhere and at any time.
Motion alerts and infrared night view together with integrated microphone and loudspeaker.
Easy installation in standard E27 lamp bases, controllable via WIFI.
Technical Specifications
Model number: AS01-PAR38EAE27
Energy supply: 220-240V AC, 50/60Hz
Lamp base: E27
LED power: 14W
Luminous flux: 850 lumen
Colour temperature: 3000 Kelvin
Energy consumption: Max. 14W
Camera: 1080p HD (140 degrees diagonal)
Operating temperature: -20°C ~ +40°C
Storage temperature: -40° C ~ +70° C
Wireless connection: 2.4GHz/5GHz compatible (2×2 MIMO)
Ingress protection: IP54 and 100% UV protection
Dimensions: 148 mm (height) x 121 mm (diameter)
Weight: 604 g
Packaging & Accessories
The box for the Snap is very nicely designed, showing off the Snap on the front, as well as their lovely CES 2015 Innovation Award. You can also see support for both iOS and Android, meaning the mobile app is easily obtainable for most devices.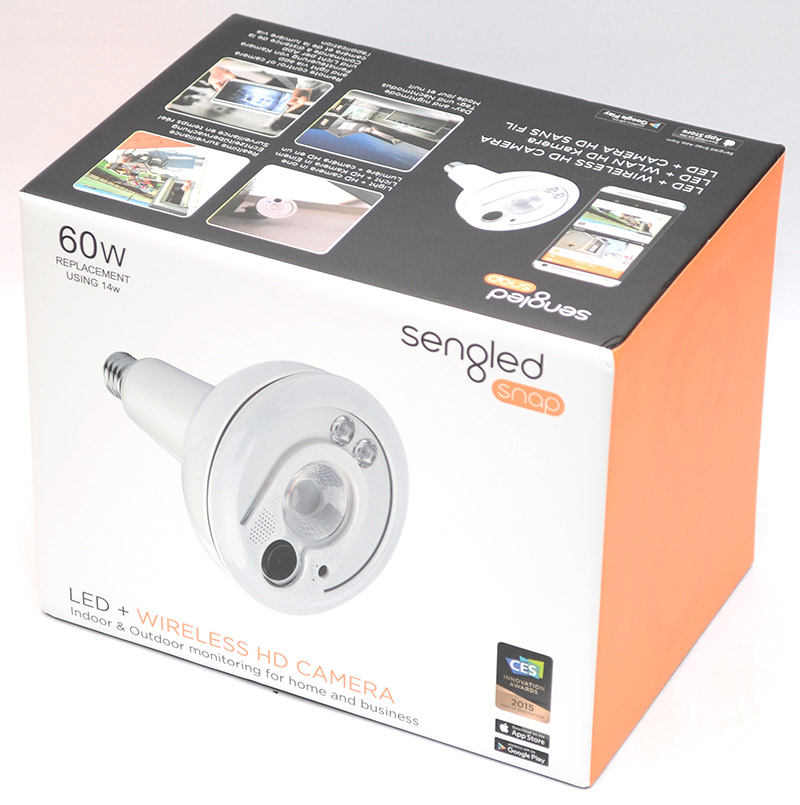 Around the back, the main spec show off a huge range of features, such as the waterproof IP54 rating, -20c to +40c operating temperature, and 2.4 & 5Ghz Wireless support, to name but a few!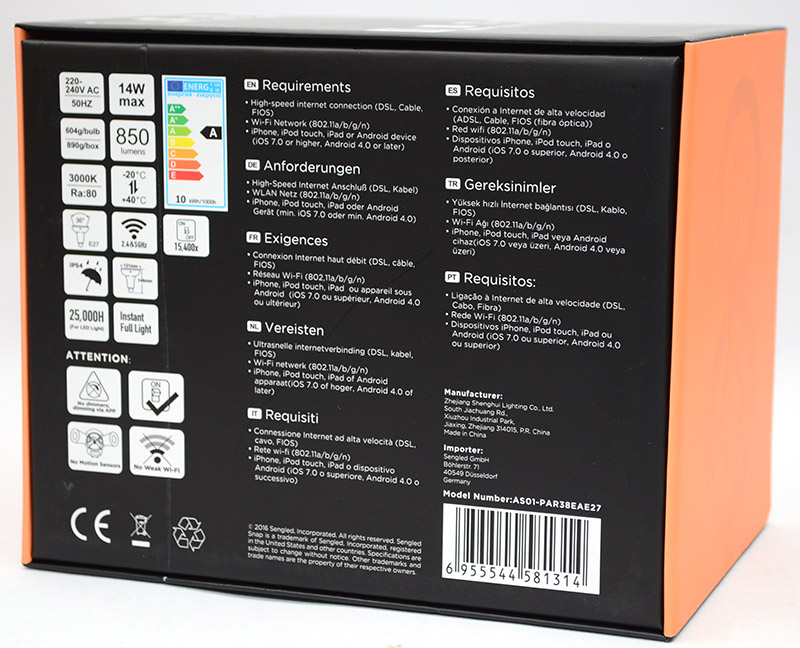 There are a few demo images on the back too, showing how it can be installed outside or in your home/office to suit your needs.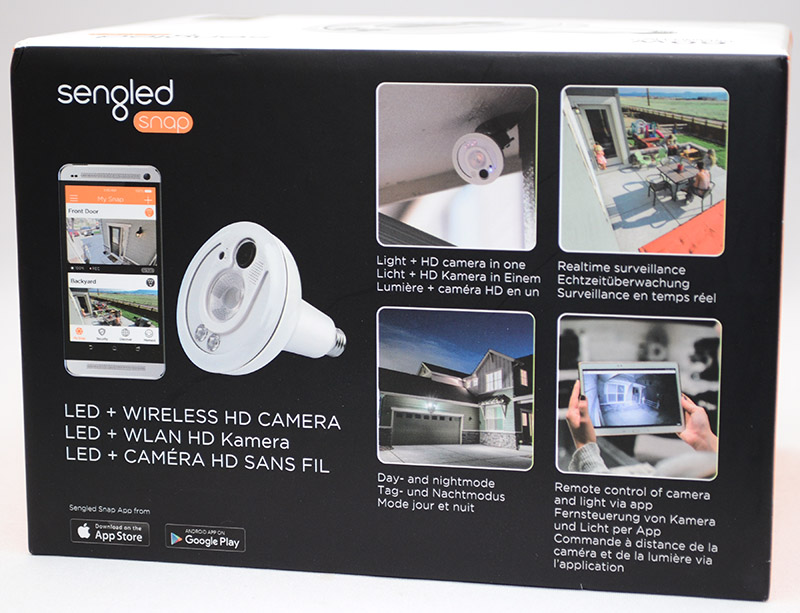 In the box, you'll find the Snap, as well as a simple user guide on how to configure and pair the device.