Sharkoon DarkGlider Gaming Mouse Review
---
---
---
Tim Mammatt / 10 years ago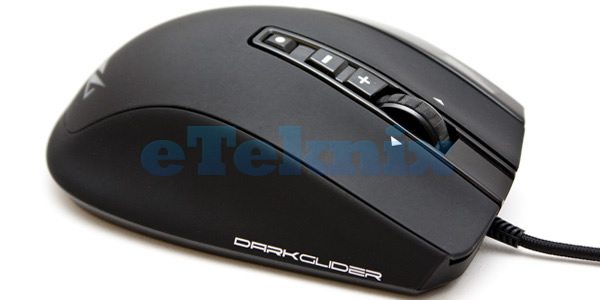 Not that many people know about Sharkoon and their peripheral products, as they are known more for their cases and accessories, but recently Sharkoon have been expanding their product portfolio with a whole host of gaming orientated peripherals. Known for their great value, we will expect to see a lot from Sharkoon in terms of features for the price paid, but will their be a trade off on quality? Well today we get to find out with their latest gaming mouse – the DarkGlider.
Gaming mice are one of the most important peripherals when it comes to gaming, as having the right mouse can make a world of difference. Many people don't realise this, so will make do with a bog-standard generic mouse and miss out a great deal of extra frags. However, the market for gaming peripherals is saturated with mice offering gimmicky features, dozens of additional buttons, different sensors and many other aspects that have been crammed into the product to make it stand out from the others. Most of time all these additional features are unnecessary, as they increase the cost and may not even offer that much of a benefit. With the DarkGlider, there are many features packed into the mice, from an LCD screen that displays the DPI, to a weights management system, will these be of any use?
Before we take a closer look at the DarkGlider and how well it performs, lets check out the specs to see what we should expect.
Features:
Avago 9500 V2 Pro Laser sensor
10 programmable buttons
Omron switches for left and right mouse button
Programmable 4-way scroll wheel
5 lenticular ceramic slide pads
LCD display for DPI indication
256 KB internal memory for user profiles
Gold-plated USB connector
Cable with textile sheathing
Weight Tuning System
Ergonomic design
Rubberized surface for maximum grip
Configuration software included
Supported operating systems: Windows XP/Vista/7 (32 and 64 bit)
Specifications:
| | |
| --- | --- |
| Max. DPI | 6,000 |
| Max. acceleration | 30 G |
| Mouse weight max. | 150 g (w/o cable) |
| Dimensions (L x W x H) | 130 x 82,4 x 42 mm |
| Sensor | Laser (16 bit data channel) |
| Connector | USB2.0 (gold-plated) |
| Cable length | 180 cm (textile sheathing) |
| Max. FPS | 11,750 |
| Button reaction time | 1 ms |
| Onboard memory | 256 KB |
| Number of buttons | 10 |
| DPI indication | LC display |
| Scroll wheel left/right | yes |
| Illumination | yes, configurable via software |
| Mouse slide pads | 5, ceramic, lenticular |
| Chip | Avago ADNS-9500 v.2 (72MHz) |
| Lifting sensitivity | 1-5 mm |
| Weight Tuning System | 4x 3,1 g / 4x 3,7 g |
Package contents:
DarkGlider
CD with software and manual (as PDF)
Additional slide pads: 5x ceramic, 5x Teflon®
Weights: 4x 3,1 g and 4x 3,7 g
Transport bag
So as you can see, there certainly is a lot of features crammed into the mouse, so lets take a look to see how they managed to fit them all in.