SilverStone EP03 USB 3.0 Charging Hub with Display Review
---
---
---
Bohs Hansen / 7 years ago
Introduction
---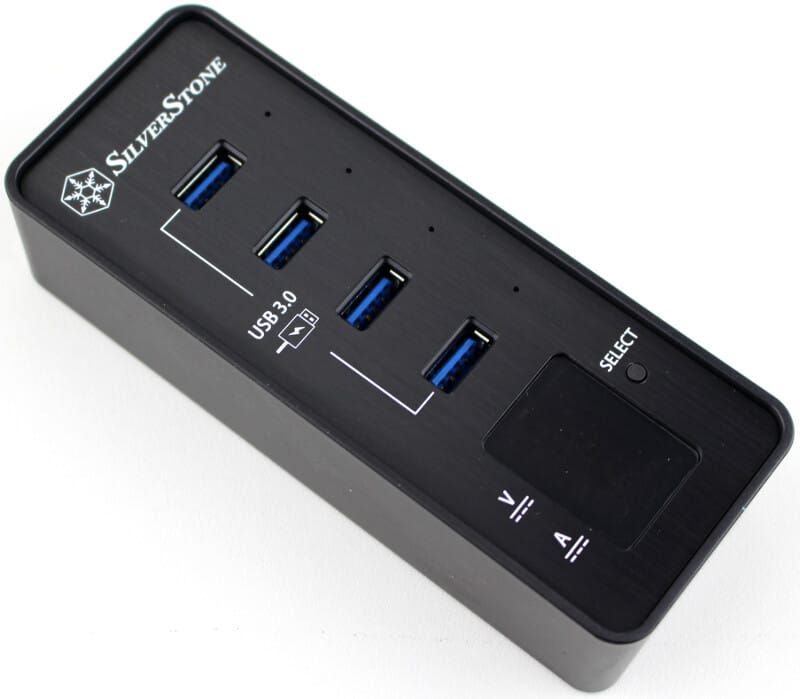 USB hubs are nothing new and an essential tool for port multiplying which allows you to connect more devices to your system than you have ports available. This is particularly useful for mobile systems that come with very few ports on their own, but a stationary system can benefit equally from a good USB hub. In today's review, I am taking a closer look at SilverStone's EP03 USB 3.0 hub with built-in supercharger function and an integrated display for monitoring voltage and current on all ports.
At heart, SilverStone's EP03 is a 4-port USB 3.0 hub capable of 5 Gbps transfer speeds. It is naturally also compatible with both USB 2.0 and 1.1 devices on both the host port and the individual connectors. That in itself is nothing new, but everything else is. In fact, this is a pretty smart hub.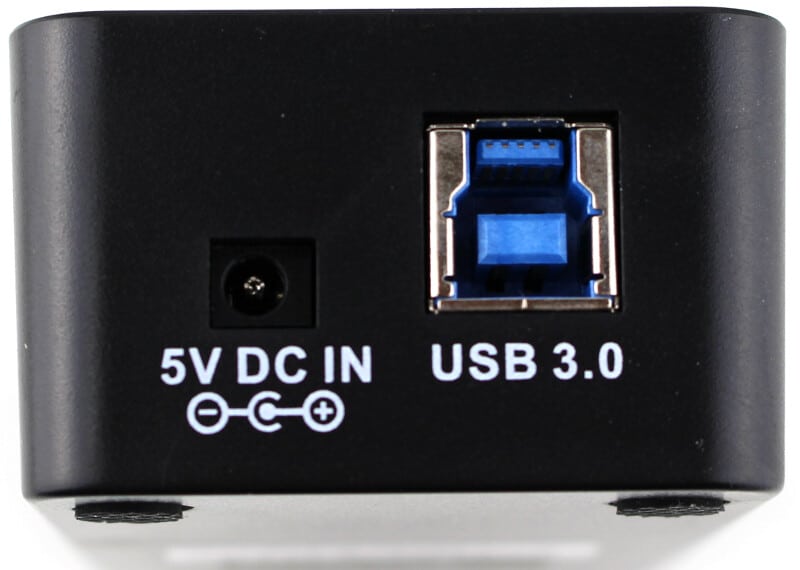 When you pick the EP03 hub up and hold it in your hands, you have no doubt that this is a quality built hub. It feels sturdy and it also looks pretty good with its simple plastic case and top plate made of brushed aluminium.
The top is also what instantly reveals one of the features that make this USB hub unique, the built-in display. You can watch the current and voltage in real-time on the display for each of the four ports. Port selection is handled by the small button next to the display which lets you cycle the four ports.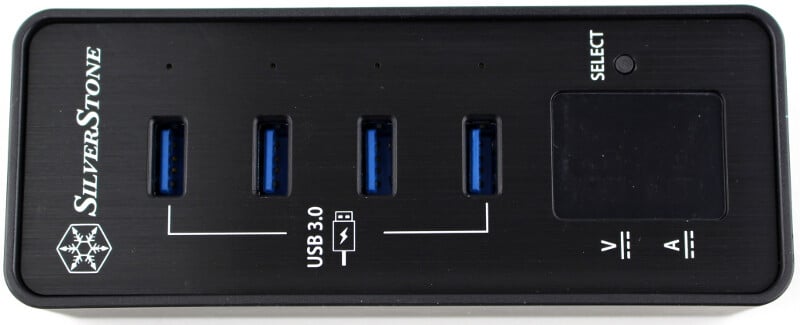 As the display already indicates, this isn't just a USB hub for peripheral and drive connection, it is also an intelligent charging station that can satisfy users' increasing demand for fast charging of power-hungry mobile devices. It can deliver 2A to each of the four ports simultaneously and is fully compliant with the USB power delivery specifications 1.2 (BC 1.2).
In addition, the built-in protection mechanism ensures the EP03 can deliver power evenly and safely according to the number or the state of battery charge of connected devices. All these features can also be used to check if a new/replacement charging cable is up to the task and comes with the proper specifications compared to your original cable.

The SilverStone EP03 comes with an AC adapter included which both ensures that you have enough current to all ports, but also allows you to use it as charging station with the use of a host system. It comes with built-in over current and over voltage protections too, so all your connected devices should be safe.
The hub is built around a Genesys Logic GL3522 chipset which actually is a USB 3.1 Gen 1 controller, but that just leaves internal headroom and ensures the best possible connection.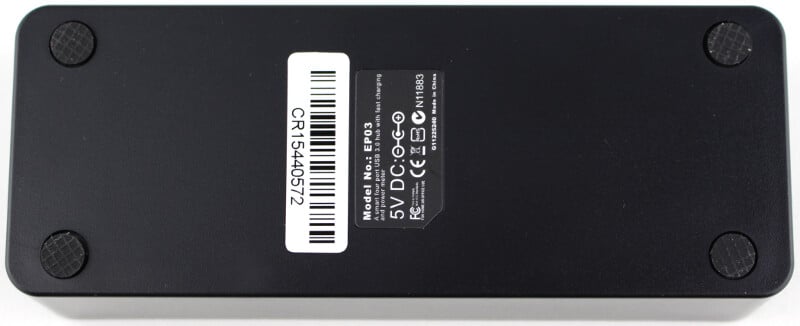 Feature Highlights
Integrated display for monitoring voltage and current
Supports current up to 2A for each USB port
Provides four 5Gbps Super Speed USB 3.0 USB ports
High quality brushed aluminum design
Supports over voltage and over current protection
Includes AC adapter for stable power delivery
Compliant with USB power delivery specification 1.2
Package and Accessories
SilverStone always has some great looking packages for their devices and it's no different for this USB 3.0 hub with fast charging and power meter. It presents itself colourful to the user and begs to be taken home. I know I wouldn't walk past it.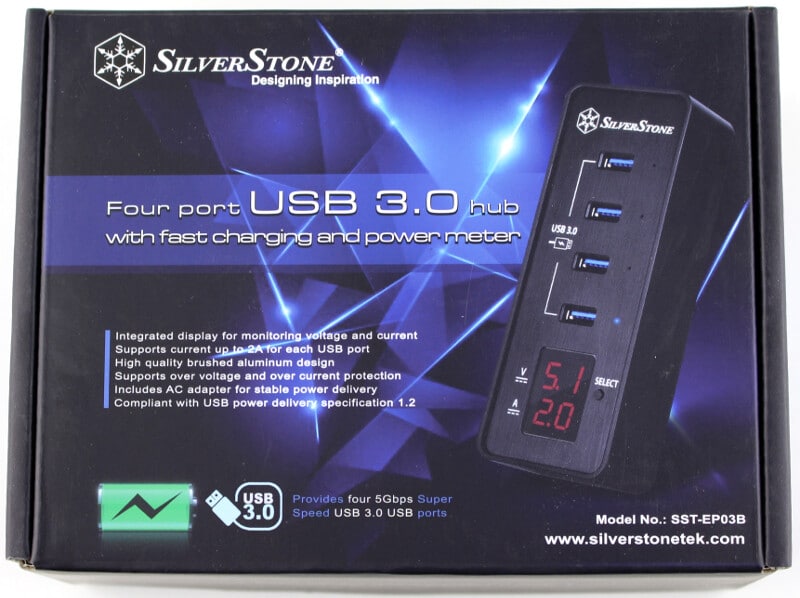 The rear of the box explains the features in multiple languages.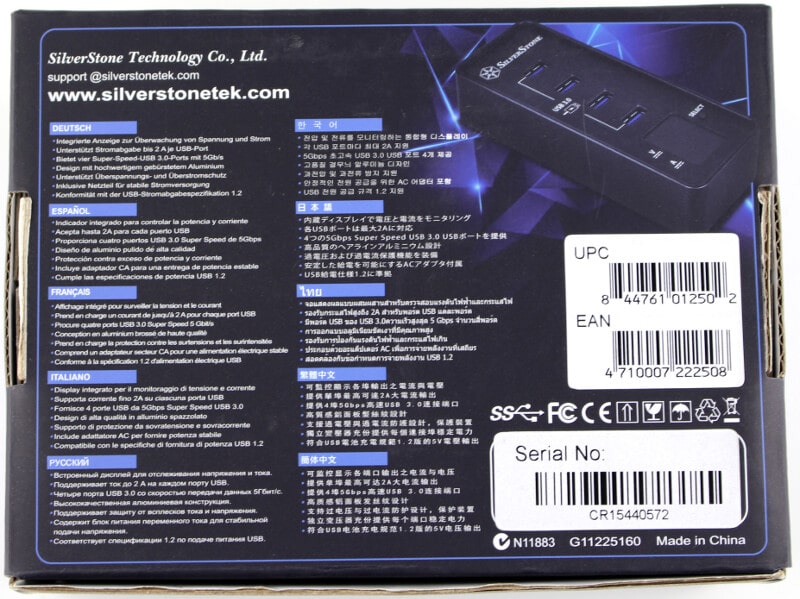 One of the sides has more details on the product itself in the form of images and text.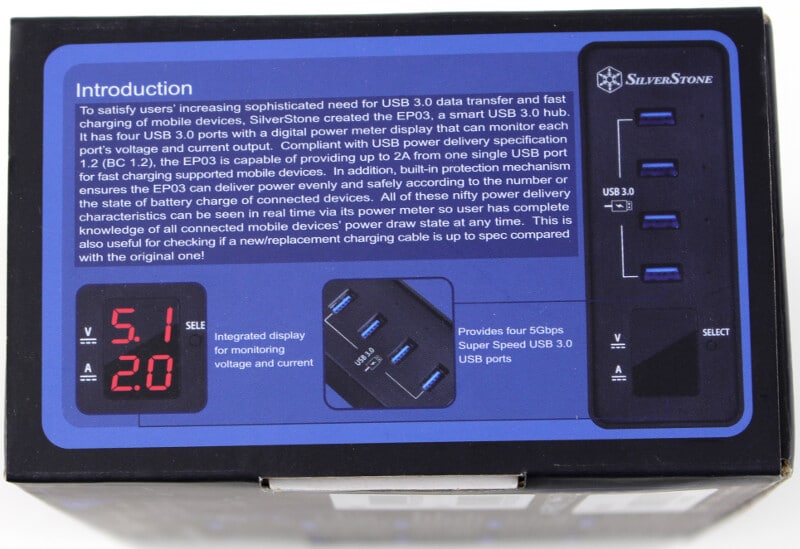 And the other side has all the detailed specifications. Overall, a box that tells us everything there is to know about the product inside.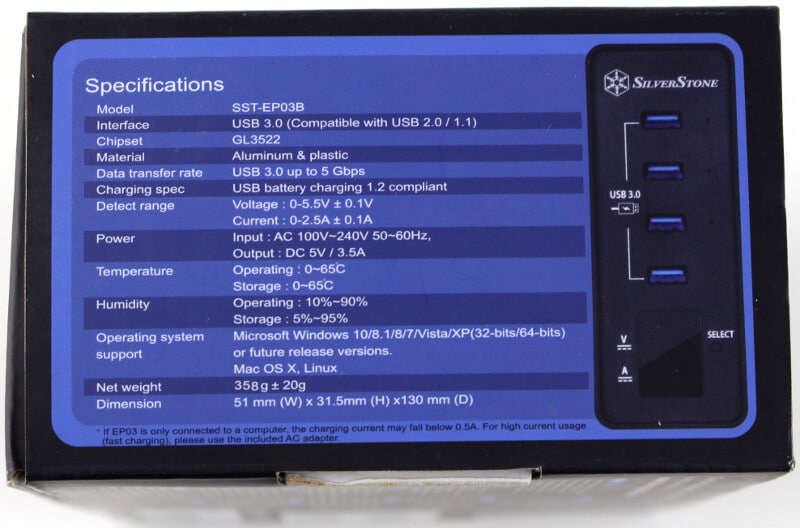 Inside the box, we find a USB 3.0 cable, an AC/DC power adapter, a user guide, and the USB hub itself.