SilverStone Launches TS12C Dual-Bay Docking Station
---
---
---
Bohs Hansen / 4 years ago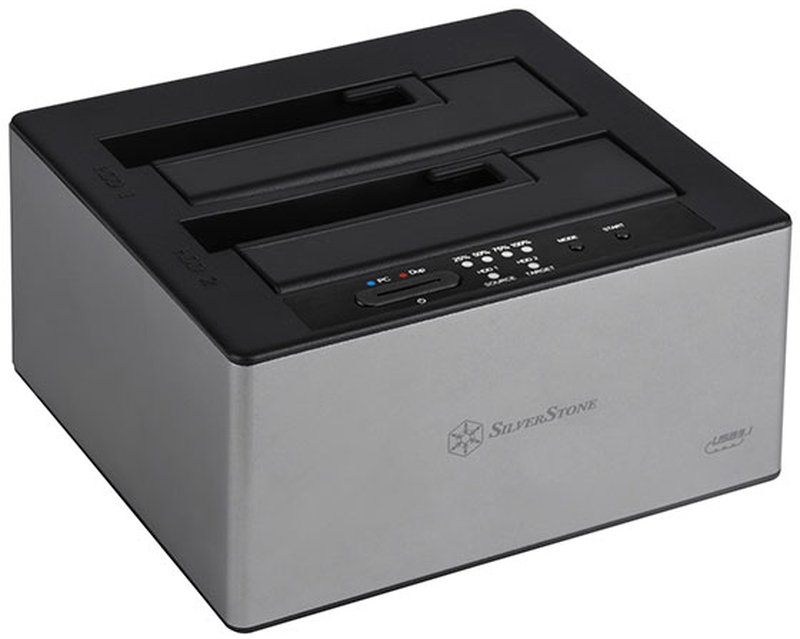 SilverStone released their latest docking station and it is called the TS12C. The TS12C is an external hard drive docking station made to accommodate two drives, cloning drives without the need for a PC, and it supports up to 10Gbps throughput.
I was impressed by the SilverStone TS11C that we reviewed a while ago, which is very similar except that it only takes a single drive. I'm still using that docking station in the office when I need to test USB performance, so I have no doubt that this dual-bay version will be just as good.
The docking station itself is built with an aluminium body and plastic cover. Inside the TS12C is an ASmedia ASM1542 10Gbps signal switch and an ASmedia ASM1352R USB 3.1 to SATA RAID/Port multiplier solution. Those two chips in combination take care of most features.
Drive Compatibility and USB Details
You can insert two 2.5-inch or 3.5-inch drives of any size and capacity, the TS12C can take them. The tray-less design makes it easy to install and eject drives on the fly, but you should keep heat in mind. Especially mechanical drives produce a lot of heat and you shouldn't run them for extensive periods of time from a docking station like this.
SilverStone gave the TS12C the latest USB technology. It is USB 3.1 Gen.2 compatible, allowing it to perform with up to 10Gbps throughput. The unit itself has a USB-C connector, but you can easily connect it to any normal Type-A port with the included cable. Naturally, the TS12C supports UASP (USB Attached SCSI Protocol) for the best throughput results.
Drive Setup and Cloning
Two drives in the same docking station allow for more setup options. One of the more basic functions here is the JBOD function. However, the really interesting function is the cloning function. The SilverStone TS12C allows for offline cloning of drives. In this case, offline means without a PC to control it. You can perform and watch the entire cloning process directly on the docking station.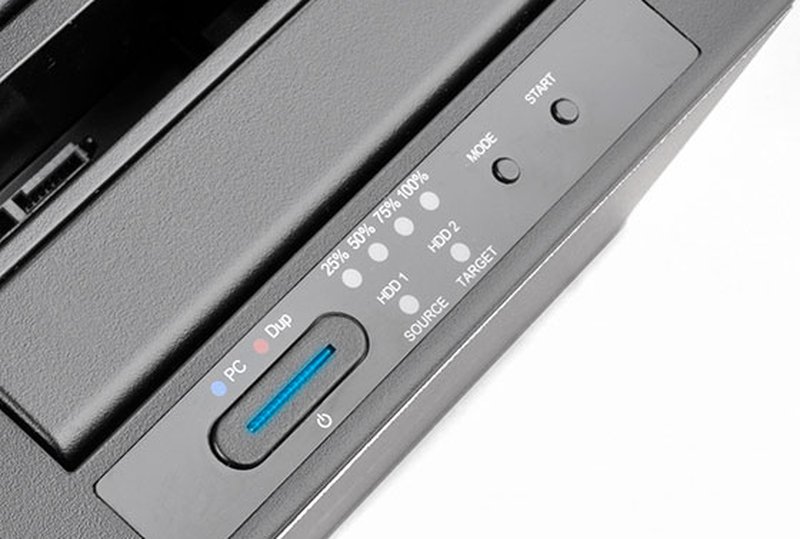 SilverStone TS12C Feature Highlights
USB 3.1 Type-C connector with Gen 2 up to 10 Gb/s super speed transfer rate USB
Supports offline clone and JBOD mode
Supports UASP (USB Attached SCSI Protocol) function for even faster performance
Aluminium body with tool-free and tray-less design
Supports all 2.5 and 3.5-inch SATA drives up to any capacity
Plug & play with support for hot-swapping
Multinational power adapter included
Pricing and Availability
The SilverStone TS12C is available now for a suggested retail price of €96.60, excl VAT. Certainly not the cheapest solution, but it also brings features rarely found in other docking stations.