SilverStone TS12C Dual Docking and Cloning Station Review
---
---
---
Bohs Hansen / 4 years ago
Introduction
---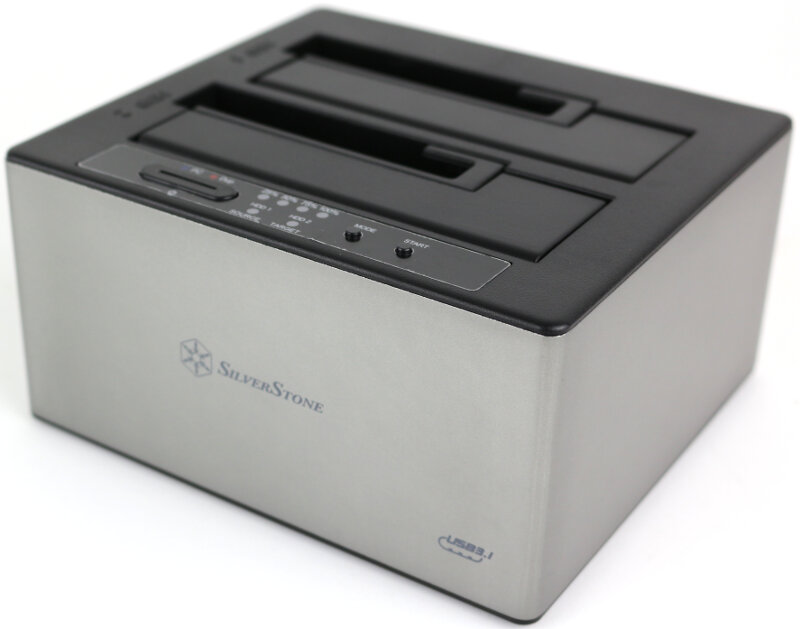 Most docking stations are close to the same, but there are exceptions such as SilverStone's TS12C that I'm taking a closer look at today. It isn't just a docking station for two drives, it also comes with a system-less cloning feature.
Introduction and Unit Design
I loved SilverStone's TS11C when I reviewed it last year, so I reached out to SilverStone as soon as I saw the TS12C being announced. At the base, it's more or less the same unit, but with a cloning-mutation added. The basic design has stayed the same with the aluminium body, sturdy stand, and ABS plastic cover.
The added cloning feature requires a few more physical buttons and indicators. We get those in the form of access and progress LEDs as well as mode selection and start buttons. The direct usage of the cloning feature allows for a PC-less usage and that's great. Especially when you clone something like an 8TB or 10TB HDD, then you'll love the PC-less feature. It will take a long time and there is no need to occupy a system with the task when you don't have to.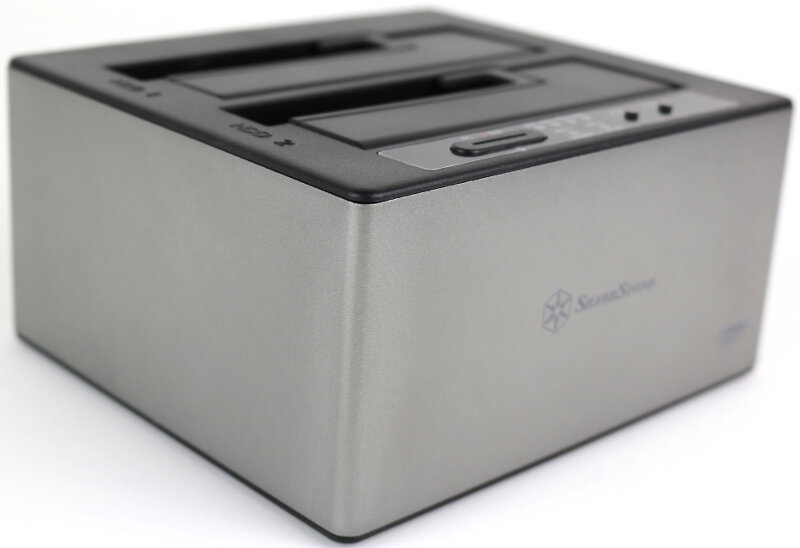 Latest USB Specifications and Features
The SilverStone TS12C comes with the latest generation of USB connection. It gives it the performance to handle SSDs with full speed, allowing for great transfer speeds. The docking station uses USB 3.1 Gen.2 with up to 10Gbps bandwidth and that is plenty for a 6Gbps drive. The docking station also supports UASP (USB Attached Serial Protocol) for improved performance. The UASP feature allows for commands to be executed at once without the connected drive having to reply with a done command before receiving the next order.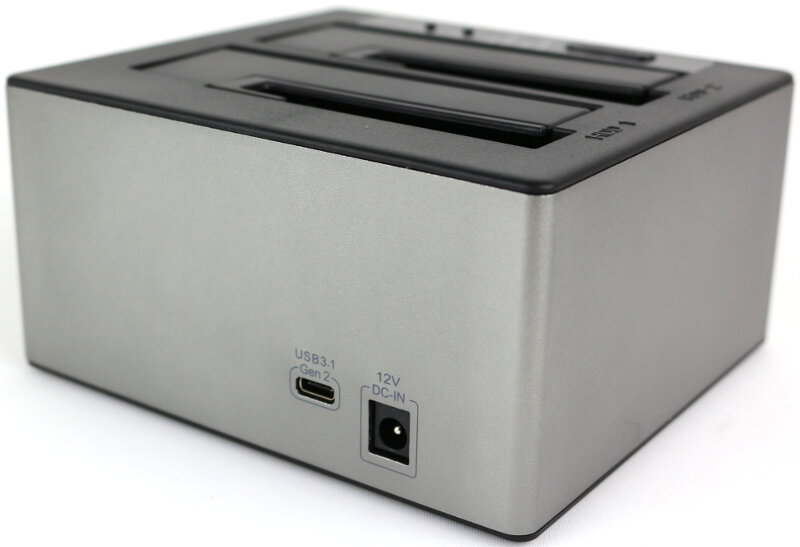 Setup and Support
The setup couldn't be easier. Connect the power, connect the USB cable, and plug in a drive or two. Power it on and you're good to go. A docking station principally allows for a tool-less installation where drives just are inserted. The TS12C supports both plug-and-play usage as well as drive hot-swapping.
There is full support for 2.5-inch and 3.5-inch drives in this docking station. The largest part of each drive bay is covered with a lid which folds back by itself when you insert a 3.5-inch drive. The 2.5-inch opening is always free.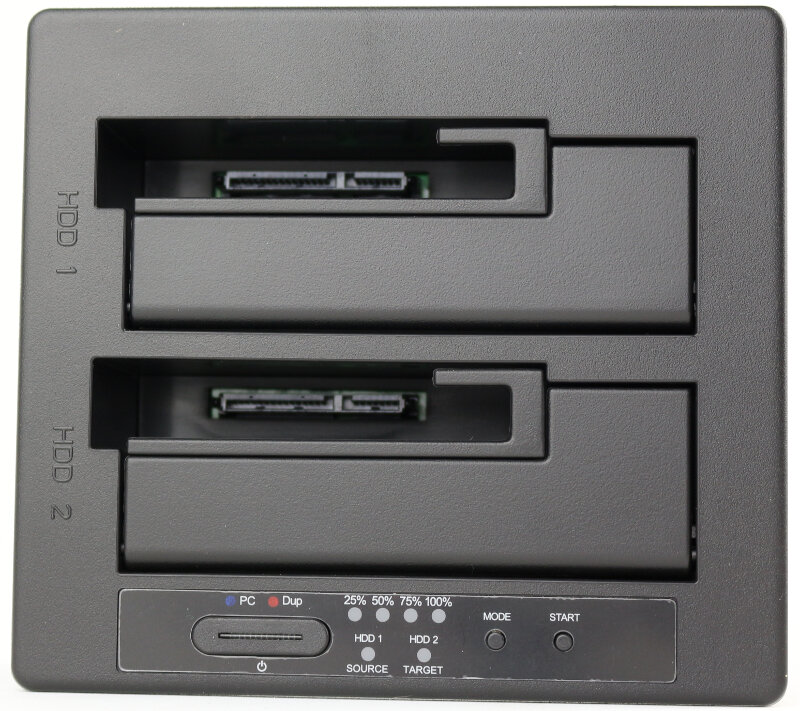 Drive Configuration and Cloning
While the SilverStone TS12C has two drive bays, it doesn't support RAID 0 and RAID 1 setups. You can only run the disks in JBOD mode (Just a Bunch Of Disks) when connected to a PC. When the system isn't connected to the PC, it works as a headless cloning station. At the press of a button, the TS12C will clone disk one onto disk two.
It doesn't matter whether you use 32GB drives or 12TB drives, the SilverStone TS12C will take them all. There is no size limitation, at least not for the foreseeable future. All SATA drives are supported, from SATA 1 to 3, and so are small 2.5-inch and larger 3.5-inch drives.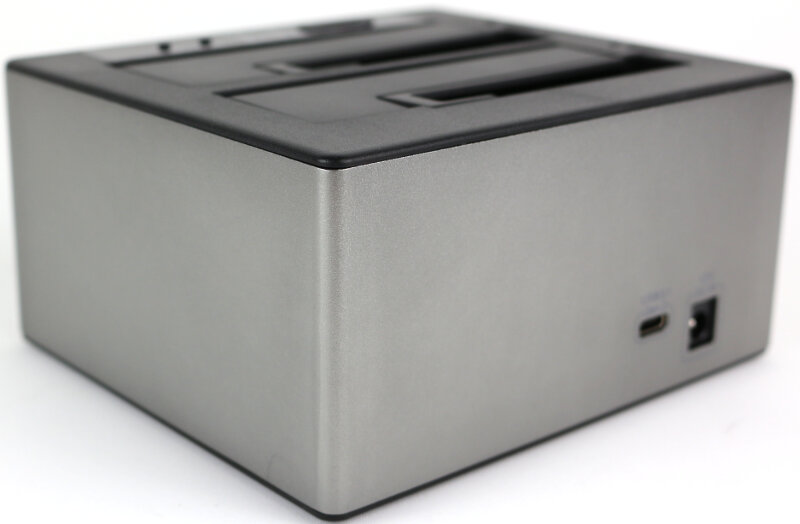 On the inside
The operations are handled by two controllers on the inside. Both are from ASMedia and they are the ASM1542 and the ASM1352R chips. The ASM1542 is a passive switch controller with 10Gbps support while the ASM1352R is ASMedia's single chip solution to bridge the USB 3.1 to dual SATA interface.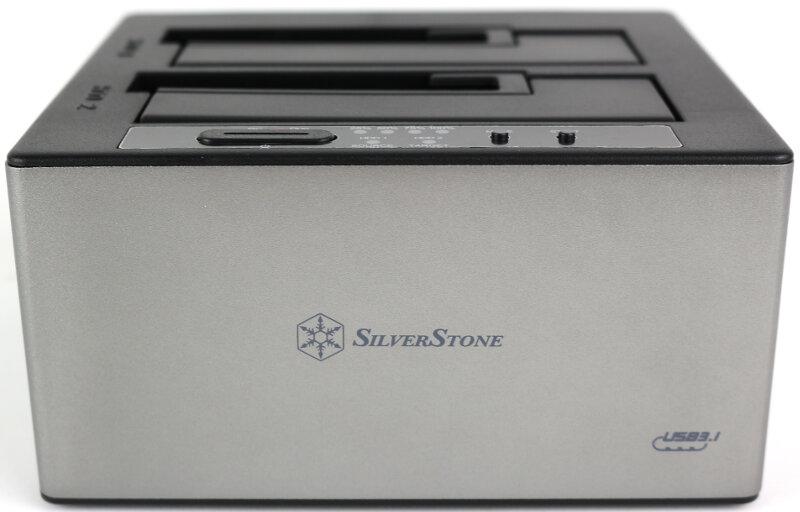 Feature Highlights?
USB 3.1 Type-C connector with Gen 2 up to 10 Gb/s super speed transfer rate USB
Supports offline clone and JBOD mode
Supports UASP (USB Attached SCSI Protocol) function for even faster performance
Aluminium body with tool-free and tray-less design
Supports all 2.5 and 3.5-inch SATA drives up to any capacity
Plug & play with support for hot-swapping
Multinational power adapter included
Specifications
Model No.: SST-TS12
Enclosure Material: Aluminium body, high-quality metal, plastic-ABS cover
Colour: Charcoal
Data transfer rate: USB 3.1 Type-C
Connector: USB 3.1 Gen 2 up to 10 Gb/s (Compatible with USB 3.1 Gen 1 / 2.0 / 1.1)
Operating system support:
Microsoft Windows 7 (32bit/64bit), 8/8.1/10 (32bit/64bit) or future release version
Mac OS 10.5 or above
Controller: ASM1542, ASM1352R
LED Indicator:
Power LED: Solid blue for power on
Mode LED: Blue for PC mode, red for DUP mode
HDD status LED: Blinking Red for HDD access or DUP mode
Driver interface support: SATA I / II / III
Net weight: 480g
Dimension: 140mm (W) x 70mm (H) x 126mm (D) (without feet)