Super Mario Bros. Level Recreated in NYC Central Park via Hololens AR
---
---
---
Ron Perillo / 6 years ago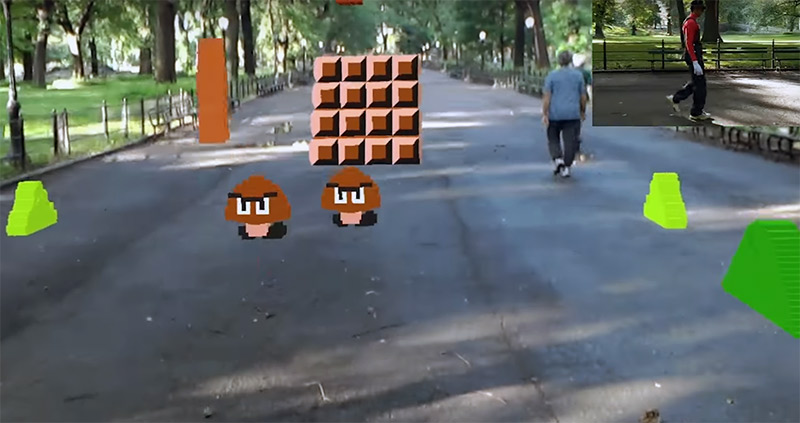 Like most adults who grew up playing classic video games, developer Abhishek Singh has a fondness for Nintendo's Super Mario Bros. So when it came to choosing what augmented reality project to work on, he chose to adapt the iconic original game. Singh lovingly re-created the first level using Unity3D for Microsoft Hololens, complete with gameplay interactions. This means players can hit boxes to get coins or power-ups, or stomp on creatures. There are even clouds and mountain backdrops, all in first-person Hololens POV.
The best part is that Singh himself played and recorded the game while wearing a Mario costume. This is in broad daylight, in New York City Central park while people are passing by. Luckily he did not stomp on anyone's dog by accident thinking it was a Goomba or a Koopa Troopa as the objects are generated.  The straight pathway was ideal to for projecting the straight, originally 2D map of the original however. This includes pit traps, brick walls and tubes.
Check out the video below for the Hololens AR gameplay and then see how well it translates from the original 2D side-scroller adventure.
Super Mario Bros. 1st Level Hololens AR Gameplay:
Super Mario Bros. 1st Level Original 2D Sprite Gameplay:
https://www.youtube.com/watch?v=PsC0zIhWNww&feature=youtu.be