Solar-Powered, Smartphone Charging Benches to be put in Boston
---
---
---
Chris Smith / 9 years ago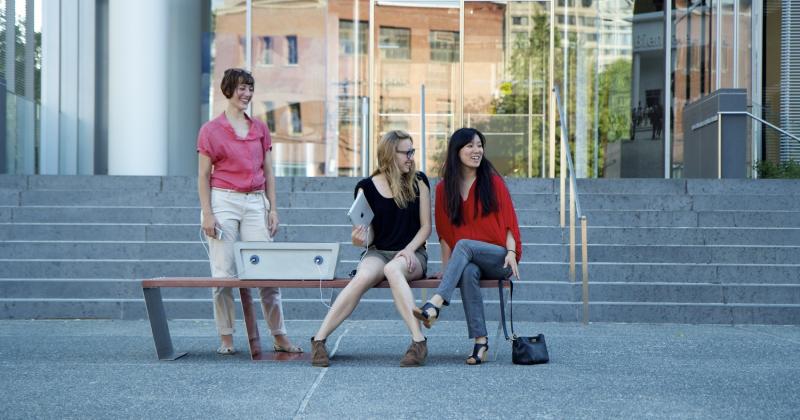 Soofa is a smart urban furniture company developed by Changing Environments, (an MIT Media Lab spin-off) and they're bringing the Silicon Valley feel to Boston. As we've learned, this companies trendy name is derived from the acronym SUFA (Smart Urban Furniture Appliance) with the 'double o' added for a modern feel.
Being described as an 'urban watercooler', Soofa hopes to bring strangers together in a commonplace whilst providing an almost-essential service in todays technology age.
Soofa Co-Founder Sandra Richer explained her companies intentions to Mashable:
"There isn't too much knowledge or perception around renewable energy these days because people are removed from it — it's either on the roof or set aside somewhere that you don't see it. We wanted to change the way people see its immediate benefits by putting something out into public spaces."
Boston already has six benches in full operation with a further four set to be placed in the next few weeks. As it stands, Soofa currently has 100 of these benches ready to roll out with plans for further production.
Richer also commented on the ever-growing demand for such technology:
"It's hard to get investors to back something that is a new market, but we're already gotten so many requests from corporate campuses, education organizations, retailers and cities, from Tel Aviv to places in Italy, Germany and Hong Kong, so now we're focused on how to scale quickly" Mashable
Interested in looking at your own bench for your workplace, common hangout spot or company? A cast iron bench will set you back around $10,000 USD, but others are said to be significantly cheaper. Obviously this price is nothing to scoff at, especially if you're looking to implement quite a few of these in one venue. When this issue was raised, Richer commented:
"The smart benches will be on the pricier side because of the electronics, but we want it also to be affordable enough to encourage adoption." Mashable
Being adopted as a full business around one year ago, the company was formed as current thanks to a partnership with Verizon and Cisco to help get it off the ground.
Soofa are said to be developing other style products to be suited to further environments. It's highly likely you'll be seeing more of these around in America and globally in the near future.
Image courtesy of Slashgear