SpaceX's Planned Mars Rocket Detailed in New Demo
---
---
---
Bohs Hansen / 7 years ago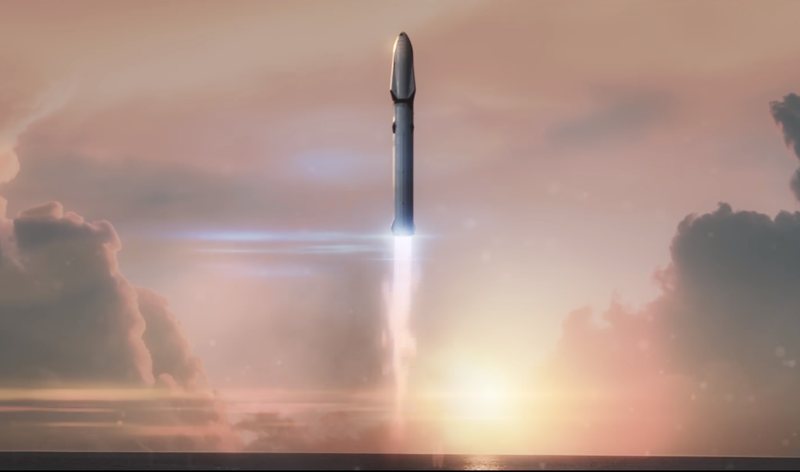 Mars is the next frontier that mankind is set on, there can not be any more doubt about that. The US Congress mandates a manned Mars Mission within 25 Years and Elon Musk who we're going to talk about here is well known for his plans to get mankind to Mars.
That plan got one step closer when Musk announced more details of this plan on stage in Guadalajara, Mexico at the 67th International Astronautical Conference. We now know what the design will look like and it is a simple yet genius principle with as little waste as possible. Instead of discarding the massive rocket after each use, Musk detailed that it will be reused up to thousand times and several times for a single launch.
The SpaceX rocket which was teased in a promo video released shortly before Musk's talk will use a single-core rocket which will launch the spaceship which can be filled with 100 metric tons of passengers and cargo from Earth. The rocket will first transport the spaceship into a stable orbit before returning to the launch platform where it will pick up a fuel tank and bring that up to the spaceship now orbiting earth.
To do this, the rocket will generate 28,730,000 pounds of thrust at liftoff, resulting in a top speed of about 5,375 miles per hour. For this, it will use a total of 42 of SpaceX's new Raptor engines. The 77.5-meter tall rocket will use methane as fuel rather than kerosene that powers the Falcon 9 rocket.
Up until now, we have known that Musk wanted to do this, but the specifics on how were unknown. That mystery is now solved and Musk said that the simulation video shown is "quite close to what we will actually build," and clarified that it's "not an artist's impression." The simulation was made from SpaceX's CAD models.
I never really understood why people want to go to Mars as it's not really that habitable for humans, but I guess it's the next logical step in space faring. It could also be used as a base to send ships even further out into the unknown universe.