Speedlink Jugger 2.1 Speaker System Review
---
---
---
Peter Donnell / 9 years ago
Introduction
---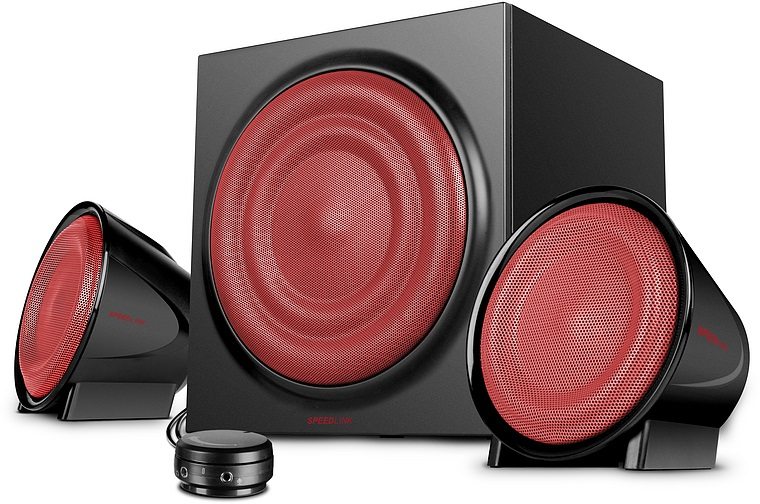 Today I'll be taking a look at the new Speedlink Jugger 2.1 speaker system, a budget friendly solution for those who want to give their multimedia an extra kick and bigger sound, but that don't want to stretch their budget too far.
With 16 years industry experience, Speedlink have already sold over 10 million sound systems, making them one of Europe's leading brands for multimedia solutions, and this is especially true for the PC and gaming markets. With that experience, they've no doubt got plenty of knowledge and experience, so I'm expecting to see much of that reflected in the product we'll be taking a look at today.
Priced at around £45 Inc. shipping here in the UK the system is obviously not enthusiast grade audio equipment, but it's priced just right to go head to head with systems from Wavemaster, Logitech, Creative and similar brands who all have products around the same budget, and many of those products are pretty good too (for this price), so it will be interesting to see how the Jugger 2.1 holds up and how well it holds up to Speedlinks own words about its performance (see below).
"Take your games' sound quality to the next level and transport yourself to a powerful dimension in sound with the JUGGER 2.1 Subwoofer System. It combines the quality of cutting-edge audio technology with the high standards you place on your speakers' performance. The high-volume subwoofer with its superior quality driver unit and wooden housing delivers powerful, gutsy bass. Experience spectacular sound effects, such as bombs going off or shots being exchanged, in all their glory. The JUGGER 2.1 Subwoofer System won't just get gamers' hearts racing: besides the high-fidelity sound of action-packed gaming scenarios, it's perfect for action movies and music. Simply connect the system to your PC, games console or TV, and use the practical desktop remote to connect an MP3 player, a microphone or a gaming headset." – Speedlink product page.
As you can see from the specifications below, the Jugger 2.1 outputs 35 Watt RMS with a peak of 70 Watt, so they should be pretty loud for a desktop solution, plus combining that with a subwoofer for some added thump.
Active 2.1 speaker system
35 Watt RMS output power, 70 Watt peak power*
powerful subwoofer with a wooden housing and high volume for extreme bass
satellite speakers angled for optimal audio projection and with metal grill protectors
separate practical volume and bass controls on the subwoofer
on/off switch and auto power-saving mode for zero power wastage
practical desktop remote with connectors for rapid switching between additional audio sources, a microphone or a set of headphones
impressive symphony of sound for games – perfect for multimedia use
easy installation
rubber feet for acoustic decoupling
audio adapter cable (1m) for connecting to a PS3, Xbox 360 or TV
dimensions: subwoofer: 190 × 210 × 210mm (W × D × H), satellites: 130 × 105 × 130mm (W × D × H) x 2
The speakers come really nicely packaged with a carry handle built into the box, making them very retail friendly. On the front of the box you'll find that they've been listed as compatible with TV, PC, PS3 and Xbox 360, but of course they'll be compatible with any device that has AUX ports or a 3.5mm connection.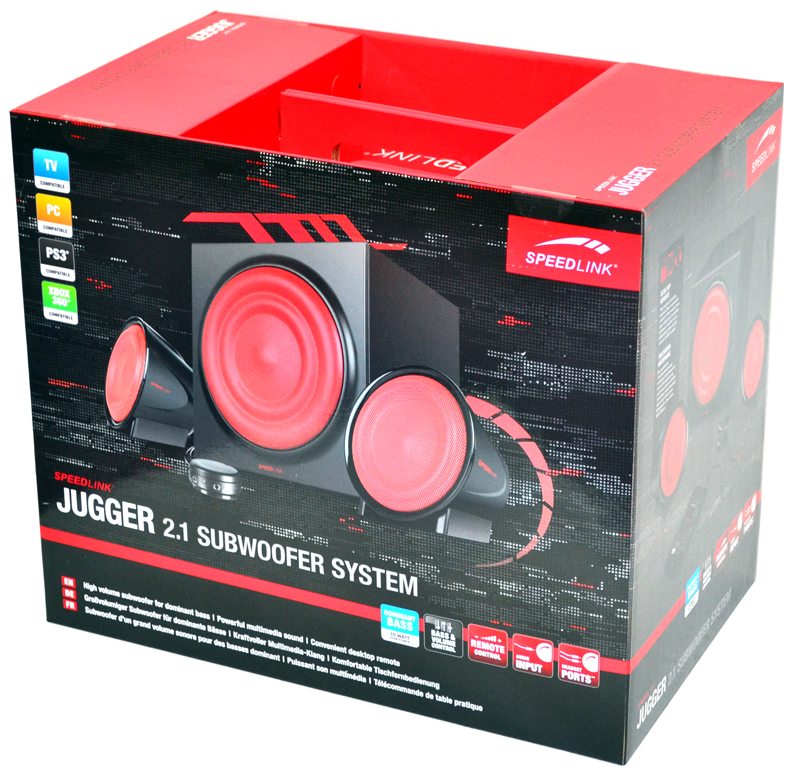 In the box I found not one, but two quick install guides, handy. I also found a wired controller, AUX to 3.5mm cable and AUX pass through to female 3.5mm cable, pretty much everything you should need to hook his up to your PC, TV, Blu-ray player or similar audio enabled device.