Steelseries APEX [RAW] Gaming Keyboard Review
---
---
---
Peter Donnell / 9 years ago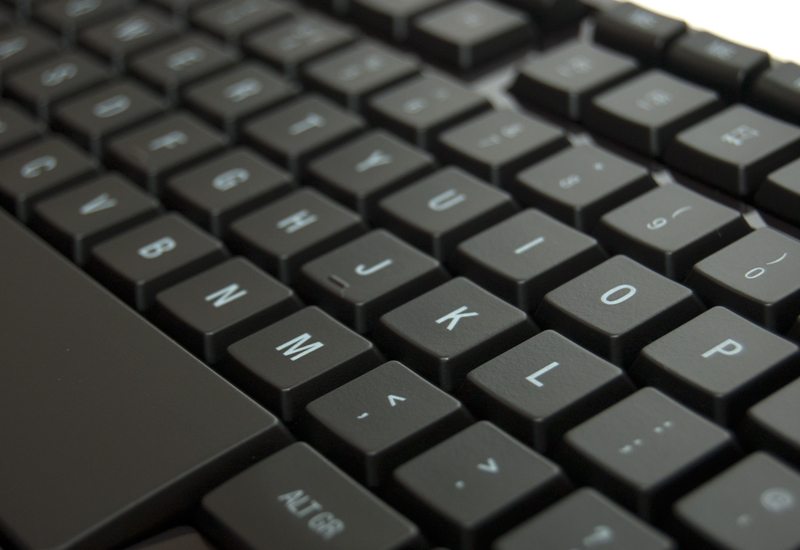 Today we take a look at the Apex [RAW] gaming keyboard from legendary peripheral company Steelseries. Steelseries have been instrumental to the gaming community since 2001 and they've built a robust reputation and a huge, loyal fan base around the world. I know there are a few people on the fence about the brand and no doubt more than a few haters too, but this is true of any brand on the market, but a brand like Steelseries doesn't get as big as they are by turning out weak products and I'm hoping to see some of their history and pedigree put into this new keyboard.
Gaming is bigger than ever and PC gaming is booming once again thanks to the advances eSports / Pro Gaming which has seen everything from sponsorships to endorsements really push high end gaming peripherals to the consumer market both on a general and an enthusiast level. Steelseries already have a rock solid range of products that cater to a fairly broad range of budgets and the keyboard we are looking at today is priced at a tidy £60.00 which brings it in line with a few rival brands offerings such as the Roccat ISKU and £60 is still quite a high price for a non mechanical keyboard so the Apex [RAW] is going to have to offer something special to compete with the performance of a mechanical board.
The Apex [RAW] is the more budget friendly alternative to the Apex. The idea is that you still get most of the features and performance at a reduced price, but if you want the full fat luxury experience then you will need to shell out £90-100 for the fully equipped model which looks like direct competition to the Roccat ISKU FX. So lets move along and see exactly what this board has to offer, it certainly packs some exciting specifications so I have high hopes for its performance.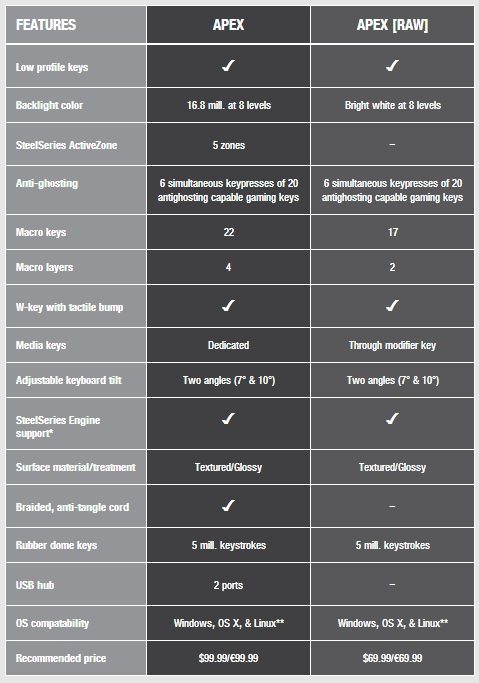 The Apex [RAW] comes in a nicely designed box with plenty of images of the keyboard as well as a few points that highlight the major features such as the backlighting and macro keys.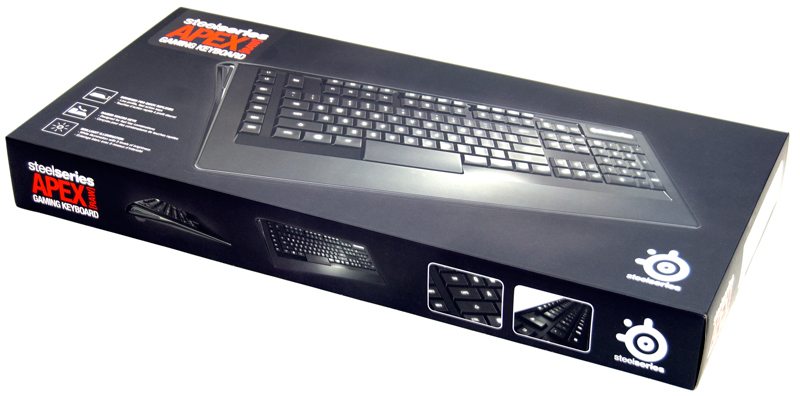 Around the back we have more detailed information about the keyboard features broken up into multiple languages.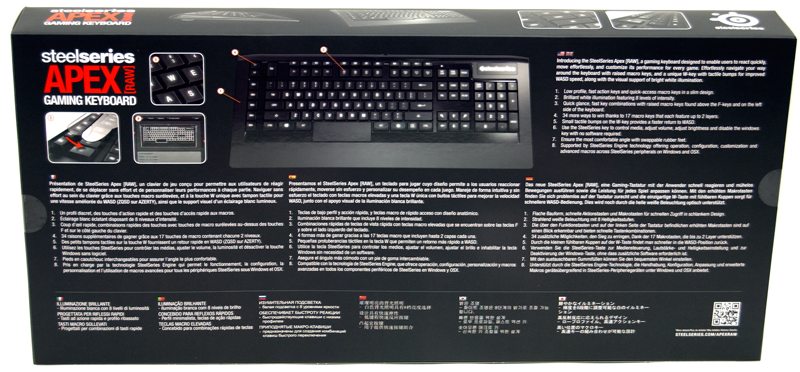 There wasn't much in the box, aside from the keyboard of course. I did however find a simple user booklet, a Steelseries sticker and a pair of rubber feet.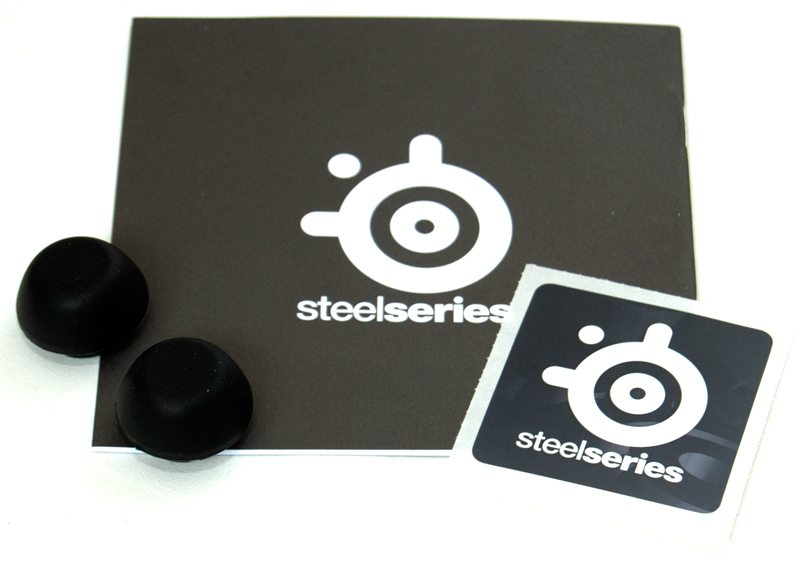 The keyboard comes with an oversized chassis that doubles as the wrist rest, which is made with a mixture of soft matt finishes on the outer top sections and a glossy mirror like finish behind and around the keys that gives a nice premium look to the keyboard with it looking overly flashy. The keyboard comes hardwired with a standard USB cable, although the cable is just a plastic one with no fancy braiding like the more expensive Apex keyboard.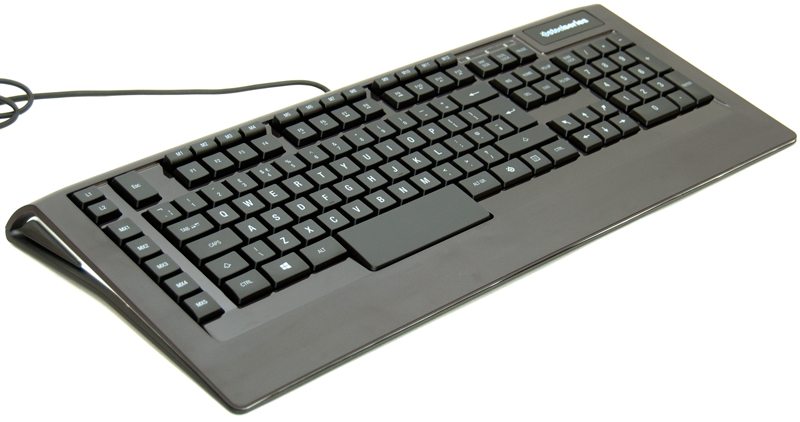 The keyboard features a wedge shape that gives it a 7 degree angle, but this can be increased to a steep 9 degrees by using the rubber feet that were included in the box. The keys feature a super low and flat profile similar to that of a high end laptop keyboard, with a low action that makes for quick typing, but it also means your fingers can slide the length of the keyboard with ease as there is little to nothing sticking up to get in your way.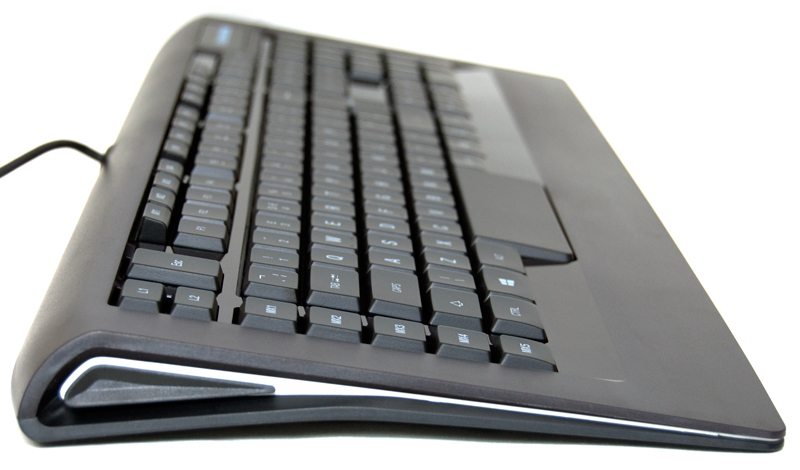 There are two keys in the top left, L1 and L2, these are used for switching between layers of the keyboard (similar to profiles) and this allows you to effectively double the number of button configurations you have at your disposal. Down the left we have 5 MX keys which are fully customisable and across the top we have  12 M keys which are also fully customisable, but also the top M keys are raised above the F keys, this makes them easier to find and it's less likely that you will accidentally trigger an F or M key by accident when your using either one or the other.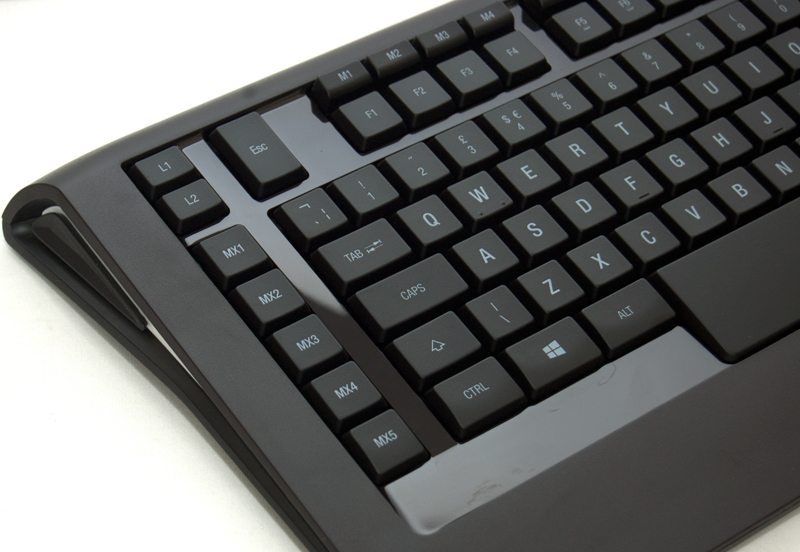 The right side of the board has all the usual buttons but uniquely there are two more that I have never seen before, diagonal up left and diagonal up right are now present on the arrow keys, this of course should need no explanation and it is as simple as being a pair of macro keys that are pre-configured to U+L and U+R.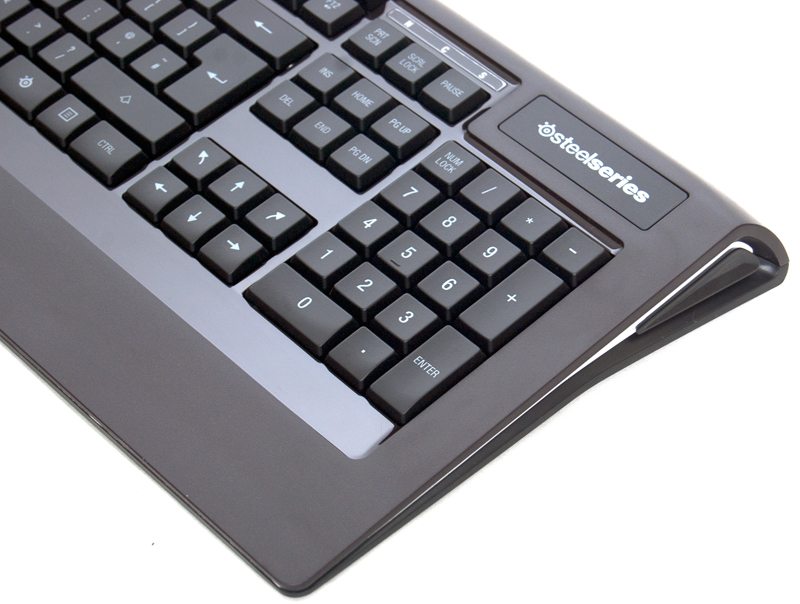 The underside of the board features four grippy rubber feet, as you can see there is a notch on the top two that allows you to "flip" it out and clip in the two thicker feet that were included to increase the typing angle.

Setup & Installation
The keyboard is plug-and-play compatible, so getting things up and running was super easy but of course there is little fun to be had without the software as that is required to use the various Macro and configuration features. The software is the usual Steelseries all in one solution called the "Steelseries Management Engine" and it's pretty straight forward to use. Unfortunately it also disables my Roccat Kone XTD mouse when loaded, an issue I have yet to resolve so I was forced to use another mouse, I tested a Steelseries mouse, a Razer DeathAdder and the CM Storm Havok, all worked just fine, the Software just hates Roccat mice it seems.
As you can see below the keyboard features white LED backlights and while it's not particularly bright its more than enough to give a really sleek look to the keyboard in a dim lit room. One of the best features of the lighting is that it doesn't bleed under the keys and it looks really uniform, I especially like the light up Steelseries logo in the top right. Brightness can be configured to a range of intensities or switched off completely if you desire.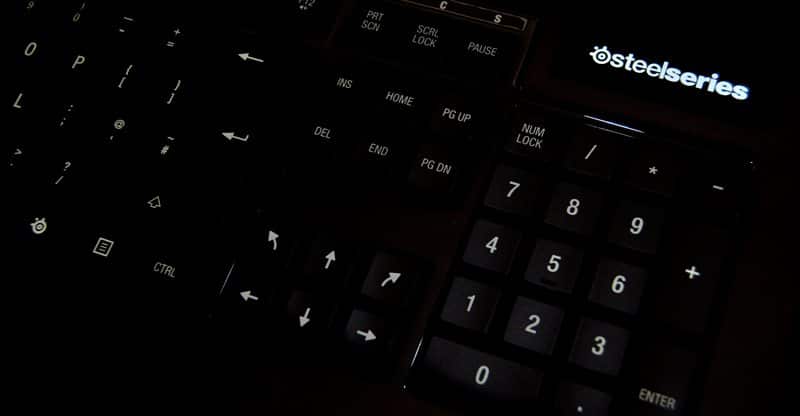 The included software allows quick and easy customisation of all the keys, allowing customisable macros and configurations.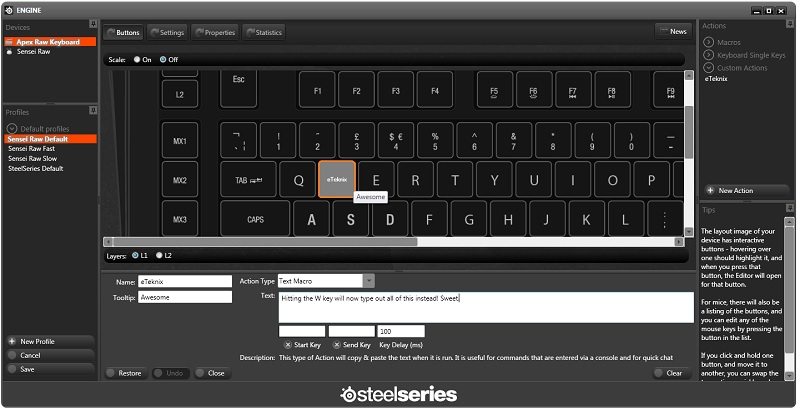 The settings tab allows you to adjust the backlighting intensity, polling rate, and the keyboard language layout.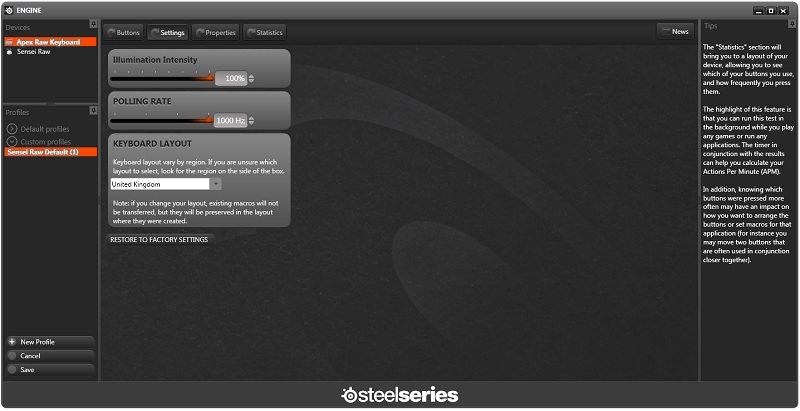 Another popular Steelseries feature is the statistics system, this tracks what keys you press and shows you the hot and cold zones of your keyboard. By knowing which keys you use the least / most you can fine tune your macro setup to improve your game.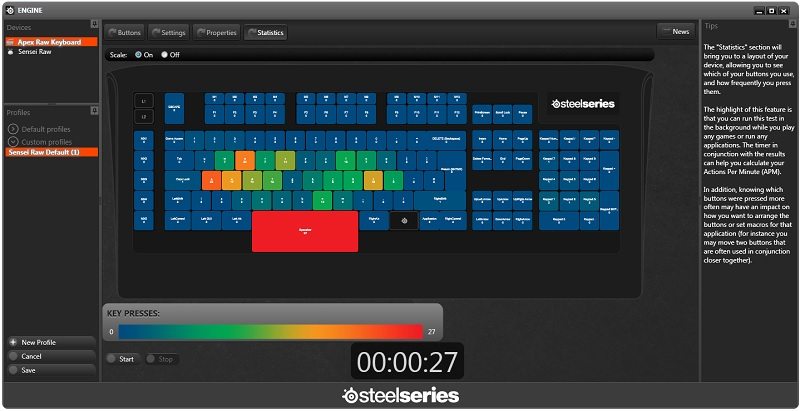 Performance
Gaming on the Apex [RAW] is really smooth, the low profile keys allow for lightening quick reactions and having such a wide range of macro options as well as macro specific keys means your never far away from the right combo. While I don't typically use macros that often for gaming I managed to configure a few extra ones for League of Legends, WoW and Torchlight 2 that I was happy with and it never hurts to have more tools at your disposal. For me personally I find macro keys are better used for daily tasks such as Photoshop shortcuts and macros, or app launchers, pretty much anything that speeds up my daily work routine is good in my book and that's where the Apex [RAW] really shines.
Typing on this keyboard is wonderful, while some might say "oh but it's not mechanical"… so what! I think it really boils down to personal preference than anything and the low profile keys will suit anyone who likes that "laptop" feel as the Apex [RAW] offers a bridge between that and a desktop style keyboard.
Back to gaming though, as there is one extra feature I want to mention, the diagonal forward keys. I've been using them for a couple of days now and while at first I have to admit I kept forgetting they were there, I've been learning to use them for FPS gaming. Do I need them? No, does it make me a better gamer? Not at all, but is it a gimmick that works and that feels natural to use, that offers something unique? Yes, absolutely. They work nicely and it doesn't take long to get used to them, but if you don't want to use them, your fingers should just use the standard UDLR without ever conflicting with them. Of course you could always disable them with a blank macro or configure them as extra controls for your favourite game.
Final Thoughts
At first glance, the Apex [RAW] is just another membrane keyboard offering little in the way of innovation and to some it may even seem a little expensive for what it is, but you really shouldn't judge a book by its cover as there are many little touches that make this one of the best membrane keyboards out there, which is important to the market because common to what people think, not everyone likes mechanical keys. It's also worth pointing out that while yes you can get some great mechanical gaming keyboards for a similar price, most mechanical keyboard are boring in terms of design with little in the way of flair that you often find in the membrane keyboard market, at least that's my observation.
The keys are really nice to type on and the low action also means they are quiet to type on. The short travel distance for each key is good for those who touch type too as this allows for super quick and fluid typing that you often can't achieve on cheaper membrane keyboards. This feature also carries over well to gaming and the quick keys really benefit FPS and MMO gameplay styles, or any game type for that matter.
The design is really well thought out and the keyboard looks really nice with its wedge shape design, subtle backlighting and built-in wrist rest. All of these combined promote a comfortable typing position that should offer decent wrist support and the backlighting certainly makes it easier to see what you're doing in a dim / dark area.
The software is robust and easy to use and I really like that you can control all your Steelseries products settings with the same piece of software, no need to litter your taskbar with multiple apps if you own multiple Steelseries products.
The price may not be cheap but it's inline with the competition and for those wanting a high quality membrane keyboard that still packs plenty of customisation options then the Apex [RAW] is a great choice, of course if you're wanting a little bit more in terms of features then you'll have to pay a little extra for the non [RAW] model. Either way this is still a great keyboard for gaming and while it does perform great in day-to-day life I think it's worthy of our gamers choice award thanks to its versatile Macro options and maybe even the funky extra arrow keys.
Pros
Great design and build quality
Great macro options and extra keys
Software works with other Steelseries products
Nice typing action
Cons
Maybe a little expensive for some
eTeknix says: "It's great to see that gaming peripheral companies haven't given up on membrane keyboards and the Steelseries Apex [RAW] is easily one of the best in its class."