SteelSeries Nimbus MFi Wireless iOS Controller Review
---
---
---
Peter Donnell / 7 years ago
Introduction
---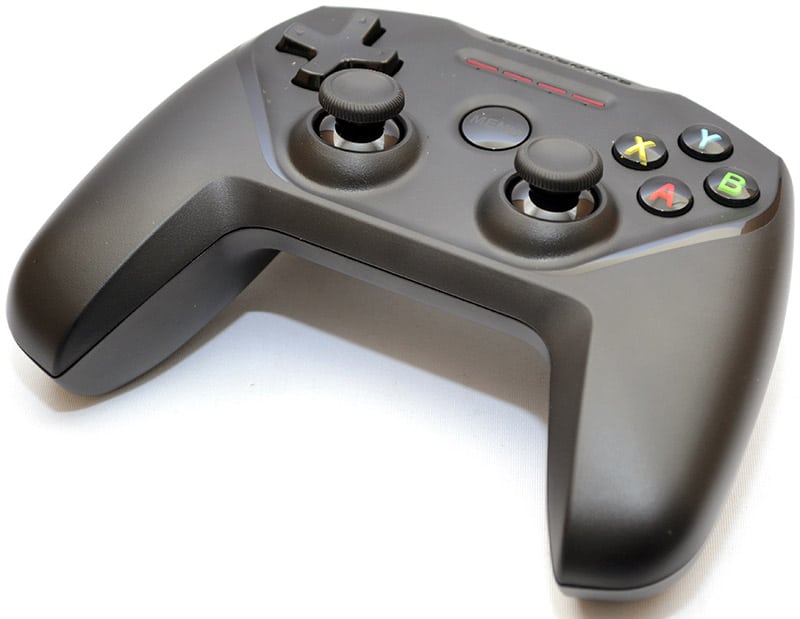 Finding the right gaming controller for your device can be tricky. There are a lot of options on the market and that number is growing every month. There's the cheap aftermarket options and there are premium grade specialist controllers, plus everything else in between; it can be a bit of a minefield to navigate. The issue is made ever more complicated when it comes to Apple devices, as you have to find something that is compatible too, as we all know how strict Apple can be with their regulations, not that this is a bad thing for the consumer though if it means you get a fully compliant product.
Steelseries are no stranger to mobile device controllers, as we've seen in the past with their Stratus iOS controller. However, the Stratus was small and it was pretty darn expensive too, so what does the new one have to offer that's so special? Well for starters, it's bigger, more akin to a console controller, so it should feel right at home for most gamers. Then there's the other perk, it's competitively priced, and that should make your wallet feel a little safer too. With support for Apple TV, iPhone, iPad and iPod Touch, it should fulfill all your iOS gaming needs and more. Obviously, the main one here is Apple TV, as Apple continue to move into the living room market and when you're kicking back on the couch to play a few games, the Nimbus looks set to be the perfect partner for Apple TV.
"The SteelSeries Nimbus wireless controller lets you play hundreds of your favourite controller-supported games on your new Apple TV, iPhone, iPad or iPod touch. This full-sized controller's ergonomic design is perfect for gaming. It gives you 40-plus hours of game play with just a quick charge using the Lightning connector, along with LED notifications, an easy-to-navigate menu button, and pressure-sensitive buttons for the most precise gaming controls." – Apple Store
Features
Pressure-sensitive buttons for precise gaming control
Console-style left and right analog triggers
Bluetooth 4.1 connectivity
Lithium-ion battery recharges via Lightning connector for 40-plus hours of gaming
Four LEDs display your player status during multiplayer gameplay
Colour-coded action buttons
Comfort and ergonomics of a full-sized controller
Specifications
Bluetooth Compatibility: Bluetooth 4.0
Power: Lightning connector for charging
Batteries: Rechargeable Lithium-Ion
Height: 6.32 cm / 2.49 in.
Width: 15 cm / 5.91 in.
Weight: 242 g / 8.54 oz.
Length: 11 cm / 4.33 in.
The packaging is nicely designed, with a clear image of the controller on the front, showing off the main features, as well as a brief show of the overall device support.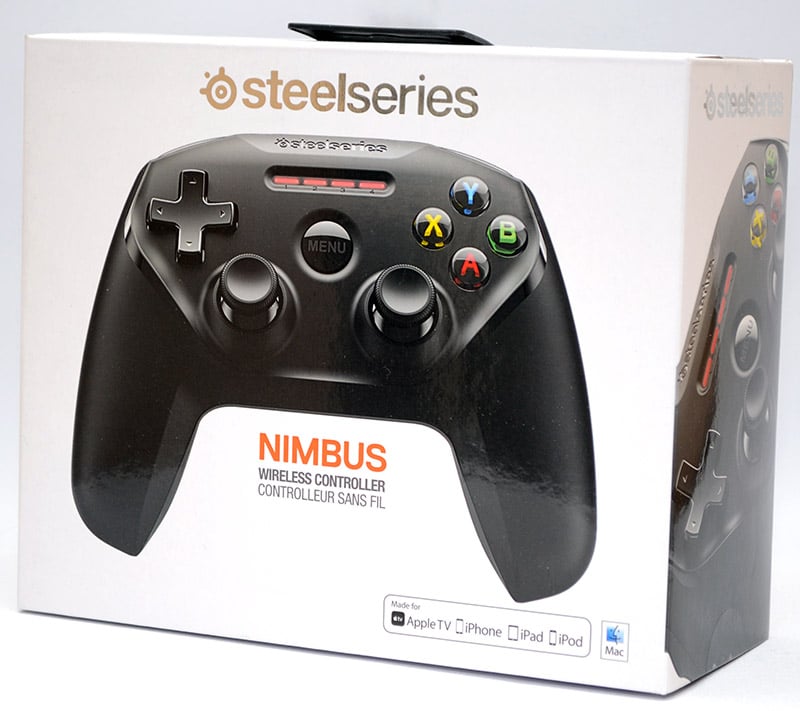 Around the back, a few more specs such as the pressure sensitive d-pad, rechargeable battery, lightning connector and pressure sensitive buttons.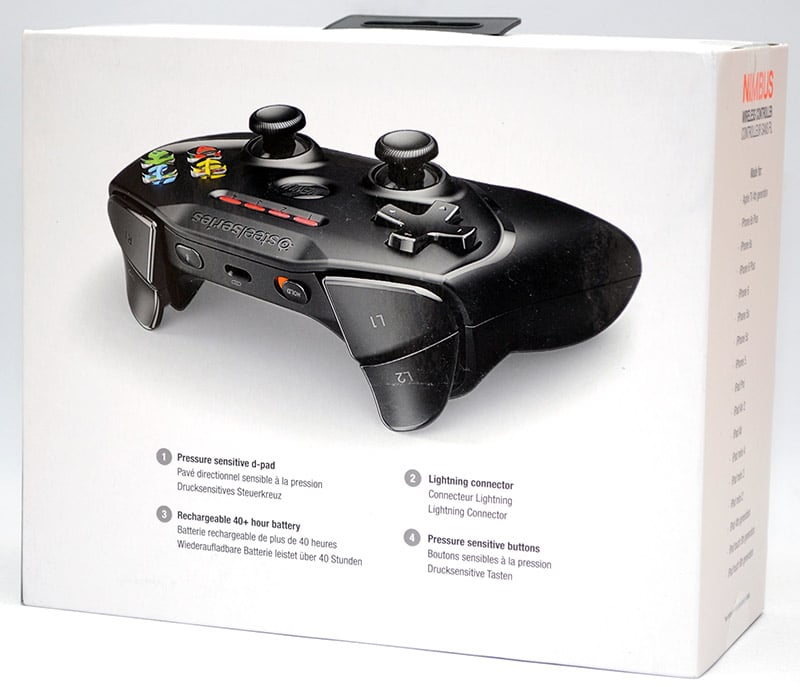 The side of the box has a more comprehensive run down of device support, and as you can see, it's pretty versatile.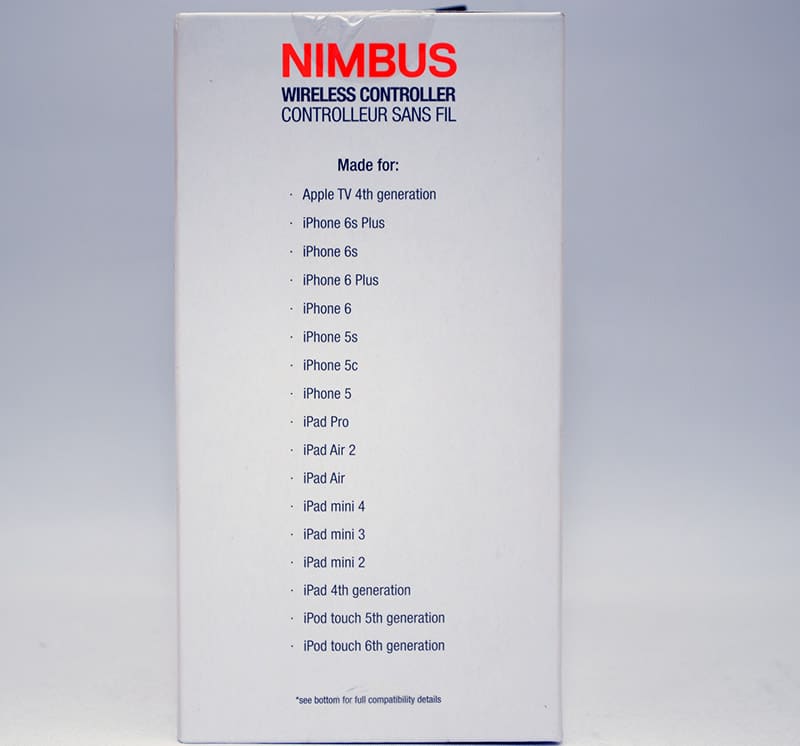 Aside from the right device, you'll need to ensure you've got the right version of iOS (or above) for the controller to work.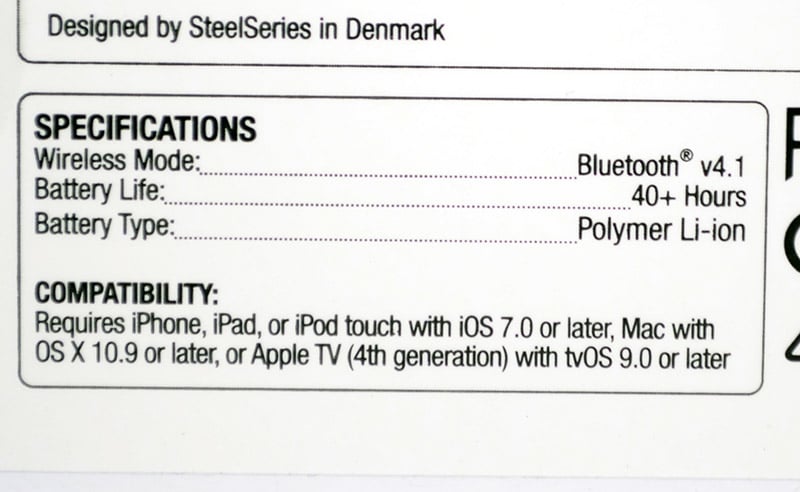 One thing I always like to see, good packaging. The controller is very well protected in padded foam and the box should even double as a protective case when you need to store it away.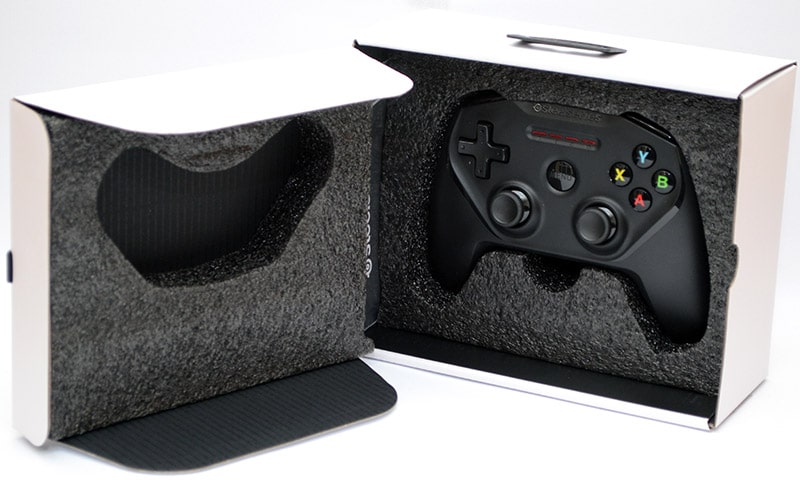 In the box, you'll find the usual quick start guide, as well as a couple of stickers should you like showing off the branding a little.