Steelseries WoW Legendary Edition Gaming Mouse Review
---
---
---
Peter Donnell / 10 years ago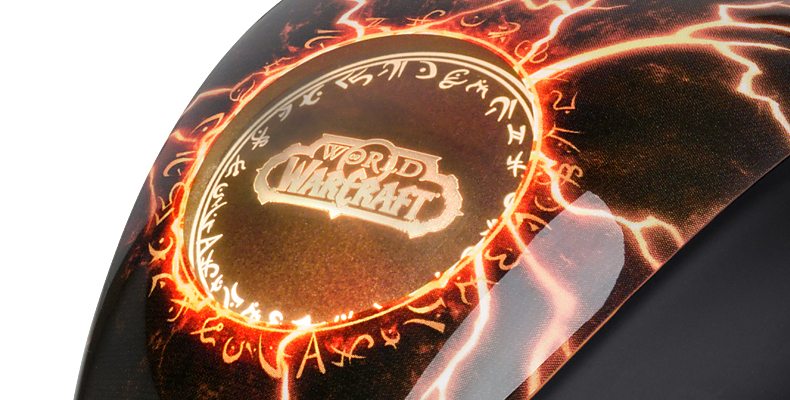 If you've been a PC gamer within the last 10 years, or even just had a passing interest in PC gaming, then it's highly likely that your family with two names, Steelseries and World of Warcraft. Both brands have been going for around 10 years now and both have been feeding PC gamers with products ever since. Of course Steelseries also have some rather big successes in the console gaming market, but we'll keep our focus on PC for today.
World of Warcraft is big business, love it or hate it one has to admit that ever since it began it has been nothing short of a sales sensation, turning many millions of dollars for Blizzard and providing a gaming experience that can sap the life out of hardcore fans as they plow literally hundred or even thousands of hours into its world. It makes sense then that one of the biggest names in the peripheral business would want in on the action and Steelseries chose to launch several products specifically for World of Warcraft, or at least ones that are branded with WoW colours.
Priced at around £50 this mouse isn't about to take down the big dogs of the MMO gaming mouse world, but it should at least offer something unique that will please World of Warcraft fans, or MMO players alike, otherwise what's the point! Yet for a £50 investment, as with any investment, you're still going to want decent build quality, a good size feature set and of course performance that is at least on par with other mid-budget gaming mice, so lets move on and see what the WoW mouse has to offer.
The packaging is really well designed and its on par with what we've come to expect from Steelseries in terms of design, it gives us a great image of the mouse, as well as some marketing badges that let us know its compatible with mac/pc, as well as it being the official gaming mouse for Mists of Pandaria.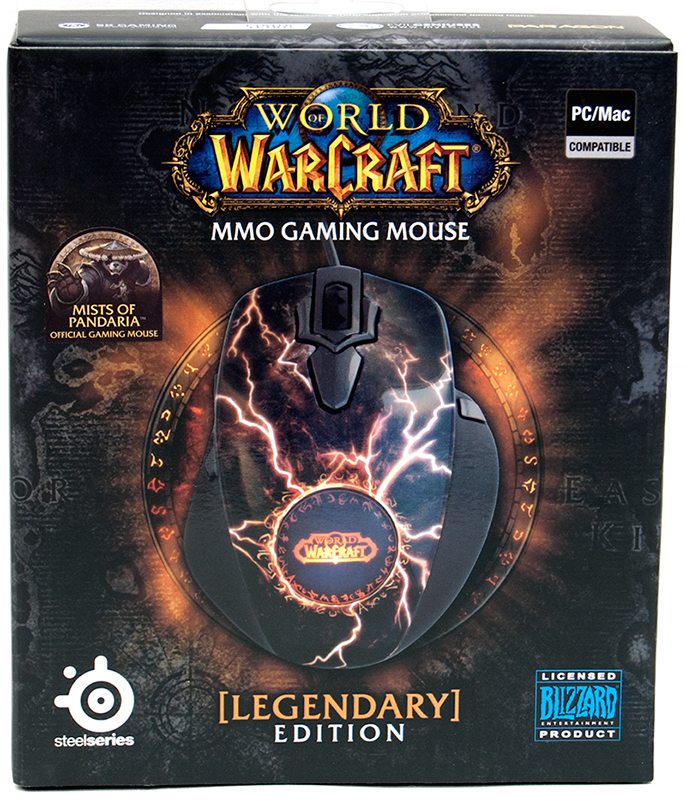 Around the back we have a more detailed breakdown of the specifications, such as 11 fully customisable buttons that can be bound using the WoW interface, customisable LED lighting, ergonomic shape and easy to use software.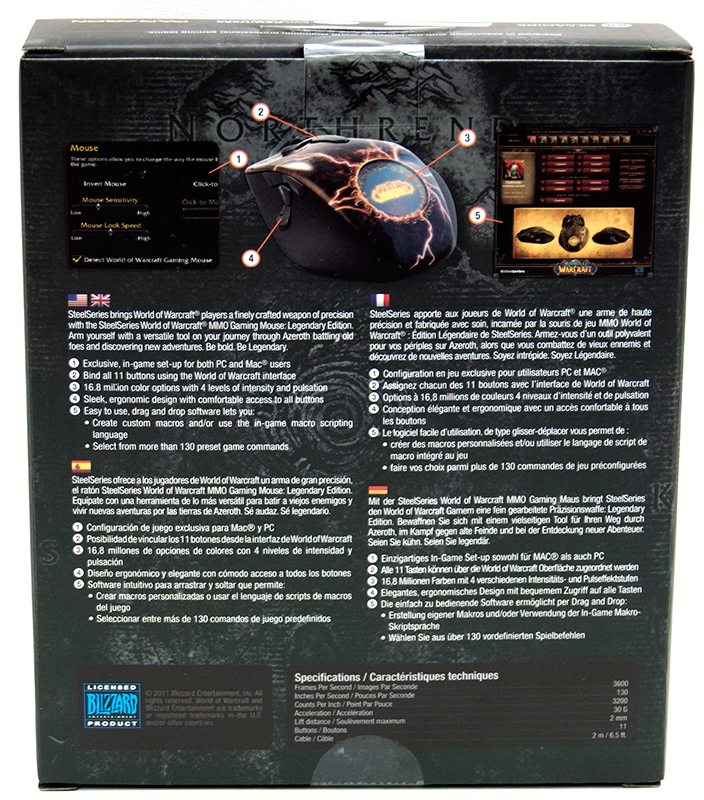 In the box I found the mouse, which comes hard wired with a fairly standard USB cable, a quick start user guide and a funky little Steelseries sticker.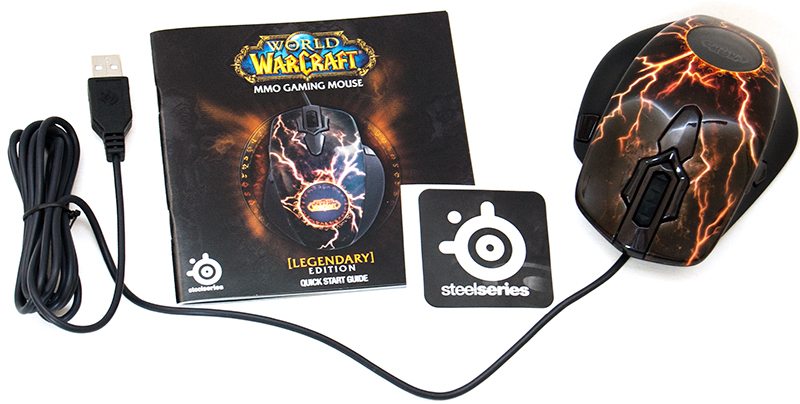 The front of the mouse is well equipped, the LMB and RMB features a slight lip on the outer edge that provides a nice resting position for your fingers, on the inner edge of the LMB and RMB are two more buttons, and there is yet another button at the top centre, making five buttons in total (not including the scroll wheel). The scroll wheel is coated in a gripped rubber with a "notched" turn that provides a subtle click feedback when rotated, the wheel is also clickable.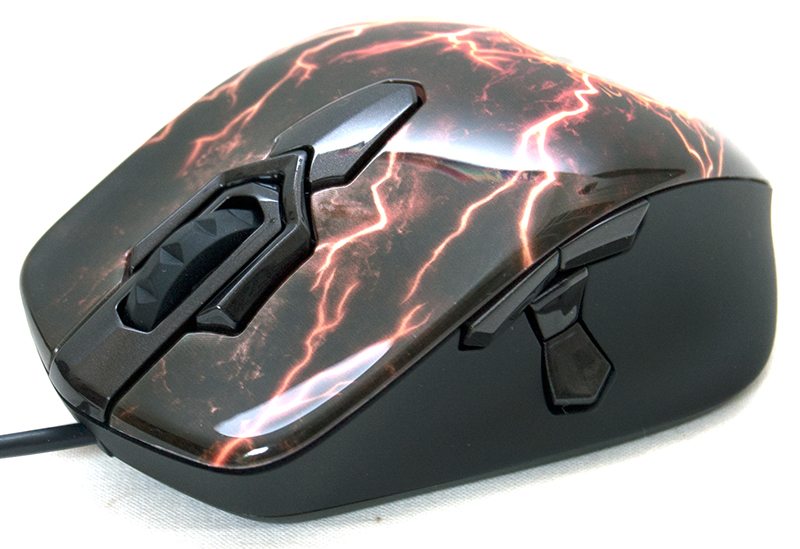 The left side features four buttons, two horizontal at the top and two vertical below those. They're well enough place that you can easily operate them with your thumb but the left side of the mouse is swollen out also, and this provides a good resting position for the palm of your hand.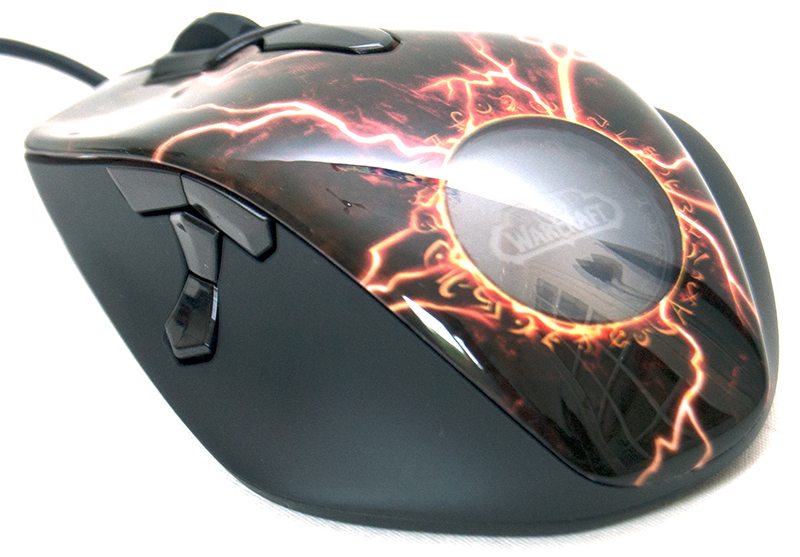 The right side features an even more pronounced side pane and this again will help your hand find a good resting position, this mouse is great if you have larger, or wider hands than most as many mice tend to be quite slim towards the back.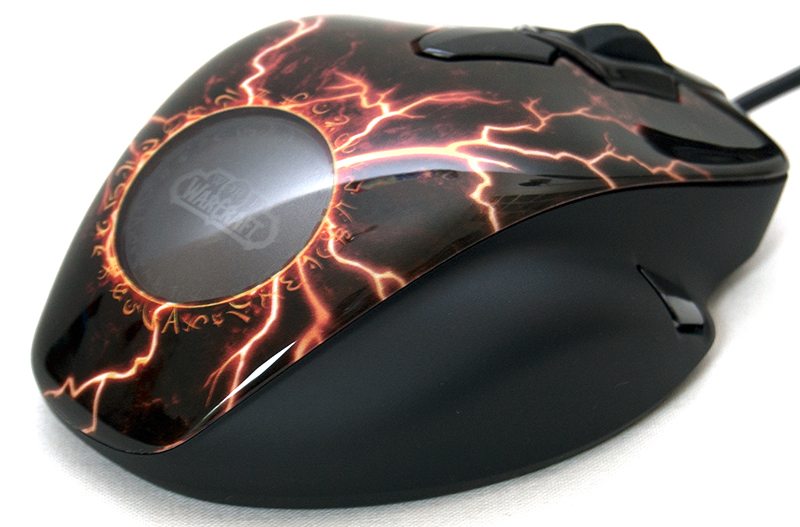 The top shell of the mouse features a printed graphic that adds a nice touch of style to the mouse. This top panel is really smooth compared to the lightly textures base and this makes it easy for your fingers to navigate the buttons while keeping a firm grip on the mouse.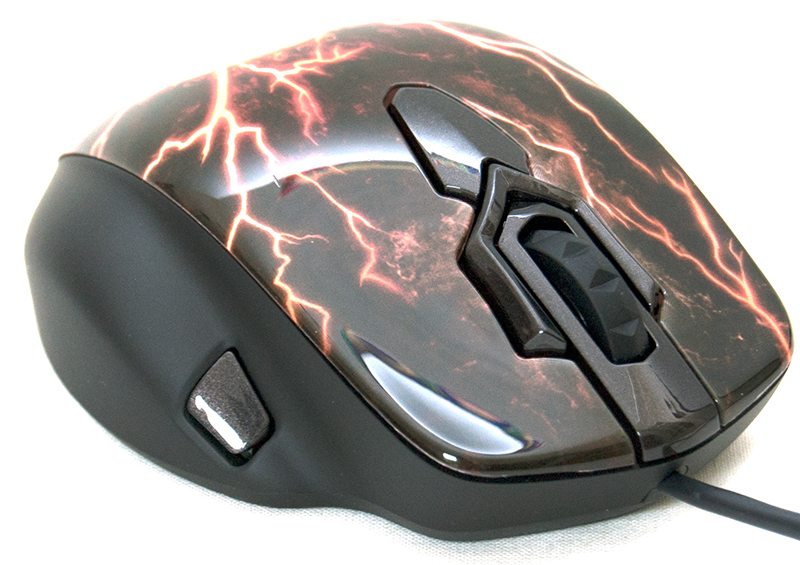 The underside of the mouse is pretty straight forwards with the sensor in the middle and little else. One thing that does stand out however is the huge Teflon surfaces that should provide a great amount of glide.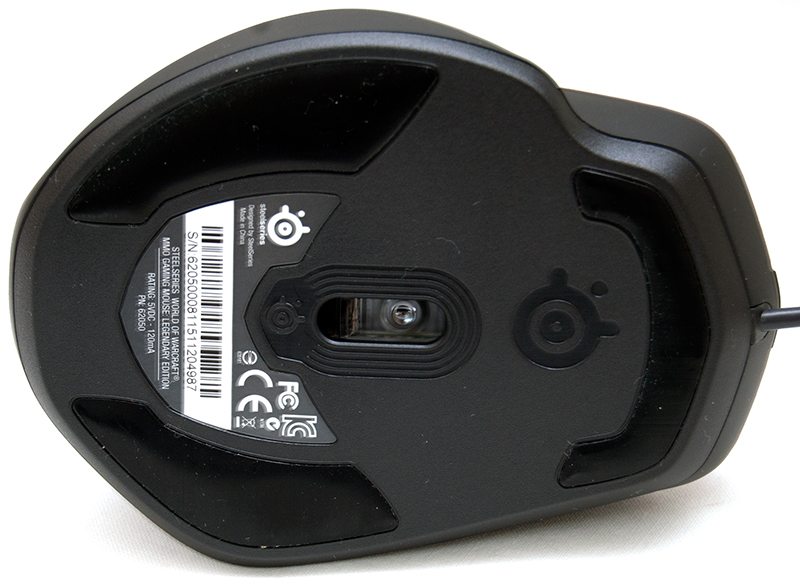 Setup & Installation
The mouse is fully plug and play compatible but you're not really going to see any benefit from doing so as the software (downloadable) opens up extensive customisation options. The first of these is on the back of the WoW mouse, a back lit logo that can be customised using a full RGB colour pallet, change intensity and enable various pulse and breath effects to the lights to your liking.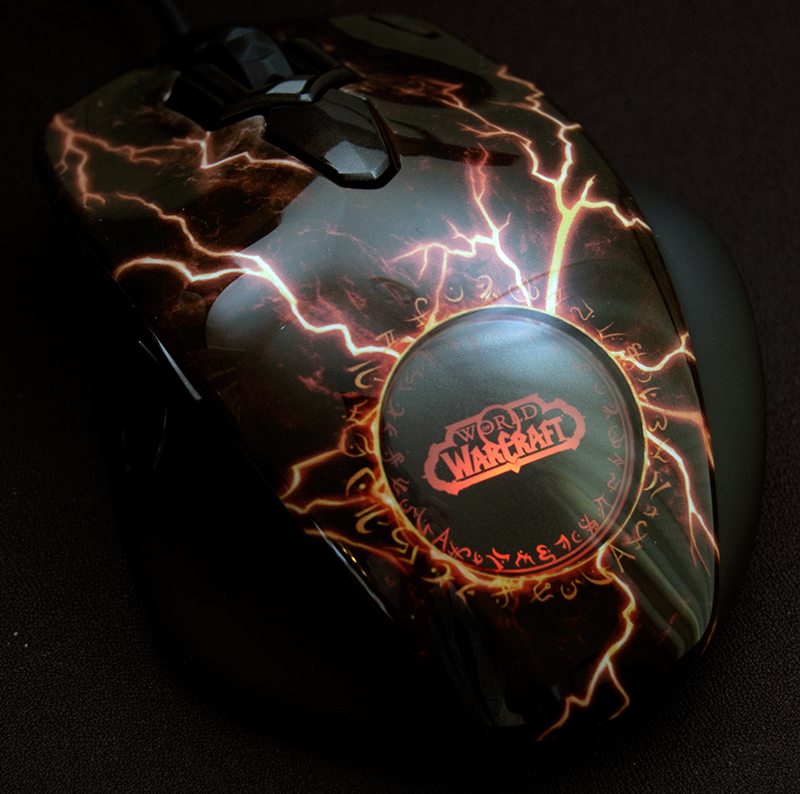 The software is styled like that of an old school RPG interface, something that will go down with WoW fans and it features a staggering 10 profiles! Each of which can be extensively customised with macros, illumination settings and DPI settings. There is a large labeled image of the mouse too which makes navigating the custom macro settings a lot easier. It will take you a while to set this up, but that's something you should be expecting if you are buying a customisable WoW craft MMO mouse.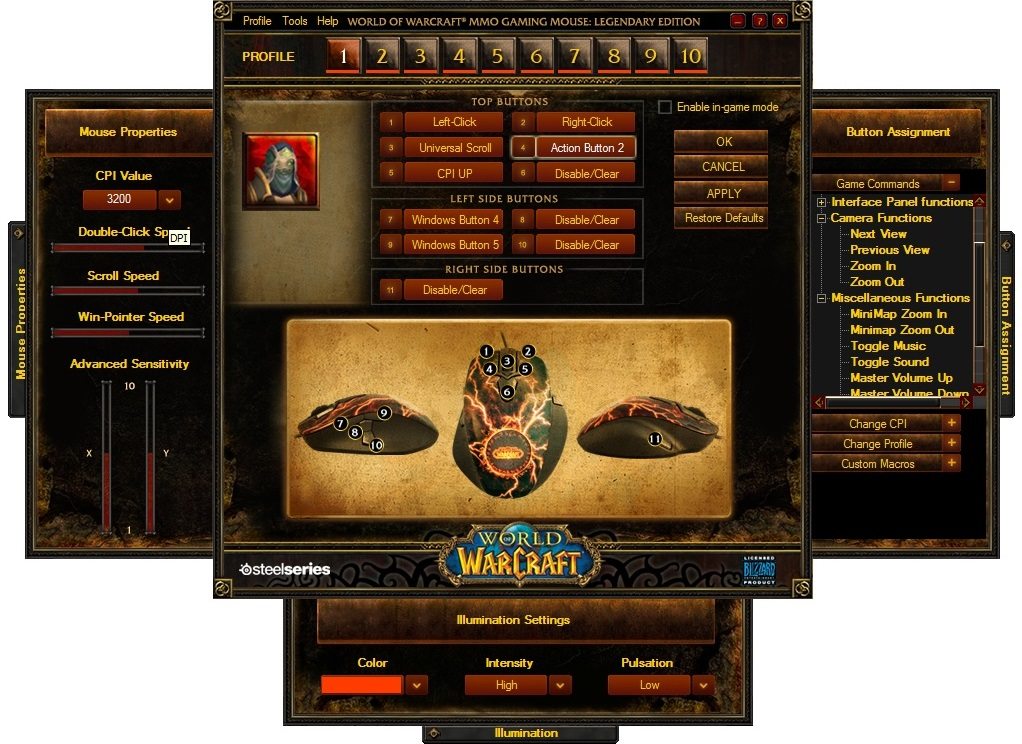 Performance & Calibration
The mouse moves with ease on both hand and soft surfaces, partly due to the large slipmats on the underside but also because the mouse is fairly light weight thanks to its plastic chassis.
Unfortunately the mouse sensor really didn't like softer surfaces and failed my acceleration tests quite badly if the mouse wasn't placed on a hard cloth or wooden surface. moving the mouse quickly from one side of the mouse mat to the other at both high and low speed should have the crosshair land in the same location, but at higher speeds the mouse pointer actually landed short of its target, meaning the sensor just wasn't getting the feedback it needed from softer surfaces (tested on all major DPI settings) I highly recommend you use this mouse on a harder mouse mat.
Liftoff distance is quite high too at around 2mm and maybe a little more, this isn't customisable either but the mouse ergonomics aren't really tailored towards life-off play and the mouse is definitely happier if kept firmly on the gaming surface.
There were no signs of angle snapping / prediction on this mouse and when you get the right surface paired up, it does feel very responsive and accurate across a full range of DPI settings.
Gaming & General Performance
Being able to setup an extensive array of macros to this mouse has big advantages in MMO gaming and given the huge pre-set library of settings for World of Warcraft the advantages of using this mouse with WoW are extensive. It took a little while to figure out test best layout for my shortcuts and macros, not to mention a sweet spot for the DPI settings, but once dialed in right I was quite happy to get stuck into some serious gameplay.
After a couple of hours on WoW I do like the layout of this mouse and the ergonomics are good, but its not without its faults. Having to play on a harder surface to get good accuracy was a nag for me, so I switched back to my softer surface. In a real gaming environment I couldn't even notice the acceleration issue and this is more something that would be more obvious in a FPS game. The mouse buttons are all quite heavy to click and feel like they need to be worn in over time, leaving my fingers a little fatigued from using more force to depress the switches.
Final Thoughts
I'm not won over with this mouse, it does offer some great features and some not so great features that do offer a fairly reasonable balance of value and performance, which is acceptable on certain levels given that this mouse isn't incredibly expensive. Priced at around £50 this is on par with many other gaming mice but significantly cheaper than similar spec MMO gaming mice in terms of number of buttons and macro options.
Yet while it may cost less, it does feel "less" in some ways too. The sensor really isn't fantastic and while your average gamer might not even notice, any truly serious gamer is going to want more accuracy in the form of a laser sensor, of course you can expect to pay an extra £20-£30 for a mouse that offers such a thing along side this many buttons.
The build quality isn't too bad, but it is fairly basic and its essentially just moulded plastic, there is no flair here or polish that really makes it stand out. There is however a nice design on the top panel and it does feature some LED back lighting, but style is a subjective thing and lights and paintwork does little to change the overall build quality, which is on par with competing brands in this price range.
The WoW branding on the mouse limits its market potential too, as someone who isn't a WoW fan isn't likely to buy this product, but that's ok because it is tailored heavily towards WoW in many ways and when it comes to the actual gameplay side of things, it performs really well, but for day to day tasks, or other games I would suggest you look for something a more versatility.