Streacom ST-F12CS Aluminium ATX HTPC Chassis
---
---
---
Peter Donnell / 6 years ago
Introduction
---
Streacom may not be a name you hear every day in the chassis business, but it's one that always puts a smile on my face. Their products are well-known in the industry for extremely high build quality and super-sleek designs. They're a popular choice with the enthusiast HTPC market and even just from the image above, you can no doubt guess why. Of course, premium build quality and design don't come cheap, so expect to pay triple figures, even for some of their smaller chassis designs.
The model we're looking at today is huge, as it's the first Streacom chassis that will support ATX hardware, which means it's going to be well suited to a gaming build; a pleasing thought for those who loved their HTPC designs and are planning an HTPC style gaming system or Steambox build.
"The F12C is our first case designed to accept all standard ATX hardware, but of course being Streacom, the design is anything but standard. The ultra-minimalist exterior is made from 4mm thick premium grade extruded aluminium panels which are sandblast finished to create this simple but timeless design. The unique design isn't just skin deep, we have developed a new drive and fan mounting system that does away with traditional fixed location bays, making this case incredibly adaptable and configurable. Drives and fans can be mounted anywhere along both sides of the case and at virtually any orientation. This allows you to mix, match and perfectly position drives and fans for optimal cooling and hardware compatibility."
The chassis is made from 4mm thick aluminium, which plays no small part in the £190 price tag. There's room for a full ATX motherboard, long graphics cards, a large PSU and much more!
Chassis Material: Premium Grade (6063) All Aluminium, 4mm Thick Extruded Panels
Available Colours: Silver / Black – Sandblast Finish
Motherboard Support: Full ATX, Micro-ATX, Mini-ITX
Drive Capacity: MAX 24 x 2.5″ or 12 x 3.5″ (with ITX), MIN 2 x 2.5″ + 5 x 3.5″
Front Ports: None
Expansion Slot: 7 x Full Height Expansion Cards (MAX 310mm)
Cooling: Multiple 80, 92, 120 & 140 Fans (Not Included)
Max CPU Cooler Height: 135mm
External Dimensions: 440 x 320 x 184mm (W x D x H, Including Feet)
Internal Dimensions: 432 x 310 x 168mm (W x D x H)
Power Supply: Full ATX, no Length Restrictions(Not Included)
Remote Control: FLirc or IRRC Solution (Not Included)
Net Weight: 4.4KG
First impressions of the chassis are just… wow! This is one gorgeous looking box! The use of 4mm thick aluminium makes it look and feel stunning and that's going to be a big selling point for anyone looking for a sleek HTPC design. Of course, it's also available in black, so don't be put off if you think this version is a little bright looking. Down the left side, you'll find two air vents with magnetic dust filters.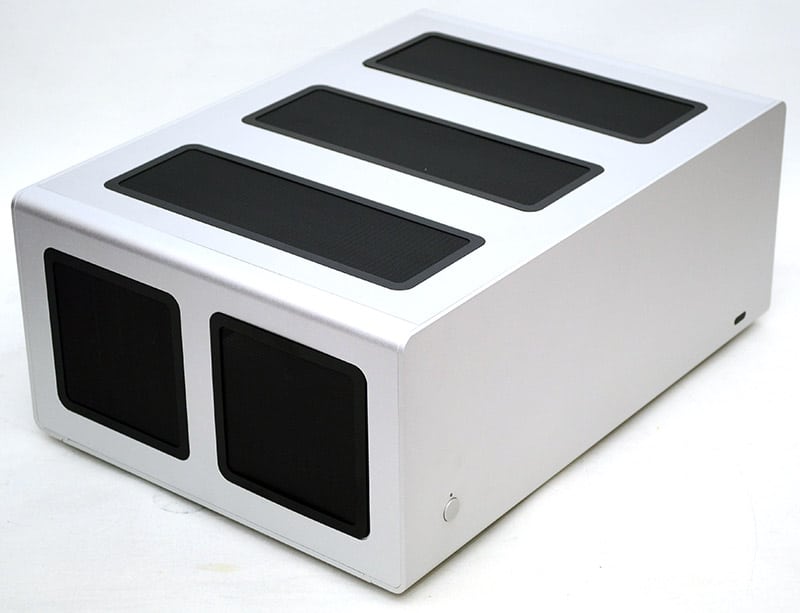 The front panel is very minimalist, there's the power button and a tiny LED in the bottom left and a small IR section in the bottom right, that's it.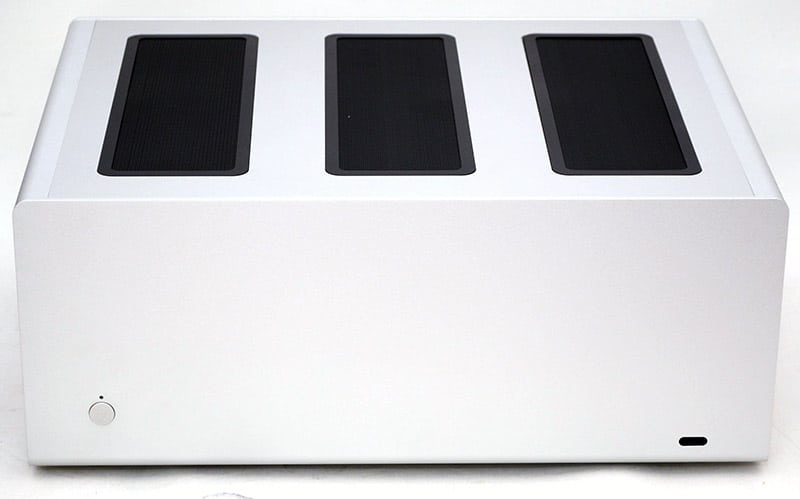 The right side panel has two more large magnetic dust filters.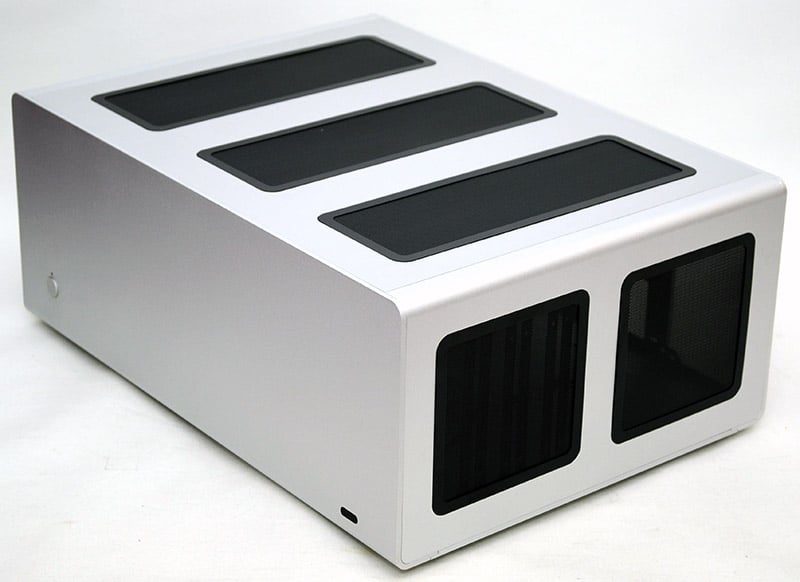 Around the back, you'll find support for an ATX PSU, the motherboard I/O and seven expansion slots, so more than enough room here for a multi-GPU configuration.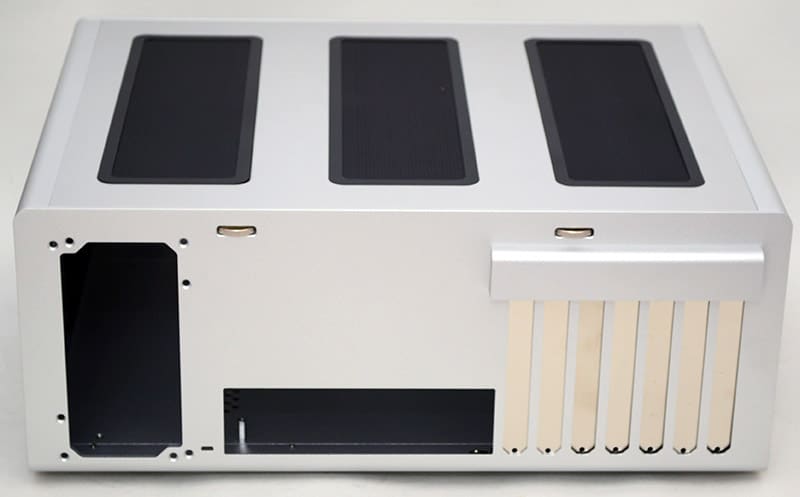 There are no screws for the top panel, kind of, instead you get these two dials at the back which can be turned to tighten or release the panel; a very nice tool-free solution.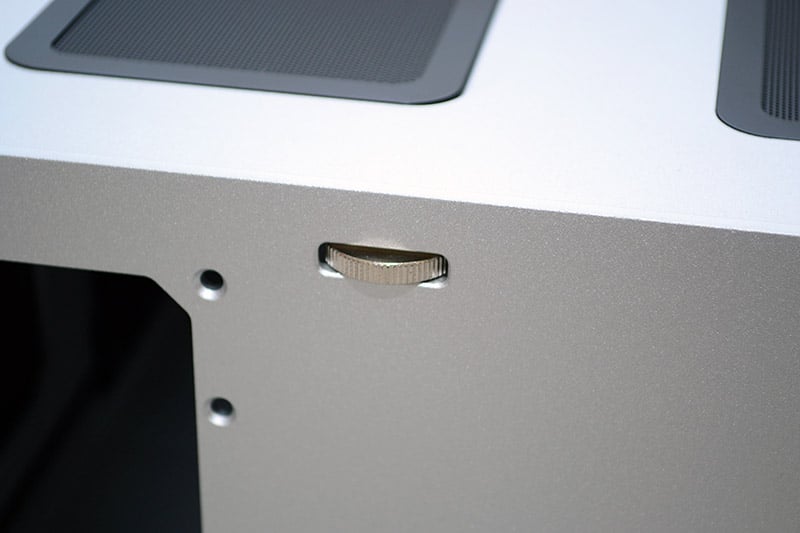 The top panel has three more large dust filters, combined with the two on each side, airflow is certainly not going to be a problem for this chassis. The filters are nice and secure, but you can pop them off with your fingers for quick and easy maintenance.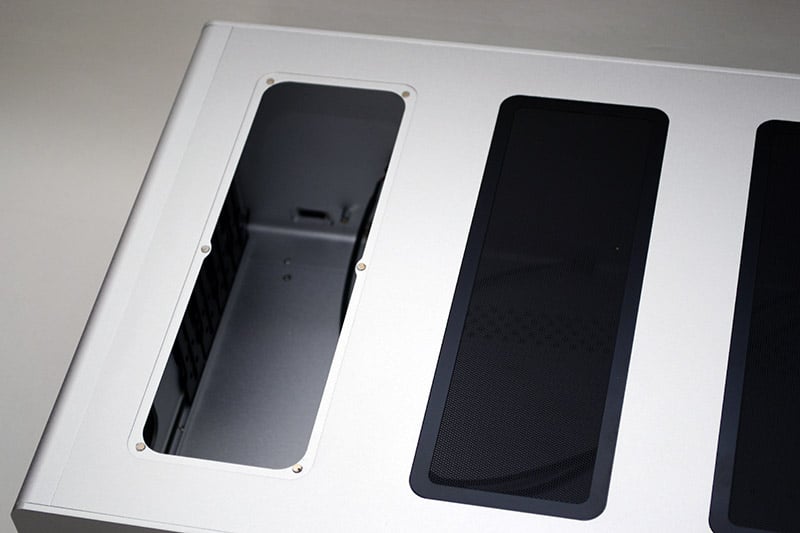 The filters are a two-part design, the washable mesh and a magnetic outer strip.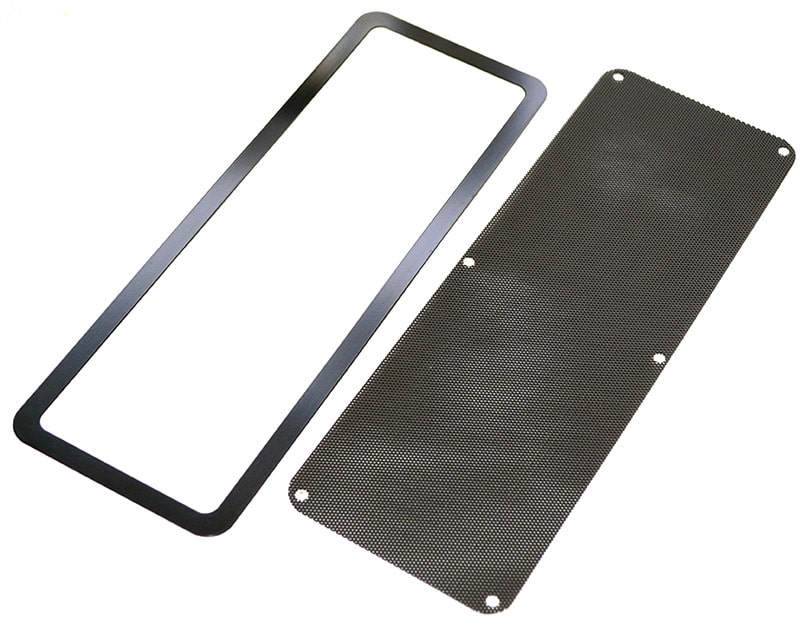 There are four feet on the bottom, with tough rubber trips and in the middle, a little more ventilation.