Super Flower Leadex II Gold 1000w Power Supply Review
---
---
---
Mike Sanders / 5 years ago
Introduction
---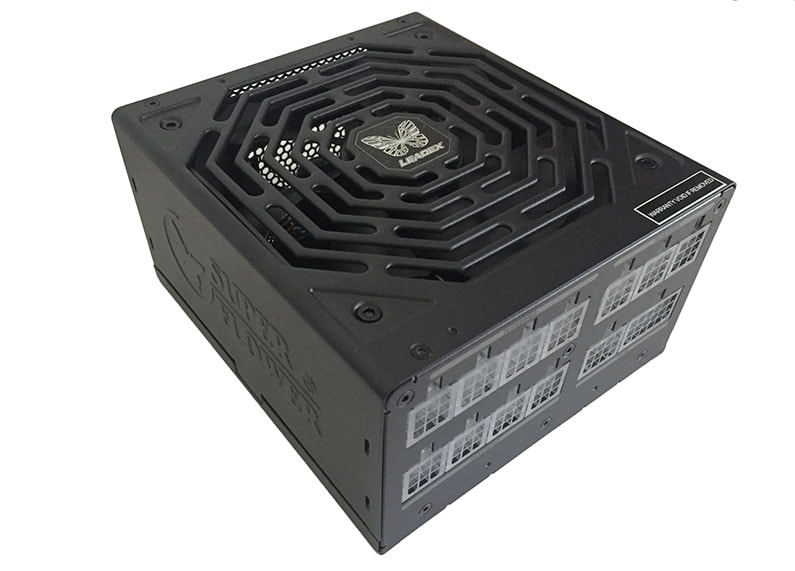 Super Flower Leadex II Gold 1000w Power Supply
Super Flower is a bit of an unusual brand in terms of their consumer knowledge. While many will not be aware of them, to others it's a name with a lot of good connotations. Like a brandy connoisseur giving an approving nod to a fine tipple, Super Flower falls into a similar bracket with anyone who owns or sees one. It's a brand that speaks of something a little different, but with an impressive reputation.
We tend to not have too many romantic notions here at eTeknix, but we find ourselves in a similar position when asked to review the Super Flower Leadex II Gold 1000w power supply. Like the brandy, we expect this to be good before we even taste it.
With a hefty power output, this definitely falls into the category of those looking for a powerful base for a similarly powerful system. Let us, therefore, take a closer look and see just what the Super Flower Leadex II Gold power supply is capable of when placed under the scrutiny of our testing.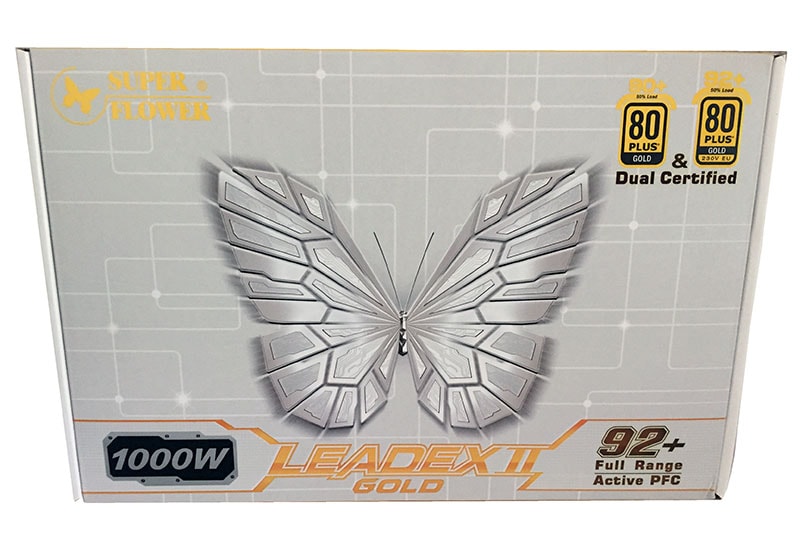 Features
The Super Flower Leadex II has a single +12V rail which outputs 999.6w. Admittedly, not quite the 1000w, but we won't quibble over less than half of a watt. With this level of power all put through a single rail, this makes it an excellent option in terms of overclocking of high-performance systems.
The gold certification and 100% Japanese capacitors definitely add a lot of substance to the product and so far, things are looking excellent for this power supply.
100% Full Modular Cabling Design For Easy Cable Management
80 PLUS ® 115V & 230V EU Gold Certified
100% Japanese 105℃ Capacitors (Main Board)
100% Taiwan A Grade 105℃ Capacitors (Modular Backpanel)
Full Range Auto Voltage Detection Design 115V~240V (Active PFC)
Additional 150W solid and sustainable power output under 230V
Comply With ATX 12V v2.32 & EPS 12V v2.92 Specification
Comply With Energy Star Standard & EuP (Energy Using Products) Regulation
Over Voltage Protection / Over Current Protection / Over Power Protection / Short Circuit Protection / Under Voltage Protection / Over Temperature Protection / Low Voltage Protection
Support All Intel/AMD Multi-Core CPU & ATX/BTX Compatible Motherboards (Haswell ready)
Support for NVIDIA® SLI™ & ATI CrossFireX™ High-Performance Graphic Card
Patented Easy To Use & Install Crystal Clear Cube Connectors with LED On/Off Switch
More than 2,000 times On/Off test
Unleaded Green Materials with RoHS/WEEE Compliance
Perfect For Professional & High-Performance Gaming System
Exclusive Patent:ECO Intelligent Thermal Control System.
Inside the packaging, you will find the power supply itself within a canvas protective covering surrounded by impact insulation foam. In addition, you will also find another canvas bag containing all the cables, a product manual, and a smaller white canvas bag. What the latter is for, I must confess, I have no idea.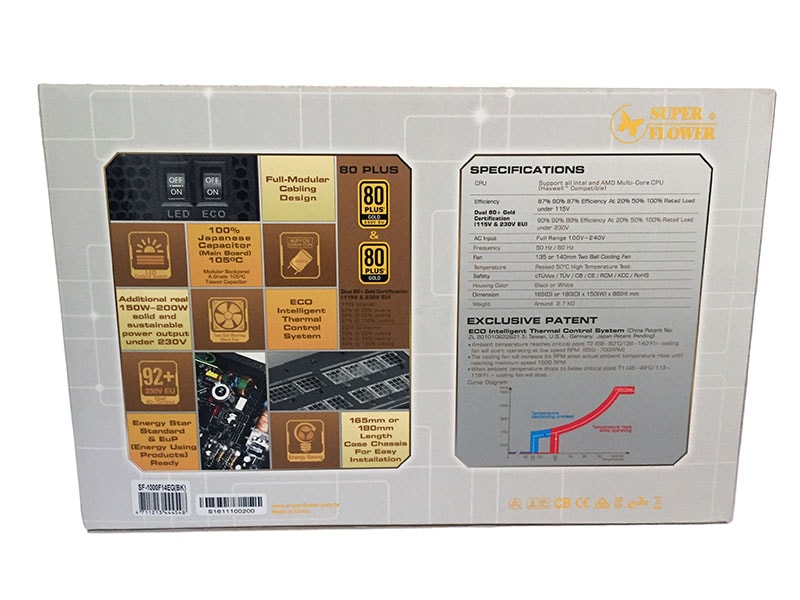 Specifications
For in-depth specifications, please visit the official Super Flower Leadex II product page here.
What Super Flower Had to Say
"Leadex II series PSU are 80PLUS 115V & 230V EU dual certified with 100% fully modular cable design, our R&D team's latest innovation, a brilliant idea to maximize PSU cables & connectors management to have the best cable routing solution, also increase case chassis air flow to have best cooling for your system. Leadex II series PSU provides high efficiency & stable power output and come with a 13.5cm two-way thermal control intelligent cooling fan to ensure your professional PC system will work under heavy load, also capable of powering your PC system equipped with NVIDIA® SLI™ or ATI CrossFireX™ setup." – Super Flower
1 x 24-pin ATX
8-pin EPS 12V connector
1 x 8-pin (4+4) EPS/ATX 12V connector.
2 x 8-pin (6+2) PCI-E
2 x SLI (6+2-pin) PCI-E
4 x Molex
4 x SATA connectors with 3 on each strip.