Swann SWDVK-449802 Pro Series HD Surveillance Kit Review
---
---
---
Bohs Hansen / 5 years ago
Introduction
---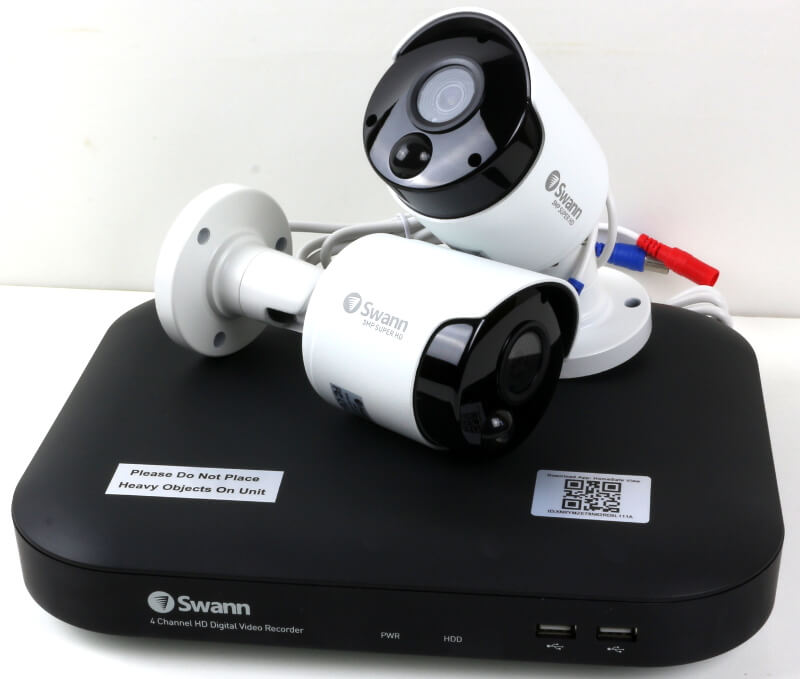 Surveillance isn's just for large enterprises and public buildings; it is just as applicable in your home. Today I've got Swann's SWDVK-449802 kit (Product link)from the pro-series HD line up in the office. The kit contains a 4-channel DVR and two impressive 5MP cameras.
All Included and Usage Ready
Swann's do-it-yourself kits such as this one are great. You get everything you need to set it up and run it. There are cameras, a DVR recorder, cables, power supplies, and even a USB mouse. The only thing that is not supplied is a drill and screwdriver for the camera mounting.
Swann doesn't just include all the parts; there are a set of colour coded manuals too. Every step of the installation has its colour and easy-to-understand guides. If you still don't dare do it yourself, then Swann has an installation service too. With it, you'll get a professional installation and setup, ready to use. Of course, such a service isn't free.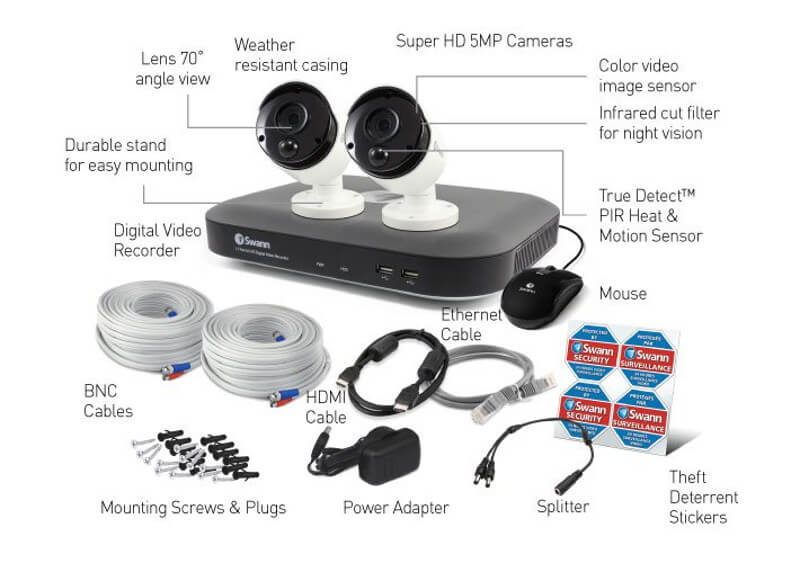 True Detect with Heat and Motion Sensing
This system features Swann's True Detect PIR Thermal Sensing technology. With it, the recorder can react reliably at heat-generating moving objects. That could be things such as people, large pets, and cars. This kind of motion detection is far more accurate and reliable than traditional plain-motion sensing.
You'll get notifications when something of interest happens, not when a little bird flies by the outdoor camera or when a tree branch whistles in the wind. The elimination of false recordings saves you from annoying notifications when nothing vital is going on as well as saves you a lot of storage space.
Better Resolution with 5 Megapixels
This kit comes with Swann's latest cameras. They offer 5 Megapixels which is 2.4 times more than a 1080P Full-HD camera. Higher recording resolutions allow you to zoom further in without compromising the quality to a point where it's useless. You'll be able to read license plates, recognise facial features, and clothing patterns.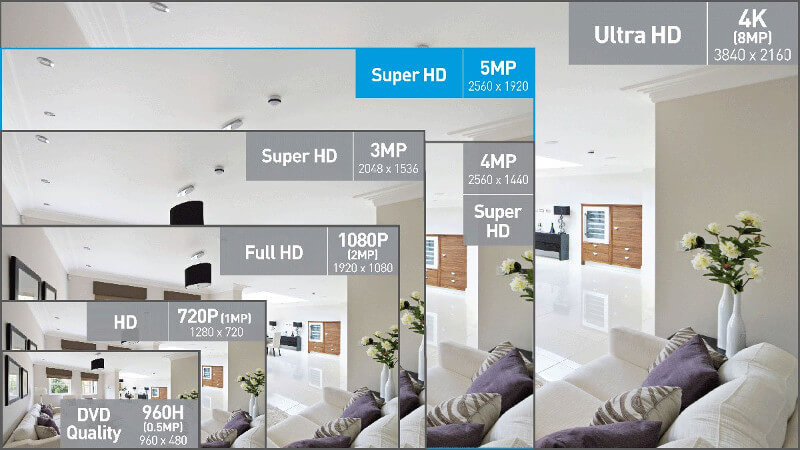 This Swann SWDVK-449802 kit comes with two PRO-5MPMSB security cameras. You can get another two if you need more coverage. The included DVR box supports up to four cameras.
Record Where You Want, When You Want!
Swann bundled two PRO-5MPMSB security cameras with this kit. They are weatherproof and built tough for the outdoors. That doesn't mean that they won't be great indoors, it just means that you can place them where you want.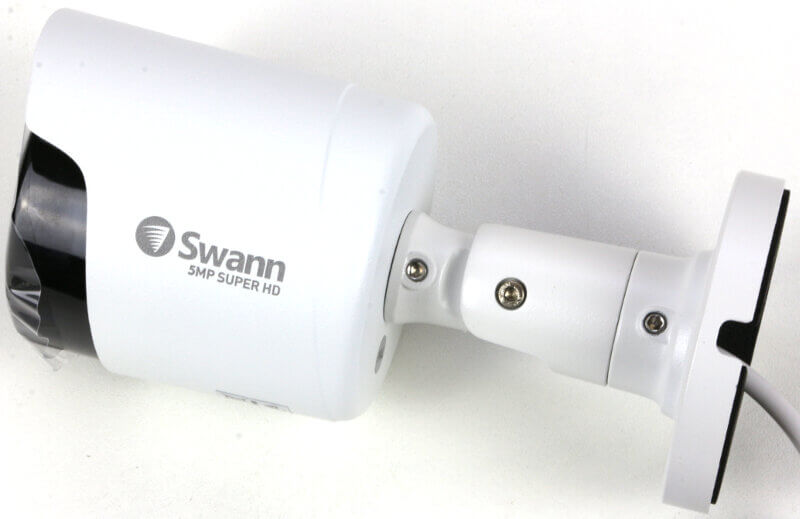 Criminal events will often happen during the darker hours of the day and not when it's bright outside. That's no problem for the cameras either as they allow you to see up to 30 metres in the dark thanks to the camera's powerful infrared night vision.
If your property has BNC cables routed from a previous setup, you should be fine using them for this setup. However, Swann recommends the use of the new cables. That is naturally to ensure that everything works as it should and that your security system doesn't fail when you need it the most.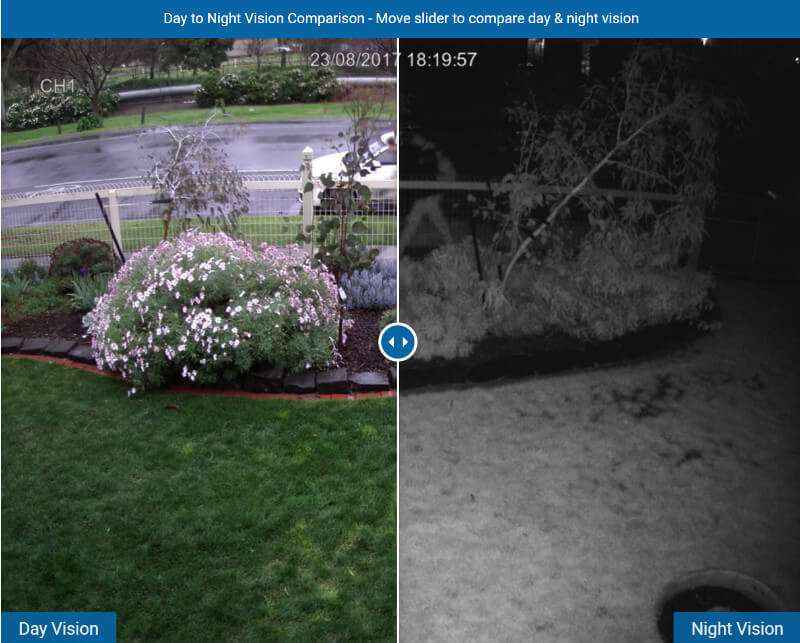 It should be noted that you aren't limited to the included camera models. You can add or replace with other cameras too, such as the PRO-5MPMSD dome camera.
Digital Video Recorder
The included digital video recorder (DVR) has a 1TB hard drive. That should be plenty for a long time, simply because this system only records when there's something to record. It does support up to 6TB according to the official specifications, so an upgrade is possible. While 6TB is mentioned as maximum, it should be possible to install bigger drives. At least from a purely technological standpoint. There might be volume creation issues or similar things when you go above 6TB. So do that at your own risk. Whichever drive up upgrade with, you should make sure that it is a DVR/NVR HDD.

Transferring files to a USB drive is easy thanks to the built-in USB ports. They're sadly only USB 2.0 on the front, but the videos don't take up a lot of space. So that's not a big issue. There is a single USB 3.0 on the back. Other than that, there's a VGA and an HDMI video port, an RJ45 network port, and audio in/out chinch ports.

Feature Highlights
Resolution: 5MP
Night Vision Distance: 30m
Viewing Angle: 70°
Camera Usage: Indoor/ Outdoor – IP66, Weatherproof
DVR HD Size: 1TB
Cable Type: BNC (DVR)
App: HomeSafe View, View 24/7
Warranty: 12 Months