Synology DiskStation DS119j 1-Bay Budget NAS Review
---
---
---
Bohs Hansen / 3 years ago
Introduction
---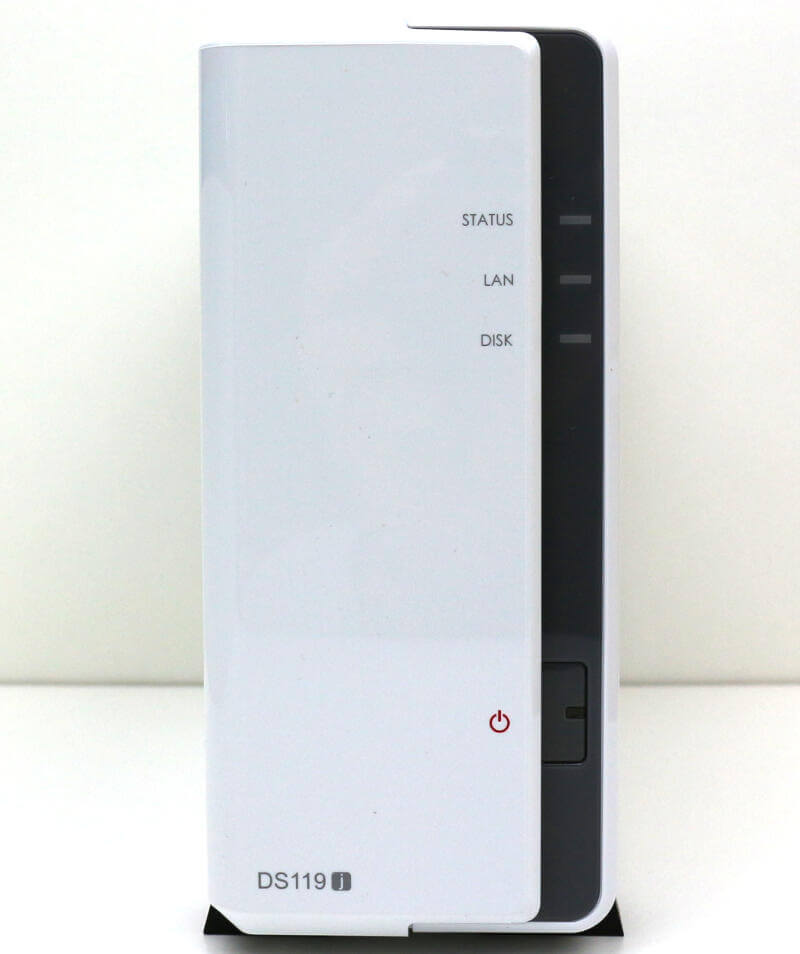 One of Synology's newest devices is the DiskStation DS119j (Product Link) which is a 1-bay NAS. The tiny NAS is as versatile as it is easy to use, and it comes at a very affordable price. Today, I'm taking a closer look at the DS119j and I'm going to show you what it's all about.
DiskStation DS119j
The DS119j could best be described as a powerful entry-level device. It comes with a few limitations when compared to its bigger brothers, but it's still packed with some powerful features.
Synology built the unit with one of Marvell's Armada 3700 88F3720 processors. It is a 64-bit dual-core processor with a speed of 800 MHz. While that isn't a lot if compared to desktop systems, it's plenty for a solid NAS. The performance is also aided by the Hardware Encryption Engine. It will significantly increase the performance when you have encrypted shares set up. The CPU is coupled with 256 MB DDR3L memory which can't be upgraded further.
The connection options are kept simple too. They deliver what you need, but not more. There's a single RJ45 port for a Gigabit Ethernet connection and two USB 2.0 ports. The lack of USB 3.0 might seem odd, but it's another way to save on costs. And for the most part, users won't use it for a lot more than back to and from their flash drives.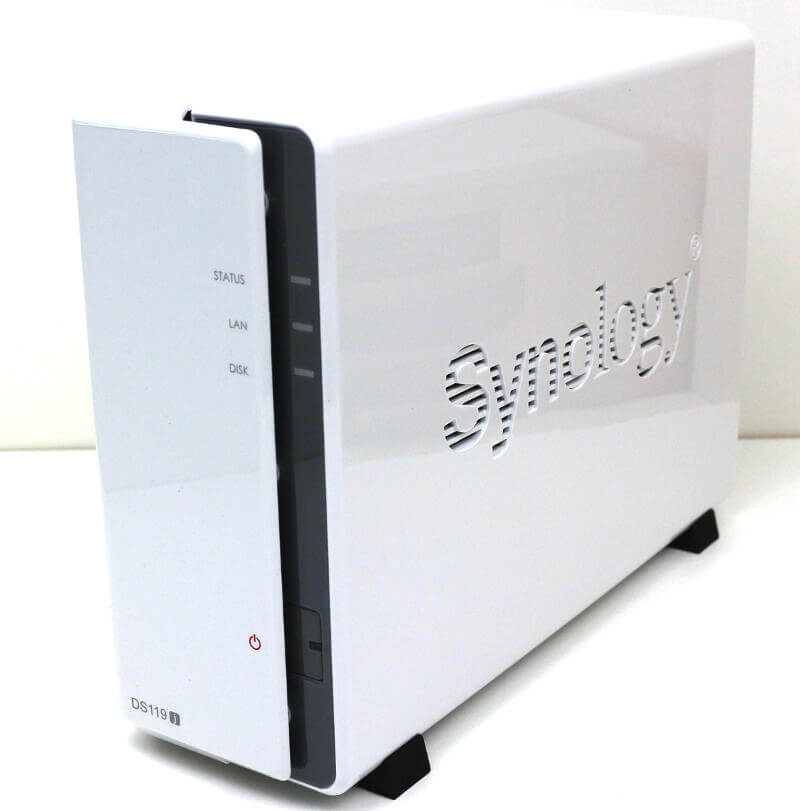 Eco-Friendly and Silent
Despite being able to deliver a solid performance, the DS119j is quite eco-friendly. It uses very little power which is a bonus on any day. Even if you don't care about the environment, you might care about your electricity bill. The NAS consumes as little as 5.01 watts when the drive hibernates and about 10 watts when it's being accessed.
The size of the NAS only allows for a 60mm fan to be installed, but it's enough. The fan will keep the inserted HDD and the NAS itself cool, and it also comes with several fan modes to chose from. You can run it at full speed, cool mode, quiet mode, and low-power mode.
The noise level will naturally be dependent on the installed drive and selected fan profile. The official rating is 16.9dBA which should be inaudible to most people.
For our local British readers, I can add the thermal units too: Those are 34.26 BTU/hr when accessed and 17.09 BTU/hr when the drive is hibernating.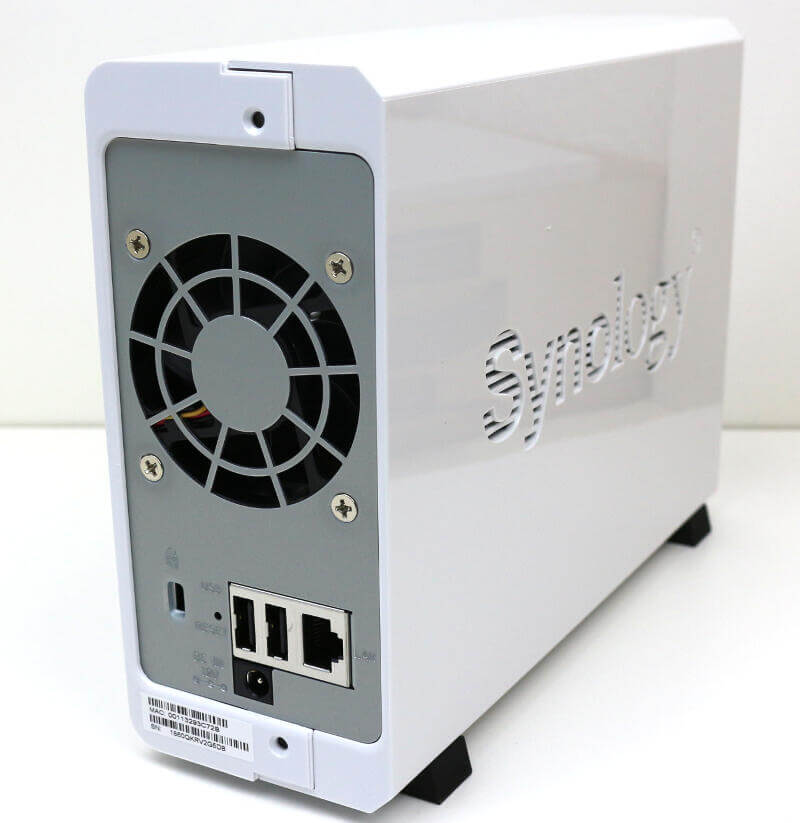 Full Set of Mobile Companion Apps
Synology has a complete range of mobile companion apps available for you to use. With them, you can stay in control and access everything on your NAS no matter where you are. All that it requires is that you have an internet connection at both ends. Oh, and that you have the apps installed, of course.
The whole thing is quick and easy to set up. It doesn't require any extra fees to use, it's all free. Including the DDNS service which gives you an URL which is easy to remember.
DS Audio, DS Photo, and DS Video are just three of the available apps, but they'll be the most popular ones. With them, you can easily stream all your media files to your mobile devices. There also are apps such as DS file, DS Get, DS Cam, DS Cloud, and Synology Drive apps for all your file and surveillance needs. Synology Chat and MailPlus, together with Synology Drive, also offer you a complete cooperation-able office suite.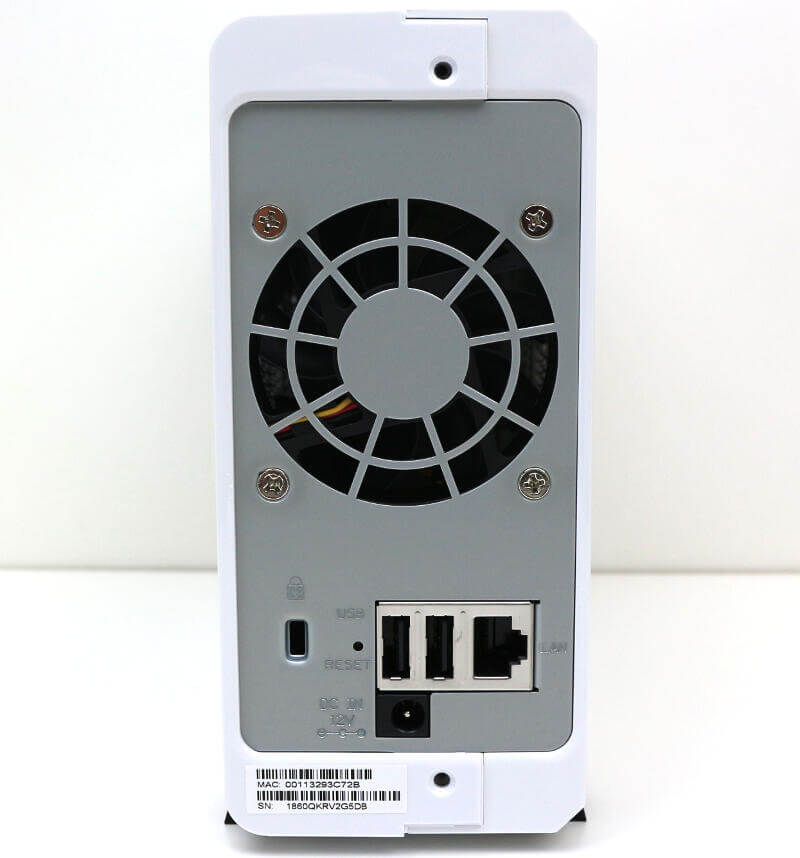 Feature Highlights
Dual-Core 64-bit Processor
Eco-Friendly through a Low Power Consumption
Silent Operation
Affordable first NAS
Great Software and lot of possibilities with DSM and its add-on packages
What Does Synology Have to Say?
"There are many users who are not familiar with a NAS yet, nor aware of the benefits of having one at home," said Michael Wang, product manager at Synology Inc. "DS119j is aimed to be an ideal choice for first-time NAS users with versatile software features, an intuitive user interface, and an affordable price point."
Package and Accessories
Synology's packaging is simple but effective. Everything is packed securely inside a relatively simple cardboard box. The distinction between models is shown on the attached stickers at the front and rear of the box.
The stickers contain all the relevant information, from a photo of the device and its name to the feature highlights.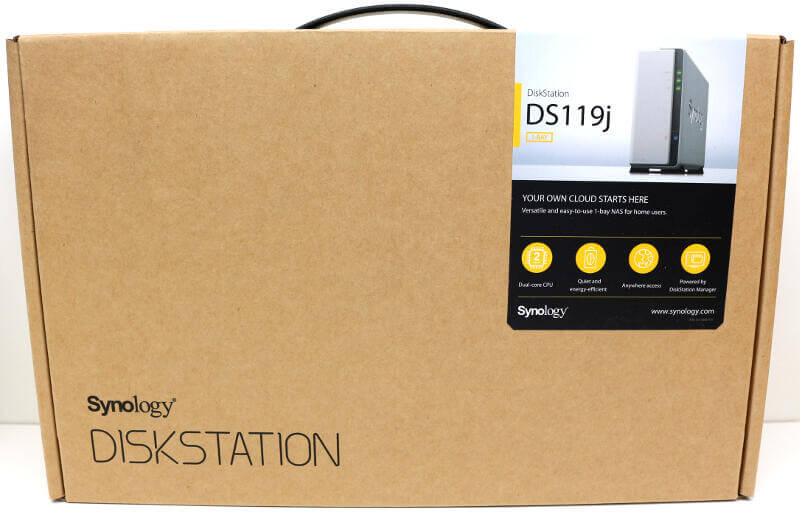 The rear side has the hardware details and package content listed. There's also a diagram showing where the various features are physically located on the NAS.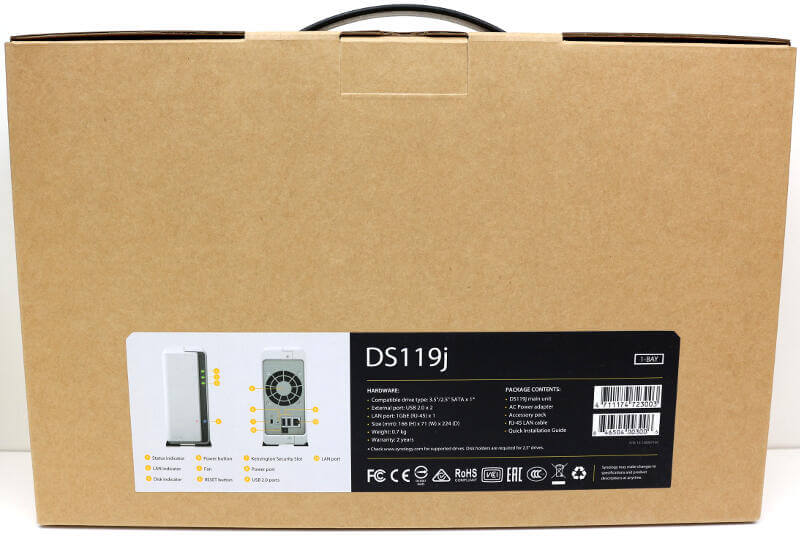 Once you open up the box, you'll notice a new compartment in the lid. At least if you had Synology NAS in the past. The quick installation guide is located here now, allowing you to grab that first and read up on the installation before you unpack anything else.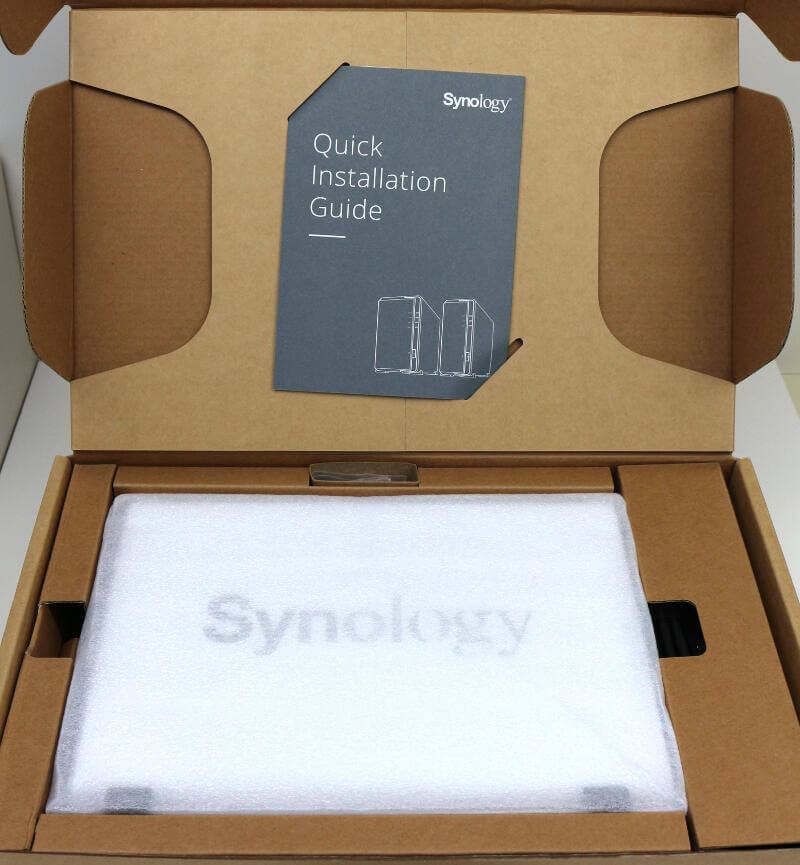 Inside the box is the NAS itself as well as a power supply, an RJ45 Gigabit Ethernet cable, require screws, and the installation guide. The power supply will have the correct plug for the region where you purchased it, at least. Sometimes you'll find multiple plugs, but this time I only got the one for my EU region.