Synology DiskStation DS916+ 4-Bay SMB NAS Review
---
---
---
Bohs Hansen / 5 years ago
Introduction
---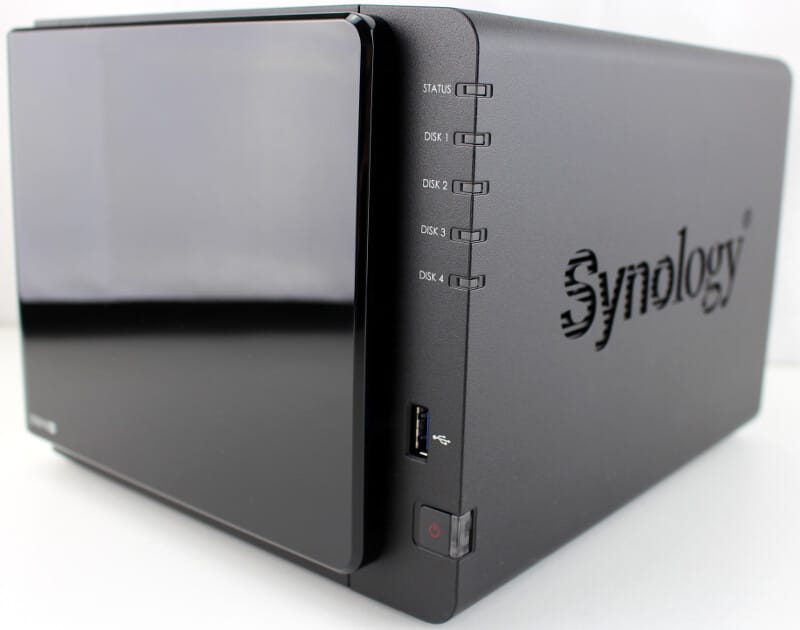 Sometimes you need a NAS for simple file sharing and other times you need one that packs a lot more punch, features, and expandability. Today I'm taking a look at the latter as I got Synology's DiskStation DS916+ 4-bay NAS in the test area and I'm going to show you both its features and performance. The DS916+ is available in two version, one with 2GB memory and the one that I'm testing today that comes with 8GB memory out of the box. The NAS is targeted at small and medium-sized businesses (SMB) and IT enthusiasts alike, but that doesn't mean that anyone else couldn't get a lot of use out of this NAS.
The DS916+ is powered by an Intel Pentium N3710 quad-core processor that comes with native AES-NI hardware encryption engine. That should provide you with a great performance even when dealing with encrypted storage pools. The CPU has a base clock speed of 1.6GHz and a burst speed up to 2.56GHz when that extra power is needed. That doesn't sound like a lot in desktop terms, but for a NAS, that's a lot of power to have. It isn't just great at dealing with encrypted data, it also provides outstanding performance when it comes to real-time transcoding of 4K Ultra HD source contents.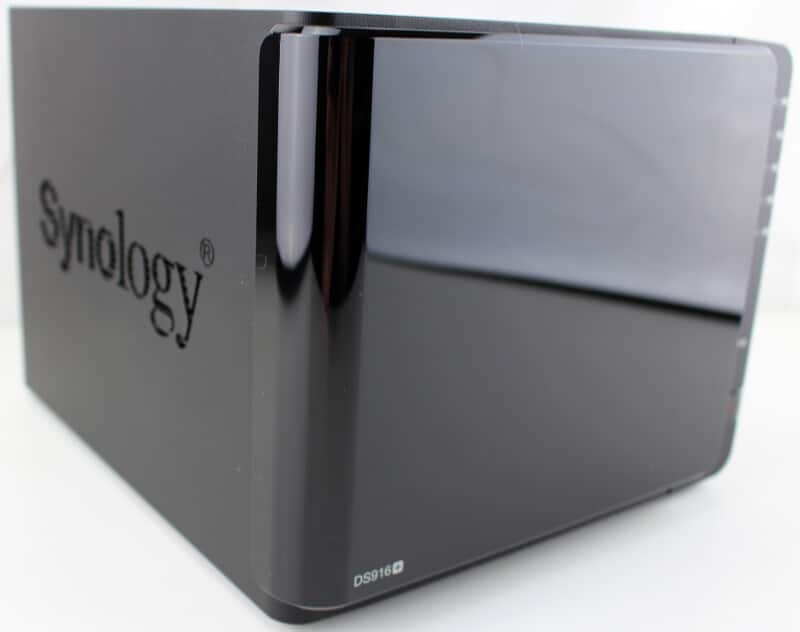 The DS916+ can provide an outstanding throughput at over 225.91 MB/s while reading and 221.04 MB/s while writing as well as an astonishing encryption acceleration at over 225.83 MB/s reading and 209.35 MB/s writing under a RAID 5 configuration in a Windows environment with Link Aggregation enabled. That's a really great performance that's only limited by the two Gigabit Ethernet ports.
While we're at speaking of ports, besides the two Gigabit Ethernet LAN ports, the DS916+ also features three USB 3.0 ports and one eSATA ports. The NAS is also scalable through these connections and the Synology Expansion Unit DX513 for a capacity of up to 9 drives. So whether you need a lot of storage capacity, a secure environment for your files, or real-time 1-channel H.264 4K Ultra HD or 3-channel Full HD video transcoding, the DS916+ will be as ideal for this as it is for sharing, storing, and collaborating on all your digital files.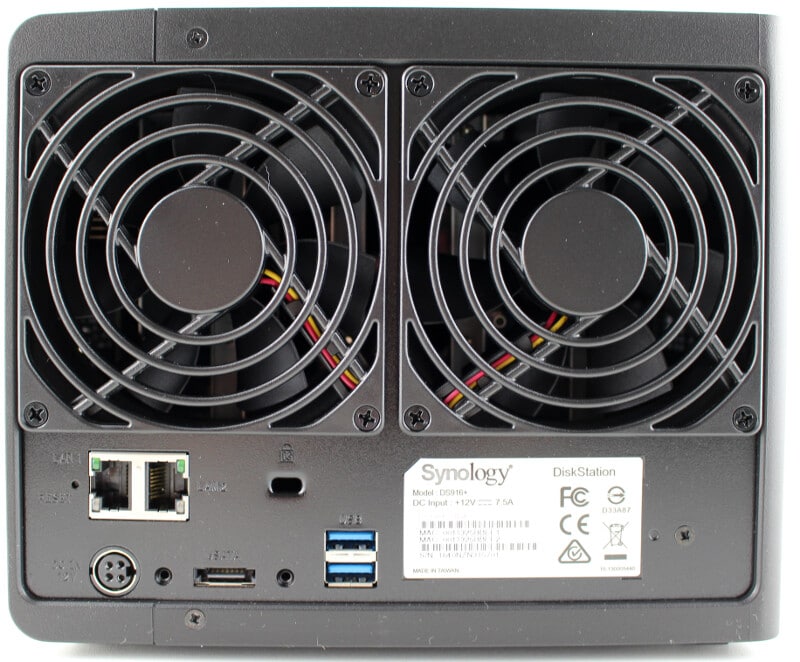 The new DS916+ also introduces the Btrfs file system to the Synology family. Btrfs brings the most advanced storage technologies to meet the management needs of modern businesses such as built-in data integrity check that can detect data and file system corruption with data and metadata checksums.
First of all, we get a more flexible Shared Folder and User Quota system with comprehensive quota control on all user accounts and shared folders. It continues from there onto advanced snapshot technology with a customizable backup schedule that allows for up to 1024 copies of shared folder backups in a minimum 5-minute interval without occupying huge storage capacity and system resources. On top of that, we also get file or folder level data restoration that brings a huge convenience and saves time for users who wish to restore only a specific single files or folders. This can cut the Cloud Stations file versioning down to half the storage consumption when compared with Ext4 setups.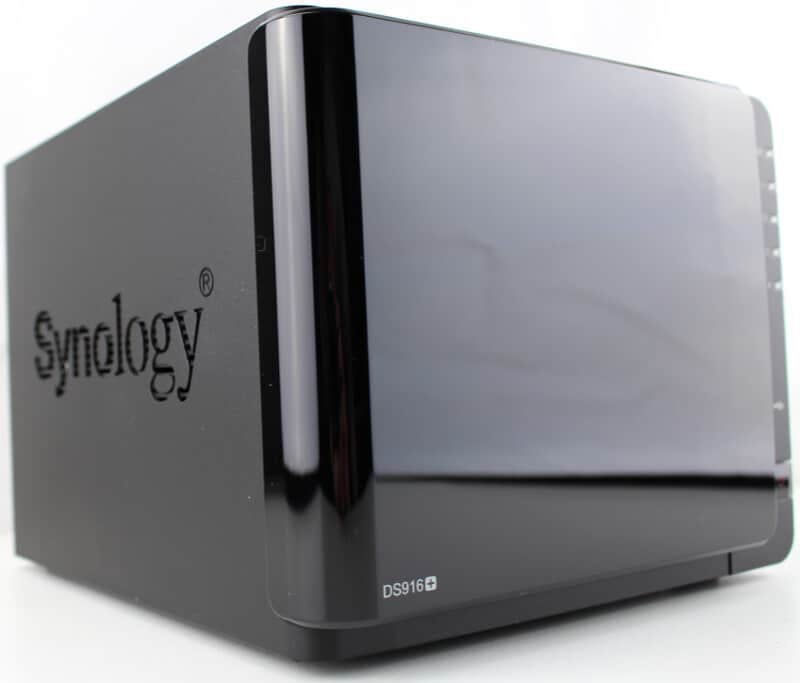 As you probably already guessed before you even started to read this review, the DS916+ is powered by the DSM operating system. Synology's DiskStation Manager provides all the features you'll want, whether you're an enthusiast home user or a small or medium business.
Businesses will find it easy to integrate the DS916+ into their existing setup thanks to Windows AD and LDAP services as well as Windows ACL support. There is a great FTP server built in and both HTTP and FTP connections support encryption. The NAS is also virtualization-ready with its iSCSI support for seamless storage solutions, including VMware, Citrix, and Hyper-V. With VMware vSphere 5 and VAAI integration, DS916+ helps offload specific storage operations and optimizes computation power for unparalleled performance and efficiency in VMware environments. This can make it a real alternative to SAN solutions.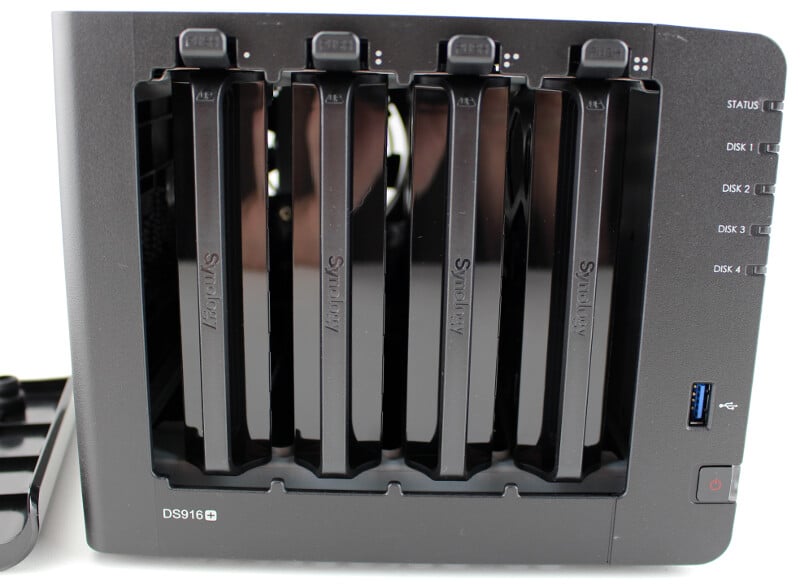 With block-level incremental backup and cross-version deduplication, Synology Hyper Backup provides multi-version backup with optimized storage utilization and also allows multiple backup destinations to local shared folders, external hard drives, network shared folders, Rsync server, and public cloud services. On top of that, Synology's High Availability Manager ensures a seamless transition between clustered servers in the event of server failure with minimal impact to applications.
So whether you want to use it in an advanced setup like that or just create a personal cloud for you and your family, it is as easy as it could be. Router configurations, port forwarding, and tunneling can all be set by even novice users through the DSM setup, making these functions available to anyone.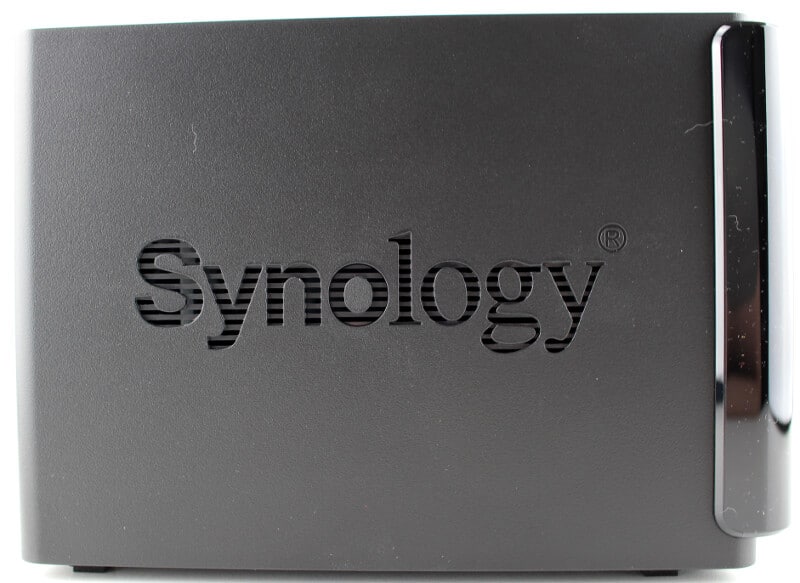 The Surveillance Station is another powerful tool for SMBs, allowing them to set up a centralized interface to manage IP cameras deployed in the environment.
This allows watching live views, recording events, and taking snapshots with a computer or mobile device no matter your location. DS916+ is an ideal surveillance solution as it is capable of hosting up to 40 IP cameras at 30 FPS and 720p. In addition to its intuitive setup, Surveillance Station features an optimized live view experience with on-screen operations, smart analytic tools like motion detection, and an alert system that sends instant notification through DS cam, SMS, and e-mail.
Enthusiast users that want a vast media experience will also be well satisfied with the DS916+. With Photo Station, Video Station, and Audio Station you have everything you need to share, browse, and stream all your media content. And all that can be done with very little energy as the DS916+ only consumes 30W in regular operations.
Feature Highlights
Quad-core 4-bay NAS optimized for intensive tasks and encryption
Scalable storage up to 9 drives with DX513
Comes with 2 RAM options: 2GB and 8GB
Single H.264 4K or triple Full HD online transcoding
Advanced Btrfs file system offering 65000 system-wise snapshots and 1024 snapshots per shared folder
Outstanding Throughput at over 225.91 MB/s Reading, 221.04 MB/s Writing
Encryption performance at over 225.83 MB/s reading and 209.35 MB/s writing
Ideal MailPlus solution comes with 5 free email accounts
Brightness-adjustable front LED with schedule control
Packaging and Accessories
Synology's DS916+ comes in the by now normal Synology package. A simple brown box with a couple of labels. The front label features all the basic information such as that it is from the Plus series, it's scalable, and it's the 8GB version. It also shows some of the feature highlights such as its quad-core CPU and 4K transcoding abilities. The NAS itself is also pictured here.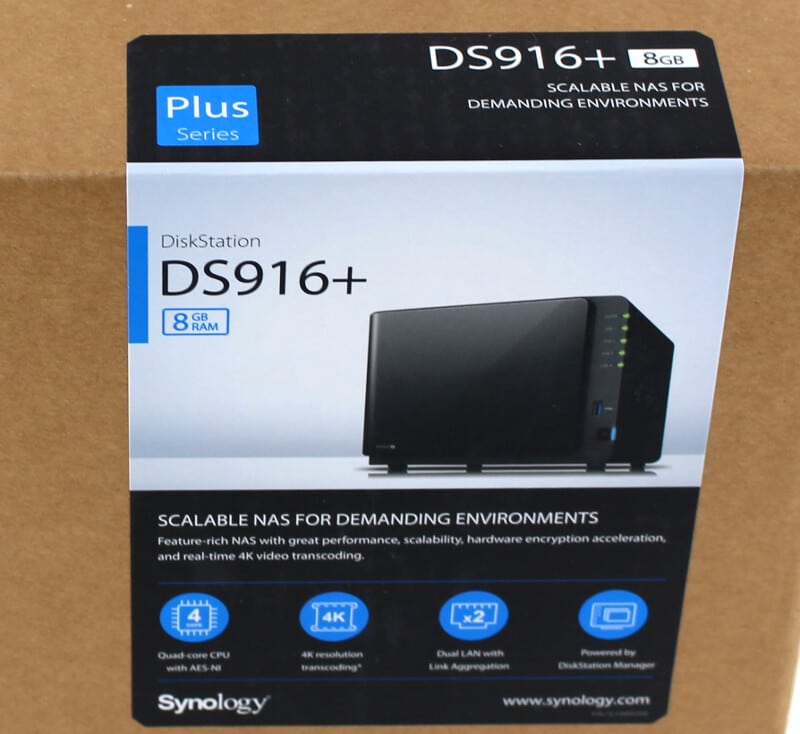 On the rear of the box are more information such as the hardware specifications and package content.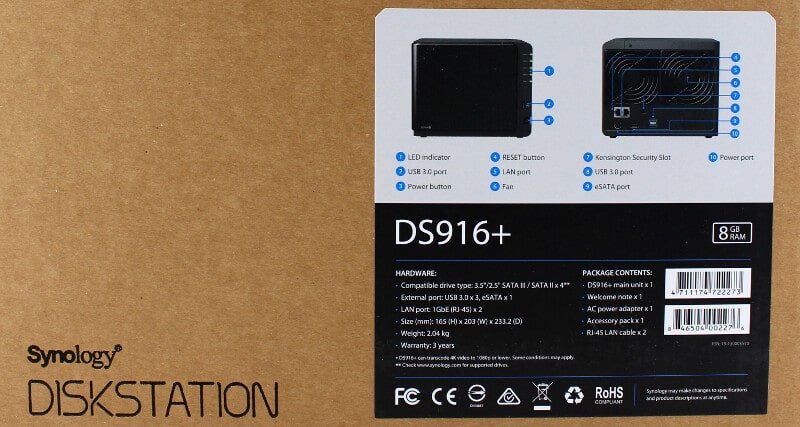 The front plate of the NAS is covered with an extra protective film, making sure that the NAS arrives in perfect condition.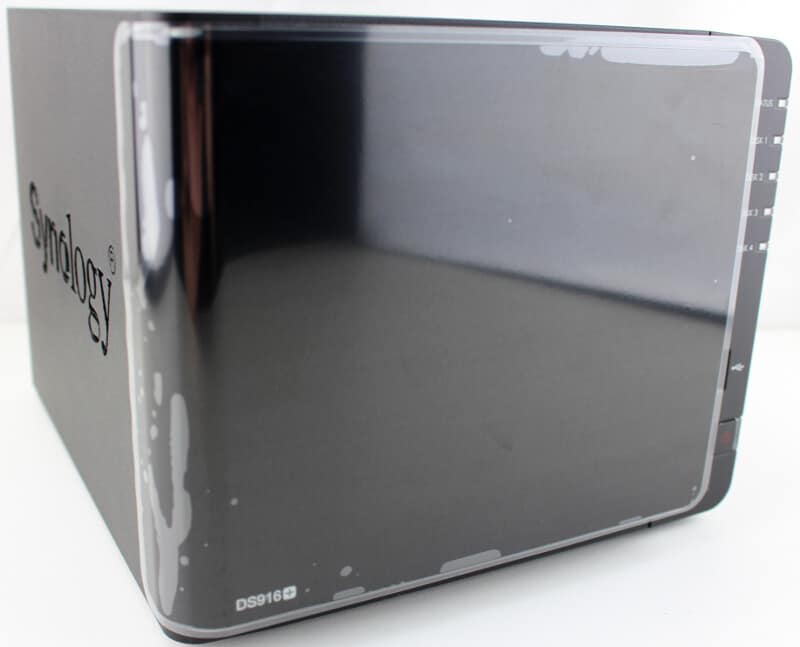 Inside the box is a power supply adapter with a cable that fits the region where it was purchased. There are plenty of screws to install the drives, a quick installation guide, and two network cables included.