Team Group T-Force Cardea M.2 SSD Comes with a Heatsink
---
---
---
Ron Perillo / 4 years ago
Team Group has unveiled their T-Force Cardea M.2 NVMe SSD offering outfitted with a heatsink and rear bracket to combat the performance throttling that occurs when the drive heats up. When installed on a motherboard that has a high-powered video card radiating heat nearby, it is not easy to keep an M.2 NVMe SSD from scaling back in performance since the controller is hitting its max recommended operating temperature fairly quickly under such conditions. The integrated heatsink on the T-Force Cardea M.2 NVMe SSD however is quite substantial and is designed to allow air to pass through its fins at the top to transfer heat away from the core. According to Team Group's internal testing, the controller temperature can be kept cool by as much as 14C cooler compared to with a normal heatsink and up to 19.6C compared to a bare M.2 drive.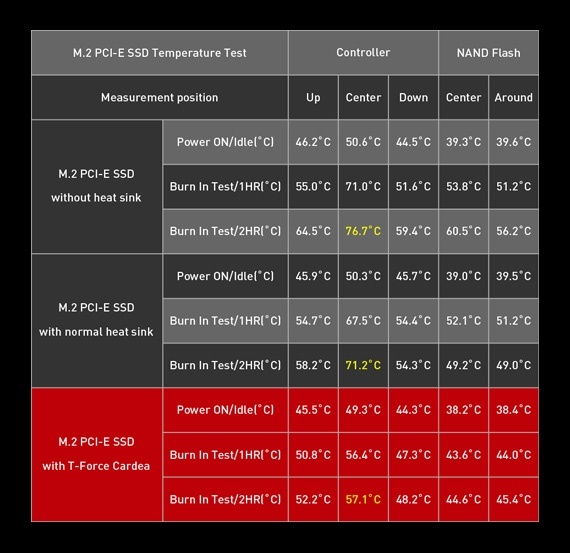 Unlike thin M.2 heatsinks bundled by motherboard manufacturers such as MSI and Biostar with their motherboards, the T-Force Cardea M.2 NVMe SSD's heatsink is substantial that is why the entire unit weighs 45 grams compared to a typical M.2 SSD which weighs somewhere in the single digits. Team Group has not disclosed what controller their are using, but it is most likely a Phison E7 similar to the one used on the Patriot Hellfire (reviewed here) and MyDigitalSSD BPX (reviewed here).
The Team Group T-Force Cardea M.2 NVMe SSD uses a PCI-E 3.0 x4 interface for blazing fast speeds and is available in either 240GB or 480GB models. Performance is expected to reach up to 2650 MB/s read and 1450 MB/s write with 180K IOPS max read and 150K IOPS max write. Total bytes written rating for the 240GB model is 335TB while the 480GB model has a much larger 670 TBW rating.
Interface
PCI-e 3.0 x4 with NVMe 1.2
Capacity
240GB / 480GB*
Color
Red
Voltage
DC +3.3V
Operation Temperature
0˚C ~ 70˚C
Storage Temperature
-40˚C ~ 80˚C
Terabyte Written
240GB / 335 TB
480GB / 670 TB**
Performance
Crystal Disk Mark:
240GB Read/Write: up to 2,600/1,400 MB/s
480GB Read/Write: up to 2,650/1,450 MB/s
IOPS:
240GB  Read/Write: 180K/140K IOPS Max
480GB  Read/Write: 180K/150K IOPS Max***
Weight
45g
Dimensions
12.9(L) x 80.1(W) x 23.4(H) mm
Humidity
RH 90% under 40°C (operational)
Vibration
80Hz~2,000Hz/20G
Shock
1,500G/0.5ms
MTBF
2,000,000 hours
Operation System
1.System Requirements:
• Windows 10, Windows 8, Windows 7, Windows Vista****
• Linux 2.6.33 or later
2.This product has a heat sink, recommended the use of desktop only.
Warranty
3-year limited warranty