TEAMGROUP Release First DDR5 Gaming Memory Next Month
---
---
---
Peter Donnell / 1 year ago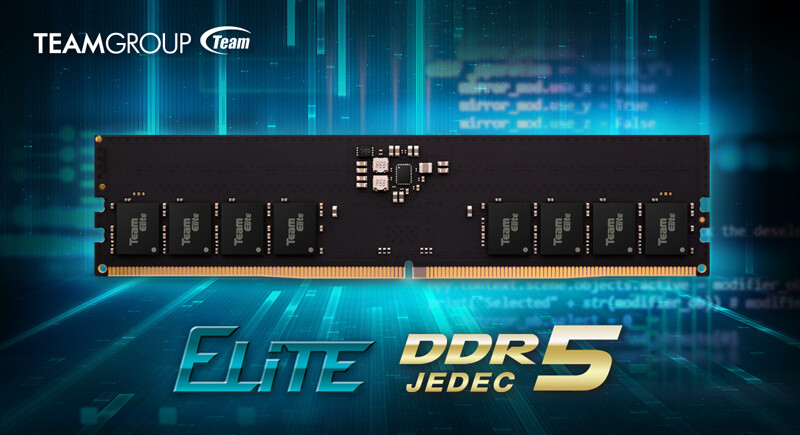 It's no secret that DDR5 is on its way, with Intel going first later this year, and AMD well on its way to going for DDR5 hardware in 2022. Of course, DDR4 is still no slouch, but it's been with us for a good few years now, and it's certainly time for an upgrade. Especially given how much modern CPUs seem to really benefit from the increased memory bandwidth… well, all CPUs always have, but the point is still worth making.
TEAMGROUP has been pretty open about their DDR5 plans and has been creating products since last year! Pushing research and development of DDR5 modules, collaborating with various major motherboard manufacturers. It's no surprise, as TEAMGROUP make some of the best memory on the market, and I'm sure they're eager to ensure they can continue to do this for the next generation of hardware.
Now they're unleashing the TEAMGROUP ELITE U-DIMM DDR5, which is going to be available globally by the end of next month!
What TEAMGROUP Had to Say
"TEAMGROUP is leading the industry today as we announce our official launch of the world's first DDR5 memory module for desktops, the TEAMGROUP ELITE U-DIMM DDR5, which is estimated to be available on major EC platforms for consumers worldwide by the end of June and the beginning of July."
The initial launch of TEAMGROUP ELITE DDR5 memory module will support 16GBx2 of capacity at a frequency of 4800 MHz, with a voltage of 1.1 V CL40-40-40-77, which complies with the standard specifications defined by the JEDEC association.
DDR4 Vs DDR5
Compared to the maximum 3200 MHz standard frequency in the DDR4 generation, the DDR5 is able to increase the speed to up to 50%. The low 1.1 V voltage is also more energy-efficient than its previous generation. To ensure minimum noise interference for the memory module, the power management is transferred from the motherboard onto the memory with an additional power management IC (PMIC) for more effective system load control.
Of course, this doesn't factor in overclocking values at all, but we'll no doubt hear about such things in the coming weeks.
32 is Greater than 16!
The most incredible feature of ELITE DDR5 is doubling the 16 banks of DDR4 to those of 32 in DDR5 to improve the IC structure, providing double access availability. An on-die ECC (error correction code) included in the DRAM IC is also available for self-recovery of the DRAM unit, ensuring that DRAM systems with DDR5 can obtain higher levels of stability.
Intel 600 Series
The memory module is applicable for Intel 600 series motherboards with DDR5 compatibility.
For more information, visit the product page here.
Price and Availability
TEAMGROUP's DDR5 will be available globally at the end of June and the initial product launch will be hitting the shelves at Amazon US, Newegg, Amazon Japan, and various major EC platforms in Europe. Gamers, get ready for the first taste of the next generation and embrace the glory of the new DDR5 era with TEAMGROUP. However, there's a catch, it'll cost you MSRP $399.99 for the TEAMGROUP ELITE U-DIMM DDR5 16GBX2 4800 MHz kit… ouch.