The Ultimate Z590 Motherboard Guide
---
---
---
Peter Donnell / 2 years ago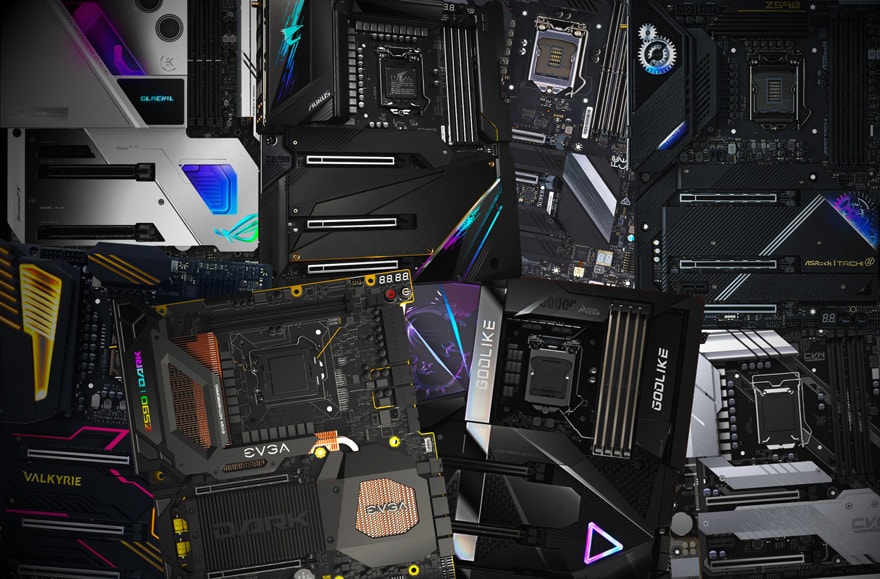 While the PC hardware marker has seen many wins and losses throughout 2020, 2021 looks set to be a big year for Intel, with the launch of their next-generation processors and their new Z590 motherboards… and maybe even a graphics card or two!
While it's uncommon for Intel, Z490 and Z590 motherboards will be forwards and backwards compatible with the Comet Lake CPUs already on the market, and likewise with the Rocket Lake CPUs that are on the way. However, Z590 is primed to support their latest Rocket Lake processors and no doubt offer the best performance possible from their flagship i9-11900K.
While it's likely many will be running overclocked memory kits anyway, the base clock speed memory support will see a leap from DDR4-2933 to DDR4-3200. However, we should even see some manufacturers produce DDR5 boards for this generation as we begin to transition to the next-gen memory platform over the next two years.
Intel Z590 Motherboards
Another big leap is the upgrade to PCIe 4.0, something that AMD has had the run of for some time now. Keep in mind that many Z490 boards were marketed as Gen 4 ready, so the new CPUs should unlock those abilities for you. However, it's ready from launch on the new Z590 boards. That'll mean 20 lanes of ultra-fast connectivity. That could be x16 for the GPU and x4 for storage, or x8/x8, or even x8/x4/x4, but it's really up to motherboard manufacturers how they want to use the available bandwidth.
Other big upgrades are a doubling of CPU bandwidth, native USB 3.2 G2x" (20Gbps) Type-C, and greatly improved memory support and greater support for Wi-Fi 6. Many of the more high-end boards will undoubtedly take advantage of the latest Intel Thunderbolt 4, which now supports branch chaining rather than just linear chaining!
Z590 Taichi
Z590 Extreme WiFi 6E
Z590 Extreme
Z590 Steel Legend WiFi 6E
Z590 Steel Legend
Z590 Pro4
Z590 PG Velocita
Z590 Phantom Gaming 4/ac
Z590 Phantom Gaming 4
Z590M Phantom Gaming 4
Z590M Pro4
Z590M-ITX/ax
ROG Maximus XIII Extreme Glacial
ROG Maximus XIII Extreme
ROG MAXIMUS XIII HERO
ROG STRIX Z590-E GAMING WIFI
TUF Gaming Z590-PLUS WIFI
PRIME Z590-A
Z590 VALKYRIE Ver. 5.0
Z590I VALKYRIE Ver. 5.0
Z590GTA Ver. 5.0
THE EVGA Z590 DARK
THE EVGA Z590 FTW WIFI
Z590 AORUS XTREME
Z590 AORUS MASTER
Z590 AORUS ULTRA
Z590 AORUS PRO AX
Z590I AORUS ULTRA
Z590 AORUS ELITE AX
Z590 AORUS ELITE
Z590 VISION G
Z590 VISION D
Z590I VISION D
Z590 GAMING X
Z590 UD AC
Z590 UD
MSI MEG Z590 GODLIKE
MSI MEG Z590 ACE
MSI MPG Z590 Gaming Carbon WIFI
MSI MAG Z590 Tomahawk WIFI
MSI MAG Z590 Torpedo