Thecus N2520 2-Bay NAS Review
---
---
---
Chris Hadley / 8 years ago
Introduction
---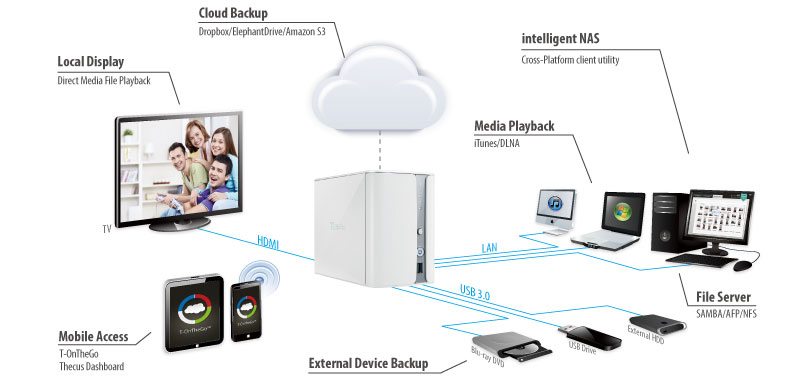 In the latter part of last year I took a look at Thecus N2560 2-bay Intelligent NAS – one of only two white systems that Thecus have in their library and as a budget busting system it really stood its ground in a market which is getting more and more competitive as time moves on. Whilst I looked at the N2560, I made a number of references to the N2520 which we have here today, simply because it is slightly more powerful system with double the RAM and a slightly faster SoC processor running at 1.6GHz. It is therefore only fair that at some stage I take a look at the N2520 to see if it is really worth the move to the higher performance model, or if this is still a worthy contender in the market.
At the time of the N2560 review we could see that there was around £40 difference in cost between the two systems and moving forward to today we note that the price gap is still roughly the same – more importantly though, the price of BOTH units has come down considerably. Where the N2560 was retailing previously for around £270, the same unit can now be found for around £210; whilst the N2520 has dropped from £230 to £170.
As a refresh for those who have not had a chance to read my review on the N2560, these two units are the some of the first units that Thecus have to offer which break away from the matte black chassis that is typically associated with a NAS hardware (they have previously built some silver units as well for the consumer market) and further more they pack some of the latest embedded hardware that Intel has to offer in the form of a 1.2GHz SoC – offering good levels of performance with running costs that are much lower than that of a non SoC based unit.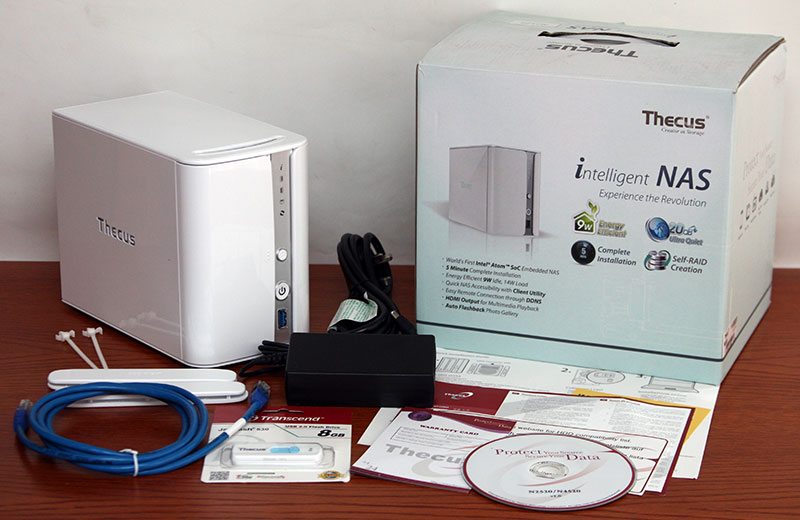 Alongside the chassis, Thecus include a spread of paperwork, a mains adaptor with regional kettle lead, reusable cable ties and network cable and also a pair of plastic rails, giving the N2520 a totally tool-free design – just what the entry-level user wants.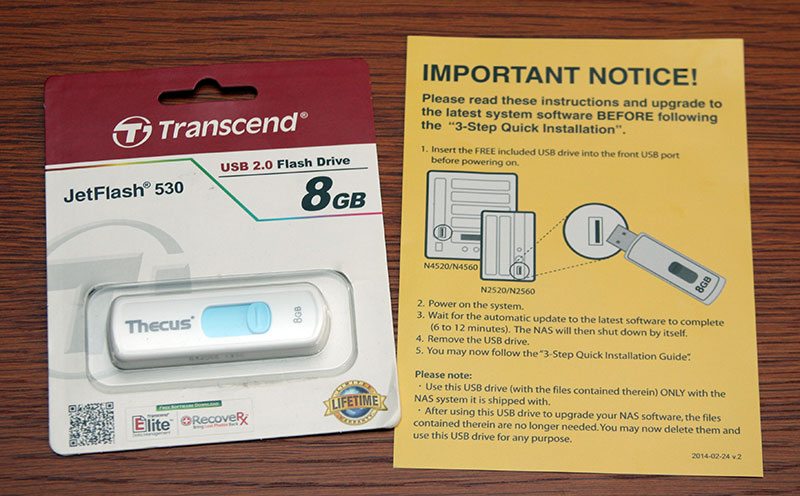 In addition to the typical accessory line-up, the N2520 comes with a flash drive containing the latest version of Thecus OS software, which can be loaded on to the system during its initial setup run. After this you have a free flash drive to use as you wish.