Thecus N2560 2-Bay NAS Review
---
---
---
Chris Hadley / 10 years ago
Introduction
---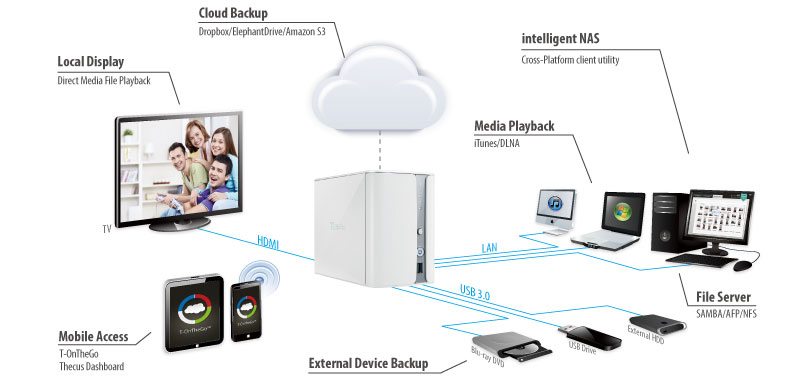 In the NAS market, Thecus is one of the biggest names out there alongside QNAP and Synology and as we have seen in the past, the performance and features that they have to offer for the price are very well suited making them ideal for SOHO, SMB and enterprise users alike. Focusing today on the SOHO market, typical home users generally are in line to buy two and four bay systems for storing movies, music and photos on to share across their network to TVs, computers and wireless devices such as tablets.
Over the last year or so we have been seeing a slow migration by many vendors to produce products that are white in appearance to target the home user as they offer a cleaner and more conservative look to them that makes then more suited for a home environment rather than a black system that can look a little out-of-place or realistically – less stylish.
The N2560 that I'm having a look at today is one of the first white systems that Thecus have produced, the first being its little brother – the N2520 – and following its showing at CeBIT back in march, the storage giant has been making last-minute tweaks and adjustments to optimise its performance and functionality, in the process bringing the N2560 the line-up as well as the N2520. Over the previewed N2520, the N2560 offers up double the RAM with 2GB of DDR3 and a slightly faster Atom SoC, clocked to 1.6GHz over the N2520's 1.2GHz chip.
Compared to Thecus' over 2-bay solutions, the N2560 offers up a tool-free installation with drives that simply slide into the chassis and get closed in behind a simple front door making the unit far more user-friendly for the novice buyers out there. Supporting up to 4TB drives and offering the same host of functionality as any other Thecus system, this Atom based system is internally just like any other NAS that Thecus has to offer.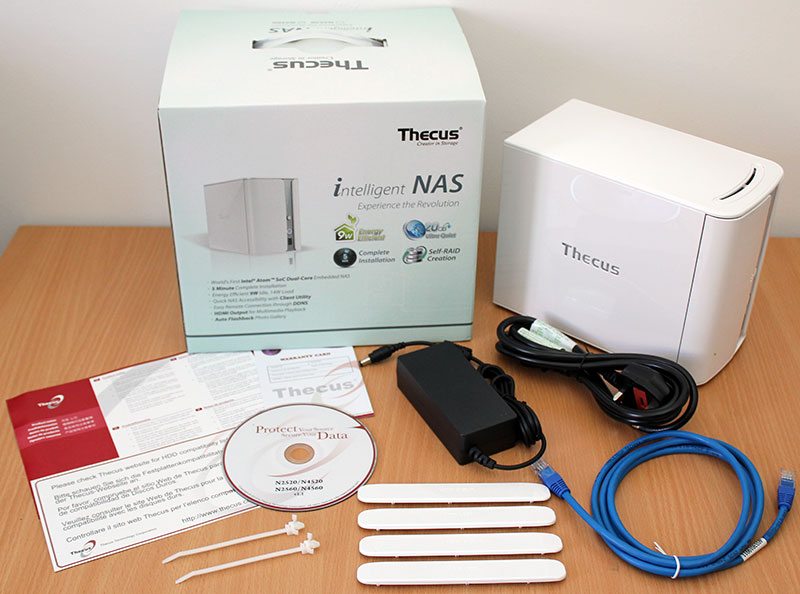 Thecus always offer a simple, to the point package, with all the bits you'll need to get up and running. Alongside the usual array of paperwork including a warranty card, there is a UK IEC kettle lead and DC power inverter, a patch lead, two re-usable cable ties and in the instance of this unit, two sets of clip-on drive rails to give the unit its tool-free capability.