Thecus N4810 4-Bay SMB and Enthusiast NAS Review
---
---
---
Bohs Hansen / 6 years ago
Introduction
---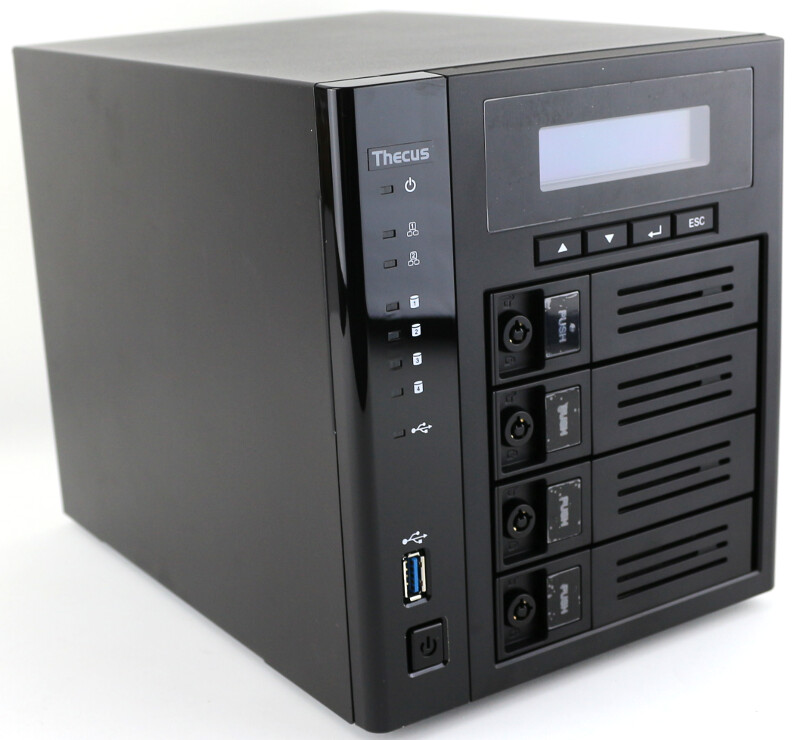 In today's review, I'm taking a closer look at a NAS that we've already featured in an earlier article, the Thecus N4810 which I used for our recently published Use your NAS as a Home Theater System feature.
The Thecus N4810 is a High-Value 4-bay NAS server, and it is intended for SMB (Small and Medium Business) setup and enthusiasts in mind. Overall, this is a system that will suit almost any setup, whether you want to create your personal cloud setup, a home theatre system, a mail and web server, or just as a simple storage container.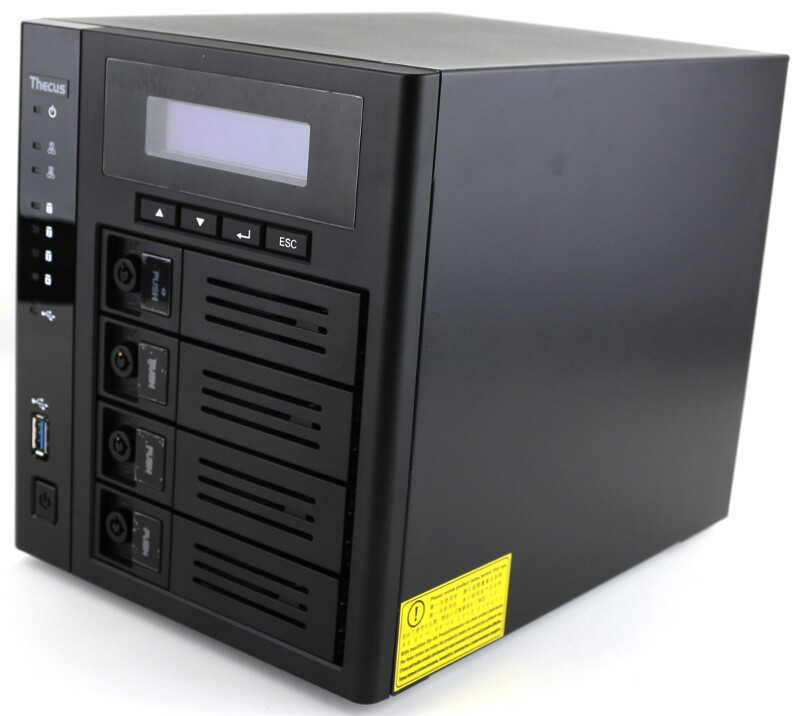 In many ways, the N4810 is very similar to the N2810(PRO), but there are some notable differences and not just the display on the front and two more drive bays. The N4810 also features a larger and more silent 92mm fan for the system cooling, thermal sensor, and a DisplayPort connector
Powering the NAS is one of Intel's Celeron N3160 quad-core processors which has a 1.6GHz clock speed and a burst speed up to 2.24GHz. A CPU is no good without some memory, and it comes with 4GB DDR3 memory out of the box. Should 4GB not be enough, then you can upgrade to a maximum of 8GB. A great bonus for those running large databases and similar demanding tasks.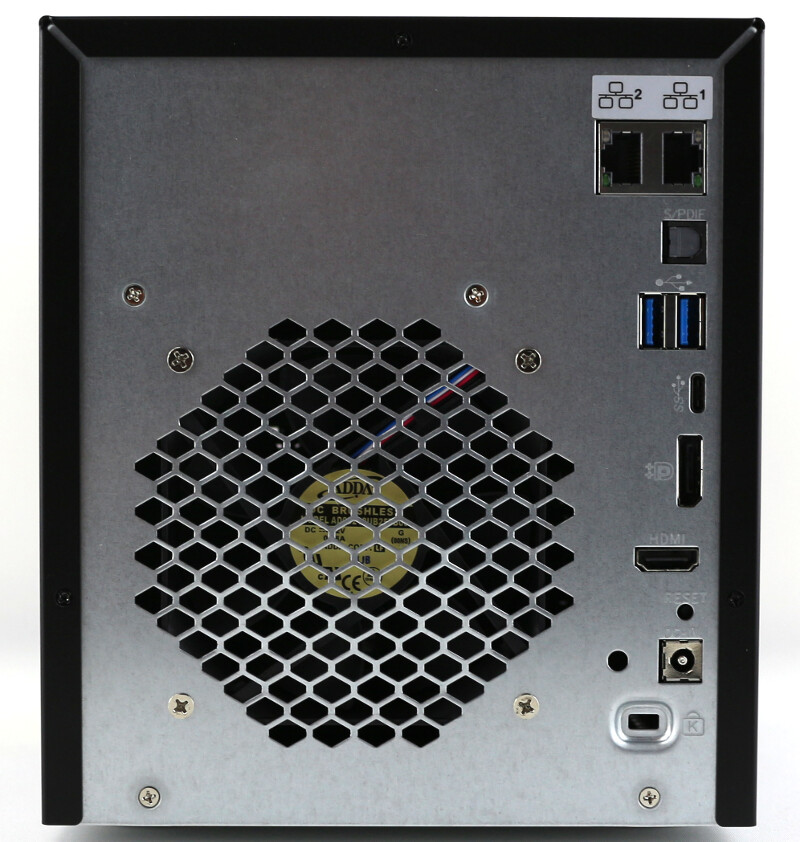 Thecus N4810 is a classic NAS with a tower design and horizontally mounted drive bays, and while the theory says that there is no difference between horizontal and vertical mounted drives, I prefer the horizontally mounted ones myself. The front of the device offers a full set of LEDs for all features as well as a small display with four buttons for a direct control of basic settings and information readouts.
The rear of the NAS hides all the exciting features as the N4810 comes packed with options through features and connectors. There are three USB 3.0 Type-A ports (one on the front) as well as one USB 3.0 Type-C USB port. That allows you to connect both legacy devices as well the newest Type-C gadgets directly to the NAS. Other available connectors include two Gigabit Ethernet LAN ports that can be linked and aggregated in every possible mode. None of those connectors will help us when it comes to our media experience, but Thecus has that covered too with both an HDMI and a DisplayPort connector. Connect the NAS directly to your TV or monitor for an enjoyable 4K 60Hz direct output. Perfect sound isn't a problem either as it comes with an optical SPDIF port that you can use a digital audio connector to your Hi-Fi setup.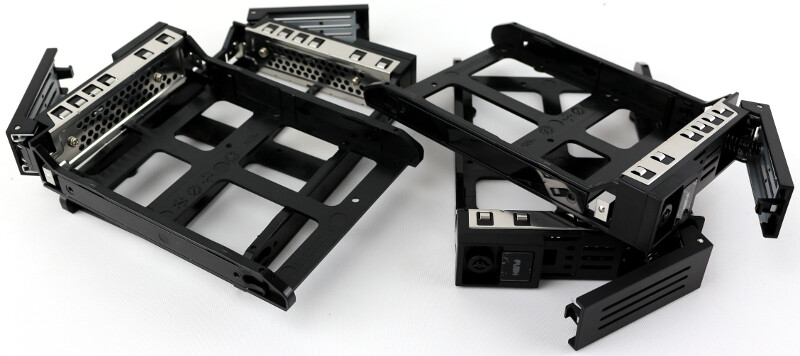 The media features will be the highlight for enthusiast users and non-business users in general. With HDMI, DisplayPort, and SPDIF, the N4810 offers an excellent base for a Home Theatre setup. It has the well known and much loved KODI (formerly known as XMBC) media system as well as the always great VLC media player. Remote playback can be enjoyed through Plex and Emby as well as through DLNA, Chromecast, and Apple TV. A full set of coverage.
Backup features are important for home users and businesses alike, and the N4810 has plenty of these too. The included Acronis backup software allows easy backup from any Windows-based system to the NAS while Time Machine covers all the Apple users. External devices such as USB disk writers, HDDs, SSDs, flash drives, and other sorts of writable devices can facilitate backups of the NAS itself. Businesses will also love the full system failover protection with the use of a second NAS.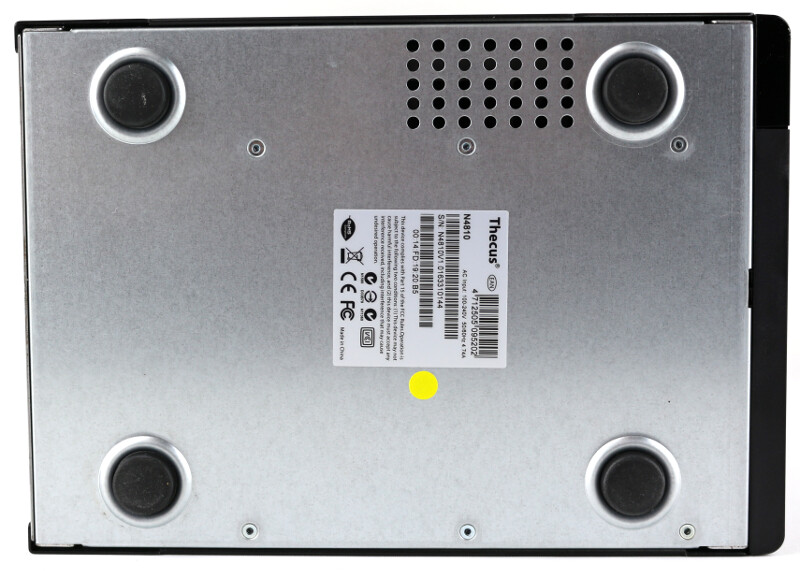 While we already are speaking of businesses, we might as well get right into some of the other relevant features for them. The N4810 supports VPN setups for secure remote connections, iSCSI with thin provisioning, and snapshots thanks to the BTRFS filesystem support. Other file system options include both EXT4 and XFS for a full set of choices. That also goes for the RAID setup which allows for 0 to 10 setups. Another greatly appreciated feature is the full 256-bit AES hardware supported encryption.
The cloud is a term that's used a lot these days. In its simplicity, it is a term for files that are accessible anywhere and at any time (with the correct credentials). You can use the N4810 as your personal cloud, and you don't need to be an engineer to set it up either. With Orbweb.me 4.0 you also get easy and painless remote connections from your mobile devices. Public cloud services such as Dropbox, Elephant Drive, and Amazon are also support.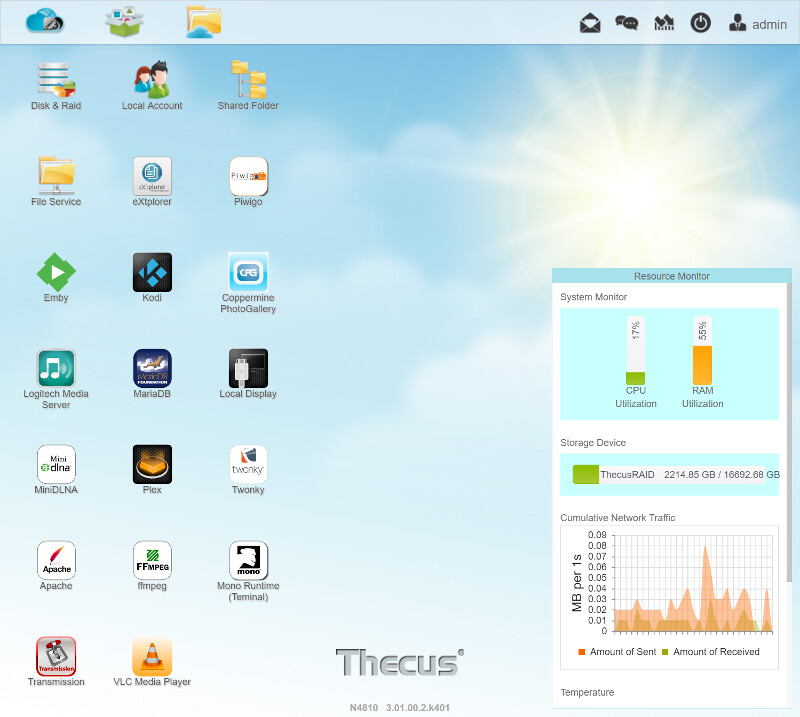 All the software features mentioned above are thanks to ThecusOS 7.0 which is the relatively new operating system from Thecus. It comes with all the features you'll want and plenty more to add from the app centre. The whole system can also be protected by the free and included Intel Security that will keep your headless download station virus free.
Feature Highlights
Embedded with Intel Celeron N3160 Quad Core CPU
Running on the newly-designed, enhanced ThecusOS 7.0
Seamless 4K Multimedia Playback
Uninterrupted Accessibility with Thecus System Failover
Secure Remote Access with Virtual Private Network (VPN)
Faster Transfers: 2 LAN Ports for Link Aggregation
99% Virus Prevention: Bundled with Free Intel Security
Complete Client Side Protection: Bundled with Free Acronis Software
Packaging and Accessories
Thecus packed this NAS into a beautiful box with full-colour print all around. The main feature highlights are shown on the front along with the NAS itself.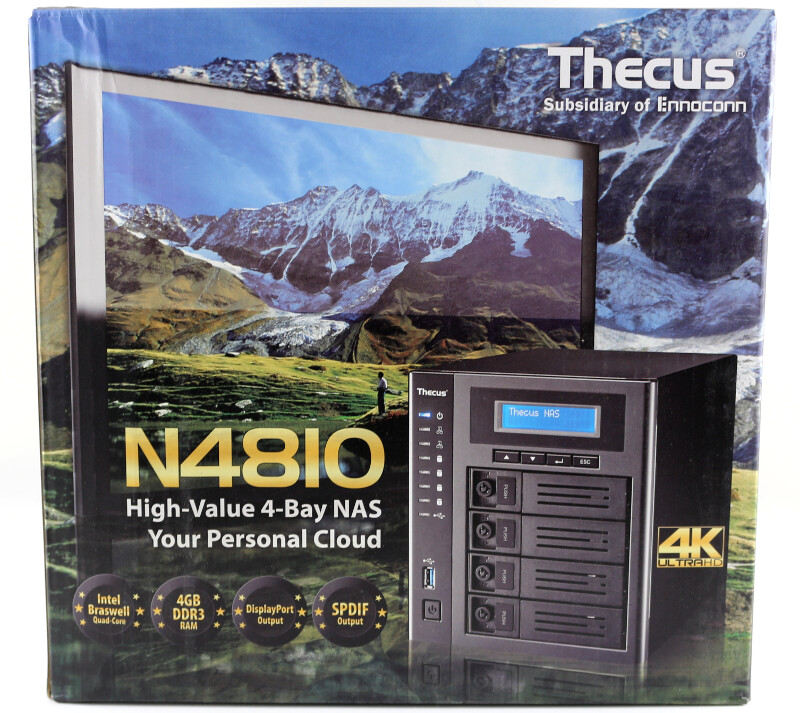 The side has the specification highlights as well as a content list of what's in the box.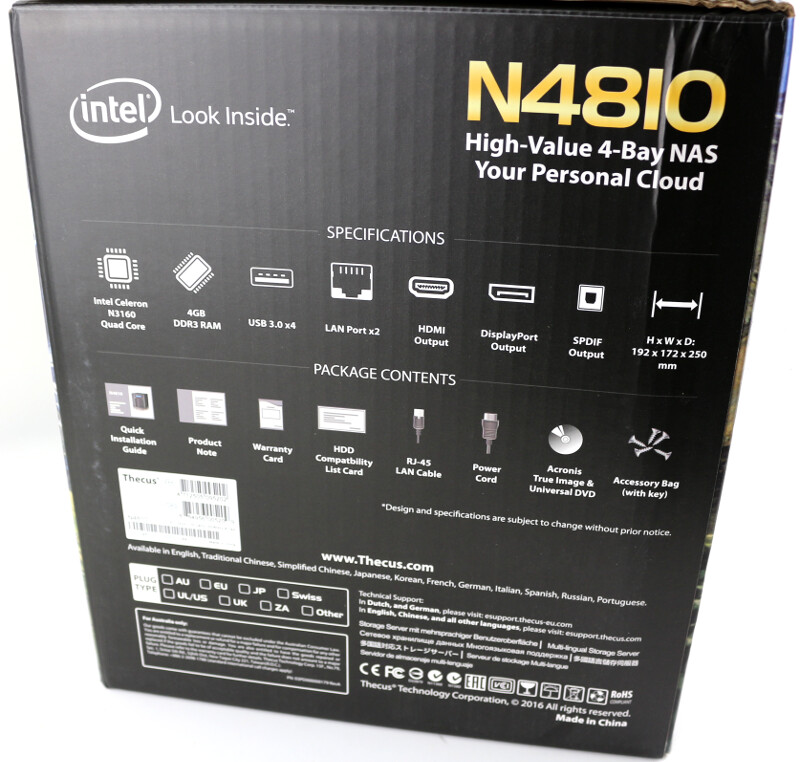 Inside are a couple notes and a quick installation guide along with a Thecus Universal DVD in case you're without an internet connection at the location where you are setting the device up.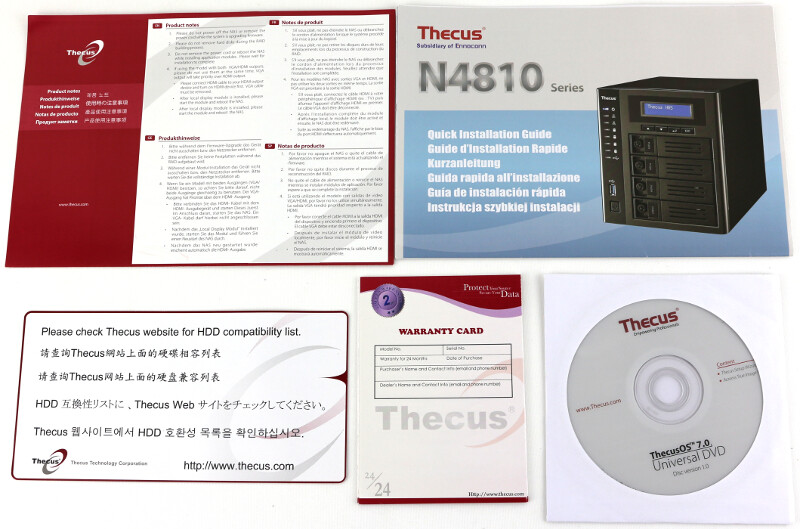 You also get an RJ45 LAN cable, a power supply with a fitting power cord for the area where you purchased the unit, and two keys for each drive bay. There's also a cable security strip included which will protect the NAS from an accidental power unplugging.
And the NAS itself, of course. The plexiglass part is covered with a protective film when you unbox it.