Thermaltake Level 20 VT Tempered Glass Chassis Review
---
---
---
Peter Donnell / 3 years ago

Level 20 VT
The Thermaltake chassis range is no strange to extreme models that love to go big. Their Level 20 GT is on its way, and we'll have a review of that too soon enough. However, a few other models are getting the Level 20 treatment. First up, we have their new 20 VT, a micro-ATX cube style chassis that makes zero compromises. While mATX chassis can often be small, this one is a bit bigger. The extra size means the motherboard is mounted horizontally, allowing you to show off your GPUs through the side windows. A multi-layer design means your storage and PSU hide in the bottom, with all the sexy hardware up top.
Of course, it's got plenty of room for high-end hardware to give it some go, but it's also got plenty of show. With four crystal clear tempered glass panels, your lovely system build will be there for all to see. Add to that a stunning exterior design, and a price tag that's a few pennies short of a £100, and the VT is sounding like pretty fantastic value for money. Now, let's dive in for a closer look at what the VT has to offer to the world!
Features
Support for radiators up to a length of 420 mm.

Maximizes airflow with a built-in 200mm fan

Extensive system configuration options

4 tempered glass panels; front, top, both sides

Tool-less installation

Cable management

1 x pre-installed 200mm fan

LCS Ready

Modular Ready
Specifications
For in-depth specifications, please visit the official product page here.
What Thermaltake Had to Say
"The Level 20 VT is designed to prove that micro cases don't have to be small on power. It boasts a 200mm fan preinstalled at the front as well as great liquid cooling support, four 4mm tempered glass panels and interchangeable panels with filters. The VT also has a split-level design with a flat motherboard tray that lets you hide away cables, while showing off liquid cooling hardware at the top. The Level 20 VT takes our latest case innovations and wraps them in an ultra-modern, space-conscious style that's utterly unique in the case market today." – Thermaltake
A Closer Look – Exterior
The Level 20 VT makes a fantastic first impression. Out of the box, the chassis looks fantastic, strutting off its tempered glass windows and chunky exterior frame design. It's got a bit of brushed aluminium on the corner posts, which is the main nod to the design of the bigger Level 20 GT. All the chassis in the 20 series are quite unique but do hit upon the same design themes.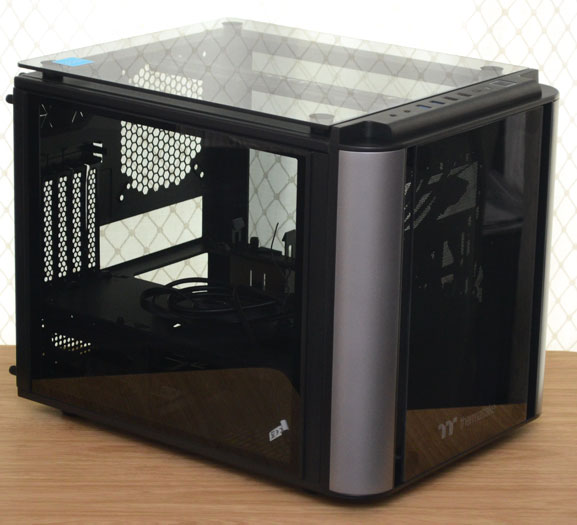 For showing off your hardware, the huge side window is very clear. You'll be able to see the cooler design of your GPU from this side, no doubt about that. The panel, as is the case with all four sides and the front, are easily removable with two thumbscrews. When it comes to building your system, this will make access extremely easy.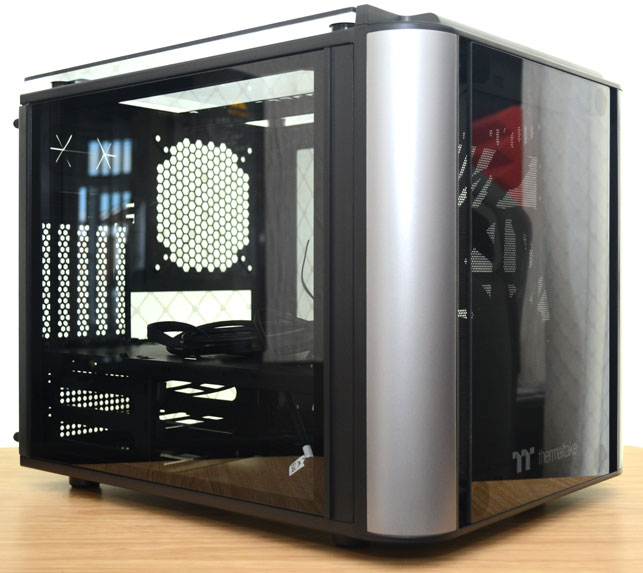 The top panel looks superb too. The extra-wide cube design means that you'll be able to mount two rows of fans or radiators up in the top of the chassis too; if you desire to do so.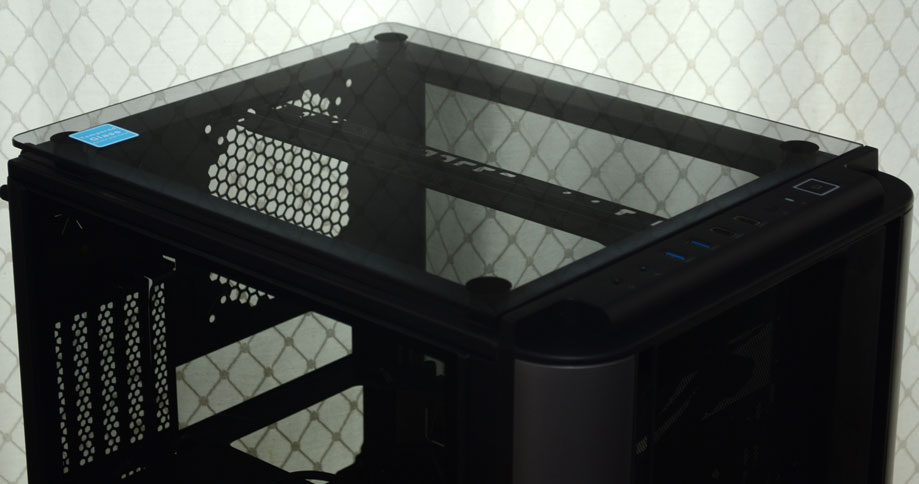 The front panel keeps things nice and simple too. It features all the usual connections, as well as four USB ports to hook up all your peripheral devices with ease.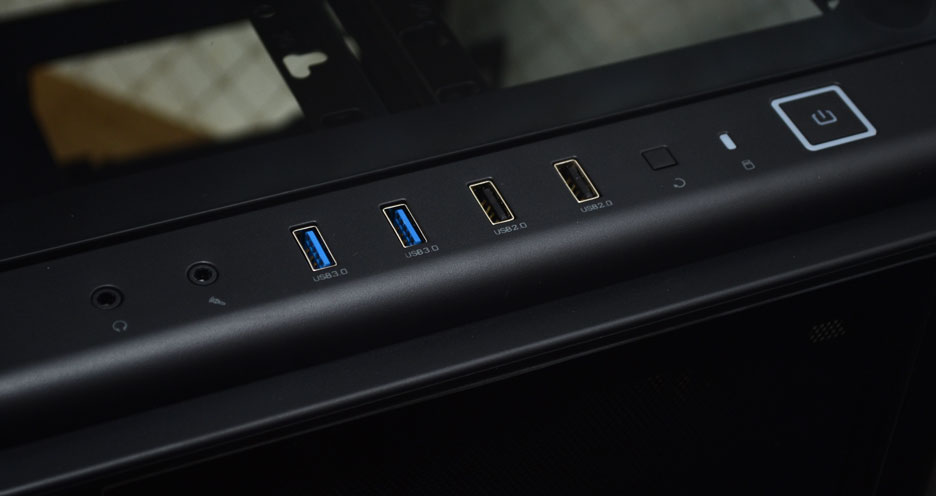 Moving on to the front, you've got… yup, you guessed it, more glass. This chassis looks to show off your hardware from every angle. Lurking behind the glass, you can see a pre-installed 200mm fan, which will provide a massive amount of airflow at low RPM. However, it can be removed and you can add 120/140mm fans, radiators and more here if you desire.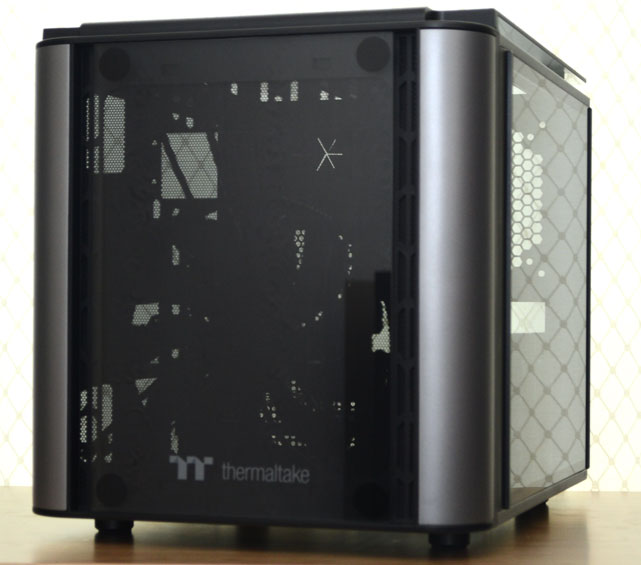 The right side shows off more of your build. However, this side features three vertical 2.5″ drive mounts on the lower section. You'll see those better when we get the panels out the way.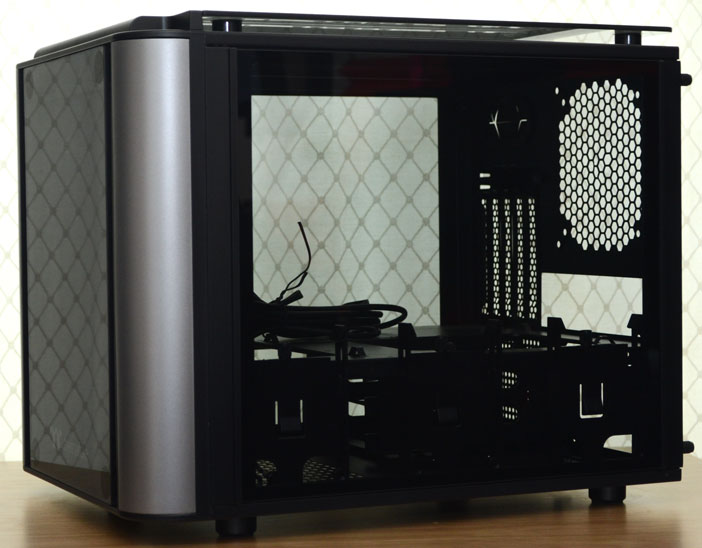 Around the back, there's an optional 120/140mm fan mount, as well as a large routing grommet on the top right. With five expansion slots, you'll be able to take full advantage of the mATX form factor. Tower the bottom, an ATX PSU mount, as well as ventilation for the internal HDD bays.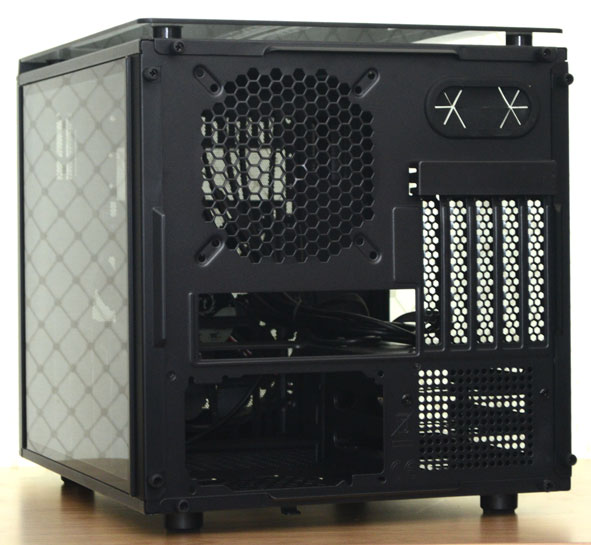 Finally, the base of the chassis features plenty more ventilation, as well as a dust filter for the PSU air intake.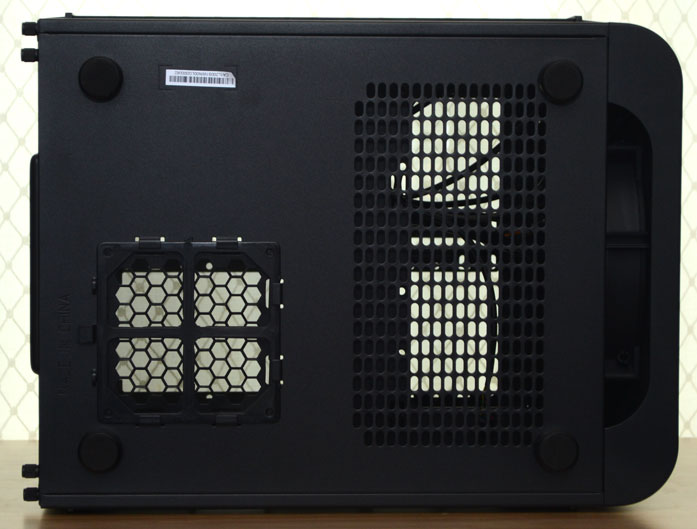 With all the glass removed, there's a lot of room in here to work with your hardware. Obviously, the chassis is pretty long, so a massive GPU or two shouldn't pose any compatibility issues. Furthermore, from the motherboard tray to the top panel is quite a distance too, meaning larger CPU air coolers will fit with ease.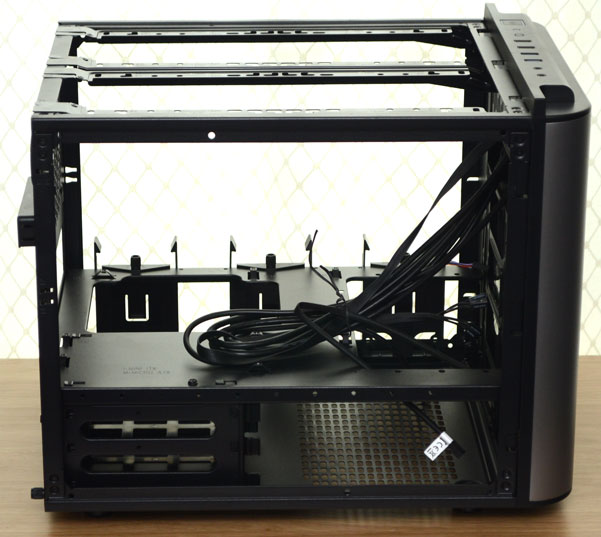 Towards the front, you'll find that 200mm fan. However, there's also a mounting bracket for 120/240mm fans and a huge cut-away that will allow easy front panel radiator installations.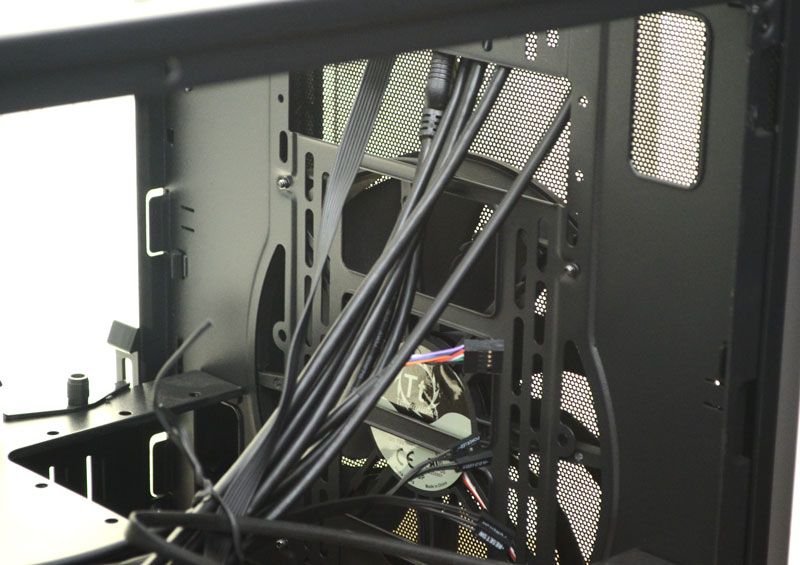 One of my favourite features, however, are these vertical 2.5″ drive mounts. Thanks to the side panel windows, you'll be able to show off your SSDs in style, and I like that, as right side panel windows are often just showing off cables and boring stuff.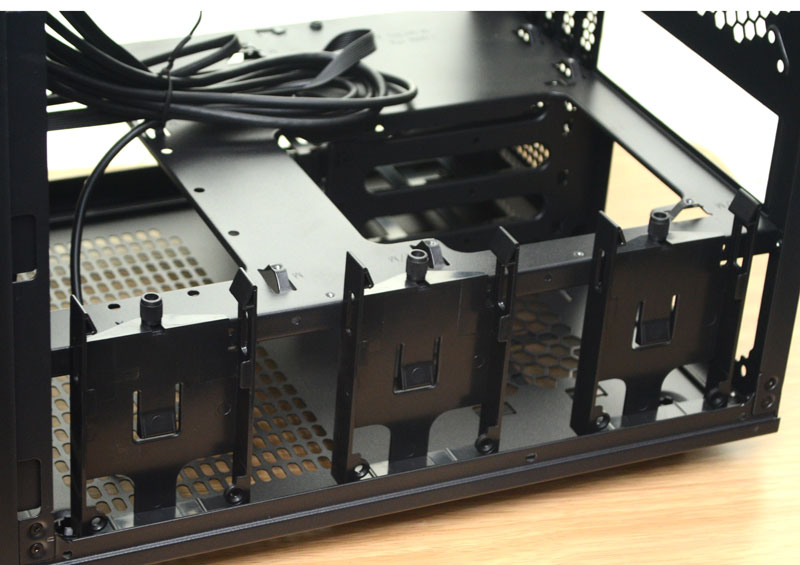 Up in the top, there are four removable mounting bars. These offer you a multitude of installation options to place radiators either front to back or side to side, in 120/140mm spacings.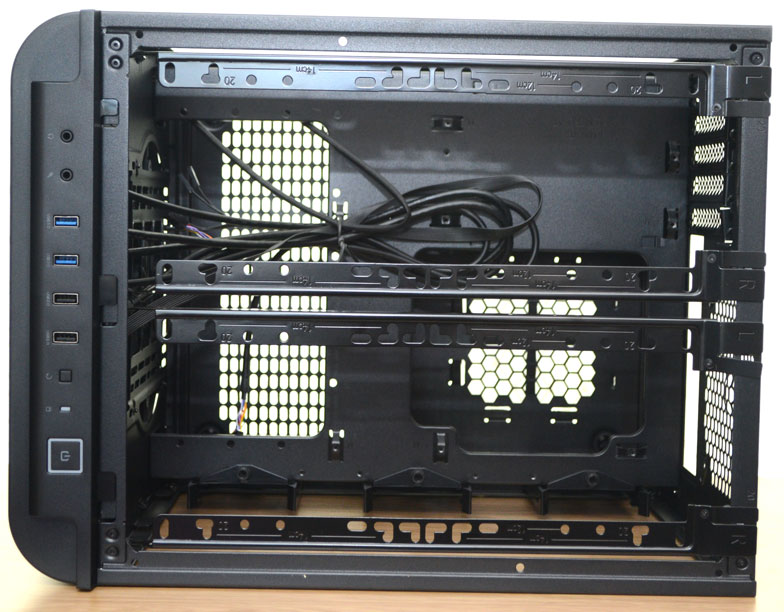 Even the bottom panel can be removed, giving you very easy access to the PSU mount, as well as the HDD cage towards the rear.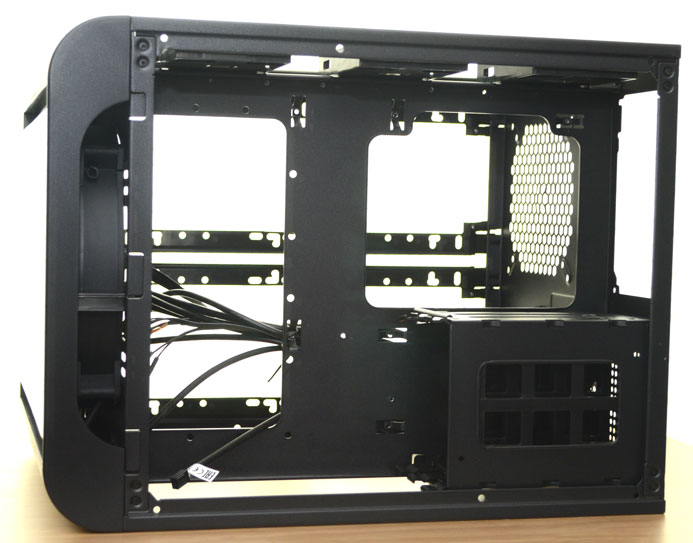 It'll support 3 x 3.5″ drives tool-free or 2.5″ drives with the included screws. If you needed this space for other things, you can remove it too; cable routing, water cooling, it's up to you.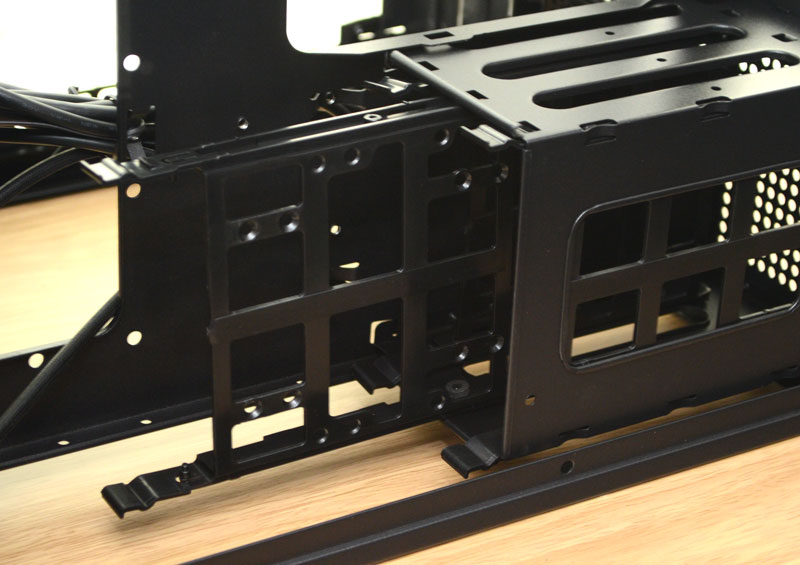 Complete System
The workflow of building a system inside this chassis was pretty simple. Since I can remove the front, sides, top and the bottom panel, access just isn't an issue. The PSU and storage drives install from the bottom. While the open sides make installing the motherboard, GPU, CPU cooler and more a much easier process. I would suggest mounting your air cooler before installing the motherboard though, it's so much easier. The end result looks superb, with the GPU taking up the bulk of the left side viewing window.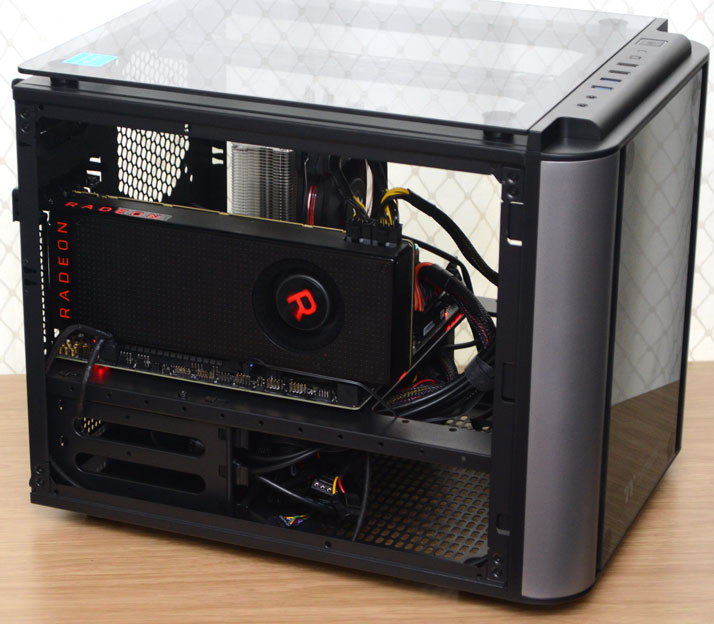 On the right, it's all about the motherboard, cooler, and SSDs. You get great views of your hardware on both sides. The only tricky part is cable routing, as it can easily be out on show. However, use the included cable ties and exercise a bit of patience and you'll get great results.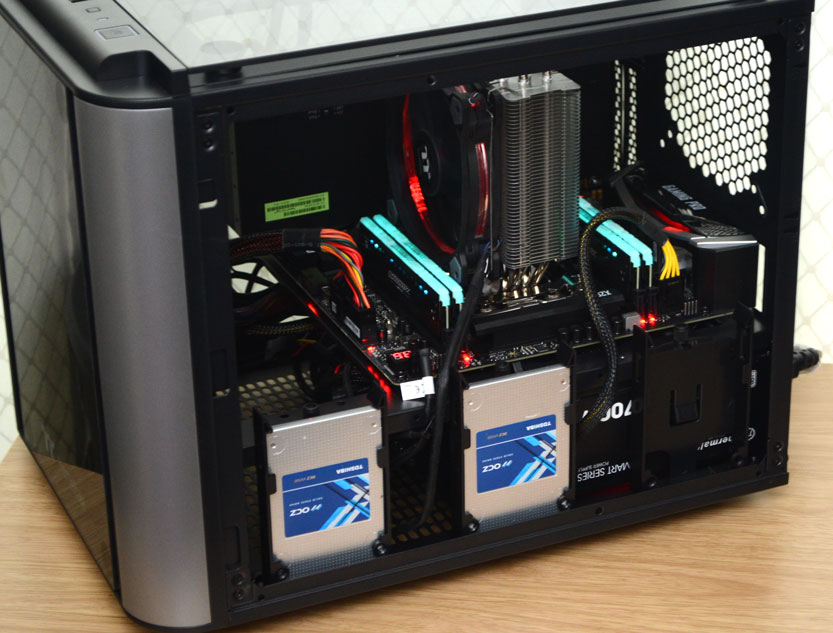 From the top, the CPU cooler has loads of clearance. In all honesty, I like this air cooled, I like all my systems air cooled. However, for water cooling, there's a shocking amount of room for thick radiators in here.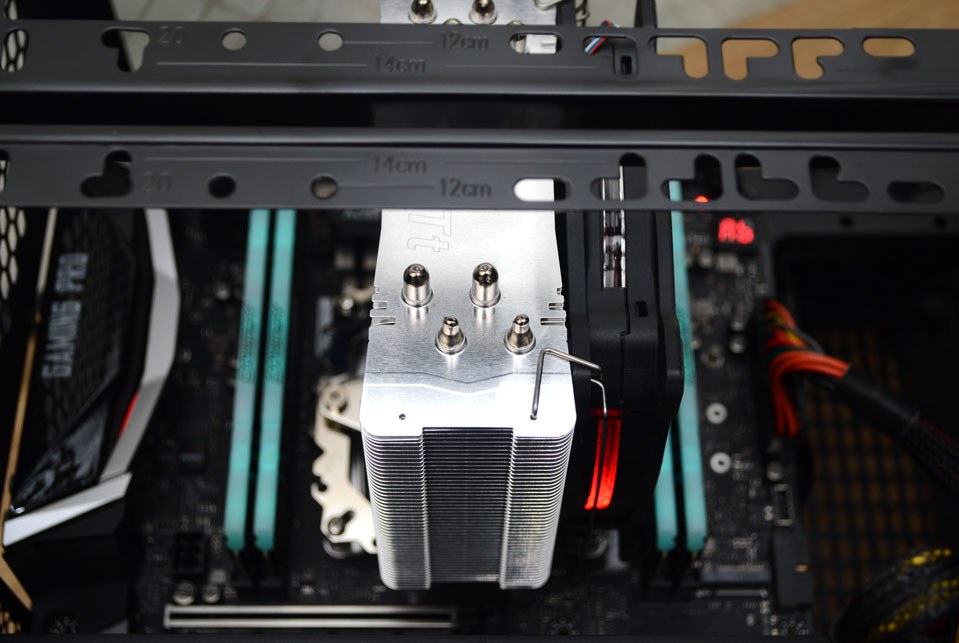 Cable routing was easy enough, and there's a bit of room in the bottom to stash your excess cables. I had a non-modular PSU here, but with fully modular, you'll likely have fewer cable woes than I did.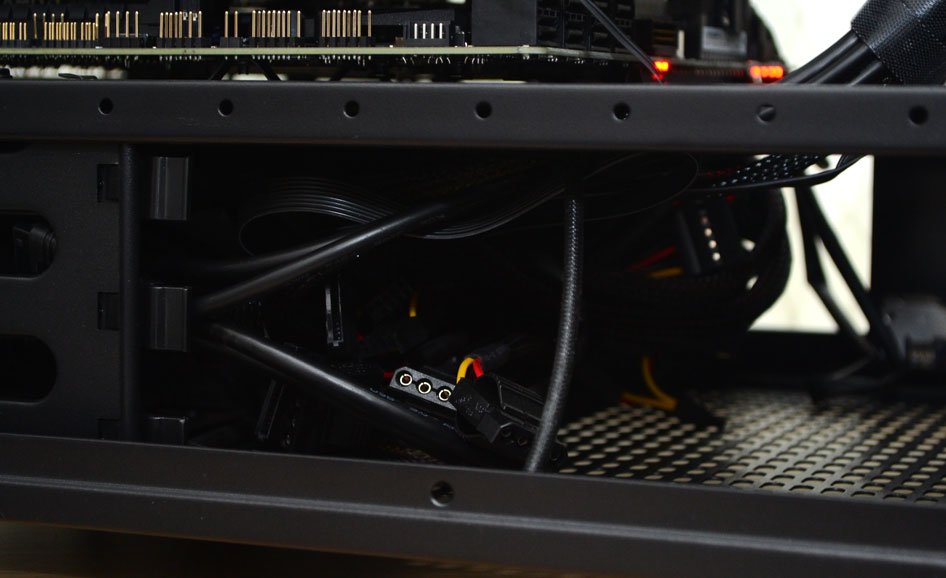 With all the panels back in place, the chassis looks neat and tidy. Throwing some RGB in here would be quite dramatic I think. However, for just straight up style, it's certainly a looker.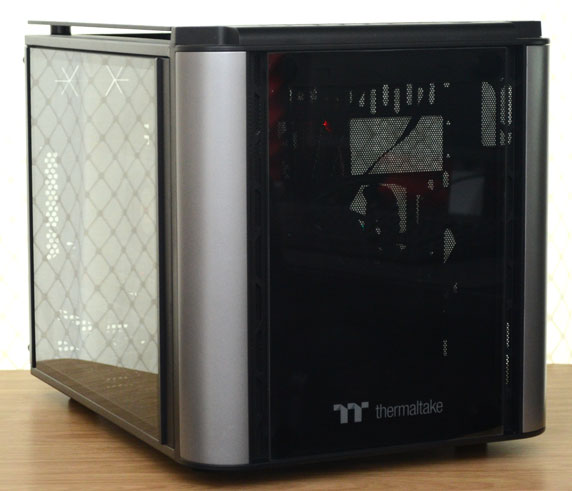 Through the window, we can clearly see the GPU. Again, a more colourful GPU or RGB equipped hardware is going to shine through with ease. If that's your thing, of course.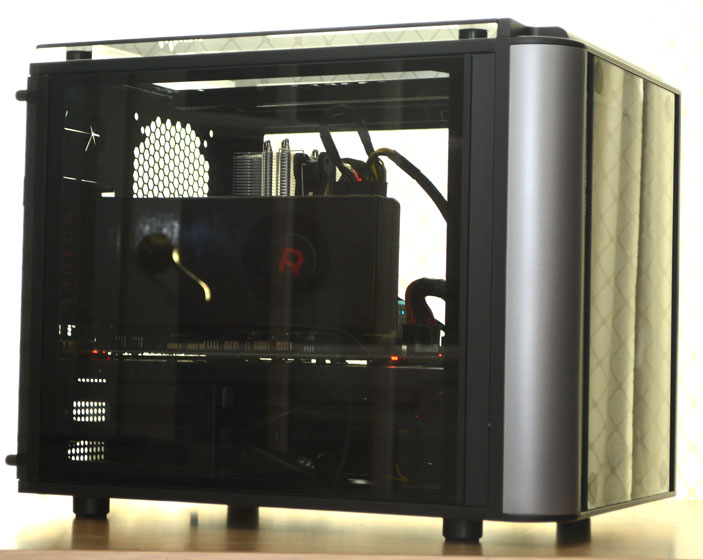 On the right side, the RGB of the RAM and the cooler look superb, and there's enough passive light to show off the general internals thanks to the top panel window. Even the SSDs are looking pretty smart on display here.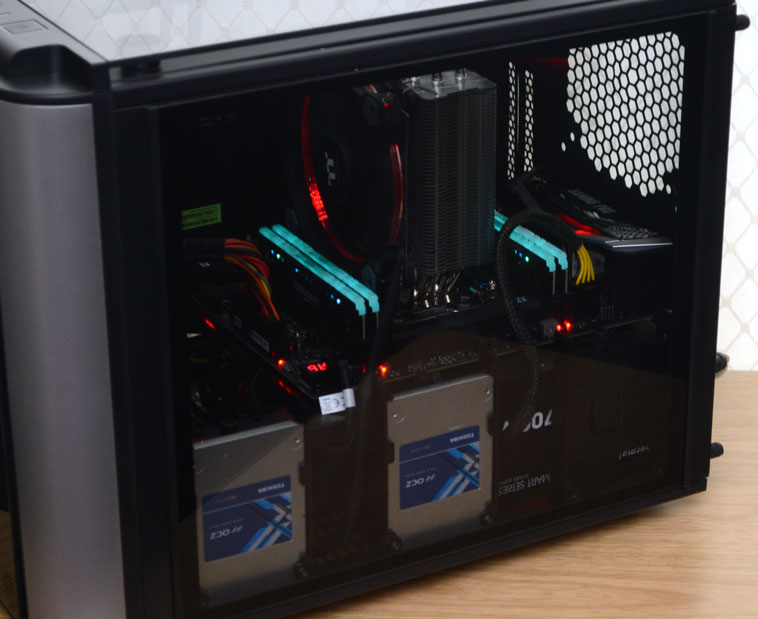 The only concern would be stray fingerprints, but just keep your paws off it and you're good. Failing that, there's a microfiber cloth and that'll fix it up in seconds.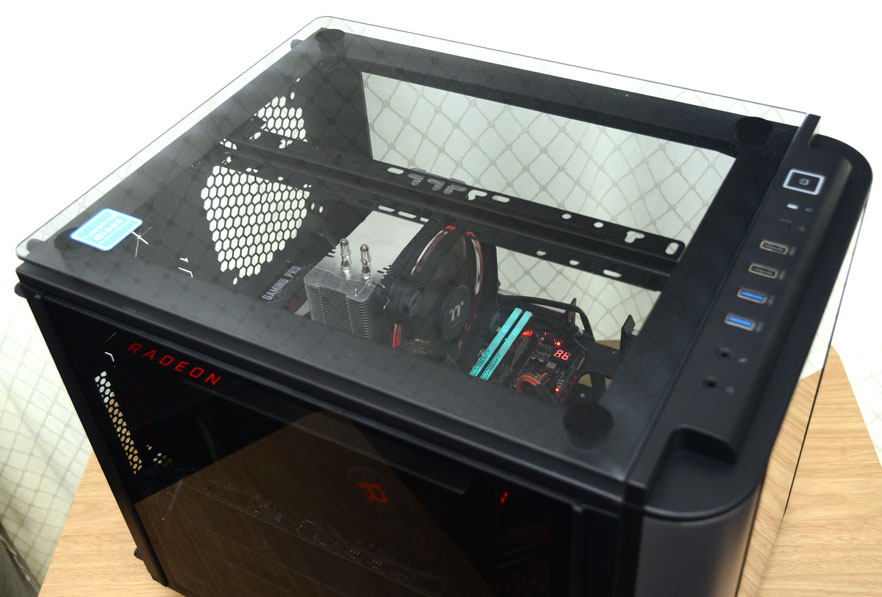 How Much Does it Cost?
The price of the Level 20 GT is a little varied from store to store. I've seen it as low as £95, and up to £105. Either way, the price range isn't drastic, but obviously better on the good side of £100 if you can find a deal. At that price, you do get a lot of chassis for your money, and while it's not a cheap case, I think the quality and presentation are worth every penny.
Overview
The latest chassis from Thermaltake certainly gets a lot of things right. It falls into the same traps of other horizontal-form-factor mATX chassis I've seen in the past though. The cable routing, for example, isn't perfect. There are no cable routing holes around the motherboard, and you simply pass cables around other parts of the chassis to reach. A few cable ties and a bit of effort can get good results though. Furthermore, a PSU with nice looking cables would go a very long way here, aesthetically speaking.
Cool As Ice
This may be a cool looking chassis, but how you approach cooling it is really up to you. There's a massive amount of room for thick radiators here, which is why it's as big as it is for an mATX chassis. However, even those just using an AIO for their CPU or a AIO equipped GPU will find plenty of great ways to mount their hardware. On top of that, the 200mm fan in the front provides massive airflow from front to back, which is great for those relying on air cooling alone; as many people do.
Can't Touch This!
It's like a presentation or display case that you would see in a gallery. The components taking the place of the ornate sculpture from the 1800's on the interior. There's a lot of crystal clear glass here, and it's super sexy. For showing off your hardware, it's going to do a great job. Don't over-do the RGB lighting though, as it'll be like a lighthouse to everything else around it. Yes, it is going to be a dust and fingerprint magnet, but keep the kids and cats away, and a microfiber cloth nearby. Much like a classic car, there's a joy to be found in keeping it shiny for all to see.
Should I Buy One?
It may not be an entirely innovative design, as I've seen similar in the past. However, it does capture some of the design points of its much bigger and more expensive Level 20 brothers. For those that want that kind of style in a more compact and affordable product, it ticks that box nicely. It's not super expensive, but it does come at a premium. Thankfully, you get a premium product with great features and plenty of style, that would make for a fantastic gaming PC to plonk up on top of your desk for all to see.