Thermaltake Riing Silent 12 CPU Cooler Review
---
---
---
Peter Donnell / 5 years ago
Introduction
---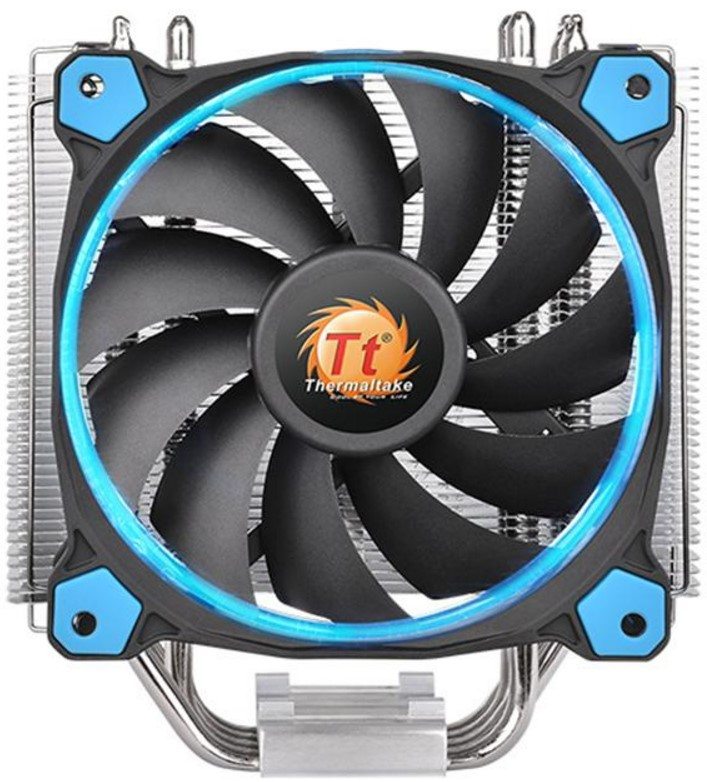 Picking the right CPU cooler can be a daunting take for some, as finding one that's the right shape and size for your motherboard to prevent component conflicts or one that will fit in your chassis while offering the performance your CPU requires, and with any luck, it won't be too noisy either. The latest cooler from Thermaltake, the Riing Silent 12, and no "riing" isn't a typo, comes in a compact form factor to ensure very high compatibility, with a stylish design thanks to a lovely Riing LED fan, and a reasonable price tag, so it's safe to assume that a lot of people will consider this for their new system build. What we're eager to find out is, can it keep our test system cool and quiet? We certainly hope so.
"The latest Riing Silent 12 CPU cooler is with PWM function, designed for use with high-end RAM and motherboards. A 120mm fan fitted to enhance the airflow produces impressive cooling performance with an optimized 11 fan-blade design. Hydraulic bearings for silent operation guarantee ultra-low noise. The patented LED ring maintains color and brightness uniformity, and the lighting effect is visible from all sides and angles." – Thermaltake
Equipped with support for every major socket type for both Intel and AMD, a compact form factor to limit conflicts with your memory modules, and motherboard components, as well as a 120mm fan, compatibility shouldn't be an issue for the Riing 12. Acoustic performance should be good too, as the fan can be run using a low-noise adaptor for those who need it.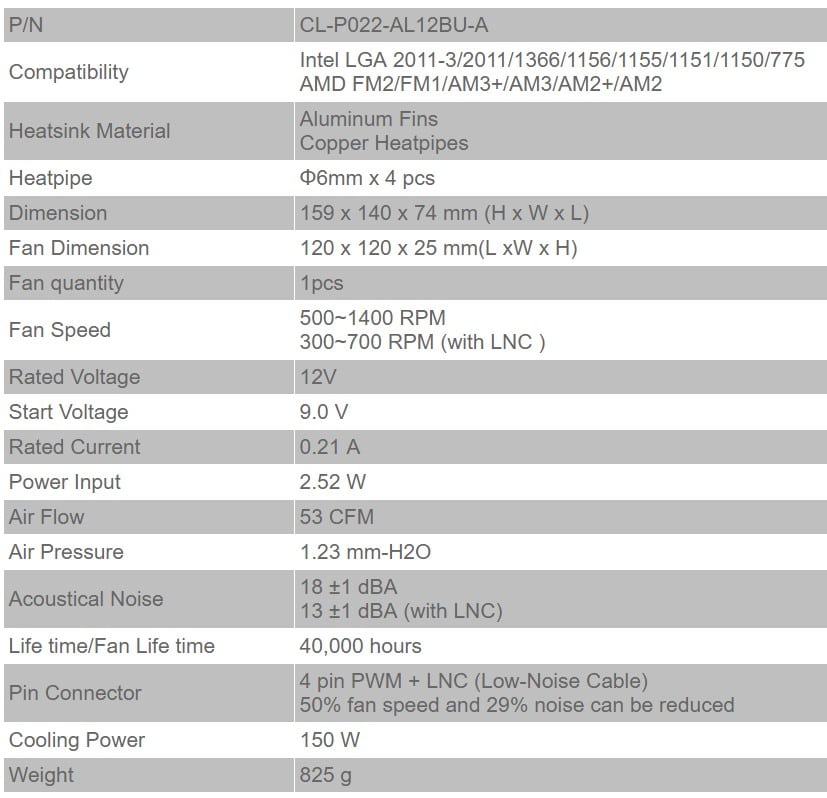 The packaging is nice and simple, with a clear image of the cooler and fan design on the front, as well as details of the 150W support, low-noise cable, and 12CM fan.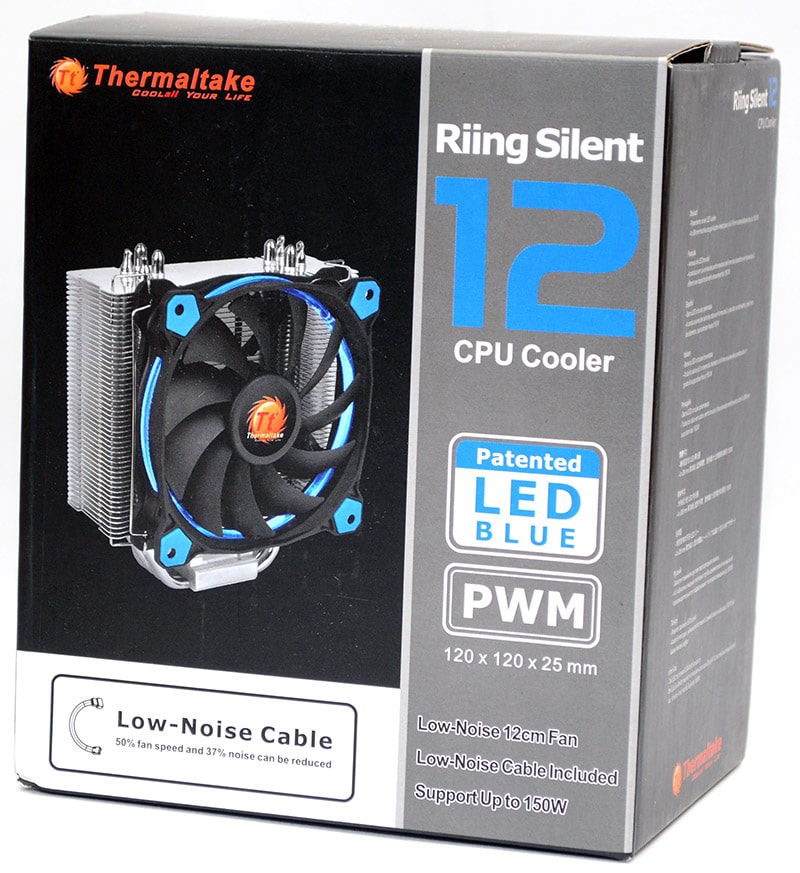 Around the back, a quick run down of some extra features, such as the "patented circular LED bar" found on the fan, as well as the "all-in-one back-plate design" for both AMD and Intel sockets.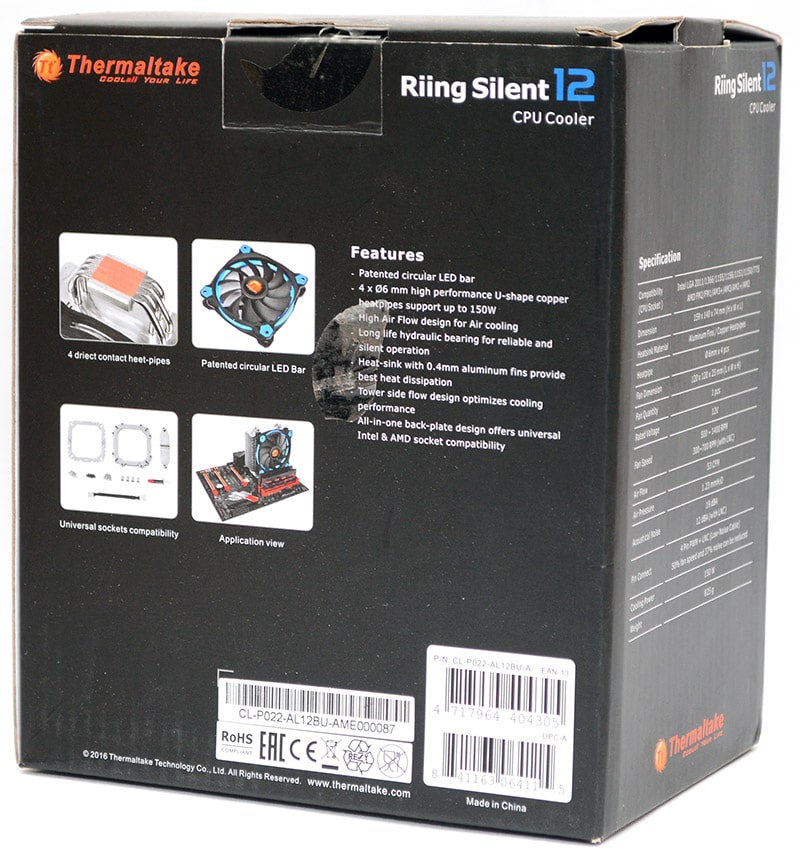 In the box, you'll find everything you need to get you setup and ready to rock. There's all the usual documentation, a tube of thermal paste, fitting screws, low-noise adaptor, and the universal mounting plates and attachment bracket. All the components look of a very good quality and have a nice nickel coated finish to give them a more premium look and feel.