Thermaltake SWAFAN 12 & 14 RGB Fan Review
---
---
---
Mike Sanders / 2 months ago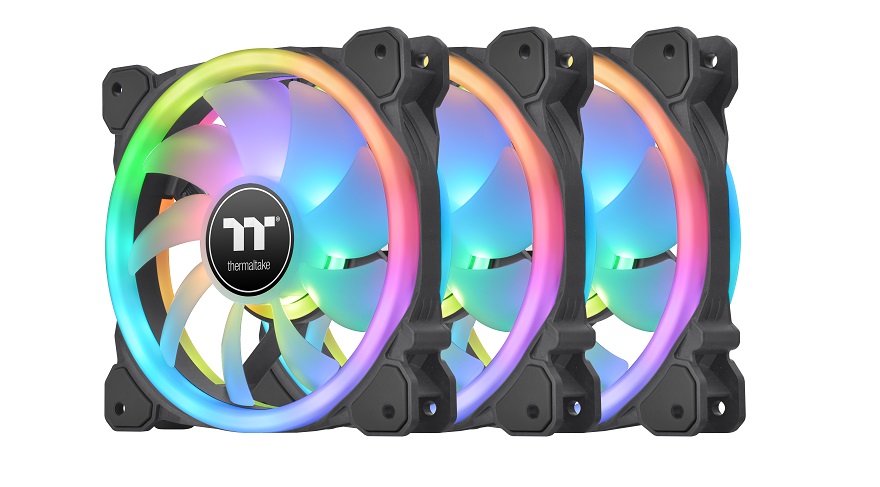 Thermaltake is, in my opinion at least, one of the few manufacturers around at the moment who actively seeks, wherever possible, to continually look to create truly innovative products. No, not everything they release is groundbreaking, but I always get the impression that they're at least willing to risk trying something new. With this in mind, therefore, their new SWAFAN 12/14 RGB fans have been on my radar for quite some time now.
In something of a little disclosure, they were first revealed to me back in around February/March and you might be wondering what could be so innovative about a cooling fan that I'd have been eagerly tracking their release over, basically, a 6 month period. – Well, while the SWAFAN 12/14 RGB fans do, of course, come packed with excellent features, they undoubtedly possess one incredibly special party piece.
Namely, these feature separate reversible fan blades meaning that whether you choose to use these fans in a push or pull configuration, you can choose to only leave the 'fancy' (ie. more aesthetically appealing) RGB side of the fan visible!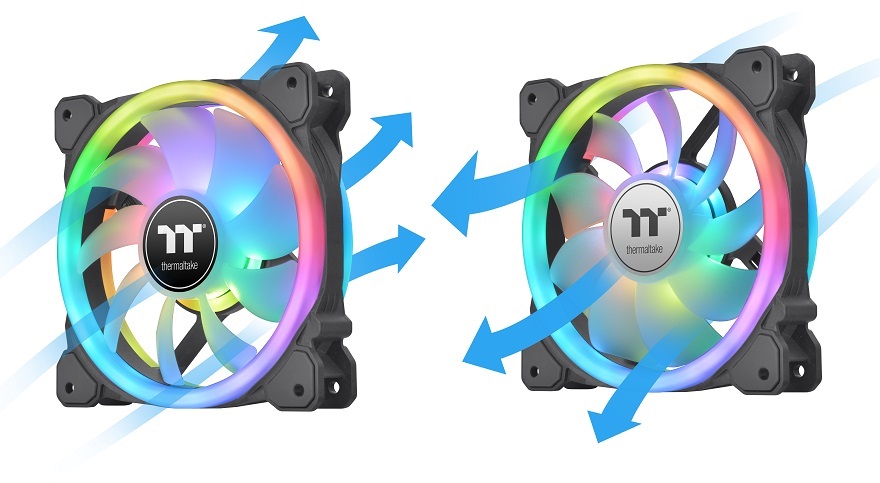 Thermaltake SWAFAN 12 & 14 RGB Radiator Fans
Available in 120mm or 140mm kits, with each containing three fans, the Thermaltake SWAFAN 12 and 14 RGB come with separate fan blades. In other words, you get the three attached to the fans out of the box, and then an additional 3 for a total of 6 within each kit. Through the simple removal of the blades that are already in place, you can, within literally seconds, change these fans from operating in a push configuration to a pull without the need of having to actually physically turn the fan itself around and, generally speaking, leave the less attractive 'specifications' side of it visible.
Now, is this unique? Well, the truthful answer is that I don't know. I suspect that someone somewhere may have attempted such a design before. One that incorporates hydraulic bearings though for high performance and low acoustic output? – Put simply, I doubt it!
The good stuff doesn't end there though as each kit comes provided with Thermaltake's 4th-generation hub controller which, through the use of their TT RGB Plus software (link here) allows you to fully customise the fans as a whole or individually. And yes, this includes not only preset patterns but also the ability to separately configure singular fans and even each of the individual 30 ARGB LEDs. – In terms of ARGB software, it's some of the most comprehensive around and when compared to the vast majority of other manufacturers, dare I say about the easiest to use.
Additionally, we should note that although they are predominantly being marketed as replacement options for 'radiators' (on AIO liquid coolers), we see no reason why the Thermaltake SWAFAN 12/14 RGB can't be used as generic airflow case fans. I'm pretty sure Thermaltake sees no issue in that either.
So, with both the 120mm and 140mm kit in our possession, let's take a look and see just how impressive these really are!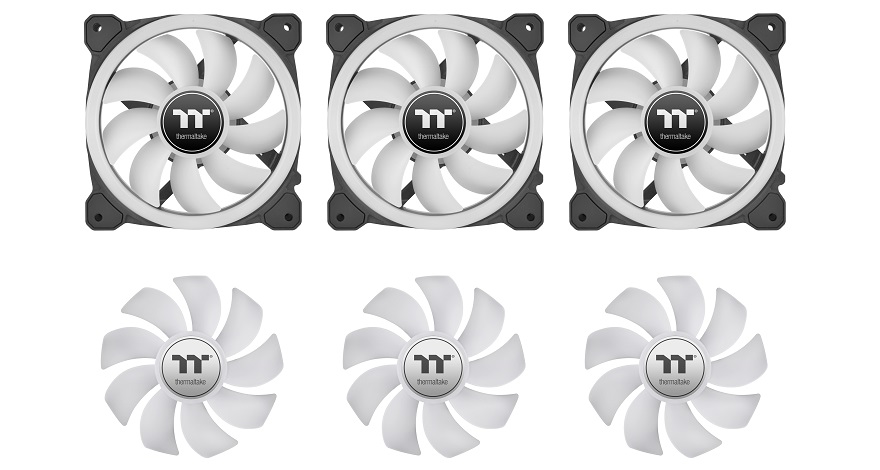 Specifications
For more in-depth details and specifications, you can check out the official Thermaltake cooling fan product page via the link here!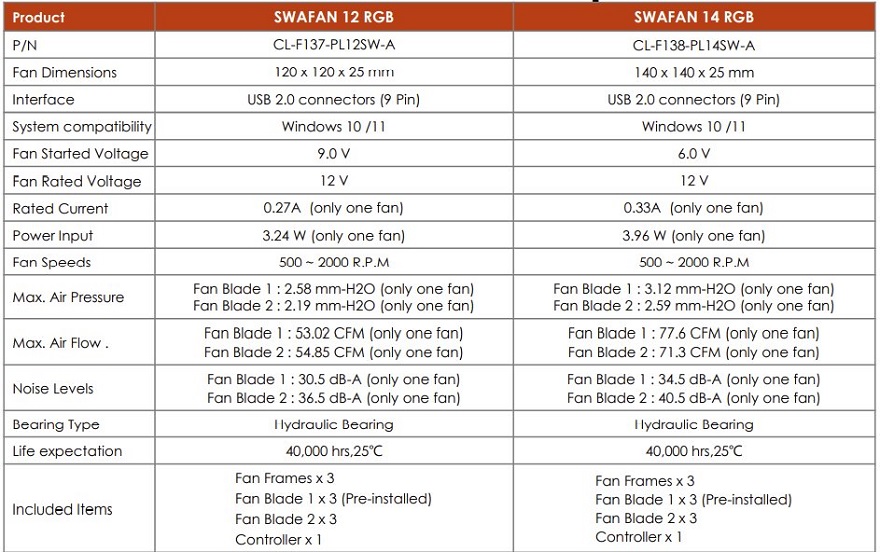 Features
Swappable fan blade design (package includes 3 additional reverse fan blades)
Customisable air flow directions without losing any RGB lighting
Enhanced cooling performance with a maximum fan speed of up to 2000 RPM
Three individual RGB rings with 30 ultra-bright addressable LEDs
Detachable hydraulic bearing design